QB Tom Brady
(2020 QB Rank – No. 7, 25.6 FPts/G)
This may be stating the obvious, but there's little reason for fantasy owners NOT to like Tom Brady heading into 2021. His 2020 stat line (401 comp-610 att-65.7%-4633 Yds-40 TD) represents some of the best numbers of his career. In his first season in Tampa, he put up the 2nd-most completions and 2nd-most passing TD's of his career. His 610 attempts were the 6th-most of his career, while his completion percentage tied for his 6th-best. The 4,633 passing yards were the 5th-most he's ever thrown, and his seven 300-yard games tied for 3rd-most on the back of his football card. He also averaged 7.6 yards per attempt and 289 passing yards per game. All of that was good enough to rank 7th among QB's here on FFToday's 2020 rankings.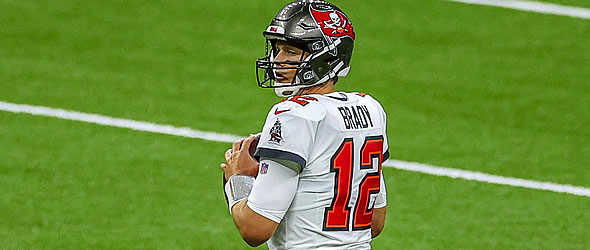 There's more good news, too. There's reason to believe Brady will be even better this Fall. While on the surface everything came out peachy, some of you may remember Brady struggled early in the season. Anyone remember that opener in the Superdome? How about the following week against Carolina, or the second meeting with the Saints? There was a span in November when Brady threw seven picks in three games against New Orleans, the Rams, and Kansas City. Brady admittedly had a hard time grasping the complexity of Bruce Arians' terminology and playbook. But as the season went on, this offense transformed, and it started looking a whole lot more like the offense Brady ran in New England. The run game was featured more, and the deep shots downfield took a back seat to -more of a possession game that used more short and intermediate routes and more receptions out of the backfield (oh, and by the way, kept Brady off the ground ). As he and Arians found a balance (Interpretation: The Bucs started doing more of what Brady wanted to do), things improved, and we all know how it ended. So there's no way, no matter what you hear from anyone in Tampa, that the genie is going back in the bottle.
The even better news is that everyone – let me say that once more with feeling – EVERYONE is back. It's unheard of for a defending Super Bowl champion. Gronk is back. Antonio Brown is back on a one-year deal. Postseason darling Leonard Fournette is back, and in case he gets banged up, Giovani Bernard, another strong receiver out of the backfield, has been added to the mix. Mike Evans, Chris Godwin, Scotty Miller, Cameron Brate, all back. Even O.J. Howard is healthy and expected back for camp. Brady has his offense, and now he has all his guys in place.
Finally, Brady is healthy. That's no small consideration for a man who will turn 44 in August. Brady felt like the knee pain that was hopefully addressed in the surgery he underwent this February really held him back, and he's looking forward to improving other parts of his game now that the knee stuff is behind him. To top it off, the Bucs open against Dallas, which featured one of the five worst secondary's in the game in 2020.
So, in short (too late for that now!), Brady should be stronger and healthier, will be surrounded by talent, will have a better grasp of the offense from day one, and should get off to a fast start. He could be better than he was last year, which will have him fighting for Top 5 Fantasy QB status in 2021.
RB Ronald Jones
(2020 RB Rank – No. 15, 11.6 FPts/G)
Don't look now, but this Buccaneers backfield may be headed down the same road as the old Patriots running back committee that Tom Brady played with in his previous life. Jones is exhibit 1A. After posting four 100-yard rushing games and amassing nearly 1,000 run yards on a 4.7 yard/carry average in the regular season, Jones took a backseat to Leonard Fournette during the Bucs' postseason run to the Super Bowl title. His big issue, aside from a finger injury and a bout with coronavirus quarantine, was his inability to provide a consistent outlet for Brady in the passing game. Jones had a case of the drops, catching just 28 passes on 42 targets.
HC Bruce Arians has said Jones will split RB duties with Fournette out of the gate, but as this offense moves away from Arians' "No Risk It, No Biscuit" attack to Brady's beloved check-down game, there will be less 3rd down opportunities for Jones (especially with the arrival of Gio Bernard in free agency). If he's splitting 1st and 2nd down reps with Fournette, Jones will provide very little fantasy value unless Fournette gets hurt, which is not out of the realm of possibility for a guy who has never played a full 16-game season in his career. Until then, however, Jones is probably not even a viable RB2 to start the season.
RB Leonard Fournette
(2020 RB Rank – No. 38, 8.0 FPts/G)
When this 6'-0", 228-lb freight train of a back came to the Buccaneers last year as a waiver claim from Jacksonville, most people expected him to be the thunder to Ronald Jones' lightning. A power back with size and strength to move the pile, he's a dangerous between the tackles runner, and a serious threat in short-yardage and goal line situations, and he delivered with six rushing touchdowns in 2020, though he only toted the ball a total of 97 times.
Where he really made his impact was as a receiver out of the backfield. He caught 36 passes (tied for 2nd-most in his career) on 42 targets for 233 yards. Half those catches came in the Bucs' four postseason games, totaling 148 yards, averaging over 8.2 yards per catch and earning Fournette the moniker "Lombardi Lenny".
By that time, it had become clear that the Tampa Bay offense was becoming a hybrid of Bruce Arians' playbook and a list of Tom Brady's favorite things from New England – including a checkdown passing game. Essentially, Brady was looking for James White, who made a career as Brady's 3rd down security blanket with the Patriots. So, what Brady wants, Brady gets, or at least tries to get. Despite Fournette's playoff breakout, Tampa courted White in free agency. When he re-signed with New England, the team went and got RB Giovani Bernard who had almost 50 catches in 2020 in a reserve role, and not nearly as many drops as Jones or Fournette.
Fournette's inconsistency and his injury history have to be a concern for Arians and Brady. Fournette has a laundry list of lower body injuries dating back to his college days at LSU and has never played a full 16-game season in the NFL. The bottom line is splitting carries with Jones, and possibly yielding at least some 3rd down snaps to Bernard, is going to leave Fournette short of any real fantasy value until one of those guys ends up on the injured list.
RB Giovani Bernard
(2020 RB Rank – No. 34, 7.1 FPts/G)
Tom Brady will be a big fan of Bernard's receiving skills out of the backfield, and he's a much better blocker in pass protection than either Ronald Jones or Leonard Fournette. It remains to see what kind of role that earns him in this crowded backfield, at least initially. Two of Brady's biggest concerns at this point in his career are getting the ball out of his hand quickly and limiting the number of hits he takes. Bernard caught 79% of his targets in 2020 and ranked as Pro Football Focus' 7th-best blocker at RB. But he doesn't offer much as a runner, so while he may prove very valuable to Brady over time, as a 3rd down receiving option, he won't offer much to fantasy owners.
RB Ke'Shawn Vaughn
(2020 RB Rank – No. 93, 3.4 FPts/G)
HC Bruce Arians keeps talking about how much he likes Vaughn. He speaks excitedly about his potential to take a big step forward in Year Two with the benefit of a full offseason and a full training camp. Then the Buccaneers, who already have Ronald Jones playing on the last year of his rookie deal, signed Leonard Fournette and Gio Bernard to one-year deals. Something doesn't add up. Maybe 2022 is Vaughn's year. But for 2021, it looks like he has a better chance of being a weekly healthy scratch than any type of fantasy option.
WR Mike Evans
(2020 WR Rank – No. 7, 11.2 FPts/G)
2020 was a year of adjustment for Evans as he worked to create chemistry with Tom Brady and adapted to an offense that was evolving by the week. Truth be told, most of Evans' numbers were down. His 109 targets and 62.9 receiving yards per game were the worst of his career. He barely surpassed the 1,000-yard mark (1,006) and averaged just 14.4 yards per catch, both the 2nd-worst of his career. His catches (70) and 100-yard games (4) were only lower two other times in his seven-year NFL run. The one stat that was up was his touchdown total, a career-high 13.
So, if in a "down" year, when everything is new, he gives you 70 catches for 1,000+ yards and 13 scores, that's still a win for fantasy owners. He ranked 7th in the NFL with 11.2 fantasy points per game, and it would seem to follow that he'd be better in 2021 with a year of Brady under his belt.
It's important for owners to understand, however, that the Buccaneers attack is going to continue to look more and more like the possession game that Brady favors, featuring more short and intermediate routes and check down routes to the TE's and RB's. That's going to limit some of Evans' considerable upside as a deep threat, and he's still going to be sharing targets with a whole host of talented pass-catchers in this offense. Simply put, they're loaded! But if you view Evans as the sort of Randy Moss of this offense, stretching the field on occasion and owning the red zone targets, he's still solidly in the WR1 discussion.
WR Chris Godwin
(2020 WR Rank – No. 30, 10.5 FPts/G)
Godwin fought through injuries throughout 2020 and missed four games. Due partly to that and partly to his fate as a possession receiver in Brady's "share the ball" circus, his numbers were down across the board. With the entire band back together, and Brady taking a stronger hold of the reins of the offense, it's hard to imagine Godwin seeing much more than the 84 targets he saw a season ago. He did still have seven touchdowns in 2020 and will be the clear No.2 (maybe even 1A) on this team in target share, but that still won't make him more than a matchup WR2/WR3.
WR Antonio Brown
(2020 WR Rank – No. 66, 9.0 FPts/G)
AB is back on a one-year deal in Tampa Bay. First and foremost, Tom Brady loves him and has been fighting for him for several years now, so he's got that going for him. He is a big play waiting to happen and had four scores in just eight games with the Bucs in 2020. If healthy and active for a full season, he could potentially approach 1,000 yards and 8-10 TD this year. But at 33 years old, the question is can he be available all season? We don't really see a scenario where he is more than the third option in the passing game, and his big plays will be hard to target on a week-to-week basis.
WR Scotty Miller
(2020 WR Rank – No. 67, 5.0 FPts/G)
It was a career year for young Scotty Miller in 2020 (33-501-15.2 ypc-3 TD), but his targets and his role in the offense diminished as the season went on, and with everyone back in the fold for the coming season it seems Miller's only fantasy impact will be stealing targets from guys like Mike Evans and Chris Godwin. He's not a fantasy option until we see how things flesh out once this team works through all their current one-year contracts on offense.
TE Rob Gronkowski
(2020 TE Rank – No. 7, 6.5 FPts/G)
At 32 years old, Gronk isn't getting any younger, and he looked it at times in 2020 despite finishing 7th in our TE rankings with 6.5 fantasy points per game. That came mostly on the strength of his presence as a red zone threat (7 TD in regular season). The season was also significant in that Gronkowski played every game for the first time since 2011. Gronk is still Tom Brady's guy, and games like the Super Bowl (6 catches on 7 targets for 67 yards and 2 TD's) are always within the realm of possibility, especially as Brady takes more and more control of the offensive play-calling, making Gronkowski a legitimate borderline consideration as a TE1.
TE O.J. Howard
(2020 TE Rank – No. 53, 6.7 FPts/G)
Howard was off to a great start last year before an Achilles injury ended his season. All indications are that his recovery is going very well, and he should be ready for training camp and the start of the season. Tom Brady likes 12 personnel (1 RB, 2 TE), so if he wins that battle with HC Bruce Arians, who likes to spread things out a bit more, there is a chance we could see Howard on the field with Gronk, thus creating more target opportunities for him. If you can get him late in your draft, he is worth stashing on your roster until we can confirm his health status and see how he evolves in the offense.
TE Cameron Brate
(2020 TE Rank – No. 38, 3.1 FPts/G)
I love Cameron Brate. I always have. The guy has 26 touchdowns over the last five seasons. But the Buccaneers always seem to be looking for someone or something else. Despite being the Bucs' primary receiving TE for much of the season after O.J. Howard was lost to injury, his numbers, from targets and receptions to yards and touchdowns, were still down in 2020. With Rob Gronkowski and Howard both set to return, and Tampa asking Brate to restructure his contract to make room for guys like Antonio Brown, it's becoming harder and harder to find any significant role or fantasy value for Brate in this offense.