QB Matt Ryan
(2021 QB Rank - No.26, 17.2 FPts/G)
These days, the conversation around Matt Ryan starts with his age (37), his declining skills, and his sagging stat line. But I donít think anyone can reasonably argue that Ryan was playing with anything resembling a stacked deck in Atlanta last year. He played behind an o-line that has allowed Ryan to be sacked 123 times over his last three seasons (42 in 2018, 41 in 2020, and 40 in 2021 Ė three of the four worst totals of his career). He was playing with a converted WR/KR at RB, and a receiving corps that lost Julio Jones to free agency and missed the real Calvin Ridley for most of the season. That left him throwing to a group led by an inconsistent Russell Gage, who is not a true WR1, and TE Kyle Pitts, a talented pass catcher, but a rookie nonetheless.
Despite the perception that he has lost a little something off his game, he still ranked in the top 10 among NFL quarterbacks in completions, and just outside the top 10 in attempts and passing yards. He gets banged for his lack of mobility, and yes he was 19th in touchdown passes and 18th in yards per attempt (just five spots behind Patrick Mahomes, incidentally), but given the supporting cast, I think some of that can be forgiven. I mean, at 36, do we really expect him to still carry a team? Tom Brady is the exception, not the rule!
So now he steps into a run-first offense under QB whisperer Frank Reich that will accentuate his abilities as a play-action passer, slow the pass rush behind an offensive line light years ahead of where the Falcons group was, and give him opportunities to throw to a true WR1 in Michael Pittman Jr. Heíll have Parris Campbell in the slot, and exciting rookie Alec Pierce, as well as TE Mo Allie-Cox, who has flashed as a receiver who can challenge the seam, a bread and butter route for a guy like Ryan who has made a career throwing to guys like Pitts, Tony Gonzalez, and Austin Hooper among others. Oh yeah, and RBís Jonathan Taylor and Nyheim Hines each had 40 receptions in 2021 (top 25 at their position in the NFL).
I realize Iím seriously in the minority here, but while most fantasy experts will call Ryan a low-end QB2, I think he could be looking at something closer to low-end QB1. Heís in a great spot, in an offense that will play to his strengths, with a supporting cast that will allow him to do what he does without putting too much on his plate.
QB Nick Foles
(2021 QB Rank Ė N/A)
Foles has been living off his magical postseason run to Super Bowl LII MVP honors since 2018, and truth be told, he hasnít lived up to the hype. But he makes sense as a handcuff to Ryan if you decide to make that jump. Itís worth noting that Foles had a passer rating of 115.7 with 971 yards, 6 touchdowns and one interception in three games during that postseason runÖwith Frank Reich as his OC. Foles can step in and run this offense as efficiently as anyone should he need to.
RB Jonathan Taylor
(2021 RB Rank - No.2, 22.2 FPts/G)
Taylor has put himself squarely in the middle of the No.1 overall pick discussion in all leagues and all formats. His stellar 2021 campaign dwarfed his already impressive rookie numbers of a year earlier. Last year he led the NFL in rushing with 1811 yards, which came on a league-high 332 carries for a 5.5-yard average and 18 touchdowns. He posted ten 100-yard rushing games, averaging 106.5 ground yards per game, and if that wasnít enough, he added 40 catches for 360 yards and two more scores.
He's a legitimate dual threat back who can break tackles, but still possesses the speed to gain the edge on outside zone runs. While opposing defenses are sure to stack the box against this run-first attack, having Matt Ryan in the backfield with him will be much more of a benefit than Carson Wentz was. Teams will likely make Ryan prove he can still make all the throws early on. But with his accuracy and an improved receiving corps in an offense that fits his skill set, defenses will be forced to honor his passing ability, which will keep things honest for Taylor.
Nyheim Hines may return to a bigger receiving role this year, but Taylor will still be part of the aerial attack, will still be a prime red zone threat, and in my opinion, is poised to obliterate the 2,000-yard rushing mark. If you have the No.1 pick in your draft, run, donít walk, to get the card in.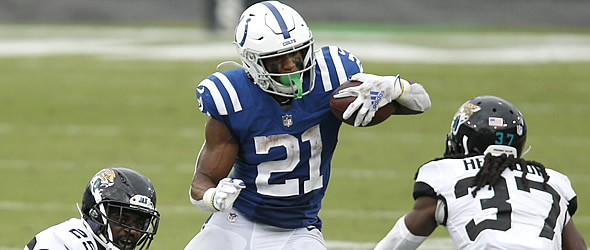 RB Nyheim Hines
(2021 RB Rank - No.66, 6.9 FPts/G)
After ranking third amongst all RBís in receptions in 2020, Hines took a step back last season. Part of that is due to the emergence of Jonathan Taylor, not only as a runner, but as a receiver. It also had something to do with the man at QB. Carson Wentz tended to force throws downfield and has never made good use of his check down options in the passing game. But things change a bit with Matt Ryan at the helm. Last year in Atlanta, RBís accounted for nearly 25% of the target share with Ryan at QB. Some of that was a product of playing behind a suspect o-line and a system of play calls that focused on getting the ball out of Ryanís hands quickly. But throughout his career, he has been a smart passer who gets through his progressions and finds the open man.
All this is to say that Hines may have a chance to bounce back in the stat column. I wouldnít be surprised to see some 21 personnel groupings that will feature Taylor and Hines on the field together, using their versatility to challenge opposing defenses.
While Taylor is clearly the RB1, Hines is a borderline RB3, especially in PPR leagues. Indy is going to run the ball, but they will throw off play action, and Ryanís propensity for throwing to his backs should make Hines a viable weapon once again.
WR Michael Pittman Jr.
(2021 WR Rank - No.27, 13.9 FPts/G)
Pittman emerged as the Colts clear WR1 in 2021 with a team-high 129 targets and the first 1,000-yard season of his young career. Unfortunately, his production dipped with the struggles of QB Carson Wentz the second half of the season, which included an 8-game scoreless streak for the receiver. Despite that, he had at least 50 yards in 12 of 17 games.
He is a big target at 6í4Ē with a huge catch radius, which should make him a prime threat in the red zone. He also has sub-4.5 speed, and his ability to align anywhere on the field allows him to take the top off a defense. Heís also an excellent route runner who knows how to get open.
I donít want to overstate the QB situation last year with Wentz, or this year with Ryan. A lot remains to be seen. But itís hard not to envision a big jump from Pittman this season with the upgrade at QB. Heís a high end WR2 with a high ceiling in my rankings.
WR Parris Campbell
(2021 WR Rank - No.119, 5.4 FPts/G)
A former high school track star, Campbell has game-changing speed and huge run after catch potential. He simply has a gear even most NFL defenders donít possess. The problem is he hasnít been able to stay on the field. Injuries have limited him to just 15 games over the last three seasons. With that being said, the Colts are fairly thin in terms of veteran receiving talent and they havenít signed anyone else to the roster, even with guys like T.Y. Hilton, Julio Jones and Will Fuller still on the street, which could mean the Colts think Campbell has the ability to take over the slot receiver role in this offenseÖIF he can stay healthy.
It's June, but he is currently healthy, and by all accounts, catching everything Matt Ryan is throwing his way. The two seem to be building some chemistry, and Campbell could be a dangerous weapon across the short middle of the field as a catch and run threat. You canít draft him at this point, but he is certainly worth a spot on your watch list while he finds his role and the Colts find out what they look like with Ryan at QB.
WR Alec Pierce
(2021 WR Rank Ė N/A)
Taken with the 53rd pick in the draft, Pierce made a name for himself in college as a deep threat with 4.4 speed. But heís also long (6í3Ē with 33Ē arms) with a unique ability to win contested balls. Heís a guy who will go up and get it. That has already manifested itself in mini-camp practices where he has shone early in red zone packages.
The combination of those skills, in conjunction with the Coltsí general lack of proven depth at WR, is going to give Pierce a chance to compete for a starting spot, most likely on the perimeter opposite Michael Pittman Jr. As a rookie, heís a bit of a boom or bust prospect right now. He hasnít even played a single practice in pads yet. And even as a starter, heís looking at being the No.2 or No.3 receiving option in a run-first attack. But owners should keep an eye on him. He could ed up being a bye week fill in if heís able to evolve at the next level.
WR Ashton Dulin
(2021 WR Rank - No.160, 3.3 FPts/G)
Dulin earned All-Pro honors as a return man last year, but has just 18 catches in three seasons. Heís only likely to see action if a spate of injuries hits the Colts receiver room.
TE Mo Alie-Cox
(2021 TE Rank - No.44, 10.6 FPts/G)
For a 6í-5Ē, 265-lb man, Alie-Cox is extremely athletic, and he has flashed with some big plays when given the chance, averaging at least 12.5 yards per catch in three of his four seasons. But the chances havenít come very often, or as often as some fantasy owners would like. He had just 24 catches and four touchdowns in 2021. With fellow TE Jack Doyle retiring and QB Matt Ryan, a TE-friendly passer throughout his career, landing in Indy, Alie-Cox could emerge as a low-end TE2. I think heís just another wait and see guy in this Colts offense.
TE Kylen Granson
(2021 TE Rank - No.97, 2.2 FPts/G)
Eleven catches for 106 yards in 17 games was not the 2021 season Granson or Colts fans had anticipated. Heís a talented receiving TE. The Colts ran 12 personnel (1 RB, 2 TE) on nearly a quarter of their offensive snaps in í21, so many people are expecting more of the same this year. Iím not so sure. I donít know that the personnel on their roster plays to that. If they do stay true to form, Granson has a chance at a very limited fantasy role, but heís more likely going to have to be a blocker in the run game first, if heís going to play.
Woods is a big (6'-7", 253 lbs), powerfully explosive rookie who crushed it at the combine after turning in a career year as a 5th-year player at UVA. His best traits would seem to translate to a role as a red zone target. He's at his best working in short areas. It remains to be seen whether there's a role for him there on this team. RB Jonathan Tylor had 20 total TD's last season, Michael Pittman Jr. is a red zone threat, as is Mo Alie-Cox. It's not likely that Woods breaks into that group in a meaningful way this season.