QB Jameis Winston
(2021 QB Rank Ė No.16, 19.6 FPts/G)
Winston is just seven months removed from surgery to repair a torn ACL, and while he was active during OTAís and mini-camp, he was clearly not at full strength. Despite that, new Saints HC Dennis Allen says Winston will be ready for the start of training camp and will be the starting QB in New Orleans this season unless he has some sort of setback. Recent videos surfacing on social media would seem to back up that premise. The clips show a mobile Winston, much more mobile than he was even a month ago.
If he is healthy, there are plenty of reasons to be high on Winston, who has to be considered the lead dog in the NFL Comeback Player of the Year conversation. He has the support of his head coach, he has an impressive two-headed monster in the backfield in Alvin Kamara (pending legal issues) and Mark Ingram, and a versatile receiving corps that includes explosive rookie Chris Olave, productive veteran Jarvis Landry, and hopefully a fully healthy Michael Thomas.
Winston was 16th in the NFL last year averaging nearly 20 fantasy points per game, and in the seven games he actually played, he threw 14 touchdowns against just three interceptions and led the Saints to a 5-2 record. He did that amidst a QB battle with Taysom Hill, his first action after a season on the bench behind Drew Brees and a receiver group that lacked a true WR1. This will be a run-first offense, but that sets up the play action game that Winston excels at, averaging almost 10 yards per attempt on those throws. Itís not hard to visualize Winston as a low end QB1 if he can stay healthy and bring all these new pieces on offense together.
QB Andy Dalton
(2021 QB Rank Ė No.43, 14.4 FPts/G)
Dalton was less than impressive in limited action for the Bears last season, throwing just eight touchdowns to nine interceptions and averaging a meager 6.4 yards per attempt. While acknowledging that, heís still a solid handcuff play for Winston Ė a veteran guy who can step in and lead an offense should Winston struggle physically, or if he reverts to his old ways and starts turning the ball over.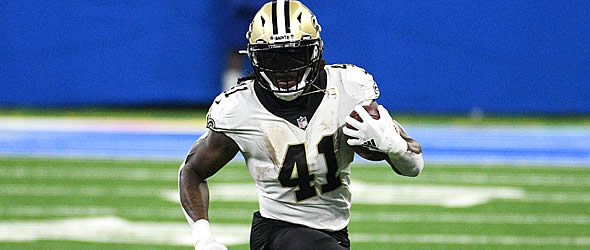 RB Alvin Kamara
(2021 RB Rank Ė No.6, 16.4 FPts/G)
Kamara is electric when heís on the field. The question for fantasy owners this season is, will he be on the field? And if so, when? Kamara is facing felony battery charges stemming from an incident at the Pro Bowl in Las Vegas this winter. His hearing has been pushed to August 1st, which means the trial will be later. Heís likely facing an NFL suspension of up to six games, but not until the legal process has run itsí course. Thatís a risky scenario, not unlike the one the Browns are facing in Cleveland with Deshaun Watson.
The five-time Pro Bowler has never had a 1,000-yard rushing season, but he did turn in three 100-yard rushing days in 2021. His value is in his receiving skills, run after the catch, and overall versatility. Heís had five straight seasons of at least 1,300 total yards and has scored 30 times in the last two years. The Saints scheme to get him in space and let him be a playmaker, which works to his strengths.
Without the legal issue, heís a viable top five RB in all formats. But until his off the field situation is sorted out, heís a very risky play early in your draft.
RB Mark Ingram
(2021 RB Rank Ė No.59, 6.0 FPts/G)
Ingram is a couple years removed from his best days as a bell-cow back, but thatís what he may end up being should Alvin Kamara be suspended for his pending legal issues. In a down season, part of which he played with a bad Texans team, he still rushed for over 500 yards and caught 27 balls. He has more physical, tackle-to-tackle ability than Kamara, but can still be a formidable receiver in space.
Injury and age have begun to creep up on Ingram, but even if Kamara somehow doesnít get suspended, the two will work in tandem for a team that will still want to run the ball. If he can stay healthy, heís a low end RB2 with some upside should he find himself in the starting lineup at any point.
RB Tony Jones
(2021 RB Rank Ė No.128, 1.7 FPts/G)
At 5-11, 225, Jones is a bigger version of Mark Ingram and a power runner between the tackles. He averaged just 2.6 yards per carry on 54 carries in 2021. But in just his third season, he looks to be a guy the Saints want to develop. Donít be surprised if thereís short yardage and goal line role for him in this offense at some point, and if Kamara is lost for any lengths of time, expect Jones to step into his spot next to Ingram. Iím putting him on my watch list.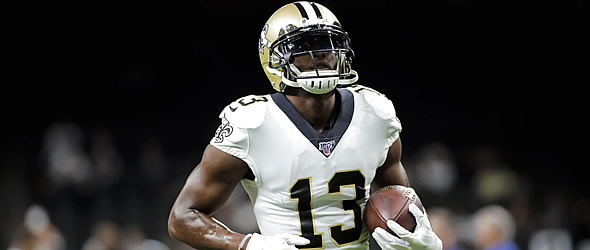 We all remember who Michael Thomas was. We just canít be sure who he is. The big, physical playmaker who started his career with four straight 1,000-yard receiving seasons has now missed most of the last two campaigns, including all of 2021 due to an ankle injury that has required multiple surgeries. He did not participate in team practices this Spring, and while videos have surfaced showing him doing sprint work, and team officials are saying heíll be ready for camp, itís just not reasonable to think heís going to throw the pads on and go back to being the NFL Offensive Player of the Year (2019).
When heís healthy, heís a beast. The three-time Pro Bowler and two-time All-Pro will go across the middle, make plays on contested balls in traffic, and can run after the catch. He can single-handedly change the way the Saints play offense. The drafting of fellow Ohio State Buckeye Chris Olave, and the signing of veteran free agent Jarvis Landry will certainly cut into some of his targets, but it will also relieve some of the pressure on him to contribute right away while he re-acclimates himself to game conditions.
Two years is a long time to be off a football field, and his boy Drew Brees isnít back there chucking the rock anymore, so I need to see Thomas in action again before I start pushing him up my board. Right now, heís a WR3 for me with obvious unlimited upside. But I wouldnít expect too much too early.
WR Jarvis Landry
(2021 WR Rank Ė No.49, 7.1 FPts/G)
The former LSU standout has come home to New Orleans on a one-year prove it deal after suffering through the worst season of his career in 2021. His 87 targets, 52 receptions, 570 yards, and two touchdowns were all career lows. Some will attribute that to poor QB play in Cleveland, but whatever the reason, he needs to get back on track with the Saints if he hopes to cash in on his next deal.
The good news is heíll work out of the slot between Michael Thomas and talented rookie Chris Olave. The bad news is heíll be lining up in the slot between Michael Thomas and talented rookie Chris Olave, in a run-first offense, with a QB coming off ACL surgery, all of which could seriously hamper the target share of a guy who has averaged almost nine targets per game over his career.
Heís a volume receiver with huge hands, great route running skills and a high football IQ. I could see him getting a lot of action early in the season as QB Jameis Winston and Thomas find their legs after injury, and Alvin Kamara sorts out his legal troubles and serves a potential suspension. Heís being drafted as a borderline WR4, but I think heís got sleeper potential written all over him.
WR Chris Olave
(2021 WR Rank Ė N/A)
The 11th overall pick in the draft, Olave was a highly productive college receiver with 4.3 speed and a nose for the end zone. While he is a smooth route runner and can align anywhere, he will likely work primarily on the perimeter opposite Michael Thomas and is the guy in this offense who can take the top off the defense. Heís a great match for Jameis Winstonís huge arm, providing plenty of big plays, but should also command a decent target share, especially if Thomas isnít at full speed to start the season. Rookies typically have some transition time, so I would draft him as your WR3/WR4 and see how he develops and where he finds his fit in the offense.
WR Marquez Callaway
(2021 WR Rank Ė No.61, 6.2 FPts/G)
Callaway is coming off a career year with 46 catches for 698 yards and six scores. He became the primary playmaker in an offense that was severely lacking in them in 2021. But with Michael Thomasí return, and the addition of Jarvis Landry and Chris Olave, he will be hard-pressed to find more than a WR4 role this season unless one of the above-mentioned players goes down to injury.
TE Adam Trautman
(2021 TE Rank Ė No.37, 3.5 FPts/G)
Iíll admit it. I was really high on Trautman this time last year. A small-school prospect with a big skill set, he had a straight path to the starting TE spot, and then had a chance to shine for a team whose receiving corps was decimated by injury, inconsistency and uneven QB play. He didnít answer the bell, recording just 27 catches for 263 yards and two touchdowns, including just two catches on three total targets over the last three games.
With the quickness and change of direction skills of a receiver, big reliable hands, and toughness after the catch, he has so much potential. But heís now got to compete for the starting spot with veterans Taysom Hill and Nick Vannett, and maybe even rookie FA Lucas Krull, who impressed in the Spring. And if he wins that battle, he lines up as just the fourth or fifth receiving option behind a revamped WR room. Heís only a consideration in deeper formats.
TE Taysom Hill
(2021 TE Rank – No.14, 6.1 FPts/G)
Taysom Hill's quarterbacking days disappeared somewhere in the middle of Sean Payton's retirement press conference. He'll now take up residence in the TE meeting room and use his stellar athleticism and versatility to make plays there. The ultimate utility man, he could be a factor near the goal line and on unique down and distance plays. But while Payton loved the trickery and gadget plays that Hill can bring to life, new HC Dennis Allen, a defensive guy, may be a little more likely to play it close to the vest. We'll see how Hill's role evolves, but don't be surprised to see him on special teams either.