This week we take a look at the ADP and related value of some of the top running backs in the league. Running backs can be tricky. Playing the position takes a physical toll, and that means there's a small window to take advantage of their skill set because fantasy depreciation is a real thing. In addition, like at quarterback, the more a running back can do, the more value he brings. A dual threat runner-receiver is the gold standard. But that back also has to be in the right system – inside zone, outside zone, role in the passing game, protection responsibilities. Finally, he needs an opportunity to showcase it all. We all know about the dangers of the running back committee.

With all that in mind, here are the RB's I expect to outperform their ADPs and which I expect to fall short.
Undervalued
Kenneth Walker, Seattle Seahawks
ADP: 8.03, RB36
The Case for Walker Being Undervalued: Chris Carson is retired and Rashaad Penny has played just 13 total games over the last two seasons.
The Case Against Walker Being Undervalued: Rookies struggle historically and Walker, if he has to carry the mail, will be asked to do so without a game-changing QB.
The Verdict: As I write this, incredibly, Penny is on the sideline with yet another injury. Itís minor at this point, a groin pull that the team is handling with kid gloves, but who could blame them? Penny, despite being the most productive RB in the NFL over the last month of the 2021 season, is seemingly always dealing with some type of injury and played just 13 games over the last two seasons.
Meanwhile, Walker (hernia) has reportedly improved significantly in pass protection and his receiving skills, according to HC Pete Carroll, are better than his 19 career college receptions would indicate. That all points towards a three-down role for the rookie who runs a 4.3 40, carries 210 pounds on a stout 5-10 frame, and his one-cut running style is a strong fit for the Seahawksí outside zone running scheme. I donít expect Seattleís offense to create much spark, but they will run the ball under Pete Carroll, stubbornly, to a fault, and I think the opportunity and the volume Walker could garner leads me to consider him as a high end RB2.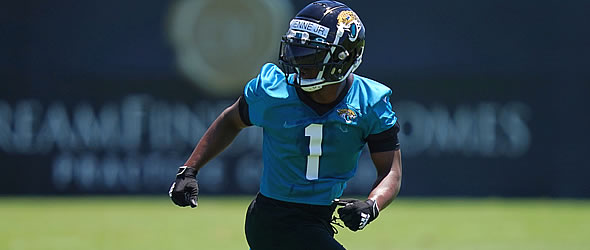 Travis Etienne, Jacksonville Jaguars
ADP: 4.08, RB23
The Case for Etienne Being Undervalued: Etienne is not only a candidate for a three-down RB role, but a versatile weapon who will get opportunities to contribute all over the field.
The Case Against Etienne Being Undervalued: He lost his entire rookie season to a foot injury and RB James Robinsonís (Achilles) unexpectedly quick return to the lineup has some thinking Etienne could be reduced to a 3rd down back, limiting his ceiling.
The Verdict: Etienne is a tough, talented runner who posted nearly 5,000 rushing yards during his four-year Clemson career but I think the biggest mistake most fantasy owners will make is being literal to Etienneís position listing as a running back. He has formidable receiving skills and scary open field running ability after the catch (85 catches for over 1,000 yards his last two seasons for the Tigers). Yes, he can line up in the backfield on all three downs and compete as a runner and a receiver.
With Robinson apparently ready to get back on the field more quickly than expected from his injury, reports out of camp have him running in the backfield with the first team offense. That doesnít mean that Etienne will be standing on the sideline watching. In addition to plenty of two-back sets that will feed the ball to both men, HC Doug Pederson and his staff are going to be creative in finding ways to get this kidís talent on the field and get the ball in his hands in a variety of ways. Heíll align wide on the perimeter, out of the slot, will be put in motion, used on jet sweeps, and get plenty of snaps as a traditional runner and receiver out of the backfield. Iím counting on Etienne being first in total touches for the Jags and slotting in as a high end RB2, low end RB1 by the end of the season.
Leonard Fournette, Tampa Bay Buccaneers
ADP: 3.01, RB15
The Case for Fournette Being Undervalued: Fournette ranked 10th amongst NFL RBs in fantasy points per game in 2021. His 84 targets and 69 catches were 3rd among all RBís and his 454 receiving yards were 4th. Finally, his 10 total TDs were 8th among all RBís.
The Case Against Fournette Being Undervalued: His 812 rushing yards barely snuck into the Top 20 a season ago and he was 21st in carries playing in Tom Bradyís ball-control passing offense.
The Verdict: Fournette is not going to be a volume runner in this offense. Since Bradyís arrival in Tampa, the Bucs have slowly but surely evolved into an offense that puts the ball in the QBís hands, using the short to intermediate passing game as an extension of the run game. But that has only brought Fournetteís receiving skills into focus. His target and reception numbers were the second-highest of his career, and his 10 total touchdowns were the most heís tallied since his rookie year.
Thatís where Fournette will earn his fantasy ownersí money. At 228 pounds, averaging 4.5 yards per carry, heís been a scoring machine as a runner in the red zone, and especially in short yardage and in the power run game near the goal line. But with Rob Gronkowski retired (no, I donít believe heís coming back), there are going to be more scoring chances in the receiving game as well.
Fournette did nothing last year to make anyone believe heís anything other than a top 10 fantasy RB, and little has changed for 2022 except that with Gronkowskiís exit, Playoff Lenny may actually get more opportunities as a playmaker. Brady will have this offense in scoring position, and Fournette is going to get his number called. Heís a clear RB1.
Overvalued
Aaron Jones, Green Bay Packers
ADP: 2.02, RB10
The Case for Jones Being Overvalued: Despite his emergence as one of the top receiving backs in the game, Jonesí 11.9 fantasy points per game in 2021 ranked just 19th, and he was actually out-carried and out-gained on the ground by AJ Dillon.
The Case Jones Being Overvalued: Amongst all RBs in 2021, Jones was 8th in targets, 6th in receptions, 10th in receiving yards and 2nd in receiving TDs. With the loss of Davante Adams and Marquez Valdes-Scantling, Jones could become a versatile receiving threat, particularly on 3rd down.
The Verdict: Thereís no question the receiving numbers are impressive, especially in todayís NFL. But the hit to Jonesí role in the run game is significant. Dillonís carries quadrupled in 2021, and they only figure to increase, while Jonesí carries have fallen off a cliff, from a career-high 236 in 2019, to 201, to 187. And Dillon has become the go-to in goal line and red zone runs.
Jonesí role may be changing, and his skill set gives him tremendous potential upside. But he had the second-best receiving season of his career last year, with a personal-best six touchdown catches and he still barely cracked the top 20 in fantasy points. Heís going to need another significant jump in production to justify an RB10 ranking on my board, though he could approach RB1 status in PPR formats.
Ezekiel Elliott, Dallas Cowboys
ADP: 2.12, RB14
The Case for Elliott Being Overvalued: He finished the 2021 season as the RB17 and his numbers in nearly every category have been in steady decline since 2018.
The Case Against Elliott Being Overvalued: Elliott rushed for over 1,000 yards despite playing through injuries (torn PCL) and his 10 rushing TDs were the third-most of his career.
The Verdict: I could find you a number of fantasy owners who would tell you that Ezekiel Elliott isnít even the best RB on his own team right now. Iíd be one of them. Kudos to him for toughing it out and playing through significant injuries last season. And, the Cowboys did a nice job of finding a role he could excel in, namely as a runner down near the goal line. His 10 rushing TDís and 12 total scores were the third-most of his career and saved fantasy value last season.
Itís hard not to see that at 27 years old, Elliottís body just isnít holding up. His drop-off in production has been significant. From 1600 rushing yards his rookie year, to barely 1000 this past year. His carries have fallen from 322 to 237. His average per rush dropped from 5.1 to 4.0. Heís gone from three seasons of seven 100-yard games to just two each in the last two seasons. Meanwhile, Tony Pollard has averaged 5.5 yards per carry in two of his first three seasons, and his receiving skills give him opportunities at more snaps from alignments all over the field.
Of course, all reports out of Cowboys camp are golden. Elliottís had a great offseason, heís in the best shape of his career, heís healthy, and heís ready for a bounce-back year. No offense, but thatís the story out of every camp this time of year. I hope Elliott is healthy. But even if he is, you have to know that the Cowboys are going to do all they can to keep him that way. Fantasy owners know what that means. They are going to control his touches, control his snaps and ďbe smartĒ with him. That means a reduction in production and a role in the offense. That makes him a TD-reliant low-end RB2 at best, and Iím just not spending significant draft capital in the first two rounds on that.
Christian McCaffrey, Carolina Panthers
ADP: 1.02, RB2
The Case for McCaffrey Being Overvalued: Heís played just 10 games over the last two seasons.
The Case Against McCaffrey Being Overvalued: When healthy, heís one of the most versatile and dynamic playmakers in the game.
The Verdict: Over the course of the 2018 and 2019 seasons, McCaffrey rushed for over 2,400 yards and 23 touchdowns and added nearly 225 catches for over 1900 yards and another 10 scores. His fantasy draft stock has been skyrocketing in recent weeks. This Spring, Jonathan Taylor was the hands-down favorite to be the top player picked in just about every league in every format. But now, McCaffrey has somehow slipped into that conversation and Iím not sure why. Heís barely practicing, heís not playing in preseason games, and heís missed most of the last two seasons, so Iím not sure what the revival is all about.
I guess it comes down to whether you believe this is McCaffreyís bounce back year, or if heís beginning to show signs of the wear and tear we so often see with RBís as they head towards the age of 30. Injuries are part of the game, and no one ever plays 100% healthy. But McCaffrey isnít dealing with multiple surgeries to address one injury, like Michael Thomasí ankle. This isnít a recurring soft tissue injury. Over two years, McCaffrey has missed games due to an ankle, a shoulder, a thigh, a hamstring, and another ankle injury. Iím no doctor, but that list screams out physical breakdown.
Maybe heís just unlucky. Either way, I donít understand how anyone could justify spending the second overall pick in their draft on a guy who hasnít played football in two years. Itís not 2019 anymore. First round picks, even second and third round picks, arenít about upside. They are about production, and McCaffrey simply hasnít had any recently. Heís a great player when heís healthy, and a tremendously gifted and versatile athlete. He might even still end up as a RB1 on my board, but not the No.2 overall. No way. Not until I see that he can stay on the field.