Rest assured someone at some point during each of your drafts will utter some variation of the words ďvalue pick.Ē But what exactly is a value pick? What is value? Value is a relative term that changes based on public perception. When I consider value, Iím looking for a positive return on my investment. Just because a player has an a fourth round ADP and is still sitting there in the sixth round does not make him good value. At the same time, taking a player a round or two above his ADP is not necessarily bad value. Again, everything is relative.
Last season, JuJu Smith-Schuster had a 4th round ADP. This year, he has a second round ADP. JuJu gave owners one hell of a positive return on investment. On the flip side, Chris Hogan had a fourth round ADP. This year, heís going undrafted. Thatís the type of pick we all hope to avoid.
Letís take a look at which WRs I expect to outperform their ADPs and which I expect to fail.
Undervalued
The case for Lockett being undervalued: Heís locked in as Seattleís WR1 and it is impossible for the team to throw less than it did last season.
The case against Lockett being undervalued: His 2018 efficiency is simply impossible to replicate and regression in catch rate and touchdowns is inevitable.
Verdict: Lockett first appeared on this list back in 2016 when I thought he would overtake Doug Baldwin as Seattleís WR1. Three years and a Baldwin retirement later leaves Lockett as the unquestioned top option in Seattleís passing game.
Baldwin vacates 73 targets in a year where Russell Wilson attempted a league low 427 passes. Lockett only saw 70 targets in a full 16-game season and caught a touchdown on an absurd 14% of them. That touchdown rate is undoubtedly going down, but the volume has to go up. Seattle projects to have one of the worst defenses in the league and they face a lot of strong offenses (NO, LARx2, CLE, ATL, TB). As much as they want to run the ball, game script may force their hand.
From 2015-2017, Baldwin averaged 114 targets a season. It would be shocking if Lockett didnít reach 100 targets this season. Even assuming his 81.4% catch rate dips closer to his career average of 70.3%, weíre still looking at a 70-catch, 1000-yard season. And those estimates are conservative as there is plenty room for growth in the volume department. The most pass heavy teams attempt 600+ passes. If Wilson somehow is allowed to throw the ball closer to 550 times, Lockett can easily reach WR1 numbers. Lockett is going as a low-end WR2 because many people fear Seattleís backwards offensive philosophy and understand how ridiculously efficient he was in 2018. Increased volume will make up for the decreased efficiency and the upside if things break right is league winning.
The case for Robinson being undervalued: Heís a lock to lead the Bears in targets and has showcased elite WR1 ability in the past.
The case against Robinson being undervalued: He hasnít been productive since 2015 and Mitch Trubisky may the second coming of Blake Bortles.
Verdict: Allen Robinson was considered a value last season as well, but ultimately underperformed expectations. The problem was not Robinson; it was the expectations, particularly those of a wide receiver joining a new team coming off a torn ACL.
Robinson is now two years removed from his injury and was starting to heat up late last season. Robinson averaged eight targets over his final four regular season games and had a monster performance in the Bears lone playoff game, ripping off 143 yards on 10 of 13 targets with a touchdown. While it is important to resist the vividness bias of his best game coming on a national stage in the playoffs, it is important to remember what Robinson is capable of as a talent. You donít win leagues by drafting safe, floor players in the middle rounds. You win by drafting players that outperform their ADP. Given the volatility of defensive performance and particularly turnovers from year to year, it is reasonable to assume the Bears regress defensively. They are going to see more negative game script and they are not winning 12 games again. Trubisky will have to throw more and his primary target is going to be Robinson.
There is a very strong chance Robinson averages eight or nine targets per game and what if Trubisky takes a step forward and becomes more consistent? The upside is still WR1 and the risk is minimal given his mid WR3 price tag.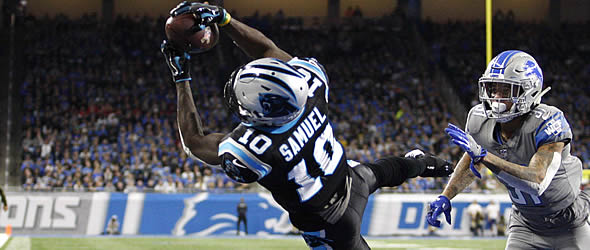 The case for Samuel being undervalued: Heís the clear WR2 in Carolina and saw his snap count skyrocket in the second half of 2018.
The case against Samuel being undervalued: Samuel is certainly not ahead of D.J. Moore and Cam Newton has never supported a second wide receiver.
Verdict: Curtis Samuelís ADP is broken and I guarantee you it rises throughout the month of August. I still think he will be undervalued regardless because the problem is less about Samuelís ADP and more how far away he is from D.J. Moore. Why is Moore considered a clear top 24 WR, but Samuel canít even crack the top 40?

Samuel is one of the fastest players in the league and capable of taking any touch to the house. Heís entering his third NFL season and heís just 23 years old. He played at a big time school in Ohio State and was a second round pick. He checks all of the boxes for a breakout WR, yet no one seems to care. Samuel became a fantastic route runner last season and was excellent whenever he touched the ball, averaging 2.1 fantasy points per target, 16th in the league. Samuel saw 65 targets last season which should easily push 100 this year. His 60% catch rate has room to improve and he should tack on 100 yards and a score on the ground.
Samuel is an elite athlete with splash play ability playing on a good offense as the clear third option in the passing game (behind Christian McCaffrey and Moore). His target share is not going to be much lower than Mooreís and if I had to bet on one player in all of fantasy football to finish above his ADP, it would be Curtis Samuel.
Overvalued
The case for Thomas being overvalued: His 85% catch rate is just insane and heís one of the most volatile wide receivers in fantasy.
The case against Thomas being overvalued: He should see a similar target count and Drew Brees has been the most accurate QB in the league for the past two seasons.
Verdict: I am not anti-Michael Thomas. He is an excellent wide receiver and he is going to finish as a WR1, likely a top six wide receiver. My issue is that he is going higher than similar WRs with better season-long ceilings, higher weekly ceilings, and with more consistency week-to-week.
Thomas is in one of the lowest volume passing offenses in the league. Brees attempted just 489 passes last season, down from an already low 536 in 2017 and gone are the days of Brees tossing it up 600+ times. Thomas is the clear WR1 in New Orleans and is going to maintain a near 30% target share but there isnít much room for improvement. He could conceivably see a few more targets, but it is foolish to expect an 85% catch rate again. Even a drop to the high 70s would be impactful.
I am confident Thomasí numbers will be there at the end of the season, but fantasy football is a weekly game and Thomas is going ahead of far more consistent WRs such as Julio Jones, Tyreek Hill, Odell Beckham Jr., and JuJu Smith-Schuster. I am not suggesting it is necessarily wrong to take Thomas over these guys as Thomas has a level of safety regarding his health, offense, and target share that the others donít clearly have. But Thomas is volatile and so reliant on volume. What if the Saints have a better defense and more positive game script?
Thomas is incapable of producing passable numbers without double-digit targets. Of course ever WR is better when he sees 10+ targets, but the difference between Thomas and the other elite WRs is that Thomas needs 10 targets. He produced just one WR1 week last season with fewer than 10 targets and it was on a week where he caught all eight of his targets and scored twice. Guys like Hill, Beckham, and JuJu can have a five or six target game and still give you a splash play to salvage the week. Thomas does not have that in his repertoire.
He had five weeks outside of the top 36 WRs last season. He had just eight receptions of at least 30 yards. In his career, heís scored exactly two touchdowns of longer than 25 yards. That is by far the lowest number out of the elite WRs. The final numbers will be there, but Thomas was the third least consistent WR last season and is too heavily reliant on volume to be going in the first round as the WR3.
Amari Cooper, Cowboys
ADP: 3.06, WR13
The case for Cooper being overvalued: Heís inconsistent week-to-week and the Cowboys are a low volume passing attack.
The case against Cooper being overvalued: Heís an elite talent and has now had a full offseason to learn the playbook and develop chemistry with Dak Prescott.
Verdict: Cooper has been in the league since 2015. Through four seasons, he has yet to finish higher than his ADP. Yet, Cooper is being drafted as a near WR1 despite having never been a WR1 in his career.
Iím a Cowboys fan. I like Cooper. But I couldnít be more out on him in fantasy. Remember how Michael Thomas was the third most volatile WR in weekly fantasy scoring? Youíll never guess who No.1 was! This notion that Cooper was more consistent with the Cowboys is false. Cooper played nine games with Dallas last season. He was the overall WR1 twice. He was a WR2 twice. He was a WR3 once. The other four games he was somewhere between a low WR4 and a WR7.
Unlike Thomas, we canít point to a single factor dictating when he produced. Cooperís first overall WR1 week came with single-digit targets and one of his WR4 or lower weeks came with double-digit targets.
Cooper also scored multiple long touchdowns last season that he had no business scoring where the defender simply fell down. He also has the splash play in his arsenal (14 career touchdowns from 30+ yards), but more concerning is his lack of red zone productivity. Out of Cooperís 25 career touchdowns, just five have come from inside the 10-yard line.
Cooper should see more consistent targeting this year, but nothing about his first four seasons suggests he will produce consistently. Until I see it, I cannot spend a third round pick on him.
The case for Allison being overvalued: He is the least talented WR on the Packers depth chart and should be easily passed by more talented options.
The case against Allison being overvalued: The Packers WR2 job is wide open and whoever lands it should have value.
Verdict: Allison is entering his fourth season and he has yet to breakout. History does not favor any wide receivers breaking out later than their third season and the deck is more heavily stacked against a UDFA.
In terms of athleticism, Allison is bottom of the barrel. His speed score is 23rd percentile. His burst score is 43rd percentile. His agility score is 6th percentile. His catch radius is 29th percentile. He wasnít a dominant college producer and he broke out (in college) after the age of 20 (not ideal).
In 30 career games with the Packers, heís amassed just 758 yards on 55 receptions. The Packers drafted three receivers last season, all of whom are more talented than Allison. Between Marquez Valdes-Scantling, Equanimeous St. Brown, JíMon Moore, and Jake Kumerow, it is unlikely that Allison is the guy that will emerge. Even if Allison is getting the courtesy nod in Week 1, he could quickly fall out of favor. Wide receiver is not like running back where any replacement level player getting meaningful touches can produce. If Allison is not producing, he will be displaced.
There is a chance Allison opens the season as the primary slot WR and the third option in the passing game with Davante Adams and MVS on the outside. Best-case scenario is Allison is able to produce WR3 numbers. Worst case is he loses his job and you drop him in September (if not sooner). There are dozens of WRs going after Allison that have more upside. Do not waste your eighth round pick on a, low-ceiling player.