What is a featured back? In my mind, it's a player who can play on every down and remain on the field in virtually every situation. He's a workhorse if the play-caller allows him to assume at least 60 percent of the backfield's touches and handles roughly 18 touches per week (288 for the season). There are obviously cases every year where featured backs are outperformed by situational and/or change-of-pace backs, but opportunity and volume are typically the hallmarks of the top fantasy backs in the league from season to season.

This week, I want to take the opportunity to help owners understand exactly what they are dealing with at the running back position and why there is so little upside available to most owners. Perhaps it's an exercise most readers don't need, but one other reason I wanted to do it was to obviously help everyone make better lineup decisions.

Below I have constructed a couple tables that lays out each team's backfield, using either my own film study or statistical analysis to determine what running back is the most likely to play in what situation. It is not foolproof by any stretch the imagination and highly subject to change, perhaps as soon as this weekend. There are probably even a handful of teams in which the identity of the true backup could be debated. Regardless, as readers continue through the rest of this piece, I will try to differentiate between the real game and the fantasy game as often as possible. Some player's roles below are educated guesses for reasons that should be pretty clear if readers take a second to think about them. (Le'Veon Bell is an obvious example.)

Key:

Blue shade - Starter holds the specific role
Yellow shade - Handcuff/committee partner holds the specific role
White shade - Specific role appears to be shared equally among both backs
Orange shade - A third player holds the specific role
RB Roles
Tm
Starter
Handcuff/Backup
Early Down
Passing Down
Two-Minute
Goal line
Hurry Up
ARI
David Johnson
Chase Edmonds
Johnson
Johnson
Johnson
Johnson
Johnson
ATL
Tevin Coleman
Ito Smith
Coleman/Smith
Coleman/Smith
Coleman/Smith
Coleman/Smith
Coleman/Smith
BAL
Alex Collins
Javorius Allen
Collins
Allen
Allen
Allen
Allen
BUF
LeSean McCoy
Chris Ivory
McCoy
McCoy
McCoy
Ivory
McCoy
CAR
Christian McCaffrey
C.J. Anderson
McCaffrey
McCaffrey
McCaffrey
Cam Newton
McCaffrey
CHI
Jordan Howard
Tarik Cohen
Howard
Cohen
Cohen
Howard
Cohen
CIN
Joe Mixon
Giovani Bernard
Mixon
Mixon
Mixon
Mixon
Mixon
CLE
Carlos Hyde
Nick Chubb
Hyde
Duke Johnson
Johnson
Hyde
Johnson
DAL
Ezekiel Elliott
Rod Smith
Elliott
Elliott
Elliott
Elliott
Elliott
DEN
Royce Freeman
Phillip Lindsay
Lindsay
Devontae Booker
Booker
Lindsay
Booker
DET
Kerryon Johnson
LeGarrette Blount
Johnson
Theo Riddick
Riddick
Blount
Riddick
GB
Jamaal Williams
Aaron Jones
Williams/Jones
Montgomery
Montgomery
Williams/Jones
Montgomery
HOU
Lamar Miller
Alfred Blue
Miller
Miller
Miller
Miller
Miller
IND
Marlon Mack
Robert Turbin
Mack
Nyheim Hines
Hines
Mack
Hines
JAC
Leonard Fournette
T.J. Yeldon
Fournette
Fournette
Fournette
Fournette
Fournette
KC
Kareem Hunt
Spencer Ware
Hunt
Ware
Ware
Hunt
Ware
LAC
Melvin Gordon
Austin Ekeler
Gordon
Gordon
Gordon
Gordon
Gordon
LAR
Todd Gurley
Malcolm Brown
Gurley
Gurley
Gurley
Gurley
Gurley
MIA
Frank Gore
Kenyan Drake
Gore
Drake
Drake
Gore
Drake
MIN
Dalvin Cook
Latavius Murray
Cook
Cook
Cook
Murray
Cook
NE
Sony Michel
James White
Michel
White
White
Michel
White
NO
Alvin Kamara
Mark Ingram
Kamara
Kamara
Kamara
Ingram
Kamara
NYG
Saquon Barkley
Wayne Gallman
Barkley
Barkley
Barkley
Barkley
Barkley
NYJ
Isaiah Crowell
Bilal Powell
Crowell
Powell
Powell
Crowell
Powell
OAK
Marshawn Lynch
Doug Martin
Lynch
Jalen Richard
Richard
Lynch
Richard
PHI
Corey Clement
Wendell Smallwood
CC/WS
CC/WS
CC/WS
CC/WS
CC/WS
PIT
Le'Veon Bell
James Conner
Bell
Bell
Bell
Bell
Bell
SF
Matt Breida
Alfred Morris
Breida
Kyle Juszczyk
Juszczyk
Morris
Breida
SEA
Chris Carson
Mike Davis
Carson/Davis
Davis
Davis
Carson/Davis
Davis
TB
Peyton Barber
Ronald Jones
Barber
Barber
Barber
Barber
Barber
TEN
Derrick Henry
Dion Lewis
Henry
Lewis
Lewis
Henry
Lewis
WAS
Adrian Peterson
Chris Thompson
Peterson
Thompson
Thompson
Peterson
Thompson
RBs: Game Script Scenarios
Tm
Positive Script
Neutral Script
Negative Script
ARI
Johnson
Johnson
Johnson
ATL
Coleman/Smith
Coleman/Smith
Coleman/Smith
BAL
Collins
Collins
Allen
BUF
McCoy
McCoy
McCoy
CAR
McCaffrey
McCaffrey
McCaffrey
CHI
Howard
Cohen
Cohen
CIN
Mixon
Mixon
Mixon
CLE
Hyde
Hyde
Johnson
DAL
Elliott
Elliott
Elliott
DEN
Lindsay
Lindsay
Booker
DET
Johnson
Johnson
Riddick
GB
Williams
Williams/Jones
Montgomery
HOU
Miller
Miller
Miller
IND
Mack
Mack
Hines
JAC
Fournette
Fournette
Fournette
KC
Hunt
Hunt
Ware
LAC
Gordon
Gordon
Gordon
LAR
Gurley
Gurley
Gurley
MIA
Gore
Drake
Drake
MIN
Cook
Cook
Cook
NE
Michel
Michel
White
NO
Ingram
Kamara
Kamara
NYG
Barkley
Barkley
Barkley
NYJ
Crowell
Powell
Powell
OAK
Lynch
Lynch
Richard
PHI
Clement/Smallwood
Clement/Smallwood
Clement/Smallwood
PIT
Bell
Bell
Bell
SF
Breida
Breida
Breida
SEA
Chris Carson
Chris Carson
Davis
TB
Barber
Barber
Barber
TEN
Henry
Lewis
Lewis
WAS
Peterson
Peterson
Thompson

I think the usefulness of these tables are obvious, but I will justify it anyway. For reasons we'll get into a bit later, trying to play the right running backs each week is getting harder and harder to do. If we take a minute or two to consider what role each back plays and the likely situation his team will face in a given game (i.e. playing from ahead or behind), it becomes much easier to pinpoint which one could see the most work. It's far from a perfect science since upsets occur pretty much every week, so that great game script that was supposed to benefit Royce Freeman or Phillip Lindsay ends up becoming a negative game script that works in the favor of Devontae Booker. Nevertheless, the process is sound and one that will work more often than not.

*************

Featured backs in the real game

Based on how much of their team's backfield workload they assume and the situations in which they play, I have identified 13 featured backs:

David Johnson, LeSean McCoy, Christian McCaffrey, Joe Mixon, Ezekiel Elliott, Lamar Miller, Leonard Fournette, Melvin Gordon, Todd Gurley, Dalvin Cook, Saquon Barkley, Le'Veon Bell and Peyton Barber.

At first glance, things don't look so bad for fantasy purposes, as every owner in a 12-team league should theoretically be able to land at least one. But as owners of half the aforementioned backs already know, we don't really have 13 from which to choose. Bell has stayed at home preserving his body all season long, while Fournette and Cook have struggled to make it through a full game. McCoy is bogged down by an offense that has little hope of scoring more than one touchdown per game and Barber was usable for the first time in Week 6 largely because of his matchup. Miller runs behind an offensive line that cannot seem to open holes and is already losing work again to Alfred Blue; he could easily be sharing carries with D'Onta Foreman by November if the latter is able to find similar form to what he had prior to last season's Achilles' injury. Very quickly, we have eliminated 46.2 percent of the field.

Johnson has kept his value afloat by scoring touchdowns and is shockingly the overall RB11, but he's averaging 3.2 yards per carry and 15.3 rushing attempts (to go along with 2.8 catches) - well below the workload and efficiency expectations owners had for him entering the season. Mixon missed two games with a knee injury, and one has to wonder if Cincinnati will have second thoughts about slightly lightening his load since he is 0-for-2 in terms of staying healthy for a significant amount of time as the featured back. McCaffrey has the requisite workload, but he continues to get vultured near the goal line by his quarterback.

The true fantasy workhorses (and those who aspire to become one)

Elliott, Gordon, Gurley and Barkley

Will any others join them soon? Let's take a look:

Johnson's schedule lightens up over the second half of the season, but the lack of creativity OC Mike McCoy is showing with his offense probably isn't changing. Many expect Bell to assume the same role he enjoyed in 2017. I don't, and here's why: 1) Bell has stayed away from the team this long to avoid "overuse," so it's clear he's not seeking 25 touches per game; 2) Bell hasn't played football in roughly 10 months. He didn't perform well right away after his long layoff last year and this year's sabbatical has lasted even longer; 3) James Conner has played too well to be eliminated from the game plan completely. These are among the reasons why I would encourage owners to sell Bell the minute he reports because I don't think his stock is going to get much higher if/when owners see him get off to a slow start. It's also why I would encourage owners to buy low on Conner at the same time. Where his current owners may believe Conner will no longer be relevant, I see the best handcuff in fantasy football who might be a serviceable flex and is one (likely) injury away from recapturing RB1 status.

One reason I have encouraged readers to buy Fournette is that he is primed to go back to a full-time role as soon as he is cleared (although it wouldn't be terribly shocking if T.J. Yeldon gets more change-of-pace work than initially expected). The same goes for Cook, who may lose some goal-line work to Latavius Murray but should otherwise amass 60 percent of backfield touches. But let's not kid ourselves about Cook: he might return to a heavy workload sometime in November. In his 1 1/2 years as a pro, he's never played and finished four games in a row.

On the subject of Fournette and Cook, I hear and read the same labels everyone else does. I don't usually buy into a player being "injury-prone" like most people do, as if it is some kind of condition or illness he is predisposed to and can't change. I buy into the notion players can often overcompensate and have that lead to another injury (slightly altering their running style to make running on a surgically repaired knee more comfortable and injuring a hamstring, for example). I definitely buy into and stay away from players who I believe are dealing with chronic injuries, thus I suppose I am willing to give such players multiple chances to prove me wrong in that regard. Either way, I acknowledge my stance on Fournette and Cook makes me a risk-taking owner, but I think it is more about being realistic about the current running back landscape.

I identified the four clear "workhorses" already. I suppose a strong case can be made for Mixon to be the fifth, but we need to see him stay healthy for more than a month at a time while carrying a heavy workload. (Let's also not forget Giovani Bernard performed in a Mixon-like manner when he was out.) The same could be said about Fournette and Cook, but they appear to be the only other candidates capable of being true three-down backs this season with the volume we want for fantasy purposes. So, depending on where owners stand on Bell and Mixon, there is the potential for maybe four more backs who can join our "Big Four."

It probably goes without saying, but I will anyway: if an owner in a 12-team league either has or can acquire two of these eight players - even with the obvious risk some carry - then it behooves them to do so. If one owner has two of them, it likely means at least five of the other 11 do not. While multiple RB1s on fantasy teams do not guarantee championships, they can certainly cover up for a number of other weaknesses on a fantasy roster. Last week, I was able to acquire Fournette and Quincy Enunwa in exchange for Royce Freeman and Corey Davis in one of my high-stakes leagues. Fournette may not be my meal ticket to a title run, but I like my odds with him a lot more than I did with Freeman and the way he is being used at the moment. I made this trade shortly after it was reported that Fournette could sit out until after Jacksonville's Week 9 bye.

If nothing else I have said to this point has driven the point home yet, perhaps this trade will. I was willing to trade my RB2 and WR2 and wait up to four weeks to get a potential RB1 like Fournette. Why? Because I knew to hope for an RB2 on the wrong side of a committee backfield in Denver - whether it makes sense to me or not - was not a good formula for success the rest of the way. Like it or not, this is where the market is at the moment.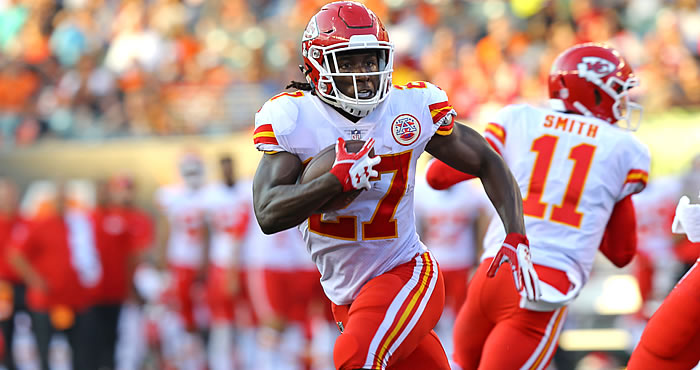 "Flawed" fantasy RB1s
Johnson (play-calling), McCaffrey (goal line), Fournette (injury), Cook (injury), Kareem Hunt (passing game usage), Alvin Kamara (reduced workload following Mark Ingram's return), Bell (time away from the game, a potential committee with James Conner)
We've already discussed Johnson. If I thought there was a legitimate chance the Panthers split goal-line work between Cam Newton and McCaffrey, I would include him in the top group, but I don't see that happening anytime soon. Fournette and Cook were also covered earlier, which brings us to Hunt. HC Andy Reid never fails to amaze owners with his ability to forget he typically has a featured back. While Hunt's workloads have been perfectly fine through six weeks, 40 percent of his targets and 50 percent of his catches for the season came in Week 6. In case anyone remembers, one of Reid's main goals this offseason was to use Hunt more in the passing game. He currently has two more catches than his backup, Spencer Ware.
Obviously, if we go by the first month of the season, Kamara belongs in the top group. It's entirely possible he still belongs up there, but projected volume is why I'm keeping him out. What's important to remember, however, is that only Gurley had more touches than he did prior to Ingram's return in Week 5. The presence of Ingram will probably bring his touches down to about 15 per game, and I think Ingram will remain the preferred choice in goal-line situations. If such work becomes a 50-50 proposition, then Kamara belongs in the top group. I just have a hard time calling a back who will probably see about 15 touches per game a "true workhorse."
Assuming my readers are in agreement with me up to this point, we have four clear RB1s and seven others who can make strong cases. Again, that doesn't sound too bad until we consider the playing time of virtually every other running back is either somewhat or heavily affected by circumstance. In most of my leagues, owners will keep at least six running backs on their roster at all times. This means 61 of the 72 backs (84.7 percent) can be considered at least somewhat volatile.
Backs with consistently positive game script
Alex Collins, Sony Michel, Mark Ingram
Short of landing at least two of the aforementioned RB1s, the best most owners can hope for are those backs who are on the better end of a committee and/or consistently play in positive game script. Collins, Michel and Ingram are among the players in this group.
In terms of PPR fantasy points scored by a team's backfield, Baltimore is ranked ninth. Whether anyone wants to acknowledge it or not, the "Charm City" is home to a potential fantasy goldmine. As owners have already discovered, HC John Harbaugh and OC Marty Mornhinweg don't care about fantasy owners and they must not care much about backfield efficiency, given their usage of Javorius Allen to this point. However, Allen logged season lows in snaps (28) and touches (four) in Week 6 in what could be described as easily the best game script the Ravens have played with this season. Did the brain trust finally come to its senses? While Collins didn't exactly tear it up against the Titans, it is reasonable to believe the Harbaugh & Co. can't continue to tell their fans or the team that more Allen is a good thing for the offense. I still think this is Collins' backfield before long - at least until Kenneth Dixon returns and can prove he can stay healthy - but that is merely an educated guess at this point.
The early-down back in New England has run in positive game script so often over the years that casual observers can be tricked into believing he is a workhorse. Michel has the potential to do to be a true workhorse (he is a capable receiver), but Tom Brady is seemingly smitten with James White. Fortunately, there are enough fantasy points coming out of the Patriots' backfield every year to give owners two backs worthy of starting every week. Ingram was treated like a lead back in Week 5, but logic suggests he will be more of a poor man's Michel moving forward. For those that may not remember what I said in the preseason, my opinion hasn't changed on Ingram's outlook. Assuming his current owners held onto him through his suspension and didn't recently acquire him via trade, they have received one solid performance from him through six weeks. The Saints' next two opponents are Baltimore and Minnesota, which rank first and fourth, respectively, in terms of giving up the fewest fantasy points to running backs. Assuming those opponents enjoy similar success holding Ingram in check, most owners will have spent a fourth- or fifth-round pick for a player who delivered one solid fantasy effort through the first half of the season. Making matters worse, owners should assume Ingrams will see the 10 or 12 touches he received during the playoffs last season and not the 18 touches he got in Week 5.
The Exceptions
The sad thing is just about every other player in the table above can be considered a "volatile" back. Of course, there are backs like Carlos Hyde who are averaging 20 touches per game who probably deserve to be included in one of the top three. However, how close is he really to sharing carries? There are plenty of backs with RB1 ability being held back for reasons we may never understand. And there are backs like James White, Austin Ekeler and Tarik Cohen who are simply maximizing their limited opportunities. The last two are classic examples of backs who defy the notion volume is the end-all and be-all of fantasy production. I don't think anyone will make the mistake of calling any of those players an RB1, yet White is the overall RB7 in PPR leagues, while Ekeler is RB17 despite a single-digit performance in Week 6 and Cohen is RB19 despite seeing limited usage in his first three games.
**********
I suppose if there is any good news regarding fantasy running backs and owners desperately seeking to land one off waivers, history suggests at least one will emerge over the next few weeks. I don't think Ito Smith (following the news Devonta Freeman is headed to IR) is going to be that player, although he should be a good pickup for any owner wanting to add a trade chip or some depth at the position. If I had to venture a guess who the next rags-to-riches running back will be, I would first point owners to a group of players from the NFC East. Rod Smith is set up for a massive workload should anything happen to the Ezekiel Elliott, Wayne Gallman proved last year he could produce when given the opportunity and Kapri Bibbs only needs Adrian Peterson and/or Chris Thompson to miss multiple weeks - both are already playing through injuries - to have significant value. Chase Edmonds and Malcolm Brown are also good stashes in deeper leagues.
My best guess, however, is Mike Davis. And if both Chris Carson and Davis fall victim to injury like they did last season, then perhaps Rashaad Penny could go from projected stud this summer to waiver wire in late September to potential stud again around fantasy playoff time. Despite what the box score said last week, a simple look at the play-by-play for the game reveals Penny only had two touches before the final drive. The rookie only played 13 total snaps, meaning he was on the sideline for most of the first three quarters. In other words, Davis didn't get passed on the depth chart and only played four fewer snaps than Carson (27-23). Of course, nothing is forever in Seattle. With that said, Davis looks quick and explosive and plays for a team that wants to run the ball as much as possible. Given Carson's injury history and take-no-prisoners running style, he isn't a great bet to last the season. I've already seen Davis dropped in multiple leagues following last week's disappointing effort. Assuming bye weeks allow owners to stash a player with some big upside, he remains one of my favorites.
---
Doug Orth has written for FF Today since 2006 and been featured in USA Today's Fantasy Football Preview magazine since 2010. He hosted USA Today's hour-long, pre-kickoff fantasy football internet chat every Sunday in 2012-13 and appears as a guest analyst on a number of national sports radio shows, including Sirius XM's "Fantasy Drive". Doug is also a member of the Fantasy Sports Writers Association.