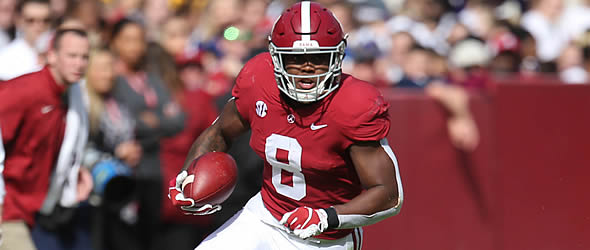 RB Josh Jacobs: A strong receiver and good blocker who profiles a true three-down back.




Vitals



College: Alabama
Height/Weight: 5'10"/220
Hands: 10 1/8"



Important NFL Combine Numbers



40-Yard Dash: 4.6 (Pro Day)
Vertical Jump: N/A
Broad Jump: N/A
20-Yard Shuttle: N/A
3-Cone: N/A



College Production

(Stats)


High-end NFL Player Comp(s): A young Frank Gore
Low-end NFL Player Comp(s): Mike Davis

Best Scheme Fit: Universal. Strong receiver and good blocker who profiles a true three-down back; possesses the vision and decisiveness to be an ideal fit in a zone scheme but has the power and elusiveness to perform in man-blocking schemes as well.

Strengths
Displays exceptional vision/patience, always seems to make the cut at the right time (0:14, 0:40, 0:53, 1:41, 2:15, 3:08, 4:33, 5:19); understands getting "skinny" when necessary.


Accelerates quickly, consistently lowers his center of gravity to deliver the blow and has the leg drive to churn out yards after contact. (0:14, 0:20, 1:17, 1:27, 2:26, 4:23, 4:33)


Possesses next-level footwork and balance; affording him the chance to make a jump-cut or sharp cut that can stop a defender in his tracks. (0:14, 1:10, 1:41, 1:48, 3:08)


Shows the ability to sell a route (3:09) and the capacity to expand his repertoire as a receiver; appears to catch the ball naturally and can adjust to the ball in the air. (2:39, 2:57, 5:20)


Identifies the blitzer and consistently squares up his defender in pass pro (0:11, 0:38, 3:36, 4:00, 5:55); more than willing to serve as a lead blocker in the run game when necessary. (0:28, 0:42, 3:46, 5:10)


Operated as the "Wildcat" quarterback in high school and college.

Averaged 30.6 yards per kickoff return and scored a touchdown in 14 returns in his final college season.


Toughness; played through broken ankle for more than half of 2017 season.
Concerns
Long speed? Broke off only one 20-yard run on 120 carries in 2018; longest TD run in his career was 24 yards as a freshman in 2016. Is that merely a product of a small workload?


Does minimal wear-and-tear (251 career carries, 48 receptions) outweigh not handling more than 140 touches in a season or topping 15 touches in a game only three times in 40 games?


Dealt with multiple injuries throughout career; suffered shoulder injury in junior year of high school, hamstring/ankle injuries early in 2017 and a groin issue limited him at the combine.


Loves to finish his man in pass protection, but his technique (hands, feet, hips) can be compromised when the defender keeps his feet and/or battles him to a draw on initial contact.
Bottom Line

It took about five minutes of film against Mississippi State's second-ranked rush defense to figure out Jacobs should have a bright future in the NFL. The overall lack of work - not only in 2018 but throughout his three-year stay at Alabama - makes him a bit scary to invest a first-round pick in because we have been conditioned to believe the ability to carry a heavy workload for at least one college season is one of several factors we must strongly consider when evaluating running backs. After all, it's much easier to "hide" a back's weaknesses when he averages less than 10 touches per game. Yes, evaluators want to see more big runs. Yes, evaluators want to see a back consistently handle 20 touches. Yes, it would have been nice for him to log at least 200 carries in at least one season to prove his durability, if nothing else. If he busts as a pro, these points will be among the first his detractors will point out.
With that said, the limited tape on him is about as good as it gets for a running back prospect. It is rare to watch a see a college running back who has the vision to find the hole, the decisiveness and feel to hit it at the precise moment he needs to do it, the knack to make the right cut at the right time and the willingness to routinely punish second- and third-level defenders. Jacobs' ability in the aforementioned areas alone make him worth a Day 2 pick. What makes him a Day 1 prospect is all of those qualities are included in a 220-pound package that consistently delivered in short yardage and has much more upside in the passing game than 20 catches for 247 yards and three touchdowns in 2018 might suggest. In at least two of the video clips showing off his skill as a pass-catcher, he flashes the ability to track the ball like a receiver down the field. (That's not as common of a trait for a college back as most might think.) While it's not fair to compare him to Alvin Kamara as a receiver as some are doing, the fact is Jacobs is much more of an all-purpose back than what Alabama has produced in recent years. Furthermore, it's not hard to see how much he loves the game and physicality of it; the fact he played not one - but multiple - games with a broken ankle, returned kicks and willingly served as the lead blocker on runs by other teammates speaks to just how well-rounded he is.
A lack of durability and home run-hitting ability are the biggest potential roadblocks on Jacobs' path to becoming a NFL star, although it is not hard to imagine a scenario in which he reaches that level. A zone-running scheme could help him in that regard; his vision and decisiveness are exceptional for a college prospect. All told, he has the look of a top-15 running back in the NFL one day. He might not special in the same way Saquon Barkley or Todd Gurley were coming out of college, but he is a solid first-round prospect with few glaring weaknesses capable of making the same kind of immediate splash Nick Chubb did once he was unleashed last season. All he needs is a respectable situation and an open-minded coaching staff willing to feature him.
---
Doug Orth has written for FF Today since 2006 and been featured in USA Today's Fantasy Football Preview magazine since 2010. He hosted USA Today's hour-long, pre-kickoff fantasy football internet chat every Sunday in 2012-13 and appears as a guest analyst on a number of national sports radio shows, including Sirius XM's "Fantasy Drive". Doug is also a member of the Fantasy Sports Writers Association.