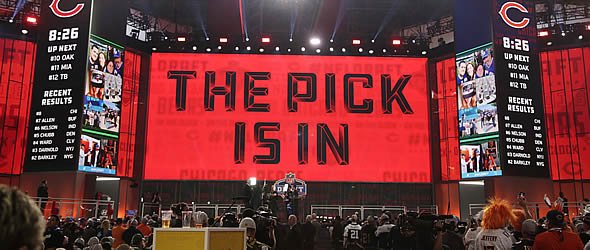 1.01 – QB Kyler Murray, ARI
Considered by some the most complete dual-threat quarterback in draft history, Murray is the Cardinals' second attempt at the position in the first round in as many years. Most people already know the story with new HC Kliff Kingsbury and Murray, and it goes without saying the reigning Heisman Trophy winner should be a quick study after setting the college world on fire in his only full season as a starter at Oklahoma. At 5-10 and 207 pounds, Murray is going to test the ongoing debate of how big an NFL quarterback has to be. With that said, Murray is on the level of Lamar Jackson and Michael Vick in terms of athleticism, and he is a more refined passer than either one of them. And that's where his fantasy value is going to come from initially, although Arizona has some targets to ease him into the NFL in Larry Fitzgerald and Christian Kirk. Murray will be a Day 1 starter - probably regardless of whether or not Josh Rosen remains on the roster. For fantasy purposes, it's not unthinkable he emerges as a low-end QB1, although owners should try to snag him as a high-upside QB2 due to the injury risk that comes along with a quarterback that runs so much and operates behind a poor offensive line.
1.06 – QB Daniel Jones, NYG
Teams often try to hit doubles instead of homers at the top of the draft, and this pick has that kind of feel. I mentioned in my draft write-ups of Jones that he might be the most "safe" pick at his position, but it's hard to defend that kind of selection when many of his weaknesses - such as questionable arm strength - don't figure to play well late in the season, although it may not matter if the Giants keep loading up on slot options such as Sterling Shepard and Golden Tate. GM Dave Gettleman is big on drafting players with college track records and stated earlier recently that it takes a different type of quarterback to play in New York due to the adversity that comes with playing in the city. The Duke standout dealt with his fair share of adversity on the field in college playing a poor offensive line and watching his pass-catchers drop 9.2 percent of his throws last season. Legendary personnel evaluator and SiriusXM NFL Radio analyst Gil Brandt recently made some waves when he not only stated how much he loved Jones as a prospect, although he is more Eli than Peyton. Jones will sit for the majority of 2019 as Eli plays out the final year of his contract, but it's hard to like him even as a dynasty option in what figures to be a run-based offense minus Odell Beckham Jr.
1.08 – TE T.J. Hockenson, DET
Hockenson is arguably the most complete tight end to enter the league since O.J. Howard. Detroit fans may be afraid of another tight end after Eric Ebron didn't work out there, but the Iowa product is a different kind of cat. HC Matt Patricia would like nothing more than to end the Lions' many years of misery when it comes to establishing a solid running game and Hockenson will be of great help there. Obviously, Detroit did not draft him just for his run-blocking prowess. Hockenson reminds me of Travis Kelce, and he could easily rise to that level. He is a very good route-runner and dropped only one of 51 catchable targets last season per Pro Football Focus, and he creates separation as well as any tight end since Howard. His presence should also only improve make life easier for Marvin Jones and Kenny Golladay. Rookie tight ends are historically poor bets for fantasy purposes, but Hockenson has a chance to contribute right away. More than likely, however, he will be a low-end TE2 in 2019 as he shares snaps with Jesse James, but he should be a great option at the end of the first round for dynasty leaguers.
1.15 – QB Dwayne Haskins, WAS
Oh, the irony. The kid who grew up a Giants' fan will get multiple shots at proving why he should have been the choice over Daniel Jones. Haskins was a one-year starter at Ohio State, but what a year it was (4,831 yards and 50 touchdowns). The Maryland native born in New Jersey may be the draft's top pocket passer, and he addresses what has quickly become a problem area for the Redskins following the potential career-ending knee injury to Alex Smith. Haskins' accuracy in the short and intermediate areas is what made him so successful with the Buckeyes in 2018. He doesn't put near enough air under his deep ball, but that flaw should be minimized playing in HC Jay Gruden's offense. My comparisons for him were Jameis Winston and Teddy Bridgewater, and he was my second-ranked quarterback despite having only one year of experience. Given the current depth chart in Washington (Smith, Case Keenum and an injured Colt McCoy), Haskins has a realistic shot of starting the season opener. The problem is his supporting cast: Jordan Reed, Trey Quinn, Paul Richardson and Josh Doctson are unlikely to keep defensive coordinators awake at night. As such, he will most likely be a low-end QB2/bye-week filler option at best in 2019.
1.20 – TE Noah Fant, DEN
Denver traded down from No. 10 to No. 20 and probably lands the player he was going to take with its original pick. Joe Flacco has long been as friendly to tight ends as any quarterback, and it could be argued Fant is the most talented one he has had at his disposal. Any discussion about Fant should begin with his incredible athleticism, and it should be noted new OC Rich Scangarello is a Kyle Shanahan disciple who just got done serving as the position coach for San Francisco during George Kittle's breakout season. Fant is the kind of mismatch weapon teams usually drool over in today's game, so it would be surprising if he isn't allowed to stretch the field early in his career. Fant compares favorably to Eric Ebron and Jared Cook, even down to the point where he struggles with drops (13 drops on 91 catchable targets over his career, per Pro Football Focus). He's not a liability as a blocker, but he needs a lot of work in that area. If Fant can correct those issues, he's got a great chance to be a fantasy TE1 early in his career. He's probably a better bet for rookie-year production than his college teammate T.J. Hockenson, but the latter is a better long-term bet.
1.24 – RB Josh Jacobs, OAK
It was long believed Jacobs was destined for Oakland, something that appeared to become more of a certainty when Marshawn Lynch decided he wasn't going to play in 2019. Although he was stuck in a timeshare at Alabama and topped 15 touches only three times in 40 games (251 career carries, 48 receptions), Jacobs proved he was a complete back down the stretch in 2018, showing the ability to line up all over the field and pound the rock in between the tackles. The top concerns most evaluators seem to have with him are the fact he never has proven he can carry the load and injury history, but the tape is so good with him that it would be ridiculous to pass on him because of that. While Jalen Richard will likely steal some touches from him, Jacobs profiles as a young Frank Gore who doesn't need to come off the field. The combination of talent and landing spot makes him the best bet of anyone in this draft class to produce right away. Redraft owners would be justified taking him as early as the late part of the second round this spring and summer. Jacobs is easily in the running to be considered the top overall pick in rookie drafts as well.
1.25 – WR Marquise Brown, BAL
Brown is the first receiver to come off the board at No. 25 and the draft's biggest home run threat. His draft stock wasn't helped by the Lisfranc injury he suffered during the Big 12 Championship, and his subsequent surgery to correct the problem kept him from working out at the NFL Combine and in the weeks leading up to the draft. Although he never received any combine testing numbers, it's safe to say he may enter the league as one of the NFL's top-five fastest players. My high-end comp for him was T.Y. Hilton and many others believe he is a DeSean Jackson clone, and it is entirely possible he settles somewhere in between the two. Unfortunately, Lamar Jackson isn't exactly known for his accuracy and Baltimore is expected to maintain the run-heavy offense it employed once Jackson took over last season. Given the fact Willie Snead is the best receiver on the roster, Brown should not have any issue becoming an instant starter. Unfortunately, the Ravens' offensive approach makes it hard to get too excited about his fantasy prospects as things stand now. Owners should view him as little more than a low-end WR4 in redraft leagues. Similarly, he makes for an unexciting pick in rookie drafts.
1.32 – WR N'Keal Harry, NE
Harry is perhaps the most interesting selection of the first round and was the first of many moves New England will make in the coming weeks and maybe even years to replace the size and red zone ability lost when Rob Gronkowski retired. It's hard to recall the last time Tom Brady had a big outside receiver (Brandon LaFell is the last one I can remember and he is an average talent at best) who played "above the rim" in the same way Allen Robinson and Dez Bryant do (two of Harry's most popular comps). Arizona State used Harry in the slot a bunch, so it will be interesting to see if HC Bill Belichick and OC Josh McDaniels view him as Julian Edelman's successor or if he is just a different kind of offensive weapon for New England. He's certainly the first Patriot receiver in recent memory who figures to do a lot of damage after the catch. The problem I have with Harry is he doesn't create much separation and isn't a particularly crisp route-runner, the latter of which isn't going to fly with Brady. Nevertheless, his landing spot is going to make him a hot commodity in fantasy, especially for however long Josh Gordon is not with the team. Without Gordon around, it's very possible Harry is drafted as a WR3 in redraft leagues this season. In rookie drafts, he figures to battle Josh Jacobs to go first overall.

---
Doug Orth has written for FF Today since 2006 and been featured in USA Today's Fantasy Football Preview magazine since 2010. He hosted USA Today's hour-long, pre-kickoff fantasy football internet chat every Sunday in 2012-13 and appears as a guest analyst on a number of national sports radio shows, including Sirius XM's "Fantasy Drive". Doug is also a member of the Fantasy Sports Writers Association.