4.01 – WR Hakeem Butler, ARI
My top-ranked receiver in this draft class, Butler joins a team that drafted Andy Isabella and has Larry Fitzgerald and Christian Kirk on the roster, but little else after that. That is an important consideration since this offense figures to use four receivers more often than any team in the league. Fitzgerald is expected to see much more time on the outside in what could be his final season, so it makes a ton of sense to add a big target like the 6-6 Butler who spent a lot of his time at Iowa State in the slot. It's no coincidence Arizona targeted him with the first pick of the third day of the draft either; his length and size are in direct contrast to the 5-9 Isabella and figure to drive defensive coordinators crazy trying to find suitable matchups while trying to maintain focus on stopping David Johnson. While drops were a problem in college (11 drops on 71 catchable targets last season), Butler excels at the back-shoulder fade and is perhaps the best incoming rookie wideout at breaking tackles (PFF recorded 16 broken tackles on his 60 catches in 2018 - amazing for a receiver who averaged 22 yards per catch). Keeping in mind the offense he will be joining, Butler warrants consideration late in the first round of rookie drafts and should be viewed as a high-upside late-round flier in redraft.
4.10 - RB Bryce Love, WAS
One year ago at this time, Love was considered a strong Heisman Trophy candidate and the top prospect at his position. Unfortunately, he suffered a torn right ACL in Stanford's regular-season finale and will be hard-pressed to make much of a meaningful contribution in 2019 given how late in the season he went down. Prior to the injury, there was perhaps no running back in college football more capable of breaking the big play than Love, who took on a workhorse role at Stanford despite checking in at 5-9 and 200 pounds. Love compares favorably to Dion Lewis and figures to begin his NFL career being used in a similar fashion heading to Washington, which will rely on Adrian Peterson and Derrius Guice (assuming his knee is healthy by the summer, which doesn't sound like a sure thing at the moment) on early downs. It's probably overly optimistic to believe Love will make much of an impact in redraft leagues - Chris Thompson has a secure hold on passing-down work in Washington for now and Love's rehab apparently hasn't been going all that great - but he's worth a pick in the third or fourth round of rookie drafts as a potential committee partner with Guice beginning in 2020.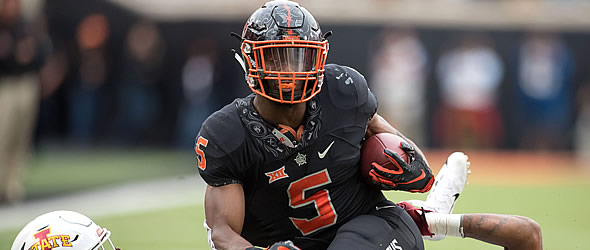 BAL has a crowded backfield but Justice Hill is name to keep your eye on as a potential Ingram backup.
4.11 - RB Justice Hill, BAL
Following the addition of Mark Ingram and selection of Hill, the Ravens are sending a clear message they were less than impressed with Gus Edwards and perhaps ready to move on from Kenneth Dixon. Hill was wildly productive in three years at Oklahoma State and his 4.4 speed should serve as a nice compliment to Ingram's power game. A player I compared favorably to Marlon Mack and someone who also drew some Phillip Lindsay comps, Hill might be too small (198 pounds) to ever be a full-time back for an extended period in the NFL, but the run-heavy nature of Baltimore's offense makes it entirely likely he will be a fantasy factor as a rookie - assuming he beats out Dixon for will the right to be Ingram's change-of-pace. While it would be too much to ask for Hill to produce to the level of Mack or Lindsay as a rookie, his new offense will give him a chance to push for 125-150 carries right away. So although he will not necessarily be Ingram's handcuff, he should be worth a late-round flier in redraft and a second-round pick in rookie drafts.

4.18 - WR Gary Jennings, SEA
The addition of Jennings is another clear indication Seattle is prepared to move on if Doug Baldwin is forced to retire. Although Jennings became more of a deep threat for West Virginia in 2018, he can play all over the field, and it is that versatility that may allow him to get some early playing time. As we have come to expect from Seahawk receivers, he will probably make his hay going down the field. Whether he produces as a rookie or not depends heavily on Baldwin's status, but the odds are he won't be worth contemplating in redraft leagues. If Baldwin can't go, however, Jennings becomes an interesting name to consider later in rookie drafts.
4.20 - RB Benny Snell, PIT
Snell isn't going to wow many people with flashy play, but his power makes him a good player for Pittsburgh to have on the roster behind James Conner since he doesn't present a threat to the starter but gives them another power back should he get hurt. With Jaylen Samuels technically the handcuff for Conner at the moment, Snell can be ignored in redraft leagues. However, if Conner was ever to miss significant time, it's entirely possible he would form a committee with Samuels and be a solid flex option. In an offense known for getting production from its running backs, that fact alone makes Snell worth a late grab in rookie drafts.
4.24 - WR Riley Ridley, CHI
Ridley was considered by many the best route-runner in the draft. His landing spot is an interesting one for fantasy purposes in that Allen Robinson has struggled to stay healthy and Taylor Gabriel is probably best-suited as a deep threat. As a result, the brother of Calvin Ridley enters Chicago with a unique opportunity of carving out early playing time despite technically being fourth on the depth behind Robinson, Gabriel and impressive rookie Anthony Miller. While the younger Ridley has the same kind of body control and smoothness of his brother, he's not quite as explosive as Calvin, which is why he was still available in the middle of the fourth round. Ridley will not be on the redraft radar, but his potential opportunity makes him worth a pick in the third or fourth round of rookie drafts.
4.26 - RB Tony Pollard, DAL
Pollard had the misfortune of being stuck behind second-round draft pick Darrell Henderson at Memphis, rather making his name doing just about everything else for the Tigers, operating as a part-time slot receiver, change-of-pace option and dynamic kick returner (tying an FBS record by running back seven for scores in three seasons). It's the last two things he'll focus on in Dallas, and it's entirely possible the Cowboys envision see him as something of a poor man's Alvin Kamara, although they might just be happy if he can fill the role they hoped Lance Dunbar would assume a few years ago. As long as Ezekiel Elliott is healthy, offensive touches will be tough to come by. However, Dallas' investment suggests he has a good shot at a significant workload should Zeke miss some time, making him a high-priority handcuff in redraft leagues and a solid option later in rookie drafts.
4.35 - TE Foster Moreau, OAK
Despite Jon Gruden's optimism surrounding converted receiver Darren Waller, one of the best bets of draft weekend was Oakland adding some athleticism to the depth chart at tight end. At 6-4 and 253 pounds with 4.66 speed, Moreau offers that and then some. Moreau didn't get much of a chance to show off his skills at LSU, however, and figures to offer more of a run blocker initially than anything else. With that said, he gives Oakland a capable pass-catcher at the position should Waller not live up to the promise the Raiders have in him. He's not worth considering in redraft, but he is well worth a pick later in rookie drafts.


---
Doug Orth has written for FF Today since 2006 and been featured in USA Today's Fantasy Football Preview magazine since 2010. He hosted USA Today's hour-long, pre-kickoff fantasy football internet chat every Sunday in 2012-13 and appears as a guest analyst on a number of national sports radio shows, including Sirius XM's "Fantasy Drive". Doug is also a member of the Fantasy Sports Writers Association.