We have reached the final leg of our journey. Because I opted to go against my initial gut feeling on the Super Bowl matchup in the NFL.com Playoff Challenge, I am left with an unsatisfying combination of mostly 2x and 3x players. As a result, we'll get right into the pick-your-studs portion of my final column of the season..



NFL.com Playoff Challenge




NFL.com Playoff Challenge Roster
QB: Patrick Mahomes (x2)
RB: Damien Williams (x2)
RB: Raheem Mostert (x3)
WR: Tyreek Hill (x4)
WR: Deebo Samuel (x3)
TE: Travis Kelce (x2)
K: Harrison Butker (x2)
D/ST: 49ers (x2)

DraftKings/Fuzzy's

With DraftKings bowing out (with the exception of its "Showdown" offering), we are left with only the traditional playoff pick-your-studs leagues that are wrapping up this weekend.

Because there is only one game this week, I want to use the rest of my time to provide my readers with the kind of analysis one should expect in advance of the biggest game of the year. Enjoy. (Each position is sorted by my DraftKings' projected point total.)

Key for quarterbacks, running backs, receivers and tight ends:
P Yds - Passing Yards
P TD - Passing Touchdowns
INT - Interceptions
Ru Yds - Rushing Yards
Ru TD - Rushing Touchdowns
Rec Yds - Receiving Yards
Rec TD - Receiving Touchdowns
Rec - Receptions
Quarterbacks
Player
Tm
DK$
P Yds
P TDs
INT
Ru Yds
Ru TDs
Fuzzy
DK
Patrick Mahomes
KC
18,900
361
3
1
28
0
33.2
31.2
Jimmy Garoppolo
SF
12,000
275
3
1
5
0
27.5
22.5

The odds Garoppolo outperforms Mahomes in any meaningful fantasy category this weekend are quite long. Regardless of whether the Chiefs are playing with positive or negative game script Sunday, Mahomes will be throwing the ball with regularity. Conversely, the 49ers have already proven they will be more than happy to take the air out of the ball. Garoppolo has attempted a total of 27 passes in San Francisco's two playoff games and only 14 since throwing his one and only postseason interception near the end of the first half of the playoff game against the Vikings. There is an argument to be made that HC Kyle Shanahan is somehow trying to make up for the pass-heavy attack he employed while holding a 28-3 lead against the Patriots in Super Bowl LI while he was running the offense for the Falcons. Or, just maybe, he deserves a little bit of credit for understanding complementary football. (He has one of the best defenses in the league and one of the best rushing attacks, so why not lean on the latter so the former can be at its best? Likewise, why not pound the rock if defenses can't stop it?)

There are some who are treating San Francisco's recent run-heavy ways as if it is somehow an indictment on Garoppolo. He attempted 27 or fewer passes in exactly half of the 49ers' 16 regular-season games and San Francisco went 7-1 in those contests. He threw for four touchdowns three of the four times he made at least 35 throws. It's also important to note that his five most voluminous games came while the Niners' defense was getting decimated by injury during the second half of the season. As the results this month have shown, San Francisco is as healthy on defense now as it has been all year. Even more telling, Garoppolo completed at least 70 percent of his passes in five of the seven outings in which he threw at least 32 times. Maybe Shanahan understands that he doesn't need to put his quarterback in harm's way if the ground game can churn out more than 230 yards per game and limit the number of times his defense has to face one of the league's best quarterbacks.

Will Garoppolo attempt more than the 19 passes he did against Minnesota or the eight he did against Green Bay? Almost certainly. However, if the Chiefs get off to another slow start - as has been the case in their first two playoff games - then there's a good chance San Francisco will run the ball another 40 times. It shouldn't come as no surprise if the 49ers open up the game with a pass-action heavy attack if only to try to catch Kansas City off-guard (here's a glimpse as to why), but there's almost no chance Shanahan wants to put Garoppolo or his offense in a situation where he feels they need to go toe-to-toe with the Chiefs.

Mahomes finished 23-of-35 and rushed for exactly 53 yards in each of his team's playoff games so far. While the fact San Francisco has allowed Kirk Cousins and Aaron Rodgers to complete 76 percent of their passes would appear to speak well for Mahomes' chances to thrive against this secondary, folks need to understand how much of that production was achieved in garbage time. The 49ers, who have allowed three passing TDs in the two games and picked off three passes this postseason, also pitched a shutout in the second half of the Vikings' game and the first half of the Packers' game. This is a defense that has yielded 20 points or fewer 11 times in 18 opportunities. Each of the seven instances in which an opponent scored 21 or more points against San Francisco came in Week 9 or after when the Niners were not at full strength defensively.

Perhaps we can throw all that out of the window when it comes to Mahomes, who is quickly rewriting the book on some of the basic principles quarterbacks are supposed to live by in the NFL. It's entirely possible the 49ers become the latest victim of his ability to create and Andy Reid's ability to break down an opponent with two weeks to prepare. The biggest issue facing the Chiefs' offense this week is San Francisco's ability to control the line of scrimmage and create a ton of pressure with four defensive linemen. The ability of a defense to consistently keep a seventh defender in coverage as opposed to needing to make him a fifth rusher - and still get quick pressure - is perhaps the most underrated part of successful defenses in today's NFL. As much praise as the Chiefs get for having a track team at receiver, the 49ers are also blessed with a lot of speed in their linebacker corps. That's an important thing to note, as Mahomes will likely need to get rid of the ball in 2.5 seconds or less more often this weekend more often than he has in any other game this season. At the 2.5-second mark on a pass play, a good set of coverage linebackers should still very much be involved in taking away a quarterback's first and/or second reads - especially against a heavy zone defense like San Francisco. (For the sake of reference, here are Mahomes' numbers against zone coverage this season.) In fact, I'll go so far to say that if Mahomes' average time to throw is less than 2.8 seconds this week, Kansas City will lose and may lose convincingly. If Mahomes' average time to throw is above that, the Chiefs will probably win.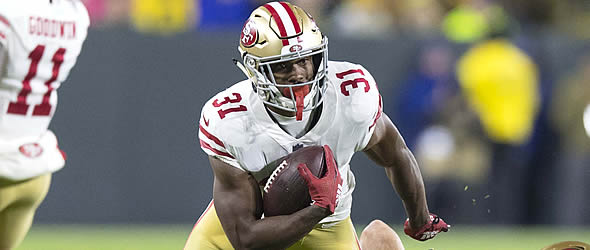 49ers running backs - Mostert's first career 100-yard game came in Week 13 against the Ravens. His second? Only the second-best rushing performance in postseason history. A man who had only once topped 14 carries as a pro (Baltimore; 19) carried the ball 29 times for 220 yards last week. It's just another reminder that the regular season only lays a foundation for what should happen. What occurs after that is one of the reasons why we watch. As recently as Week 9, it looked as though Breida was starting to reclaim control of the backfield. As recently as the divisional round, Coleman looked as though he was making a case to be the lead back (again). As much as fantasy owners may not like it and probably don't want to hear it, Shanahan seems to buy into the notion of a "hot" running back. Obviously, he would prefer not to have him carry the ball 29 times, but it seems abundantly clear that Breida has become more of an emergency option than a backfield partner. It's quite likely the only way Breida will impact this game is if Coleman is ruled out (unlikely) and Mostert is hurt during the game.

To that end, since Breida returned from injury in Week 14 and the 49ers' backfield has been intact, here is a breakdown of the touches by each back per week:
49ers RBs
Player
Wk14
Wk15
Wk16
Wk17
DR
CC
Mostert
12
15
11
11
12
31
Coleman
3
4
5
6
22
6
Breida
6
4
0
4
8
1
Coleman's huge game in the divisional round is proof Shanahan is an advocate of the "hot hand." The reality of the situation is Mostert has been the "hot hand" more often than not over the last month or so. With Coleman and his shoulder a major question mark, it's reasonable to assume Mostert will be trusted to handle another heavy workload if necessary - especially considering two full weeks will have passed since the 49ers' last game.

Perhaps most interestingly, no defense gave up more receiving yards (59.4 per game) to the running back position than the Chiefs. Coleman led the way for the Niners' backs with 21 catches and 30 targets, while Juszczyk paced the group with 239 yards. Coleman, Mostert, Breida and Juszczyk are all more than capable receivers out of the backfield, so the relative lack of production from the group as a whole (77 catches for 753 yards) is more of a function of San Francisco not needing to utilize them much than it is a case of Shanahan attempting to avoid a potential weakness.

Chiefs running backs - Trust goes a long way in determining how playing time is divvied on most NFL teams. It's about the only explanation for how and/or why Reid has determined Williams has become a bell-cow during the playoffs. McCoy has become a virtual afterthought while Thompson has logged a total of 12 offensive snaps in two playoff games. Williams has performed well in the two areas that may be the most important in any Reid offense - protecting the quarterback and serving as a capable option in the passing game. It's fun to think about what a more dynamic talent than Williams might do in this offense with Mahomes & Co. attracting so much attention, but Reid has made it abundantly clear he is not overly concerned about establishing a consistent threat on the ground, and certainly not at the risk of taking the ball out of Mahomes' hands or getting him injured.

All things being equal, Williams would likely have a hard time cracking San Francisco's three-headed committee if he was a member of the 49ers. Fortunately for him, he is on a roster with a 31-year-old back who is likely to get cut this spring despite being more productive than Williams. The other option is a sixth-round rookie that appears to be overthinking and/or trying to do too much with his limited playing time. Whether it comes via Williams or someone else, it would behoove the Chiefs to find a way to establish a ground game in this contest. As good as Mahomes is, Kansas City cannot expect to win this game without finding a way to slow down San Francisco's front four; as good as the Chiefs' offensive line is, trusting that group to consistently holds up against the Niners' surplus of former first-round pass-rushers is a losing proposition. It is critical Kansas City finds a way to get San Francisco to think about something other than putting Mahomes on the ground.


In years past, I have identified the primary receiver/cornerback matchups in this space. I will not be doing that for either team this time around because the Chiefs and 49ers rarely ever ask their corners to follow a particular receiver for more than a play or two.

49ers wide receivers - The Chiefs play more man coverage than the 49ers, but the two defenses are similar in that their corners don't move around very often (as mentioned above). Samuel plays a little bit more on the left side of the offensive formation than he does anywhere else, but all of San Francisco's top receivers see significant time inside as well as at both outside spots. LCB Charvarius Ward has graded out for the season better than slot CB Kendall Fuller and RCB Bashaud Breeland, so it wouldn't be overly surprising if Samuel spends more time lining up opposite Breeland and, to a lesser extent, Fuller. The good news is Ward ranks as Pro Football Focus' No. 51 coverage corner, so we're not talking about a daunting matchup when Samuel lines up opposite him. It is also noteworthy Samuel holds a 20-pound advantage on all three defensive backs, which could come in handy on run-after-catch opportunities (something Samuel is already very good at).

Outside of Samuel's weight advantage, pretty much everything in the preceding paragraph applies to Sanders as well. Sanders plays slightly more often in the slot than does Samuel, but most of the other matchup numbers check out about the same. The most significant difference is probably the rookie's limited work in the running game as opposed to no such involvement for Sanders. With only one double-digit fantasy effort since Week 9, Sanders is very much a contrarian play this weekend.

Because of the versatility Juszczyk possesses, no team plays out of 21 personnel (two backs, one tight end, and two receivers) than the 49ers. In fact, San Francisco has played with three receivers on only 30 percent of their offensive snaps (271 snaps, to be exact), which partially helps to explain why primary slot WR Bourne has become such a key target for Garoppolo despite logging between 20 and 30 snaps in most games. It also explains why Bourne is such a hit-or-miss option in fantasy despite being tied with George Kittle for the team lead with five receiving touchdowns.

Chiefs' wide receivers - One of the most intriguing aspects of this game is the speed of the Chiefs' receiving corps and how the 49ers plan on dealing with it. Hill is, by all accounts, the fastest player in the league. Even though he holds a significant speed advantage over Richard Sherman, it would be shocking if Reid allowed that matchup to happen more than a handful of times on meaningful pass plays in the Super Bowl. Anticipation and knowing how to cater to one's strengths are a huge part of playing cornerback in the league and Sherman does both about as well as any player in the league. Perhaps he gets beat a time or two this Sunday if Mahomes can extend multiple plays, but don't expect it to happen very often in the three-second-or-less window that most pass plays need to be executed. Also of note, the 49ers play a significant amount of off-coverage (fourth-highest rate) and donít allow many deep passes (second-lowest rate). It means we shouldn't expect Hill to go bonkers in the yardage department unless he breaks a tackle in the open field, but it opens the door to the possibility he sees a ton of volume.

There may not be a more frustrating player in fantasy than Watkins, who has seemingly found a way to disappoint owners year after year despite being a full-time player in very good and/or great offenses. Making matters worse is his ability to blow up at a moment's notice only to go back into hibernation. Watkins has benefited this postseason by hitting on big plays - something that seems unlikely to happen against the 49ers' stout defense. Since it seems likely Hill will spend most of his time either in the slot or lining up opposite Emmanuel Moseley, we can expect Watkins will be in Sherman's coverage most of the day. Because Sherman does some of his best work in the short and intermediate areas, Watkins is probably not a good bet for DFS purposes if he spends the majority of his time outside this weekend. His one saving grace may be moving inside (where he lines up on 56 percent of his snaps). The problem with that is that slot CB K'Waun Williams is no slouch either.

A better - and cheaper DFS option - in this game is Hardman. While it is true that Hardman is primarily a deep threat going against a defense that doesn't give up many deep balls, it is often the play of the third and fourth options that determines the winners and losers in the biggest of games. With keeping Hill from getting behind the secondary expected to be San Francisco's primary focus, expect Reid and Mahomes to counter by taking a shot or two with Hardman. Working against him is the likelihood he'll be lining up against Sherman when he is on the outside. Working in his favor is the likelihood he'll be the one receiver the 49ers will not go out of their way to game plan for. Robinson is also a consideration here, but his biggest positives (size and strength) make him a bad matchup for the size and strength of San Francisco's secondary.


George Kittle - Kittle himself revealed earlier this week that he has been playing through a torn labrum in his shoulder since the 2018 preseason. It obviously hasn't bothered him much. His biggest issue from a fantasy perspective has been the incredible success the 49ers have enjoyed running the ball recently. Whereas I expect Kelce to have a big game regardless of game script, Kittle's path to fantasy success this weekend is more volatile. If San Francisco can come anywhere close to matching the success it has enjoyed on the ground of late, Kittle could struggle to top three receptions. Conversely, if Kansas City lives up to their status as the favorite and can build a two-score second-half lead, then I would argue Kittle has a higher floor than Kelce. Also working in Kittle's favor is how much production Kansas City has allowed to the tight end position this season. As mentioned in a previous edition of Road to the Super Bowl, while the Chiefs haven't given up a huge performance to an individual tight end yet, they allowed the fifth-most points to the position in 2019. And while Kansas City has players like Anthony Hitchens and Tyrann Mathieu capable of holding up well in coverage against Kittle, the 49ers' run game - much like Kansas City's threat of hitting a deep shot - should draw enough attention to allow Kittle to feast if the game doesn't get out of hand one way or the other.

Travis Kelce - Zone defenses - especially those that play so much off-coverage - with elite pass-rushers are often susceptible to tight ends who can find gaps in coverage. And it makes sense why that is the case if you think about it. One of the primary purposes of zone defense is to limit big plays. Especially since Hill arrived on the scene, defenses often would rather take their chances on Kelce underneath as opposed to getting beat on one play over the top. There may not be a better "zone beater" at tight end in the league right now than Kelce. San Francisco possesses plenty of athleticism at linebacker and safety, but it is Kelce's ability to win routes in multiple ways (via his speed, size and route-running) that makes him such a difficult matchup. Also working in his favor is the 49ers' struggles down the stretch against quality tight ends (Jacob Hollister, 20.2 fantasy points; Mark Andrews, 14.0; Jared Cook, 20.4; Tyler Higbee, 19.4). Granted, most of those games came without Jaquiski Tartt available. Even with Tartt healthy now and San Francisco possessing athletic linebackers, I'm not sure it will matter much in this game. The combination of Kansas City's outside speed stretching the field and Niners' devastating pass rush should create a perfect storm in which Mahomes is looking for Kelce early and often.

Key for kickers and defense/special teams units:
XP - Extra point
FG - Field goal
PA - Points allowed
TD - Defensive/return touchdowns
TO - Total turnovers
F Bonus - Points allowed bonus for Fuzzy's
DK Bonus - Points allowed bonus for DraftKings



Defense / Special Teams
Team
DK $
PA
Sacks
TD
TO
F Bonus
DK Bonus
Fuzzy
DK
49ers
4,500
27
4
0
1
0
0
6
6
Chiefs
5,400
34
3
0
1
-1
-1
4
4

Coaching - One of the best parts of this particular Super Bowl is that it pairs up two of the most detail-oriented coaches in the game today. Reid has long been obsessed with detail, as former Philadelphia Eagles team president Joe Banner told Sirius XM this week that Reid blew the Eagles' brass away with the degree of detail he went into about how he would run a team during his interview prior to getting the head coaching job with Philadelphia in 1999. Included in that interview was not only Reid's top 10 choices of position coaches for each position but also why he ranked them in the order he did. It's important to remember that prior to landing the Eagles' job, Reid was only a position coach, meaning he had spent years carefully preparing for his opportunity.

Most fans will immediately point to the 61-year-old Reid having the edge in experience over the 40-year-old Shanahan, but let's look at the facts. Reid has been associated with the NFL since 1992 (when Shanahan was 13). Shanahan got his first professional job in 2004 around the age of 24 but grew up learning the game from his dad (Mike) and has been employed either as an offensive coordinator or head coach since 2008. (Back in 2006, he noted that he studied every X's and O's play and issue possible.) In short, don't mistake Shanahan's youth as a weakness in this game. He's been breaking down defenses - and doing so at a high level - for some time. In just the last five seasons, Shanahan has presided over one of the most explosive passing attacks in recent league history (2016 Falcons) and one of its better rushing attacks (this year's 49ers). In other words, he doesn't care how he steals your soul or breaks your heart. It does not take him long to find a weakness, and he's already proven he won't hesitate to exploit it for the sake of maintaining offensive "balance."

Summary

Las Vegas sees the Chiefs a slight favorite in this contest, but I disagree. Historically, matchups between very good offenses and very good defenses tend to favor the latter. Either way, this game figures to hinge on how much better Kansas City's defense plays than either Minnesota's or Green Bay's did. Similarly, San Francisco must prove (as it has multiple times this season) that Garoppolo can consistently move the offense if/when the running game stalls. In short, the game figures to come down to how each team's perceived weaknesses exceeds expectations. In my estimation, the magic number for this game is 27 points. If the Chiefs exceeds that mark, they will probably win. If Kansas City fails to get there, it probably won't win.

From Kansas City's perspective, a fast (or at least a faster) start is a must. Falling behind 24-0 (Houston) or 17-7 (Tennessee) would be much more troubling for the Chiefs in this contest because the 49ers rarely give up big plays. The least likely outcome is Mahomes & Co. being able to win this game on the strength of multiple drives of 10-plus plays. San Francisco's pass rush probably won't allow that to happen. Anything the Chiefs can do to steal a score (fake kick/punt, kickoff/punt return TD) could be the one thing that swings the game in their favor because anything KC can do to lessen the load Mahomes needs to shoulder will be a good thing. San Francisco will likely enter this game feeling as if it can stop Kansas City's running game with its front four and it could be right in that regard. While another 53 yards rushing for Mahomes is highly unlikely, his ability to get two or three first downs with his legs could be critical if it keeps San Francisco's linebackers somewhat honest.

Fans and analysts alike seemed to applaud the Chiefs' ability to stop the run against the Titans, but I didn't see it that way. The bulk of Derrick Henry's rushing yards this season came after halftime. All three of Henry's second-half carries two weeks ago came on the first drive of the second half. (He was targeted twice after that.) The Chiefs did not take their first two-score lead until early in the fourth quarter. In the first Titans-Chiefs matchup, Tennessee continued to run despite falling behind by two scores and eventually got the win. In short, the Titans forgot their identity. Don't expect San Francisco to make the same mistake, although it helps the 49ers have a better defense than Tennessee. If Kansas City holds up well against the run, San Francisco will pass and probably do it with a high degree of effectiveness. If the Chiefs fail to stop the run consistently, they had better hope Mahomes can lead about four touchdown drives in eight or nine possessions.

Super Bowl Prediction: 49ers 34, Chiefs 27



---
Doug Orth has written for FF Today since 2006 and been featured in USA Today's Fantasy Football Preview magazine since 2010. He hosted USA Today's hour-long, pre-kickoff fantasy football internet chat every Sunday in 2012-13 and appears as a guest analyst on a number of national sports radio shows, including Sirius XM's "Fantasy Drive". Doug is also a member of the Fantasy Sports Writers Association.