Week 13 is unique from just about every other week of the fantasy season. Fantasy teams typically find themselves in one of three spots: (1) "get this over with so my team enjoy its first-round bye and move onto Week 15"; (2) I don't care what it takes, just get me into the playoffs" or (3) "please end the existence of my terrible team already!"

Hopefully, most readers find themselves with a 3:1:1 ratio or better for every five teams they own. All the preparation and knowledge in the world isn't going to help your team overcome significant injuries to your top option at every fantasy position. However, if you are fortunate enough to diversify your player portfolio enough in August and September, then there's a good chance you have several more (1) and (2) teams and less of the (3) squads.

Regardless of how well our fantasy teams are doing, however, our job is far from over. The truth of the matter is there is almost always someone on the waiver wire - assuming the trade deadline has passed as it has in the overwhelming majority of leagues - that is (or will be) an upgrade over what you currently have. In other cases, the path to winning is making sure that a potential league-winner is on your bench and not in the lineup of another owner.

Especially as we enter December, the point is simple: every transaction you make should either push your team one step closer to a title or, to a lesser extreme, keep a fellow owner from doing the same. December may be the month of giving in reality, but it is the best time to be selfish in fantasy. Now is not the time to be a nice boy or girl. With the odds of at least half of your league having checked out by now reasonably high, it makes your job that much easier.

Generally speaking, the players that have carried their teams this far are the same ones owners must (or will) trust to take them the rest of the way. As such, this week will be all about trying to find players likely to be on most waiver wires that have a chance to join a group that includes the likes of Billy Volek, Bilal Powell and Drew Bennett as players who unexpectedly put fantasy teams on their back and made late December the most wonderful time of the year for their fantasy squads.

Each player below is a player that is available in at least some of my high-stakes leagues (I play on multiple sites, so an ownership percentage here would be pointless), so I'm going to assume they will also be available in some mid-stakes and low-stakes leagues. After each player's name, I will list his matchups during the fantasy playoffs (Weeks 14-16 in the majority of leagues).
Quarterbacks
Disclaimer: Hopefully at this point of the season, streaming this position is no longer a necessity. Given the number of quarterbacks like Patrick Mahomes, Aaron Rodgers and even Justin Herbert that are routinely scoring 30 or more fantasy points, it will be extremely difficult to overcome the double-digit advantage those teams will have on your team if you don't have one of the elite (or near-elite) options.
Kirk Cousins, Vikings (@TB, CHI, @NO)
It seems like we find ourselves at this point every year with Cousins, who tends to ramp things up for his fantasy owners about this time of the season just so he can let us down during the fantasy playoffs. I can't promise this year will be any different, but fantasy owners need to remember each year is its own entity. Players might crack under the pressure of the real playoffs, but I'm relatively certain they don't crack under the pressure of the fantasy playoffs.
Here is what is working in Cousins' favor right now: the Dalvin Cook gravy train that many fantasy owners rode over the first half of the season is slowing down (5.9 YPC and 12 rushing touchdowns through seven games, 3.6 YPC and one TD over the last three). Over the latter stretch, Cousins is averaging 37 pass attempts (26.1 through Week 9). Defenses understand they must stop Cook first and make Cousins beat them. Minnesota's most recent opponents have been able to achieve the former with some success, but doing so usually comes at the cost of leaving Adam Thielen and/or Justin Jefferson in single coverage. Right now, Cousins is taking advantage.
I can't speak to how readily available Cousins is in your leagues, but he is the overall QB3 over the last three weeks (total points) and the overall QB8 since Week 6. What makes him risky is that unlike Mahomes, Rodgers and Herbert, he is not the focal point of his offense. What makes him less risky is the quality of run defenses the Vikings will face AND the quality of receivers he has at his disposal. He has three TD passes in four of his last six games. Each of his last three games will be played in warm weather or under a roof. Given the quality of run defenses Minnesota will face, it's hard to imagine Cook taking any of those games over. No one should feel great about needing to rely on Cousins now, but he's probably the quarterback I would feel the most comfortable starting that has a decent chance at being available.
Mitchell Trubisky, Bears (HOU, @MIN, @JAC)
Going from a quarterback that should be on just about every roster to one I know is available in just about every league, this one is only for the truly desperate. I wouldn't blame you if you decided to skip this entry. Frankly, most fantasy teams that have reached this point of the season should not even need to consider someone like Trubisky an option. But let's just pretend for a moment that you are carrying only one quarterback on your roster and that quarterback - be it Mahomes, Rodgers, Kyler Murray or Herbert - gets hurt in the next week or two. Options will be scarce in most leagues with the top 20 or so often unavailable. Even then, how can we put our fate in the hands of someone like Trubisky?
Even in a largely uncompetitive contest against the Packers in which Trubisky threw two interceptions, I saw some improvement in his game - believe it or not. His second interception was one that can't and shouldn't have been thrown - a deep throw to Anthony Miller in triple coverage when an intermediate receiver was open underneath. However, his first one was a pure shot play - something HC Matt Nagy admitted to NBC's Kathryn Tappen at halftime. Even if Trubisky does nothing more than consistently target Allen Robinson 13 times against those defenses as he did versus Green Bay, good things will happen. And we also can't ignore the possibility that if/when Nagy decides to allow him to run, he could finish out the season on a much higher note than anyone expects.
Obviously, Trubisky wouldn't find his way into an article like this under normal circumstances, but it's difficult to ignore the defenses he will face in Weeks 14-16. Houston's awful defense got worse this week when top CB Bradley Roby was suspended for the rest of the season for PEDs. The only times Jacksonville hasn't let a quarterback score at least 20 fantasy points is when it gave up a huge game to the opposition's running back(s). Maybe Week 16 will be the week David Montgomery hits, but is that a good bet for a team that has mustered four TDs from the running back position this season? Again, rolling the dice on someone like Trubisky in one or two games during the fantasy playoffs would be a pure desperation play, but I think there's at least a reasonable chance he will be a top 15 option versus the Texans and Jaguars.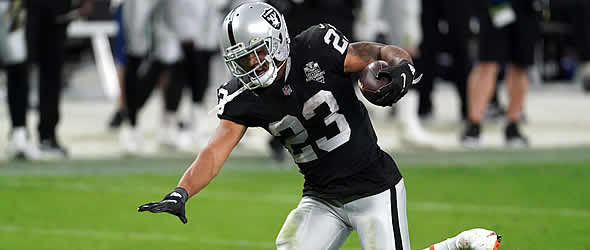 Running Backs
Disclaimer: It is extremely unlikely a clear starter from any NFL team will be available on your league's waiver wire, so the options below will be more of the need-one-break variety than 1B backs who may overtake the 1A option to become the lead back of the committee.
Devontae Booker, Raiders (IND, LAC, MIA)
A few weeks ago, fantasy owners were reminded of the upside Las Vegas' running game possesses. In back-to-back games, Josh Jacobs and Booker posted remarkably similar lines against overmatched defenses as the Raiders went ground-and-pound on the Chargers and Broncos. Last week, visions of the 2019 fantasy playoffs were undoubtedly dancing around in the mind of some owners who rode DeAndre Washington to a fantasy title after likely scooping him off waivers in either Week 14 or 15. Jacobs was forced to leave with an ankle injury that may or may not keep him out of Week 13 against the Jets, but a decent matchup this week is not the primary point to be made here. Few running backs run with more power and generate more yards after contact than the Alabama product. That kind of physicality often comes at a price, so while this ankle injury may not be as serious as last year's shoulder injury, it should serve as a warning to Jacobs' fantasy owners that time is running out - and likely already has in many leagues - to protect their investment.
As long as they get back DT DeForest Buckner and LB Bobby Okereke in time (and they likely will), the Colts are not a matchup any fantasy owner should be excited about. In the event Jacobs is forced to miss Week 15 or Week 16, those are the matchups Booker's fantasy owners would want to take advantage of. The Chargers (11th) and Dolphins (16th) aren't pushovers against fantasy running backs on paper, but a closer look at their recent competition reveals they have allowed the likes of Frank Gore and Kalen Ballage to produce at an RB2 level in recent weeks. Booker is at least at their level and running behind a better offensive line. While he may not the handcuff with the most rest-of-season upside, no other true backup this year may have a clearer path to a feature-back workload if the starter goes down.
Carlos Hyde/Rashaad Penny, Seahawks (NYJ, @WAS, LAR)
There's no question Chris Carson is the starting running back in Seattle. That's not up for debate. What is more of a question is whether his recent foot injury will be the last of his injury issues in 2020. Probably even more so than Jacobs, Carson's running style is fun to watch but makes him a poor bet to hold up for an entire season. He is a near certainty to appear on the injury report again at some point over the final five weeks of the season. If/when we can say that with some degree of certainty, why would his fantasy owners leave it up to chance and not make sure his handcuff is stashed away?
Hyde appears to be that guy at the moment, but Penny is expected back at practice soon. It is likely Penny won't be worth considering in fantasy until the NFL Playoffs begin, but he could just as easily get thrown into the fire as soon as Week 15 if he looks good in practice. When he is right, he is more of a threat in the passing game than Hyde, and that alone gives him some fantasy value if Carson is sidelined. HC Pete Carroll seems to like the Carson-like physicality Hyde brings to the table, so last week's shared backfield may have been a preview of things to come (in terms of the workload split between him and Carson) and not just an easing-in period for the starter. I tend to believe that is not the case, but the possibility cannot be discounted.
Hyde has already proven to be a capable replacement for Seattle and a solid RB2 option - albeit one with less upside. He is exactly the type of player owners should be stashing ahead of the fantasy playoffs, in part because of Carson's aforementioned injury risk and in part due to a schedule that features at least two games that should allow him to accumulate a ton of volume. The Jets are the Jets. Despite Washington's recent surge, the Football Team is not an offensive juggernaut and could struggle to build or hold a lead against Seattle. The Rams always seem to give the Seahawks trouble, but that matchup in Week 16 would not be enough to make shy away from starting Hyde either if Carson can't go.
D'Onta Foreman, Titans (@JAC, DET, @GB)
For whatever reason, the fantasy gods chose to smile favorably on the one player this year (Derrick Henry) who doesn't need a lot of help to almost singlehandedly carry teams to fantasy titles. In the Jaguars (fifth), Lions (first) and Packers (third), Tennessee faces three of the five teams during the fantasy playoffs that surrender the most fantasy points to running backs. Not only are the defenses significantly challenged against the run, but the first two of the three don't possess much offensive firepower either. This bodes well for the Titans to pound the rock early and often.
In fantasy football (as in life), it is often smart to prepare for the worst and hope for the best. Henry is a great bet to handle as much work as possible in some of the most favorable matchups he will see all year. But what happens if he has to miss time and/or finds himself in a situation like last year where the Titans rest him for a game with nothing to gain in terms of their playoff seed? The first scenario is unlikely given his track record and the second is unlikely to be repeated anytime soon, but it raises an important question: who takes over for King Henry if he needs to be away from his throne for a week? There's a decent chance Foreman and Jeremy McNichols form a committee, but I don't think there's any question the 235-pound Foreman offers more of the thump that Henry possesses and would be the most likely candidate to handle most of his workload in the running game.
Foreman should not be expected to match the prodigious statistical heights Henry typically does in such a scenario, but 100 rushing yards and a touchdown from a true backup is something just about every fantasy owner will accept if their stud can't go. Those totals are more than attainable in any one of the three aforementioned plus-matchups if Foreman is allowed to handle 20 carries. At the very least, Henry's fantasy owners need to start locking Foreman up now. In deeper leagues, stashing McNichols and/or Darrynton Evans makes a lot of sense as well.
Wide Receivers
Breshad Perriman, Jets (@SEA, @LAR, CLE)
Much like the Cadbury bunny around Easter or Santa around Christmas, this is about the time of year where Perriman awakes from his peaceful slumber to deliver all kinds of goodies. It's a bit disingenuous to Perriman that he just decides to turn it on late every season by choice. Injuries and depth chart issues have kept him from realizing his full potential over his five-year NFL career - especially in recent years. Either way, it appears he's ready to deliver in the fantasy playoffs for a third consecutive season.
A few fantasy owners started to pick Perriman up off waivers shortly after his two-TD eruption against New England in Week 9. That performance was generally dismissed as a fluke in part because Stephon Gilmore sat out due to injury. Well, he's played two more games since then - including his first with Sam Darnold last week - and he has been the Jets' top fantasy wideout in all three games. He is the overall WR24 since the Patriots' game and has scored more points over that stretch than DeAndre Hopkins has over his last four. He has scored the same number of fantasy points as Robby Anderson in that span. Perriman is averaging 17.5 fantasy points in those outings, putting him in the same class as Allen Robinson (17.6) and DK Metcalf (17.5) and slightly ahead of Chase Claypool (15.9).
Winless teams are winless for a reason, but it doesn't mean they don't have players that can help us in fantasy. Perhaps if Perriman had not already shown us he can be a lead receiver with the Bucs last year, we could write him off as a fluke this season. He is basically doing now what he did in the last two years … he's just doing it earlier this time around.
Not convinced? He beat J.C. Jackson for two of the three touchdowns he's allowed in his coverage this season in Week 9. In Week 11, he got all of his production (two catches on three targets for 54 yards and a touchdown) in Casey Hayward's coverage. Last week, three of his four receptions came in the coverage of Byron Jones or Xavien Howard. None of those cornerbacks are chumps, folks. I obviously would not trust Perriman in Week 15 against the stout Rams' secondary and I recognize Seattle's defense isn't nearly as bad as it was early in the season, but the Seahawks and Browns don't have cornerbacks (at least not at the moment) on par with the ones I just mentioned. I realize trusting a Jet is not good for the heart, but maybe it's about time we recognize Perriman may not be the bust we thought he once was and embrace him as the first-round talent he was drafted as in 2015.
Denzel Mims, Jets (@SEA, @LAR, CLE)
With exactly eight targets in each of his last three games, a strong case can be made to pivot toward Denzel Mims instead of Perriman. In typical Adam Gase fashion, his offense seems to be moving away from the one player that has proven he can produce (Jamison Crowder). Until that changes (and there's not much of a reason to suspect it will since Crowder has a total of 10 targets in his last three games), it's rarely ever a bad idea to follow the targets. A bonus for future fantasy owners of Mims: Perriman will likely draw the opponent's top corner more often than not. Mims is a dynamic talent that was held back early by injury and being held back now somewhat by his situation. Given the good matchups he has in two of the three games during the fantasy playoffs, perhaps not even Gase will be able to keep him from erupting at least once.
Gabriel Davis, Bills (PIT, @DEN, @NE)
This recommendation is based solely on whether or not John Brown (ankle) returns from IR after his required three-game stint expires following the completion of Week 14. In the three games Brown has already missed, Davis is averaging 9.9 fantasy points and has scored at least 10.8 twice. In Buffalo's other eight contests, the rookie is averaging 6.5 fantasy points and has failed to reach double figures in all but two games.
Unlike Perriman and Mims, Davis can't be considered a strong add outside of the fact he is a bigger receiver (6-2, 210) with very good ball skills who has the trust of Josh Allen and the coaching staff in the red zone. He has been limited to four or fewer targets in all but one game, so fantasy owners taking the plunge with him need to understand he has a low floor. With that said, he's played at least 60 snaps in the three games Brown has missed, which is a very promising number for a team that has seemingly embraced the idea that it is an offensive team (as opposed to the defensive squad it was in previous years under HC Sean McDermott).
Davis is a calculated risk, not only because he is a rookie that could get his playing time cut soon, but also because no one should be surprised if Stefon Diggs and Cole Beasley each see 10-plus targets in each of the next two games. Yet, touchdowns are the lifeblood of fantasy football and Davis is tied with Diggs for the team lead with four receiving scores. Combine that with the fact he has Brown's deep role in this offense for at least two more weeks and there is reason to believe his production could mimic Brown's in games where we should expect the Bills to throw a lot, namely in Week 14 versus the Steelers and possibly in Week 16 against the Patriots. There's also a slight chance Buffalo decides to put Brown in bubble wrap for the playoffs if it becomes clear in two weeks that Buffalo will win the AFC East.
Keke Coutee, Texans (@CHI, @IND, CIN)
What a long and strange trip it has been for Coutee. Midway through the season two years ago, he was the clear long-term answer in the slot. The inability to stay healthy and some disappointing play when he was on the field in 2019 was a small part of the reason Houston overspent on Randall Cobb this offseason. Entering 2020, there was talk of Coutee getting released before the opener. Prior to Week 11, he saw a total of five snaps for the season. Lo and behold, he found his way back into our lives mere minutes after Cobb got hurt against the Patriots. It was just over one more week later before he turned from a potential flash in the pan to a player the Texans need to rely on from here on out. Will Fuller's six-game PED suspension will keep him out for the remainder of the season - barring an unlikely successful appeal - which means Coutee should serve as the clear No. 2 option in this passing game behind Brandin Cooks.
One of the most important things for fantasy owners to keep in mind is that opportunity does not always lead to success. It's our job to identify opportunity as fantasy owners when situations like this arise. It's on the players, coaches and the opposing defense to determine if that opportunity leads to success. Coutee has that opportunity now, and we know from the pair of 11-catch games he had as a rookie in 2018 that he has the talent to get open and Deshaun Watson's trust. Houston's running game is atrocious and its defense is pathetic most weeks, so we also know there is volume to be had (beginning with the seven targets per game Fuller leaves behind).
Given the difficulty of the Texans' fantasy playoff schedule for their receivers, picking up Coutee for the stretch run is a bet-on-talent, bet-on-quarterback play rather than a smart add based on soft matchups. Most of what he has done in his Texans' career has come out of the slot, but it seems reasonable to assume he will spend most of his time on the perimeter moving forward while one of Houston's handful of tight ends - likely Jordan Akins - soaks up more of the slot routes. I have my doubts about him being useful in fantasy before Week 16, but a Week 13 clash with the Colts should be able to shed some light on that subject.
Tight Ends
George Kittle, 49ers (WAS, @DAL, @ARI)
This one feels like cheating, so I'll keep it short. I picked Kittle up for $1 in a league last week and hope to do so in another league this week now that I am closing in on a first-round bye. In the latter league, it makes no difference I already have T.J. Hockenson and Zach Ertz on my roster already. Kittle recently expressed confidence he will be able to return before the projected eight-week timeline. The fact is we don't know, but this is the kind of thing I was talking about in the first few paragraphs. I would rather have someone with his league-winning potential taking up a spot on my bench injured than in an opponent's lineup healthy because I was afraid to "waste a spot" on him in Week 13. Even the most inexperienced fantasy player knows that Kittle is one of about 2-3 tight ends who has a realistic chance to score 20 or more fantasy points. If he was dropped, find a way to get him on the roster in the leagues. Kittle at even 80 percent is probably no worse than the overall TE5.
Jordan Akins, Texans (@CHI, @IND, CIN)
Even in an age where coaches seem more willing than ever before to put tight ends in the slot, it still doesn't seem like it happens nearly enough. Only Logan Thomas, Hunter Henry and Mike Gesicki have exceeded 200 slot snaps this year, and only 11 tight ends who have played at least 10 games have lined up inside on at least half of their snaps. One of the few tight ends who has lined up in the slot on 60 percent of their snaps is Akins, whose 107 snaps inside are just two less than Travis Kelce (despite playing three fewer games). That little nugget became more important recently after Kenny Stills was waived and Will Fuller learned of his PED suspension. Keke Coutee will almost certainly be forced outside - unless the Texans decide rookie speedster Isaiah Coulter is ready to handle those duties despite not having logged a single snap in his pro career - which paves the way for the Texans to use more of the heavy sets they wanted to use after drafting three tight ends in the last three years.
Rather than rehash what I said in Coutee's space earlier, let's focus on why Akins has a chance to be useful during the fantasy playoffs. In the likely event Coutee is overmatched or not ready to live outside, it's unreasonable to expect Brandin Cooks to attract 15 targets per week. We already have a pretty good idea Houston will be forced to pass (a lot) if only because the running game is so poor. We also already know Akins has flirted with fantasy relevancy earlier in the season even when the Texans were mostly intact. We also know that Indianapolis and Chicago figure to be brutal matchups for the remaining Houston receivers. It means we should expect running backs and/or tight ends to pick up the slack. Considering how often the Texans were using Akins out of the slot in "normal" times and the fact he is 6-4 and 240-plus pounds, he is the closest thing Houston has to a "mismatch weapon" now. Assuming Randall Cobb does not return this season, fantasy owners should not be surprised if Akins is a top-15 option at tight end from here on out.
Defense/Special Teams
Generally speaking, owners with an eye toward the fantasy playoffs should be targeting any matchup over that time that involves the Jets and Bengals. Cases can also be made for any defense going up against the Bears, Broncos, Eagles, Jaguars and Lions. The good news is half of the 32 teams in the league have at least one game against those struggling offenses during the fantasy playoffs. The bad news is only three of those 16 teams have two such matchups. And, you guessed it, none of the three are defenses we can trust: Dallas, Houston and Tennessee.
I've stashed the Browns' defense whenever and wherever possible for their Week 16 matchup against the Jets (mostly because I don't want my opponent to use them), but I'm in the enviable position of owning the Steelers, Ravens, Colts or Dolphins D/ST in just about every meaningful league. It's one of the many roster management questions successful fantasy owners must ask themselves: how many roster spots can I use to keep a player/unit from my opponent before the benefit of such a strategy becomes counterproductive?
The Rams (NE, NYJ, @SEA) were available recently in a couple of my leagues, but they shouldn't be on the wire anywhere at this point. They are probably the best option of the ones I haven't already mentioned. The Bears (HOU, @MIN, @JAC) and Browns (BAL, @NYG, @NYJ) are two D/STs that have a reasonable chance of being available that could be effective three-week stop-gaps in lieu of the elite options. The Cardinals (@NYG, PHI, SF) and Panthers (DEN, @GB, @WAS) are two other possibilities, albeit less attractive ones.
---
Doug Orth has written for FF Today since 2006 and been featured in USA Today's Fantasy Football Preview magazine since 2010. He hosted USA Today's hour-long, pre-kickoff fantasy football internet chat every Sunday in 2012-13 and appears as a guest analyst on a number of national sports radio shows, including Sirius XM's "Fantasy Drive". Doug is also a member of the Fantasy Sports Writers Association.