Every year when it comes time to do this column, I struggle with whether or not I should be bold in terms of shock value or simply deviate from the perceived norm on a handful of players. I'll probably never be able to figure out what side of the fence to stand on in that regard. Be that as it may, people love to see "hot takes" and analysts all across the fantasy industry love to cling to the one or two they got right from the season before, so let's saddle up for another round.

I suppose the reason why this task is harder for me than some is that readers have typically been exposed to my Big Boards for around a month by the time this piece rolls around, so my secrets are no longer secret. Perhaps to make myself feel better, maybe entertain you and reinforce the fact this is NOT a sudden departure from my recent Big Boards, I've decided to include how likely I believe my bold prediction will come true.

Last year was a decent showing, as Todd Gurley came up one touchdown short of meeting one bold prediction and Dalvin Cook came up two fantasy points short of another (he was RB2 overall in points per game, so I'll give myself credit for that one). Otherwise, Chris Carson was a top-12 running back, Chris Godwin was a top-12 receiver, Cooper Kupp was the Rams' receiver to own in fantasy and Darren Waller most definitely finished as a top-10 fantasy tight end. Not too shabby.

Let's see if I can do better: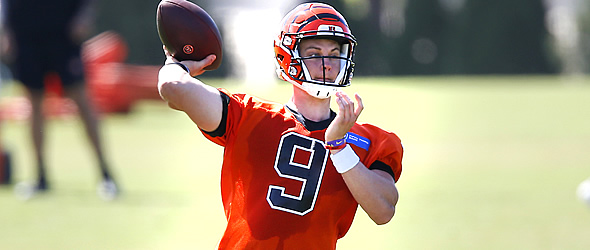 1. Joe Burrow will finish as a top 12 fantasy quarterback.
Here's an excerpt from my draft profile on Burrow back in early March:
"Andrew Luck was unquestionably one of the most accurate quarterback prospects of the last decade. Burrow is in that class in terms of accuracy. It's almost as if anything within 20 yards is an extended handoff. … Two of the most desirable characteristics a quarterback prospect entering the league can possess is accuracy and the ability to win the chess game that football often becomes at the pro level. Burrow has both in spades. (An Aaron) Rodgers comp is a very high bar, but that kind of ceiling is within reach considering his accuracy, awareness and vision - the last two of which may have been the biggest reasons he thrived in LSU's spread attack in 2019."
Burrow is not Rodgers or Luck in his prime at the moment, nor can he be expected to perform at that level with one normal offseason - much less the one he had this summer. What the No. 1 overall pick does have is a lot of what we (should) look for in a fantasy quarterback: incredible poise and accuracy, above-average athleticism, job security and a top-notch supporting cast. Yes, the offensive line is still in transition, but that fact should be somewhat mitigated by Burrow's quick decision-making and the presence of 2019 first-round pick LT Jonah Williams, who missed all of last season due to injury. While I don't put a lot of stock in camp reports per se, I get interested when they match up with what I saw on his college tape. The Bengals have been thrilled with what they've seen so far from Burrow.
I'll be the first to admit the schedule isn't exactly easy the Bengals. The elite secondaries (or what should be elite anyway) of the Chargers, Ravens and Steelers (twice) comprise more than a quarter of the team's opponents during the fantasy season. The good news is that Cincinnati has a receiver depth chart stocked full of quality options and one potentially elite one if A.J. Green can stay healthy. They have a running game and a running back in Joe Mixon that demands the attention of every opponent and should get linebackers to bite just a bit harder on play-action. Cincinnati's defense should be improved, but probably not to the point where the Bengals will have the luxury of keeping Burrow at 30 pass attempts per game. As I alluded to earlier, Burrow also possesses the athleticism to run for 30-40 yards on occasion if the defense falls asleep and/or doesn't rush with some degree of discipline. I realize a top 12 finish is a stretch with so many quality quarterbacks in the league, but it is possible.

Likelihood of happening: 35 percent
2. Derrick Henry will top 30 catches.
Henry has yet to reach the 20-catch mark in a season (career-high 18 last year). Heck, he hasn't even been targeted more than 24 times in a year (also 2019). However, the stars seem to be aligning in his favor for more involvement this season. Ryan Tannehill has spoken about Henry's growth as a pass-catcher this summer, but the more important development has been a string of recent missed practices from Darryton Evans. The rookie was already facing somewhat long odds of contributing right away given this unique offseason, so missing time as he transitions from Appalachian State means he will probably not see a lot of snaps in the early going. Counting on him to serve as the third-down back initially seems even less unlikely, although that could have easily been the case even in a full offseason. The point is Evans' early role may be little more than to take the field only when the play call is designed to get the running back the ball as a receiver. Expecting him to consistently pick up and identify blitzers may be too much to ask.
There is some reason for concern about Henry's potential increased involvement in the passing game eventually. A source close to the team told NBC's Peter King recently that Evans "has a chance to be a poor man's Alvin Kamara." Consider me skeptical, at least as it relates to 2020. Evans has exceptional speed (4.41-40), but I did not see the second coming of one of the game's most dynamic all-purpose weapons on his college tape. Is there another running back is on the roster at the moment who will steal work from Henry? I'm not counting on Senorise Perry or Jeremy McNichols to do it.
This prediction isn't so much about the lack of realistic options behind Henry, but rather about the offense growing in its second year under OC Arthur Smith. The running back position was only targeted 62 times last season. At the very least, it would behoove Smith to throw the defense off-balance every once in a while when Henry is on the field. The offensive line didn't do a particularly good job clearing a path for Henry in either 2018 or 2019 (1.9 yards before contact both seasons). That number probably won't improve following the departure of RT Jack Conklin to Cleveland. Throw in a few more negative scripts than what Tennessee faced last year and Henry could easily be the recipient of a few more screen plays. Also bear in mind the former Heisman Trophy winner owns a career catch rate of 77 percent and has averaged 10.1 yards per reception in three of four seasons. While YPC isn't a "sticky stat," it reminds us Henry is a scary dude for defensive backs to bring down in the open field.
Likelihood of happening: 55 percent
3. Jerick McKinnon will be the 49ers best back for fantasy purposes.
It's possible I just can't quit McKinnon. The fantasy world is well aware that he hasn't played in two full seasons due to ongoing knee issues. There is also not much recent history that supports a professional athlete being able to return to their sport after two years away and make a noticeable impact. For the sake of this article, however, I don't care. Perhaps I'm subscribing to a bit of "In (Kyle) Shanahan I trust" here, but I still love McKinnon's fit in San Francisco. As I noted last week, Shanahan once reportedly envisioned McKinnon as his new version of Devonta Freeman. Shanahan is somewhat infamous for his ability to pull the plug on one back and turn to another if his system isn't being executed in the way he expects it to be executed. Raheem Mostert executed well consistently down the stretch for the 49ers last season, so San Francisco gave the impression it was ready to commit to him on a more regular basis.
One of the main questions Mostert has in regards to being a potential feature back is his lack of involvement in the passing game. It's not that he can't do it, but Shanahan just may not have a lot of trust or confidence in his abilities to be anything more than a check-down option. Mostert has been on the San Francisco roster since before Shanahan arrived and had ample time to carve out a role as a pass-catcher - a role that would not have interfered with his contributions on special teams - on a team that once force-fed Carlos Hyde 88 targets. The point here is we cannot a big bump as a receiver now for Mostert. Shanahan has had no issue giving his running backs a big role in the passing game when he's been comfortable with them (Freeman, in particular). McKinnon's ability to be a mismatch weapon in the passing game that motivated the 49ers to pay up for him as a free agent in 2018.
There's a natural inclination for fans and fantasy owners to let one year bleed over into the next in terms of how we value players and think of teams. While it is well within the realm of possibility that Mostert picks right up where he left off and is a high-upside RB2 for the majority of the season, there is also the distinct possibility San Francisco doesn't enjoy near the positive game script it did for the bulk of last season. There's also the 49ers' current state of health on offense: a week before the start of the season, Jordan Reed may be the healthiest pass-catcher available at the moment. (That's a statement only believable in 2020, right?) I've projected McKinnon somewhat conservatively on my Big Boards given his injury history, but I think he has the most complete skill set of any back that Shanahan has coached in San Francisco. At the very least, he has significant PPR upside playing in a system that has been starving for a pass-catching running back. If his body cooperates and he gets the chance to shine, I think there's a real chance he becomes the next running back success story in Shanahan's coaching career.
Likelihood of happening: 35 percent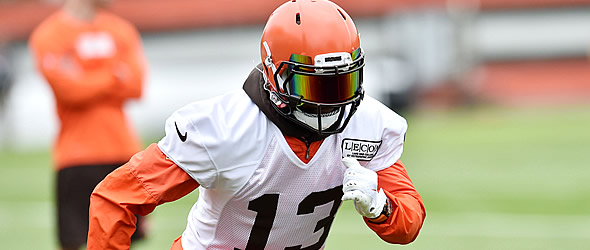 4. Odell Beckham Jr. will finish as a top-five fantasy receiver.
This prediction should come as no surprise to anyone who has followed my Big Boards over the last month. If skeptics want to pass on OBJ because he is "injury-prone," that's their prerogative; they have a lot of recent evidence to support that perspective. Either way, I'm not sure the core muscle injury Beckham played through last season is anything more than bad luck and not exactly an ailment that comes as a result of "injury proneness." Frankly, I'm more impressed by the fact he didn't miss a game because of it. When one considers how difficult it must have been for him to cut, plant, extend and all the other things a receiver must do, it is incredibly impressive that he still churned out a 1,000-yard season and performed well enough to attract 133 targets in what was largely a dysfunctional offense.
With Cleveland expected to embrace the same kind of offense that HC Kevin Stefanski oversaw in Minnesota, there is some fear that OBJ and every Browns pass-catcher is due for a substantial decrease in activity and production. OK, fine. Let's use the 2019 Vikings as an example. Minnesota attempted 466 passes last season and 209 of them (44.8 percent) were thrown in the direction of receivers, 105 to the tight ends (22.5) and 126 to the running backs (27.0). As bad as the Minnesota secondary was last year, the Vikings still ranked ninth in yards allowed per play and 14th in total defense. Conversely, Cleveland ranked 21st and 22nd, respectively. Even if we assume a modest improvement in 2020, it seems unlikely the Browns will be able to consistently execute a run-heavy game plan playing six total games against offenses led by Lamar Jackson, Ben Roethlisberger and Joe Burrow and a few more led by Dak Prescott, Deshaun Watson and Carson Wentz. In other words, the Browns may be able to run the ball as well as any team in the league this season, but they will probably still need to move a bit closer to last year's league average of 558 pass attempts.
If we assume can assume that to be true and split the difference between the two numbers (466 and 558) in half, the Browns would attempt roughly 510 passes - still well below the league average last year. There's almost no chance Nick Chubb and Kareem Hunt will exceed the 126 targets that Minnesota running backs had, while 105 targets would figure to be near the ceiling for Cleveland tight ends. If it can be agreed that tight ends and running backs won't exceed 230 total targets for the Browns this year, it leaves somewhere in the neighborhood of 280-300 targets for receivers. Will Rashard Higgins take more than 50? (His career high is 53 in 2018.) Rookie Donovan Peoples-Jones? KhaDarel Hodge? Even if we project just about every non-OBJ and Jarvis Landry player on this offense at his ceiling, it will leave about 250 targets for the two studs. Now apply a little bit common sense and ask yourself if Stefanski won't take into account who his starting receivers are and funnel the passing game through them. If Beckham is as electric as he was in his days as a Giant - he's had an injury-free offseason by all accounts - then I would also expect a return to the receiver who twice recorded 150-plus targets in New York. Furthermore, the Browns intend to use more play-action passes this year, which will open up the field for one of the game's most dynamic run-after-catch receivers. It's not hard to draw up with a scenario in which Beckham tops 90 catches, 1,300 yards and 10 touchdowns for the fourth time in his career.
Likelihood of happening: 50 percent
5. Robert Woods will finish a close third behind Davante Adams and Michael Thomas in targets.
If you're thinking someone is buying into Woods' late surge last year and the idea the Rams will be a heavy 12 personnel (one back, two tight ends) team, you'd be right. The Rams did almost nothing to fix an offensive line that started 2019 as a below-average unit and forced HC Sean McVay to abandon his preferred 11 personnel package. Over the six-game stretch in which Los Angeles made the conversion, Woods averaged an absurd 11.3 targets, 7.8 catches and 94.7 receiving yards. He had no fewer than nine targets in any of those six contests and had as many as 18 (in a game the Rams won 34-7). If Woods' 68 targets over that span sound high, it's because only Michael Thomas (72) and Davante Adams (70) had more.
Can we expect this to continue in 2020? Well, unless the Rams solved their offensive line issues during an offseason in which building chemistry was nearly impossible … sure. Cooper Kupp wasn't an afterthought during Woods' surge (40 targets), but a touchdown in each of his final five games overshadowed what were otherwise somewhat pedestrian receiving totals. (I talked about Kupp's falloff here once the Rams were forced to take him out of the slot regularly due to their shift to 12 personnel.) Tyler Higbee famously went on a run unlike any other tight end in league history ever, so one has to wonder if he can come anywhere close to repeating that. If he can't, maybe some of those looks go to Woods as well.
Here's the beauty with Woods: his floor appears to be 130 targets, he provides more rushing yards than anyone should rightfully expect from a receiver and he rarely comes off the field (played at least 93 percent of the team's snaps in 12 of 15 games last season). A repeat of the aforementioned 11.3 targets per game - a pace that would lead to 180 looks over a full season - should not be expected, but it should give readers and fantasy owners a decent idea as to what his ceiling is. Over the last three seasons, 41 of 42 receivers or tight ends who have topped 130 targets have also exceeded 200 PPR fantasy points and 30 of the 42 have surpassed 250 PPR fantasy points. In other words, don't sweat it if Woods is your WR1 and be thrilled if he is your WR2.
Likelihood of happening: 35 percent
6. CeeDee Lamb will outscore either Amari Cooper or Michael Gallup in fantasy.
Far too often in Twitter exchanges or podcast debates nowadays, the immediate reaction from fans and followers is swift and typically harsh when promoting one player since the knee-jerk reaction is that everyone else must stink. The sad reality is that is rarely the case. I mention this because it's almost blasphemous to suggest a rookie receiver could be a better fantasy option than an elite talent like Cooper or a player in Gallup who I liked more coming out of Colorado State than I do Lamb. However, most diehard fantasy players understand talent isn't the only factor to consider when evaluating a prospect. Quite often, situation and opportunity play just as much of a factor.
It is there I would like to start discussing Lamb. The popular belief is that he will inherit Randall Cobb's slot role from last year and live inside for 90 percent of the snaps. While I do believe he will be the primary slot option, I think Dallas will try to get Cooper inside more often to give him a break from the amount of coverage he tends to see tilted in his direction. But let's assume that Lamb logs 80 percent of his snaps in the slot (which would be lower than Cobb last year). The rookie was arguably the best run-after-catch receiver in the draft and he's going to have the chance to run four of every five routes without having to deal with contact coming off the line of scrimmage? Yes, please. As I noted in his draft profile this spring, creating separation, playing the ball well in the air (good body control) and generating yards after the catch are typically more important than a blazing 40 time (4.5).
Getting back to the bold prediction now, I believe this situation ends up becoming a case of Dak Prescott simply taking advantage of the defense's weakest link in the secondary each week. The weakest link in a lot of secondaries is in the slot, and the majority of slot corners don't have to deal with a receiver that has Lamb's ability to high-point the ball and/or consistently shed weak tackle attempts. I've said for a while now that I believe Lamb has the best shot of the rookie class to be this year's A.J. Brown in that he profiles as a YAC monster that won't need heavy volume to do a ton of damage. It should not be overly surprising if Prescott simply makes defenses rethink how they defend the slot until they adjust, but how much can opponents adjust when they are already struggling to defend Cooper without giving his man some help? Defensive coordinators may eventually discover a good answer for that dilemma, but they probably won't have the personnel to execute it. I see something in the neighborhood of 60-plus catches, 900-plus yards and perhaps as many as eight touchdowns in what will be more of a pick-your-poison passing attack than most believe.
Likelihood of happening: 40 percent
7. Hayden Hurst will finish as a top-five tight end.
Matt Ryan and OC Dirk Koetter have worked together in four seasons. Let's take a quick look at how what has meant for the tight end position:
| | | | | |
| --- | --- | --- | --- | --- |
| Year | Tgt | Rec | Yds | TD |
| 2019 | 121 | 92 | 989 | 7 |
| 2014 | 56 | 33 | 241 | 3 |
| 2013 | 137 | 93 | 902 | 10 |
| 2012 | 130 | 99 | 962 | 9 |
Now, let's take a look at the top tight end performer in each of those years:
| | | | | | |
| --- | --- | --- | --- | --- | --- |
| Year | Player | Tgt | Rec | Yds | TD |
| 2019 | Austin Hooper | 97 | 75 | 787 | 6 |
| 2014 | Levine Toilolo | 54 | 31 | 238 | 2 |
| 2013 | Tony Gonzalez | 121 | 83 | 859 | 8 |
| 2012 | Tony Gonzalez | 124 | 93 | 930 | 8 |
Gonzalez is a Hall of Fame tight end and one of the best to ever play the position, so it's unfair to say his production is in Hurst's range of outcomes despite the fact Gonzalez posted the numbers above at the end of his career (age-36 and age-37 seasons). There is some carryover from those years, however, as Roddy White was at the edge of his prime and Julio Jones was just getting his career started. Jones is now the guy in his early 30s and Calvin Ridley is the heir apparent. Last year, Hooper enjoyed a career year in Koetter's return to the booth - managing to do so in only 13 games and despite the fact Hooper doesn't stretch the field very much. Going back to his four years as the Buccaneers' head coach, Koetter has consistently got a lot from his tight ends. Here's a look at what the tight end group did under his watch in Tampa Bay:
| | | | | |
| --- | --- | --- | --- | --- |
| Year | Tgt | Rec | Yds | TD |
| 2018 | 110 | 73 | 911 | 11 |
| 2017 | 127 | 84 | 1,124 | 13 |
| 2016 | 117 | 78 | 824 | 11 |
| 2015 | 99 | 65 | 814 | 8 |
Koetter's group of tight ends over that stretch for Austin Seferian-Jenkins, Cameron Brate and O.J. Howard. Regardless of how we may feel about Koetter as a coach, it is easy to see his tight ends produce. The one year the position didn't attract at least 99 targets was in 2014 when a second-year blocking tight end (Toilolo) was asked to replace Gonzalez.
The only NFL production sitting behind Hurst in Atlanta belongs to Jaeden Graham, who had nine catches for 149 yards and a touchdown as a rookie last year. This is going to be Hurst's show, and it's easy to forget he was considered such a good prospect just over two years ago that Baltimore took him in the first round despite his advanced age for a rookie (24). Speaking of his natural skill set, Ryan told reporters this summer that he believes Hurst is one of the "fastest and most athletic tight ends I've ever played with."
Much like I discussed with Lamb and his situation in Dallas, defenses can't afford to lay off the alpha dog (Jones) or his sidekick (Ridley) against Atlanta even if Hurst proves capable of beating his man one-on-one consistently. Even better for the current and future fantasy owners of Hurst is his ability to consistently stretch the seam - a quality Ryan hasn't had from his tight ends since Gonzalez. Hooper's 13-game involvement last season (97 targets) should be considered Hurst's floor this year. It should surprise no one if the former Raven flirts with 80 catches, 1,000 yards and 6-8 touchdowns if he can play a full season.
Likelihood of happening: 60 percent
8. Rob Gronkowski will finish outside the top 15 at tight end.
Gronkowski's arrival in Tampa is good for several reasons. One of them - at least in my opinion - is so people on both sides of competing narratives can go to town on each other. On one side, we have the narrative of how Tom Brady loves throwing to his tight ends. On the other, we have the narrative of a Bruce Arians offense (it's run by OC Byron Leftwich, but when has accuracy ever been important for the sake of a good narrative?) and how it ignores the tight end position. I believe I have stated many times in this space that I don't believe in narratives nor do I care to defend them. I am, however, in favor of a good laugh - like the one I usually get when two sides so strongly believe in something sports-related that has been disproved multiple times.
Getting back to Gronkowski, fantasy owners should know what to expect - even after a year off. Few, if any, players in NFL history have been more prolific in the red zone. His rapport with Brady is well-established. A year off may have been what he needed to recover from the pounding his body took in New England. On the other hand, Gronkowski goes from the top option - or at least 1B - that he was as a Patriot to no better than the third-most attractive target with the Buccaneers. Multiple reports are suggesting Tampa Bay plans to monitor his snaps and use him primarily on third downs and near the end zone. And, of course, there are his durability issues. While the year away from the game may have been good to get his body right, the time off didn't allow him to trade his battered 31-year-old body in for a 25-year-old model. He hasn't played more than 13 games since 2015. One could also argue the only reason he'll see more work than O.J. Howard is because of his familiarity with Brady.
As far as his fantasy prospects, I suppose it depends on if a 43-year-old quarterback can throw for at least 30 touchdowns. Mike Evans and Chris Godwin should combine for roughly 20 scores by themselves. If we give Tampa Bay's other receivers a total of three scores, the running backs three more and the tight ends combine for nine, Brady finished with 35 scores. That number seems unlikely for a team with an improved defense and an offense that won't be playing in a ton of Jameis Winston-inspired negative game scripts. Even if the TD breakdown happens exactly as I laid it out and Brady throws for 35, not all nine tight end scores will go to Gronk. Cameron Brate and Howard will probably get at least two or three apiece. That leaves Gronkowski with the ceiling of five. In other words, Brady might need to throw for nearly 40 touchdowns for Gronk to serve as a low-end TE1. It just doesn't seem likely Tampa Bay will need Brady to do that, nor does Gronkowski's track record suggest he'll be able to stay on the field long enough to get there.
Likelihood of happening: 55 percent
---
Doug Orth has written for FF Today since 2006 and been featured in USA Today's Fantasy Football Preview magazine since 2010. He hosted USA Today's hour-long, pre-kickoff fantasy football internet chat every Sunday in 2012-13 and appears as a guest analyst on a number of national sports radio shows, including Sirius XM's "Fantasy Drive". Doug is also a member of the Fantasy Sports Writers Association.