Every year when it comes time to do this column, I struggle with whether or not I should be bold in terms of shock value or simply deviate from the perceived norm on a handful of players. I'll probably never be able to figure out what side of the fence to stand on in that regard. Be that as it may, people love to see "hot takes" and analysts all across the fantasy industry love to cling to the one or two they got right from the season before, so let's saddle up for another round.

I suppose the reason why this task is harder for me than some is that readers have typically been exposed to my Big Boards for around a month by the time this piece rolls around, so my secrets are no longer secret. In an effort to make myself feel better, maybe entertain you and reinforce the fact this is NOT a sudden departure from my recent Big Boards, I've decided to include how likely I believe my bold prediction will come true.

Last year was an interesting exercise. Let's see if I can do better: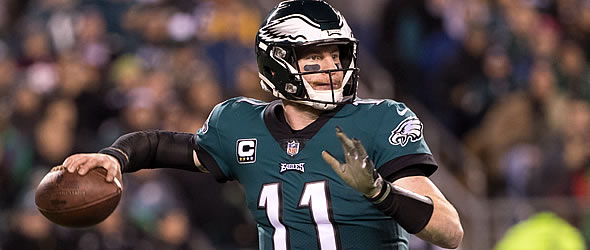 Carson Wentz will win the league MVP.
Let's get this bold prediction party started right. Of course, readers who have been paying attention to my Big Boards over the last month already know where I stand on Wentz. The Eagles are arguably the deepest team in the league and boast perhaps the most talented roster. They have depth on the offensive line, go at least four-deep at receiver and heavily utilize one of the game's best tight ends. (And in case Zach Ertz gets hurt, they have another future stud in Dallas Goedert backing him up.) The running game was upgraded as well in the offseason, as the Eagles first traded for Jordan Howard before drafting Miles Sanders. In short, this offense is stacked.
Getting back to the original premise, however, Wentz was on an MVP pace in 2017 before suffering a season-ending knee injury. Last year, his back was probably never 100 percent. In 2019, he enters the season healthy. His durability (or lack thereof) figures to be his biggest hurdle in making this prediction come true. Ertz obviously gives Wentz a near-every week mismatch down the middle of the field, while Alshon Jeffery provides him with a receiver who can stretch the field and/or come down with the 50-50 ball. But the big reason to like Wentz now more than ever is DeSean Jackson. Despite his age (32), Jackson remains among the best deep threats in the game. However, he's more than just a vertical receiver. Referring to an observation I have mentioned several times throughout the summer, Pro Football Focus revealed Jackson's best routes are the go, hitch and out - which just happen to be the same routes PFF has earmarked as the ones Wentz has thrown better than any others over his career. With three above-average - if not elite - options running routes on almost every play and one of the best offensive lines in the league, Wentz is set up for success. Even better, I didn't rate a single one of his 15 fantasy matchups as a red (six greens, five whites, four yellows).
Likelihood of happening: 35 percent
James Conner will lead the league in offensive touchdowns.
Somewhat quietly, James Connor averaged exactly one touchdown per game during his breakout 2018 campaign. Say what you will about Conner's talent in comparison to his predecessor (Le'Veon Bell), but the latter never scored more than 11 times in five seasons with Pittsburgh. Conner scored 13 times in 13 games in his first season as the workhorse. Conner's 77.5 percent catch rate last season is right in line with Bell's 78.6, while his 4.5 yards per carry in 2018 tops Bell's career 4.3. I acknowledge none of the simple metrics/stats I just used are not necessarily indicative of talent level per se, but that's also not the point. Let's also not pretend like Bell was indestructible/durable/always available either, as he missed at least three games three times with the Steelers. Suffice it to say that while Bell may be a superior talent, it's fair to question how big the gap really is and how much "the system" (i.e. Pittsburgh's offensive line and willingness to feature one back) plays a role in making its backs look as good as it does.
However, this bold prediction may be more a matter of attrition than anything else. Todd Gurley led the NFL with 21 touchdowns last season after doing so in 2017 with 19. Of course, we have no idea how much his workload will be cut this year as a result of his knee issues. Alvin Kamara scored 18 times in 2018, but is he really going to be able to repeat 14 rushing touchdowns if Latavius Murray is around for 16 games? Saquon Barkley finished third with 15 touchdowns as a rookie and may match that number again, although it's difficult to imagine him exceeding that number by much given his situation. Melvin Gordon scored 14 times, but he's looking more and more like a sure bet to miss at least half of the season. Eric Ebron landed in the end zone 14 times as well, but he's looking like a bad bet to get half that many in 2019. Antonio Brown and last year's 15 TDs are now in Oakland, while Kareem Hunt and his 14 scores will sit out half the season in Cleveland.
Likelihood of happening: 25 percent
Dalvin Cook will finish the season as a top-five fantasy running back
On a per-game basis, Dalvin Cook finished his rookie season as the RB10 and last year as the overall RB19. As any fantasy owner worth his/her salt knows, however, just about any time someone has to resort to using per-game figures instead of overall numbers, it likely means durability and/or availability was an issue. Cook has missed 17 of a possible 32 games thus far in his career, so it's difficult to get too excited about him even when he reminds us what he can do when healthy. With that said, even the most "injury-prone" backs get lucky when it comes to their durability from time to time. My view on "injury-prone" players hasn't changed much in recent years; if a player's issues are chronic, that's a problem. If they're not, I keep an open mind and hope for the best, fully understanding that almost every player is going to get hurt and/or miss games at some point. One reason why backs like Alvin Kamara and James White are so attractive to fantasy owners is that so many of their touches aren't wasted running in between the tackles, thereby decreasing their injury risk.
As far as Cook is concerned, I only think it's a matter of time before he does put together a full season. He handled 229 carries as a sophomore at Florida State and 288 as a junior before turning pro, so we know he's capable of carrying a heavy workload. Minnesota showed in the preseason it is already starting to embrace the outside-zone running game that has been a staple of offensive advisor Gary Kubiak's offenses for years. While it's common knowledge Kevin Stefanski is the one calling the shots, a team that has publicly stated many times it wants to run the ball doesn't bring in a coach like Kubiak and not use his expertise. Cook is a wonderful fit in this kind of rushing attack, while his ability as a receiver has never been in question.
Perhaps the most impressive thing about the 24-year-old is the fact he has twice performed very efficiently behind a line that was pretty much average in 2017 and awful in 2018. Adding the best center in the draft (Garrett Bradberry) allowed the Vikings to improve two spots on their line as Pat Elflein moved to left guard. While there is still much room for improvement in regards to line play, the only questions anyone has about Cook is his durability and how much work Minnesota is comfortable giving him in light of his injury history. The schedule lays out beautifully for Cook as well, as I only saw fit to give him one yellow matchup (and no reds) for the season. After attempting 357 rushes as a team last season, I'm expecting Minnesota to add about 100 to that total in 2019. To get to that mark, Cook is probably going to need to handle at least 40 percent of those attempts. If he does that and sees the 70 targets I'm projecting him for, he could outperform the likes of David Johnson in fantasy.
Likelihood of happening: 30 percent
Todd Gurley will score at least 15 touchdowns for the third straight season.
This is another prediction that seems obvious considering his past production but is bold given what the new expectation is for Gurley. The 25-year-old has scored 40 touchdowns in two seasons under HC Sean McVay, so it goes without saying his upside is huge. But with recency bias being what it is, most owners are holding onto how Gurley looked (or perhaps more how he didn't look considering how much time he spent on the sideline) during the last month of the regular season and the playoffs. That's fair.
However, owners haven't seen Gurley in nearly eight months and are treating the "arthritic component" of his surgically repaired knee as if it was worse than if he had just undergone knee surgery (again). That doesn't make a lot of sense. Perhaps the majority of owners don't realize Gurley's knee reportedly started bothering him about the time where he played a surprisingly small role in the Rams' epic 54-51 win over the Chiefs in Week 11. He went on to post two more 30-plus point PPR games and even cleared 100 yards in the NFC Divisional playoff victory over the Cowboys.
Look, I'm not saying he's a sure thing. Of course he's not. He's probably going to be a surprise inactive at least a time or two this season if/when his knee flares up. His offensive line lost a couple of key pieces. Those are definite reasons for concern. But the arguments being used to support the narrative that the Rams are concerned about his health? I'm not sure I get that. Los Angeles spent a third-round pick on a type of player (Darrell Henderson) they've wanted for two years, ever since the Lance Dunbar experiment didn't work out. Maybe it was the "Alvin Kamara element" comment that whipped everyone into a frenzy, but he was clearly identified as a change-of-pace back shortly after he was drafted. Need another argument against the rookie? The Rams lean heavily on zone runs (92 percent in 2018, per Warren Sharp of @SharpFootball), and Henderson struggled with those runs during the preseason. He was the only significant addition the team made at the position, suggesting the Rams are playing it fast and loose with a position that is clearly important to their offense, believe Gurley is going to hold up for the majority of the season or REALLY trust Malcolm Brown.
While the report about Gurley running in excess of 21 miles per hour during training camp was great news fodder, I don't care so much about the speed as I do the fact he has to be feeling pretty good at the moment to pull it off. Furthermore, the Rams are managing him his reps about as well as one could hope for, something I expect to continue through at least the end of October. Los Angeles is playing for Super Bowls now, and it knows the combination of Brown and Henderson probably isn't going to be the reason it gets back there. There's little question Gurley's workload will be reduced in 2019, but doesn't it make sense to cut back more on his high-impact touches (carries) and keep his lower-impact ones (receptions) mostly intact? Even if we ignore all of that, remember these two nuggets: Gurley scored 10 times inside from the 5 or closer last season and remains the clear back at the goal line. Last but not least, Gurley would have finished as the RB8 in 2018 and RB5 in 2017 even if we trim 25 percent of his production (touches, yards, touchdowns, etc.) across the board.
Likelihood of happening: 70 percent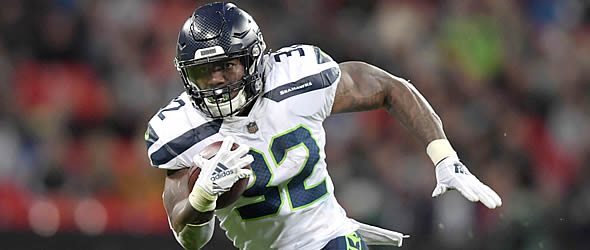 Chris Carson will be a top-12 fantasy running back.
For whatever reason, Seattle took more than half of the 2018 season to consistently treat Chris Carson like a bell-cow running back. There could be any number of reasons for this, including but not limited to trying to justify the first-round pick they spent on Rashaad Penny or a fear that Carson's physical running style was going to result in him breaking down. Here's what we do know: from Week 11-16, Carson (117) trailed only Ezekiel Elliott (136) in the league in carries, scoring six times on the ground to Zeke's two. Carson's 532 rushing yards ranked fifth in the league over that same span. Projecting forward, Seattle ran the ball 534 times a season ago. Albeit very unlikely, even if the Seahawks knock 80 attempts (five per game) off that total due to potential negative game script and/or a surprising shift to more of a 50-50 run-pass balance (it was 56-44 last year in favor of the run), they still have roughly 454 carries to spread out among two main runners and a quarterback they are trying to protect as much as possible. The point being is that if Carson doesn't at least match his 247 rushing attempts from a season ago - remember, he got there despite missing two games - it would be a huge upset. There is little question he has a high floor as a rusher.
One downside: Carson was only targeted 12 times during the aforementioned late-season stretch despite catching 11 of them. It's almost as if the Seahawks finally realized in December that he was a plus in the passing game; his aforementioned 12 targets between Weeks 12-16 matched the number he saw over the first 11 weeks! Of course, there were other extenuating circumstances. Mike Davis was (and still is) a very good running back who is very capable in the passing game. He's in Chicago now, but there's a good reason why I mention him. Take a look at Davis' game log last year as a pass-catcher, especially when he was highly involved between Weeks 4-11. That is what is possible for Carson as a receiver, and it bears mentioning Seattle will begin the season with Tyler Lockett and very little else in terms of proven commodities in the passing game. Davis was targeted 42 times in all - six more times than Carson and Penny combined! Those opportunities aren't going anywhere else for the reasons stated earlier: a lack of otherwise trustworthy options.
The Seahawks have spent all offseason talking about how they plan on getting their backs more involved in the passing game. Seattle doesn't have to do much more than redistribute the targets Davis leaves behind in order for Carson and/or Penny to double last year's catch totals (20 and nine, respectively). If the Seahawks end up doing more than that, then we have a situation in which Seattle could have a wildly productive two-headed monster. Either way, with roughly 250 carries and 40 receptions - only four running backs reached both benchmarks last year - the only question becomes whether or not Carson can hold off Penny and remain the workhorse. Only time will tell there, but the fact of the matter is that Penny hasn't made enough of a charge when given the opportunity to think it's going to happen anytime soon.
Likelihood of happening: 40 percent
Chris Godwin will finish among the top 12 fantasy receivers.
The Godwin hype reached a fevered pitch almost as soon as new HC Bruce Arians suggested he will "be close to a 100-catch guy." Arians further fueled the hype by also saying Chris Godwin will "never come off the field." Owners realize the latter has almost no chance of happening, while the former is going to be difficult given how great of a player Mike Evans is. And let's not forget that O.J. Howard is one healthy season away from potentially being a superstar. Let's also keep in mind this is the same coach that once said Andre Ellington could handle 25 to 30 touches per game.
The odds are strong that Tampa Bay will run the ball better - even if the difference is only slight - and won't attempt 624 passes again in 2019. However, the Buccaneers also notably parted with DeSean Jackson (74 targets) and Adam Humphries (105). Even if we assume Tampa Bay's passing attempts decline by roughly two per game - leaving the team with 592 potential targets - and further assume all of 32 of the "missing" targets comes out of the 181 that Jackson and Humphries combined for, we are still left with 149 extra looks. Evans figures to see a healthy bump in targets, but he already had 138 last year. Howard could see the biggest increase after finishing with only 48, but even if we give Evans 30 more and double Howard's total from last year, there are still 60 left to share. (And let's be honest, Evans with nearly 170 targets and Howard with almost 100 is very ambitious.) Is Breshad Perriman going to absorb the bulk of those? Dare Ogunbowale? Cameron Brate? The obvious answer, of course, is Godwin.
Let's begin with what should be his floor. Despite playing roughly 57 percent of his team's snaps last year, Godwin still managed 95 targets and scored seven times. There's really no telling what is possible if he approaches the same playing time Evans saw last year (83.5 percent of the snaps), but it stands to reason he's going to be given that chance as the player Arians seems to want to fill the role similar to the one Larry Fitzgerald and Hines Ward famously played for him over the last 10 or so years. In Ward's first three years in Arians' offense, he averaged 124 targets. (Keep in mind Ward was 31 years old in his first season under Arians.) Fitzgerald spent five years working with Arians, only once dipping under 135 targets. (Fitzgerald was in his age-30 season when he first worked under Arians.) Is either one of those situations exactly like the one Godwin finds himself in right now? Of course not. But let's be clear about this: it's not a stretch to say Godwin at 23 probably hasn't peaked yet, while it's safe to say Ward and Fitzgerald were no longer in their prime when they were first introduced to Arians.
While two teammates finishing among the top 12 fantasy receivers is a difficult task (and we assume Evans is going to do it again), we've seen in recent years it is far from impossible. Last season, Antonio Brown and JuJu Smith-Schuster were the overall WR5 and WR8, respectively. In 2017, Marvin Jones (WR11) and Golden Tate (T-WR12) turned the trick. The year before that, it happened twice. Jordy Nelson (WR2) and Davante Adams (WR11) joined Michael Thomas (WR7) and Brandin Cooks (WR9). While 100 catches may not be in Godwin's immediate future, 90 could be. With his talent, he could easily be an every-week WR1.
Likelihood of happening: 55 percent
Cooper Kupp will be the Rams' receiver to own in fantasy in 2019.
To set everyone up for this one, allow me to take you back to the late 80s. (OK, so maybe that's a bit dramatic.) Through the first nine weeks of last season, only 26 PPR fantasy points separated Brandin Cooks, Robert Woods and Cooper Kupp. At that same point in time (and despite missing Week 8 with a knee injury), Kupp had the same amount of receiving touchdowns as Woods and Cooks combined (six). Despite playing in nearly half as many games as his teammates, Kupp tied Woods in red zone targets (12) and only trailed Cooks by five.
Very few people realize that Kupp was averaging more fantasy points per game than Woods and Cooks after nine weeks (he was lost for the season with a torn ACL in Week 10), so the boldness of this prediction is more that most people don't realize it nearly already happened. But here is even more reason why Kupp should be viewed as the preferred option among fantasy owners. Since Kupp entered the league in 2017, Jared Goff owns a 127.0 passer rating with 11 touchdowns and two interceptions when throwing to Kupp, whose 84.9 catchable pass percentage from Goff on passes thrown in his direction leads all qualifying duos in the league (all per PFF).
Ultimately, what makes this a bold prediction is how quickly Kupp regains his form after ACL surgery. As was the case last year, owners are forced to draft somewhat blindly with the Rams because they don't play their starters during the preseason. Fortunately, The Athletic's Jay Glazer recently reported that all of Kupp's athletic test scores and his fluidity as a route-runner is either the same or better than it was pre-injury. It's not ideal when owners have to take somebody's word for it, but Glazer is one of the most reliable and informed sources out there. If Glazer is right and Kupp is even better than before, the possibility of him scoring 10 touchdowns cannot be dismissed. As a player going off the board on the WR2/WR3 borderline, it's not hard to get psyched about his chances of being a huge value.
Likelihood of happening: 40 percent
Larry Fitzgerald will enjoy his 10th career 1,000-yard season.
The year was 2013. Fitzgerald was coming off an inefficient 71-catch season with John Skelton, Kevin Kolb, Ryan Lindley and Brian Hoyer as his quarterbacks. Entering his age-30 season, it was pretty much understood Fitzgerald was in decline. Enter Carson Palmer and Bruce Arians. The result? The 11-time Pro Bowler finished with 82 catches, 954 yards and 10 touchdowns.
The year was 2015. Fitzgerald was coming off a rare season in which he missed at least one game and Palmer missed 10. Entering his age-32 season, it was pretty much understood Fitzgerald was in decline. Palmer and Fitzgerald both played 16 games the next season. The result? Larry Legend posted 109 receptions for 1,215 yards and nine TDs.
There have been five instances in NFL history in which a player 36 years or older has topped 1,000 yards, three of which were by Jerry Rice. (Jimmy Smith and Joey Galloway were the others.) Whether it be due to the breakneck pace they intend to play with on offense or the amount of negative game script they figure to face, the Cardinals have the look of a team poised to throw the ball at least 600 times. Four quarterbacks last season attempted at least that many passes; three of the offenses attached to those four quarterbacks had at least two pass-catchers with 110 targets. The point to be made here is that while Christian Kirk may end up becoming the best receiver in Arizona soon, it's going to take some doing for rookie KeeSean Johnson (who I also believe will have a fine season) to overtake Fitzgerald too.
Even if we do nothing more than assume Fitzgerald averages 10 yards per catch in 2018, let's use his lengthy history to predict his number of targets (never fewer than 103, while last year's 112 were easily his fewest since the previously referenced 2014 season). Combine that with his 60 percent career catch rate, and we have a player who should be a lock for roughly 720 yards (assuming 120 targets). If Kyler Murray ends up being as accurate as most believe, that catch rate will move closer to 70 percent. And if Kirk isn't quite ready for prime time and/or gets hurt like he did last season, Fitzgerald becomes a strong candidate for 150 targets for the 10th time in his career. Only once in his career did that amount of opportunity not lead to a 1,000-yard campaign for him - the previously referenced four-quarterback season of 2012. Even if Kirk does take the next step and force his way into 120-plus targets, there should be nearly 500 more targets to spread around. Maybe David Johnson gets 100 and KeeSean Johnson pushes for 70-plus. Can anyone honestly believe Fitzgerald doesn't get at least 40 percent of the remaining 330?
Likelihood of happening: 40 percent
Darren Waller will finish as a top-10 fantasy tight end.
Earlier this summer, there was a big push about Darren Waller being just about everyone's favorite sleeper at tight end. For some reason, that enthusiasm has waned a bit. I thought for sure his hype was about to get out of control with the Raiders being featured on HBO's Hard Knocks. (How wrong I was.) Maybe owners as a whole hate Derek Carr. Maybe they believe Antonio Brown will command 160-plus targets again and leave scraps for everyone else. Maybe they don't think Waller can stay out of trouble.
In best-ball drafts over the last week on NFFC, Waller is still the 21st tight end coming off the board - going after the likes of Trey Burton (injured), Chris Herndon (won't play until Week 6), Dallas Goedert (backup), T.J. Hockenson (rookie) and Jordan Reed (injured). Cases can be made for maybe one or two of the above names, but not all five. I have routinely snagged Waller in the 13th round or later in the majority of my drafts, and always as my TE2. While I'm not exactly an advocate of carrying two tight ends into the season, I'll do it when I think I can start both on a regular basis. Considering he is either the TE8 or TE9 on the majority of my Big Boards, it's obvious I feel that is the case.
By now, most fantasy owners know about Waller's athleticism, if not his background. For the purposes of this story, let's stick to the former. In today's analytics-based fantasy world, players with Waller's athletic profile typically see their stock shoot through the roof. As far as I'm concerned, he's a cheap fantasy version of O.J. Howard that will never probably be in his class as a blocker - which is to be expected since he converted from wide receiver so late in his career. Outside of that, he is about as physically impressive as they come. Carr has repeatedly sung Waller's praises about how he runs routes, and his combination of size (6-6, 255) and speed make him a lethal combination for any linebacker or safety who is assigned to cover him. Maybe he doesn't approach Jared Cook's line from a season ago (68-896-6), it's also not out of the question. Even better, Brown's presence will force defenses to paying too much attention to anyone else no matter how well Waller plays. Add the vertical threat Tyrell Williams presents, and we have a freaky athletic tight end that defenses must play straight up. That's a scary proposition for defenses and one fantasy owners should be drooling over.
Likelihood of happening: 65 percent
A few more bonus bold predictions (because I want to get to 15 and I have more to say but not enough time to say it):
- Kyler Murray will be no worse than the overall QB8 and Lamar Jackson will be a top-12 fantasy option.
- Despite the addition of LeSean McCoy, Darwin Thompson will still be the Kansas City running back who emerges at the end of the season to be a "league-winner."
- Austin Ekeler and Tony Pollard will outscore Melvin Gordon and Ezekiel Elliott.
- Josh Gordon will not relapse this season, but he will still miss nearly half the season due to nagging injuries and finish outside the top 40 receivers.
- Anthony Miller will be a better fantasy receiver over the second half of the season than Allen Robinson.
- O.J. Howard will finish third or higher among fantasy tight ends.
---
Doug Orth has written for FF Today since 2006 and been featured in USA TODAY's Fantasy Football Preview magazine since 2010. He is also a high-stakes player who often appears as a guest analyst on a number of national sports radio shows, such as Sirius XM's "Fantasy Drive." Doug is also a member of the Fantasy Sports Writers Association.