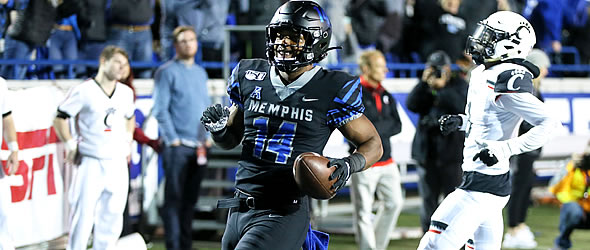 3.02 – RB/WR Antonio Gibson, Redskins
Height/Weight: 6' 0"/228
College: Memphis
NFL Comp: Josh Cribbs
Gibson may be listed as a receiver today, but most teams viewed him as a running back this spring. There are not a lot of prospects that get the opportunity to be a Day 2 selection with only 77 offensive touches in college - including 33 career carries. Of course, any player capable of scoring once every six or so touches is going to catch the attention of scouts, as is the case here. As if it wasn't already clear, it will be the hope of several teams that Gibson can be a dynamic kick returner and serve as a matchup nightmare in the passing game while also providing one big play per game as a runner. At 6-0 and 227 pounds with 4.39 speed, it's definitely worth seeing if he can be a movable chess piece that causes fits for defenses.

He's a good enough athlete to get by on natural talent for 2-3 years he'll likely need to evolve as a runner, but it's scary to think how he already appears to have the vision, elusiveness and power necessary to be a very serviceable running back, if not something more. Expectations should be set at Gibson being a quality change-of-pace/matchup weapon in the near future. What he does beyond that will be determined largely on the quality of coaching he receives and how serious he is about maximizing his vast potential. He's capable of being a top-five back in this class if he fully commits to being the best running back he can, but it's a huge projection for someone with his limited experience at the position.
What does it mean in redraft? Post-draft reports suggest the Redskins like him at running back, but the odds are strong they'll use him in a Swiss-army knife role initially, making contributions as a runner, receiver and returner. With Derrius Guice and Adrian Peterson set to handle early down, it is conceivable Gibson takes over the Chris Thompson role in this offense if he proves to be a quick study. That's a huge task to expect a college receiver to assume as a rookie, however, so owners can let him go undrafted in most 12-team leagues.

Where should I expect him to go in my rookie drafts? 2.12. He's my eighth-ranked rookie running back.
3.12 - RB Ke'Shawn Vaughn, Buccaneers
Height/Weight: 5' 10"/214
College: Vanderbilt
NFL Comp: A more explosive BenJarvus Green-Ellis
Although it seemingly has no place in today's game, there are few things I like to see more than a running back run in between the tackles and consistently pick up yards after contact. To that end, 743 out of Vaughn's 1,028 rushing yards in 2019 came after contact, according to Pro Football Focus. It speaks to his ruggedness that he was not only a 1,000-yard rusher on back-to-back losing teams at Vanderbilt the last two seasons, but that he did so behind a poor offensive line. There is some pre-Cleveland Kareem Hunt to his game - a decisive, mostly straight-ahead and powerful runner with underrated receiving skills.

With that said, Vaughn probably won't get the chance to be a three-down back in the league, and he isn't the James White kind of pass-catching option so many expected Tampa Bay to pursue in the draft. Whereas Hunt has a little bounce to him, Vaughn is not overly creative in the open field. He rarely tries to avoid contact. He has also been poor - to put it kindly - as a pass-blocker (17 pressures on 229 career pass-blocking snaps, per PFF). He has three-down potential in the NFL, but it's more likely he'll be limited to committee work - he could be the preferred option of the goal line - in Tampa Bay.

What does it mean in redraft? Vaughn is a threat to Ronald Jones' early-down role, but Jones is the better player. It is entirely possible HC Bruce Arians and OC Byron Leftwich simply rotate the two and goes with the hot hand (as much as it pains me to say that phrase). Vaughn should be viewed as a handcuff - one capable of moving up to RB3 territory if Jones goes down.

Where should I expect him to go in my rookie drafts? 2.07. He's my seventh-ranked rookie running back.
3.16 - WR Lynn Bowden, Raiders
Height/Weight: 5' 11"/204
College: Kentucky
NFL Comp: Antwaan Randle El
As the venerable 90s rapper Vanilla Ice once said, "If there was a problem, yo, I'll solve it." Versatility is a big part of what is going to help get Bowden drafted and keep him in the league for a while. He played slot receiver up for about half of the season in 2019 before multiple injuries to his quarterbacks forced the former high school signal-caller to go back to the future. Kentucky's offense quickly became Bowden left, Bowden right and Bowden up the middle, but the end result was still fascinating: he nearly led the team in passing (second), rushing and receiving. (The guy also returned 71 kicks and nine punts in his career.) Bowden is quicker than he is fast, but that's not to say he doesn't have enough of both to succeed in the league. He figures to be considered as an offensive weapon in the NFL, most likely splitting time between the slot, running back and returner.

Bowden would have had a chance to become a starter in the league in the slot, but he figures to be more of a Swiss-army knife skill set right away with Hunter Renfrow manning the slot and Henry Ruggs-Tyrell Williams outside. It's also quite possible he gets drafted to be a change-of-pace running back. While his projected dual-threat role may not ever lead to anything significant in fantasy in the near future, he figures to be highly appreciated as a "roster saver" - capable at filling in at multiple positions at a high level.
What does it mean in redraft? As noted above, Renfrow's presence makes Bowden more of a luxury pick and a likely special teams contributor in Week 1. Chances are he'll remain on the wire in most leagues as long as the top three wideouts are healthy in Las Vegas.
Where should I expect him to go in my rookie drafts? 3.04. He's my 16th-ranked rookie receiver.
3.17 - WR Bryan Edwards, Raiders
Height/Weight: 6' 3"/212
College: South Carolina
NFL Comp: Rueben Randle
It's too bad Edwards suffered a broken foot preparing for the NFL Combine because a solid showing in Indianapolis could have done wonders for doubts about his athleticism. With that said, the second-team All-SEC selection didn't exactly make his way to being a Day 2 pick with speed or superior jumping ability. Against two of the better defenses in the country, Edwards worked over Alabama and Georgia with his physicality on short and intermediate routes. To that end, he forced 15 missed tackles in 2019 per Pro Football Focus. Somewhat amazingly on a four-win team with a freshman quarterback and little else to speak of at receiver, he tallied at least six catches in each of his final eight games despite not offering much threat vertically.

Some of that production in 2019 was a product of the fact that 36 of his 71 receptions came on screen passes. Was that the result of his run-after-catch ability or South Carolina's acceptance that he wasn't going to do much deep? As if it wasn't clear, Edwards can make the highlight grab but probably isn't going to win as many contested-catch situations as one might expect from someone his size. What he probably will do is be a capable possession receiver who moves the chains and puts a bit of fear into smaller cornerbacks as he does it.
What does it mean in redraft? Edwards has a chance down the road to nudge Williams out of the lineup, but it's hard to imagine that happening in 2020. And while Edwards would be a capable slot for the Raiders, they have Renfrow and now Lynn Bowden there. He can be ignored in redrafts.
Where should I expect him to go in my rookie drafts? 2.06. He's my 11th-ranked rookie receiver.
3.22 - RB Zack Moss, Bills
College: Utah
Height/Weight: 5' 9"/222
NFL Comp: Chris Carson
Perhaps more than any other runner in this year's draft, Moss runs with a grudge and isn't overly concerned about how his body will feel the next day. According to Pro Football Focus, he ranks second in this draft class in missed forced tackles with 89 in 2019. For a 222-pound back who runs with such force and possesses such high-end contact balance, his vision and ability to change direction (not as in cutting on a dime so much as he has quick feet) is highly impressive. However, anyone who pegs him as just a physical runner is selling him short.

He's not going to be a player that a play-caller is going to want to flex out as a receiver very often, but he is a more than capable outlet receiver that will create some chaos in the open field when defensive backs are forced to tackle him (33 broken tackles on 66 career catches, per PFF). He won't be among the leaders in 20-plus yard runs very often, but he'll break the spirit of the defense on a regular basis. With Moss, the question isn't so much if he is capable of being a featured back but rather if can punishment often enough over the course of his first contract so that he can make it to a second. Buffalo may be saving him from himself with this pick, however, as Devin Singletary will be the primary back for the foreseeable future.

What does it mean in redraft? The Bills are likely eyeing Moss to fill the role Frank Gore occupied last year. While he's not an immediate threat to Singletary's starting job, Moss is a threat to the 15 touches per game the latter was likely eyeing before this weekend. The rookie should handle the bulk of short-yardage and goal-line work in addition to being the clear lead back should Singletary get hurt. With only T.J. Yeldon behind Singletary, Moss has a shot to be a high-upside handcuff and is a solid RB4 investment in 2020.

Where should I expect him to go in my rookie drafts? 2.04. He's my sixth-ranked rookie running back.
3.27 - TE Devin Asiasi, Patriots
Height/Weight: 6' 3"/257
College: UCLA
Asiasi broke out in a big way in 2019 after seeing the field on only 129 pass plays and recording only eight catches in his first two seasons. While he is not exactly a seam-stretcher, he's a load to bring down and will tack on some yards after the catch while punishing his tackler. And even though he has work to do as an in-line blocker, he's one of the few tight ends in this draft capable of playing three downs. Asiasi possesses adequate speed for his size (4.73), but New England fans need to set their expectations more at Dwayne Allen than Rob Gronkowski (obviously).

What does it mean in redraft? The depth chart is wide open in Foxboro at tight end, but the combination of Jarrett Stidham replacing Tom Brady and the lack of success that rookie tight ends usually experience figure to make Asiasi more important to New England than fantasy owners.

Where should I expect him to go in my rookie drafts? Owners should hold off on Asiasi until at least the fourth round of rookie drafts.
3.28 - WR Devin Duvernay, Ravens
Height/Weight: 5' 10"/200
College: Texas
Duvernay moved into the slot on a more regular basis in 2019 and went berserk. The former track star showed off some great hands while doing so, catching 105 of his 129 targets, and followed that up with a 4.39 run at the NFL Combine. As his reception totals would indicate, his hands are one of his best features; he was charged with only five drops on 180 career catchable targets. Duvernay is an oddity for a slot; he's more like a running back in the sense he'd rather run through tacklers (23 forced missed tackles last season, per Pro Football Focus) than he is likely to shake them.

On the downside, he has tighter hips and is less sudden than the traditional inside receiver. The former shows up most in his route-running, as he struggles to create separation. Duvernay has a realistic shot of nudging out Willie Snead at some point during his rookie season, but he's going to have a hard time being relevant in a run heavy offense fighting for targets behind Mark Andrews, Marquise Brown and Miles Boykin.

What does it mean in redraft? As noted above, he's got to overcome Snead first. Then, he needs to find a way to impress Lamar Jackson enough to get a healthy share of the limited target pie in Baltimore. Fantasy owners should monitor his progress this summer, but he will likely remain on the wire for the bulk of his rookie season.

Where should I expect him to go in my rookie drafts? 3.01. He's my 15th-ranked dynasty WR.
3.29 - RB Darrynton Evans, Titans
Height/Weight: 5' 10"/203
College: Appalachian State
NFL Comp: Felix Jones
Evans' highly successful final season in college (he finished ninth in FBS with 1,480 rushing yards and 10th with 18 rushing touchdowns) combined with his stellar showing at the NFL Combine (4.41, 37-inch vertical, 10' 5" broad) put him on the Day 2 radar in the draft, but there were not many examples of that explosiveness in the four games I watched. Sure, he had a big run or two in most of those aforementioned games, but it was rare to see him make an explosive play due to something he personally did to create it.

Evans showed he could handle a heavy workload in 2019 (255 carries), good ball security (one lost fumble during his college career) and showed the vision in the Mountaineers' zone-heavy run attack to believe he's got a chance in that system in the pros, but his upside will probably be as a change-of-pace option in the pros. It's a pretty good bet that's what he'll be in Tennessee as long as Derrick Henry is around.
What does it mean in redraft? Evans is almost certainly headed to the Titans because they are looking to fill the change-of-pace void left behind by Dion Lewis. For all those folks that drafted Lewis late last summer, they know that is a role unlikely to bear fruit - at least as long as Henry stays healthy.
Where should I expect him to go in my rookie drafts? 3.10. He's my 11th-ranked rookie running back.
3.37 - TE Dalton Keene, Patriots
Height/Weight: 6' 4"/253
College: Virginia Tech

It's a good thing Keene performed well the combine (4.71, 10' 5" broad, 4.19 shuttle) because he only received 71 targets in three years at Virginia Tech to prove his ability as a receiver. Much like the player New England drafted at his position earlier in the third round (Devin Asiasi), it is Keene's combination of good size and the aforementioned athleticism that are the reasons both players will get their shot to start right away. More than likely, however, both players will siphon targets from each other. They both have in-line capabilities, but both have much work to do to round out their games.
What does it mean in redraft? The depth chart is wide open in Foxboro at tight end, but the combination of Jarrett Stidham replacing Tom Brady and the lack of success that rookie tight ends usually experience figure to make Asiasi more important to New England than fantasy owners. Add the fact they drafted Asiasi ea and it seems unlikely Keene will sniff fantasy relevancy in 2020.
Where should I expect him to go in my rookie drafts? Owners should hold off on Keene until at least the fourth round of rookie drafts.
3.41 - TE Adam Trautman, Saints
Height/Weight: 6' 5"/255
College: Dayton
NFL Comp: Hunter Henry

Making the obligatory mention that he played at the FCS level, Trautman is a rarity at the position nowadays: a tight end who can make a positive contribution in the passing and running game. Although he was building some hype toward the end of last season, it wasn't until he showed he could get open and block well at the Senior Bowl - where he was arguably the best at his position - that the Pioneer League Offensive Player of the Year truly started making believers out of evaluators.

Even though he lined up more often at receiver than one might expect for a 255-pounder, Trautman's biggest drawback may be his lack of speed. If evaluators can get past the likelihood he isn't going to stretch the seam and is still very much new to the tight end position after being recruited out of high school as a quarterback, then it's possible New Orleans has its future replacement for Jared Cook.
What does it mean in redraft? There's not going to be all lots of targets available for Trautman with Michael Thomas, Emmanuel Sanders, Alvin Kamara and Cook around. Even if Cook gets hurt, there's little chance he'll make the jump from FCS to regular fantasy contributor in Year 1.

Where should I expect him to go in my rookie drafts? 3.09. He's my top-ranked rookie tight end.
---
Doug Orth has written for FF Today since 2006 and been featured in USA Today's Fantasy Football Preview magazine since 2010. He hosted USA Today's hour-long, pre-kickoff fantasy football internet chat every Sunday in 2012-13 and appears as a guest analyst on a number of national sports radio shows, including Sirius XM's "Fantasy Drive". Doug is also a member of the Fantasy Sports Writers Association.