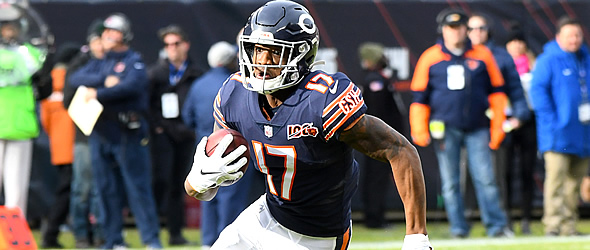 Life begins at WR40 (ish)
Anthony Miller isn't going to get much of an opportunity to be the man in Chicago anytime soon barring an injury to Allen Robinson. He's also unlikely to benefit from superb quarterback play anytime soon, but don't make the mistake of believing he is condemned to spend the rest of his rookie contract being an average fantasy option. We were able to catch a glimpse of what he was capable of late last year once Taylor Gabriel was lost for the year and HC Matt Nagy stopped trying to put obstacles in his path. The 25-year-old has been held back by shoulder injuries in each of his first two pro seasons, so his overall production through 31 career games (85 catches for 1,079 yards and six TDs) doesn't tell the whole story. Bears WRs coach Mike Furrey spoke to Miller's improved maturation and football IQ in late June and suggested the team will have a "more structured preparation schedule" for the wideout in 2020. If we assume Nick Foles wins the quarterback job (or the competition inspires Mitchell Trubisky to play better), there's a clear path to 100-plus targets for Miller. When healthy, he's a dynamic playmaker who is guaranteed to draw single coverage with Robinson attracting the bulk of the defense's attention.
I have started to talk about risk tolerance more in recent years, and perhaps no one better exemplifies that better at the moment that Deebo Samuel. It's blasphemous to have him as low as I do on this Big Board - all the quarterbacks being pushed up due to the Superflex setting contributes to it - but there may not be a better WR4 target for fantasy owners as drafting season comes to an end. Recent reports have him "sprinting hard." Even if he ends up on the PUP list in a worst-case scenario - which seems unlikely at this point - Samuel should return to the same kind of role he had at the end of last year. There's no question drafting Samuel is a risk, but is there much question he's a top-25 fantasy receiver if he is completely healed - even if he has to miss two or three games? I was leery of rolling the dice on him earlier this summer, but I never imagined he'd regularly be available after the 10th round.
There has been a stunning lack of fantasy hype this summer surrounding Michael Pittman Jr., especially considering how much the Colts fell in love with him during the draft process. Philip Rivers has made a living by targeting big receivers downfield, and "big" is a good way to describe the 6-4, 223-pound rookie. He projects as an immediate starter in an offense that should boast one of the league's best rushing attacks and field one of its best offensive lines. Both of those positives will make it possible for Indianapolis to take more deep shots, and that is good news for a receiver who amassed 36 percent of his yards on go routes last season at USC. It gets better. Pittman's size makes him a strong candidate to become Rivers' favorite red zone target. While his immediate role is unlikely to make him a consistent fantasy option, WR4s with eight-touchdown upside who draw Vincent Jackson comps don't come around all that often.
DeSean Jackson is a player who should be getting more love in drafts than he is. I have repeatedly said I don't believe in "injury-prone" players, but I do believe certain body types are more (and/or less) conducive to holding up well over a 16-game schedule. Jackson is a lot like a high-maintenance sports car, but I'm not sure how that makes in any different than Will Fuller. Yet, one usually comes off the board in the sixth round while the other is typically available six or more rounds later. Jackson has played exactly one full game with Carson Wentz, and that game resulted in an 8-154-2 line for the 33-year-old. D-Jax has much more of a track record than Fuller, yet the fantasy community would rather talk about Fuller's unrealized upside and gloss over the fact he has failed to score a touchdown in 14 of his last 15 games. With rookie Jalen Reagor set to miss the first game or two of this season, Jackson will be the clear top option at receiver in Philly. Now also seems like a good time to remind readers that Jackson's best routes throughout his career have been the go, hitch and out - the same ones Wentz has been the most efficient at throwing. One year probably didn't change things for either party. I hate having him as low as I do on the Big Board, but his injury history makes him a poor option to be the first receiver off a fantasy bench - especially when there is so much depth at the position.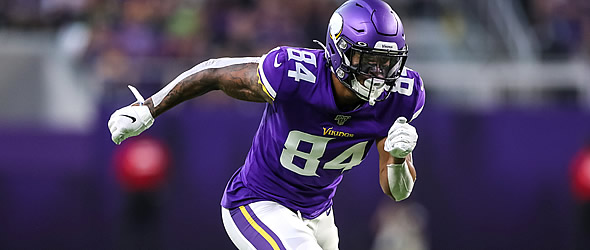 (Tight) end of the road
Don't leave your final drafts of the summer without picking up some shares of Irv Smith, assuming it makes sense to roster a high-upside TE2. First and foremost, Minnesota projects to pass more often in 2020 to make up for a secondary that was gutted - particularly at cornerback - in the offseason. The Vikings attempted only 466 throws in 2019, and they'll need to find a way to replace the 94 targets Stefon Diggs leaves behind. Smith and Kyle Rudolph were playing almost the same number of snaps over the second half of last season, and Diggs' departure gives OC Gary Kubiak a perfect opportunity to prove GM Rick Spielman right about Smith possessing a lot of "(Jordan) Reed-like traits." Smith saw 47 targets as a rookie, and I would expect that number to increase to 70-plus in Kubiak's offense - one that has long been very tight end-friendly. Adam Thielen may end up being a target hog, but opponents will almost certainly tilt coverage in his direction in crunch time and take their chances that Justin Jefferson and Olabisi Johnson can beat them. It should add up to a lot of short throws over the middle and in the flat to Smith.
Tyler Eifert doesn't need to be drafted in the bulk of leagues, but it's not hard to imagine a scenario in which he finishes as a top 15 fantasy tight end. Jacksonville could easily exceed 600 pass attempts this year, meaning there would be plenty left for other Jaguars even if we give DJ Chark about 150 (which seems unlikely), Dede Westbrook 100-plus and the running backs 100-plus. Eifert's biggest bugaboo has always been his durability, but that's part of the reason he is essentially free in drafts. New OC Jay Gruden's offense has also long been friendly to tight ends, which is more important now since Eifert's main competition for targets at the position (Josh Oliver) was lost for the season a couple of weeks ago. The former Bengal could easily emerge as Gardner Minshew's top weapon in the red zone as well given his size (6-6) and athleticism, although banking on many touchdowns from players in this offense could be detrimental to one's sanity.


---
Doug Orth has written for FF Today since 2006 and been featured in USA TODAY's Fantasy Football Preview magazine since 2010. He is also a high-stakes player who often appears as a guest analyst on a number of national sports radio shows, such as Sirius XM's "Fantasy Drive." Doug is also a member of the Fantasy Sports Writers Association.