2.02 - WR Elijah Moore, Jets
Team Fit: Any receiver that checks in at 5-9 and under 180 pounds had better be exceptional in just about every facet of the game if he is going to make an extended living in the NFL. Much like fellow mighty mite and draft classmate DeVonta Smith, he is. Moore provides instant electricity to every play the moment he touches the ball and as difficult to capture in the open field as a rabbit. Despite the lack of size, the first-team All-SEC selection is unafraid to work in between the hashes and can break a tackle or two if the defense underestimates him. He has been a model of consistency in terms of his availability and reliability; Pro Football Focus credited him with a mere two drops in 2020 and 10 drops on 200 catchable targets across his college career. The Rebels smartly used him primarily in the slot (61 of his 86 catches last season came inside) and schemed him open in other ways, such as using him out of the backfield more as the season progressed. Moore's size figures to keep them in the slot for the majority of his pro career, meaning Jamison Crowder may be sticking around much longer.
What does it mean in redraft? WR5. Unless Crowder is cut before camp, it's going to be difficult for Moore to take over as the full-time slot right away. Corey Davis and Denzel Mims should have the perimeter slots locked up.
Where should I expect him to go in my rookie drafts? Check back next week.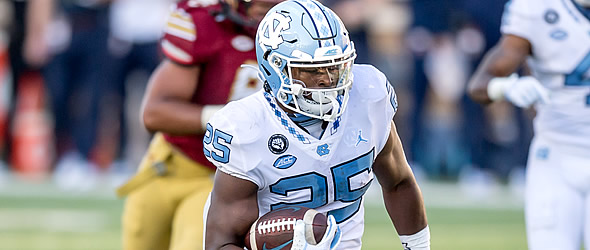 2.03 - RB Javonte Williams, Broncos (Draft Profile)
Team Fit: A trade up is a curious move for the Broncos here, but it makes sense because Williams wasn't going to last much longer. The move suggests they will prioritize running with power moving forward. It also means they are looking to the future with Melvin Gordon getting older. Williams was the last of the top three backs available and perhaps the most powerful of the bunch. How powerful? Pro Football Focus credited him with an FBS-best 75 missed tackles forced on 157 carries. He gained 831 yards after contact (fourth) in 2020. Chris Carson may be the most physical back in the league right now, but he may end up taking a back seat to this kid. As far as power and tackle-breaking ability are concerned, he compares favorably to Marshawn Lynch. Like many power backs, he is not a natural hands-catcher and was charged with three drops on 27 catchable targets (PFF). Williams has exceptional burst for a back of his size (as evidenced by his 27 carries of 15 yards last season), but he only broke three runs of 40-plus runs in his career (two of which came in his final game). Williams may run with so much power that it makes sense to start him out working in a committee, and that appears to be Denver's thinking with another powerful back in Gordon already on the roster.
What does it mean in redraft? RB3. Gordon has not been the picture of health throughout his career, so Williams should serve as a high-end handcuff right away.
Where should I expect him to go in my rookie drafts? Check back next week.
2.17 - WR Rondale Moore, Cardinals
Team Fit: Moore is one of those "it's not the size of the dog in the fight, it's the size of the fight in the dog" kind of players, and that's how the evaluation with him must begin. His work ethic was revered at Purdue. He will immediately upgrade Arizona's return units. Moore is more of a thickly-built scatback with some ability to play through contact and receiver wheels than a traditional slot with gadget capabilities. To that end, 71.2% of his 1,915 receiving yards in college came after the catch. Moore is the type of player worth betting on - if only for his maturity and work ethic - and someone who can this offense to the next level if he gets coached up right and, more importantly, stays healthy. (His last healthy season was his freshman season in 2018.) When healthy, the Cardinals now have their future in the slot regardless of whether Larry Fitzgerald retires this offseason or not.
What does it mean in redraft? WR5. There is a chance Moore could enjoy some rookie-year relevancy, but his snaps could be limited if Fitz decides to return. If Fitz retires, he could push for 2-3 carries and five targets per week and be worth a stash at the end of fantasy benches.
Where should I expect him to go in my rookie drafts? Check back next week.
2.23 - TE Pat Freiermuth, Steelers
Team Fit: Pittsburgh fans will almost certainly see shades of Heath Miller in its new tight end. There are very few traditional tight ends available in any draft nowadays, but Freiermuth may be about as close to one as this year will provide. As far as his contribution to the run game, he isn't a dominant blocker yet, but he has the ability (and size) to become one down the road. As a receiver, he is similar to Hunter Henry in that he has great hands (three drops on 99 targets over his last two seasons) and above-average run-after-catch ability. He possesses decent speed once he gets rolling with the ball in his hands - check out his 74-yard catch against Nebraska last season - and difficult to bring down. It is that last part where some of the "Baby Gronk" mentions are legit. He also didn't appear to be too much out of his element when he lined up in the slot, although it is hard to believe he will line up there very often. Freiermuth figures to spend a good part of his rookie year sharpening up his blocking skills to counteract what figures to be a dicey offensive line.
What does it mean in redraft? Low-end TE2. There are just too many weapons in Pittsburgh right now. Not only is Eric Ebron still on the roster, but it doesn't help matters JuJu Smith-Schuster runs a lot of short routes that would typically go to a tight end.
Where should I expect him to go in my rookie drafts? Check back next week.
2.24 - WR D'Wayne Eskridge, Seahawks
Team Fit: Russell Wilson probably didn't need another home run hitter, but he's getting one here. The Western Michigan product's 4.38 speed might not actually do him justice (18.5 yards per catch and 9.4 yards after the catch per reception in his five years of college). Eskridge is one of this draft's many undersized slots who run like the wind and can contribute in a big way in the return game. The difference with Eskridge is that he packs a bit of a punch with a 350-pound bench and 505-pound squat. In Seattle, he'll likely settle in as the long-term slot with DK Metcalf and Tyler Lockett holding it down on the perimeter.
What does it mean in redraft? WR5/6. While he's explosive enough to have week-winning upside, it's unlikely Eskridge will see enough touches to be a fantasy force anytime soon.
Where should I expect him to go in my rookie drafts? Check back next week.
2.25 - WR Tutu Atwell, Rams
Team Fit: At first blush, adding an undersized speedster to a receiving corps that already has Robert Woods, Cooper Kupp, DeSean Jackson and Van Jefferson doesn't make a lot of sense. It also doesn't make much sense for a team that is trying to win now. However, Jackson can't be counted on to stay healthy for very long. If Jackson goes down, there's not a lot of blazing speed left on the roster. The problem is Atwell is only about 155 pounds at most and doesn't have a ton of return experience, so he is being added primarily for his 4.35 speed.
What does it mean in redraft? Should go undrafted in most leagues. Atwell is the rare second-round selection who is being drafted to be a specialist (a field-stretcher in this case). Even at that, he only will become minimally useful if/when Jackson goes down.
Where should I expect him to go in my rookie drafts? Check back next week.
2.27 - WR Terrace Marshall Jr., Panthers
Team Fit: There are times Marshall shows why he was considered the No. 1 receiver recruit in Louisiana (ahead of Ja'Marr Chase); he scored a whopping 23 touchdowns on 94 catches over his last two seasons - many of the big-play variety. Other times, however, he appears disinterested (seven drops on 55 catchable balls this season, per Pro Football Focus). At his best, Marshall uses his 6-3 frame and 39-inch vertical jump to win in contested-catch situations or his sub-4.4 speed to run by his defender. The problem is he doesn't always use his natural athleticism and sometimes allows defenders to dictate the terms. There are other reasons for concern: lower-body injuries have been a problem in recent years and the timing of his opt-out in 2020 was odd to say the least - he left shortly before the Tigers faced rival Alabama with a few games remaining. Marshall has the talent to be a lead receiver in the NFL one day, but it seems unlikely to happen in Carolina with D.J. Moore and Robby Anderson locked into starting roles.
What does it mean in redraft? WR5. Marshall figures to take some (most) of the slot snaps left behind by Curtis Samuel, but he's going to be stuck behind Christian McCaffrey, Moore and Anderson on the passing game food chain. An injury to Moore or Anderson could vault him into high-end WR4 consideration, however.
Where should I expect him to go in my rookie drafts? Check back next week.
2.32 - QB Kyle Trask, Buccaneers
Team Fit: Almost a mirror image physically of Mason Rudolph, Trask is the rare quarterback prospect in this draft who is built to take a pounding (6-5, 236) but not overly mobile. Where he differs from Rudolph is his ability as a passer; Trask has a good feel for the nuances of the position such as timing, trajectory and touch, and he has no qualms about throwing into tight windows. How much of that last part was a function of having high-end talents like Kyle Pitts and Kadarius Toney to throw to is up for debate, and it speaks to how important that duo was to Trask as Florida scored a mere 20 points against a middling Oklahoma defense with those playmakers unavailable in Trask's final game. Although he did run on a semi-regular basis in college, he offers very little as a rushing threat. On the plus side, Trask is a solid decision-maker and ball distributor - a point worth highlighting considering 2019 and 2020 were the only two years in his high school or college career that he was considered a starter. He projects as a long-term NFL backup in the Chase Daniel mode, and that figures to be how he will begin his career behind Tom Brady. It is at least mildly interesting Tampa Bay opted to go with the prospect - after Mac Jones - that most resembles Brady.
What does it mean in redraft? Almost nothing. Trask will wear a visor and carry a clipboard for as long as Brady is on the field.
Where should I expect him to go in my rookie drafts? Check back next week.
---
Doug Orth has written for FF Today since 2006 and been featured in USA Today's Fantasy Football Preview magazine since 2010. He hosted USA Today's hour-long, pre-kickoff fantasy football internet chat every Sunday in 2012-13 and appears as a guest analyst on a number of national sports radio shows, including Sirius XM's "Fantasy Drive". Doug is also a member of the Fantasy Sports Writers Association.