Over the last 10 years I've collaborated with Mike Davis on his weekly in-season Q&A article here at FFToday. Today, I have the pleasure of bringing you the Survival Pool section of that article as a stand-alone feature. If you have never played before, let me introduce you to the concept.

Each week, you must pick ONE team to win STRAIGHT UP. That means, regardless of the betting line, all you have to do is "JUST WIN BABY", Al Davis.

You'd think that is pretty easy, right? Well, you can't pick the same team twice. So, if you pick the Chiefs in Week #1, they aren't available for the remainder of the season.

Over the last 10 years, here is my record in the Q&A column. Except for one really poor season in 2015, if you chose my #1 pick, you won almost 80% of the time.
My Picks Over the Years
#3
#2
#1
W
L
W
L
W
L
2011
12
4
11
5
13
3
2012
15
1
13
3
13
3
2013
12
4
12
4
11
5
2014
14
2
10
6
13
3
2015
7
9
12
4
9
7
2016
12
4
14
2
14
2
2017
10
6
12
4
13
3
2018
10
6
11
5
12
4
2019
13
3
8
8
13
3
2020
9
7
10
6
14
2
Totals
114
46
113
47
125
35
Win %
71.25%
70.63%
78.13%

So what strategy should you use to win your Survival Pool (or Last Man Standing Pool)? Do you take the safe bets early on, knowing that in later weeks you may need one of the really good teams to get you through a tough week? Well, stay tuned as I help you navigate your Survivor Pool season with not just one, but three options every week, and an occasional upset special.

In Weeks 1 through 3, there are usually two or three picks that knock out a large portion of entries in these pools. Hopefully, we can avoid them together. Let's get to it.

Week 1
Upset Special: NY Jets at Carolina
The NFL schedule makers definitely have a sense of humor. Sam Darnold will start for the Panthers against Gang Green in his first game away from the team that drafted him. But the Jets let Darnold go for a reason, while adding three quality players in Corey Davis, Tevin Coleman and rookie Michael Carter (UNC). In spite of also drafting No.2 pick Zach Wilson, the Jets offense seems scarier than a one-headed monster of Christian McCaffrey and Darnold under center. Even the Denver Broncos thought highly enough of Teddy Bridgewater to bring him in and make him their starter. As such, Mike Greenberg "Greeny" may actually enjoy a season opening win as the world's biggest Jets fan.

#3: Buffalo over Pittsburgh: (114-46 last 10 years)
The Buffalo Bills were one win away from the Super Bowl and are very much on the upswing. Josh Allen and Stefon Diggs have become the premier duo in the AFC East and should easily repeat as Division champions. Meanwhile, there are question marks all over the offense in Pittsburgh. Will Ben Roethlisberger survive another full season at QB and is rookie Najee Harris capable of being a full time running back? JuJu Smith-Schuster hasn't become the No.1 threat as expected since Antonio Brown's departure, and Diontae Johnson will have to prove himself in his sophomore season for the Steelers offense to have any punch. Look for the Bills defense to be improved and the team to pick up where they left off last season.
#2: Tampa Bay over Dallas: (113-47 last 10 years)
The reigning Super Bowl champions welcome Dak Prescott and his Dallas Cowboys in the season opening game on Thursday night. Is this expected to be a shootout? Heck yes. Tampa returns all of their starters on offense from last year, and while Chris Godwin (quad) is expected to suit up, it is rumored that 33rd year old veteran Antonio Brown is the healthiest he has been since he left Pittsburgh, and is more than capable of being Tom Brady's main target opposite Mike Evans. This won't be the blow out that the oddsmakers think and may give you pause since a Cowboys offense with Dak is more potent than the 7-9 team they were last year. But don't bet against Brady in his home opener as they raise their Super Bowl banner.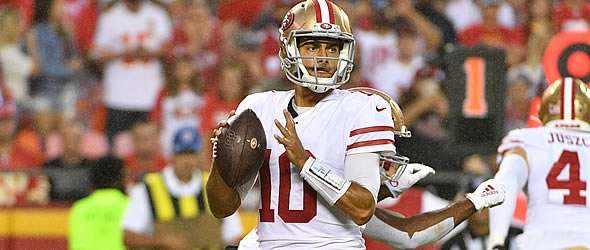 #1: San Francisco over Detroit: (125-35 last 10 years)
Jimmy Garoppolo takes the reigns of this 49ers team that is only one season removed from making the Super Bowl. Looking back, in 2019, the 49ers had an incredible defense and a "passable" offense. Then COVID struck and a number of key players "opted out" and the result was a disappointing 6-10 season after a 13-3 super bowl run.

Well, it's 2021 and the 49ers are this writer's pick from the NFC West to make a deep run in the playoffs. Trey Lance seems to be the heir apparent and defenses will have to prepare for two quarterbacks if the pre-season is any indication. Expect their defense to be top three, with an offense that will again be the West Coast, spread the ball game that stretches a team. If George Kittle and company can stay healthy, few teams will be able to compete with them, let alone a Lions team that has few playmakers on offense. Gone are Kenny Golladay, Marvin Jones and Matthew Stafford. Instead, here comes Jared Goff, D'Andre Swift (already injured), Jamaal Williams (from GB) and Tyrell Williams who has been a journeyman No.3 WR now asked to be a No.1. It's going to be a long season in Detroit and the Lions defense is average at best. As such, take the Niners as your Week 1 safe play. They have something to prove, and are your lock of the week.