If you made it through the first round and into the semi-finals, congratulations and keep it going.

It's December and weather could be a factor in a few games. Rain is in the early forecasts for the Giants game and the 49ers game. And a strong wind (17 mph) could be a factor Thursday night in a game sure to have plenty of meaning for fantasy owners with a pair of high-scoring teams going at it - Los Angeles Chargers at the Kansas City Chiefs.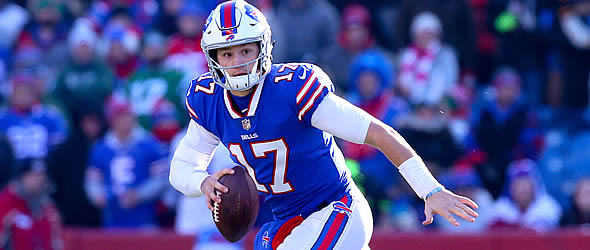 Truths
"I don't want someone to believe my lies, I need someone to accept my truths." - Kellie Elmore
1) Over the past three weeks, the No.2 fantasy quarterback is Buffalo's Josh Allen.
Surprisingly true. Apparently running quarterbacks are a viable option for fantasy owners. Allen has amassed 597 passing yards and 335 rushing yards in three games. He's added five touchdowns to overcome four interceptions and produced 29.1 FPts/G. Lamar Jackson (22.7) ranks 12th over the same span. Allen's ownership level is just 15% at Yahoo and he might be a solid option instead of Aaron Rodgers (at Chicago) or Jameis Winston (at Baltimore).
2) The Eagles top running back, Josh Adams, is not a viable fantasy option going forward.
Unfortunately true. It's not due to lack of talent, he's averaging 5.0 ypc this season, but due to lack of volume. Head coach Doug Peterson has reverted to the Andy Reid strategy of throwing the ball too often. After a balanced 46/54 split in the Super Bowl season, he's throwing the ball almost 61 percent of the time in 2018. Adams has rushed the ball double-digit times just twice, against two weak teams, and given the likelihood of the Eagles being behind against the Rams in Week 15, no one in the Eagles running game is playable.
3) Either quarterbacks are getting better or pass defenses are getting worse.
Perhaps both are true. In 2017, the New York Giants gave up the most fantasy points to opposing quarterbacks (22.9 FPts/G). In 2018, 13 defenses (40% of the league) are yielding more than that, "led" by Cincinnati (26.3), Kansas City (26.0) and Atlanta (26.0). Cam Newton and Ben Roethlisberger own the best schedules over the final weeks.
4) Rob Gronkowski can't play defense.
It has nothing to do with fantasy, but it was strange when he was back in the secondary as Miami quarterback Ryan Tannehill had no chance to reach the end zone after taking the snap from his own 31-yard line. Speaking of "two-position" players, Pittsburgh RB Jaylen Samuels is usable at both RB and TE in Yahoo! leagues. He's not a great option in the backfield, but with just four tight ends averaging double-digits, Samuels is a good play at that position as long as James Conner doesn't return from his injured ankle.
5) The New York Giants fantasy defense is the best in the NFL over the past three weeks.
Fact. The Giants are averaging 12.3 FPts/G from their defense, more than Baltimore (11.0), New Orleans (10.3), Chicago (9.3) or Seattle (9.0). The Giants pass defense has risen to the occasion with nine interceptions over the past month after just six in the first nine games. Add in 13 sacks in three games and you can see why they are No. 1 of late.
Lies
"The best lies stay close to the truth." - Cornelia Funke
1) It is still viable for fantasy owners and DFS players to stick with the "old reliable" quarterbacks.
Not as viable over the past three games. Matt Ryan, Philip Rivers, Russell Wilson, Drew Brees and Aaron Rodgers are five veteran quarterbacks, favorites of fantasy owners everywhere, who rank 15th or worst over the three-game span. The top-five includes four quarterbacks aged 25 or younger (Patrick Mahomes, Allen, Dak Prescott, and Jameis Winston).
2) Saquon Barkley has put together the greatest rookie season of any No.2 drafted RB in NFL history.
Barkley is on pace for 2,157 yards from scrimmage and 16 touchdowns, but sorry, no. However, it is the best in 35 years. Eric Dickerson rushed for 1,808 yards, caught 404 yards worth of passes and scored 20 times. Barkley is having a better season than every other No.2 running back which includes Marshall Faulk and Tony Dorsett. That's pretty good company he's keeping.
3) In Week 8, I stated that Amari Cooper's arrival in Dallas couldn't fix the offense.
I admit I was wrong. The first-round pick the Cowboys gave to Oakland now seems like a huge bargain. His arrival has taken the pressure off rookie wideout Michael Gallup, Cole Beasley and Allen Hurns and opened up the game for Ezekiel Elliott, who was averaging 113.4 yards from scrimmage before the trade and is producing 161.6 yards after the deal.
4) Drew Brees, the quarterback with the most regular season passing yards in history (73,908), more 5,000-yard passing seasons than the rest of the NFL combined (five) will finally get his MVP in 2018.
Despite all the yards, touchdowns and a 2009 Super Bowl MVP, Brees is missing one piece of hardware for his trophy case … the NFL MVP. That's likely to continue because Kansas City second-year quarterback Mahomes is putting together a historic season (4,300 yards, 43 passing touchdowns in 13 games) and an unsurpassed 32.5 FPts/G. Even in Peyton Manning's 55-touchdown season of 2013 he only averaged 31.0 FPts/G.
5) Kirk Cousins has "earned" his monster three-year $84 million contract with the Vikings.
Not from what I've seen so far. Cousins is averaging 22.9 FPts/G for the 6-6-1 Vikings which ranks 14th among quarterbacks with at least five games. Minnesota is still in the playoff race and it's the playoff season that counts … assuming he gets there, but to date, he has been a disappointment. He was around the eighth quarterback off the board on draft day. Still, it's 3.7 FPts/G better than Case Keenum produced in 2017.