That was quite an opening weekend. Raise your hand if you had the Bucs, Jets and Ravens leading the league in scoring with over 45 points. Those of you who raised their hands can lower them. I don't believe you. And the Browns didn't lose!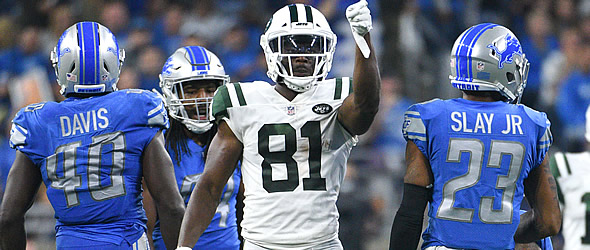 Quincy Enunwa saw 10 targets on only 21 pass atempts from rookie Sam Darnold in Week 1.

Truths

"Truth is the secret of eloquence and of virtue, the basis of moral authority; it is the highest summit of art and of life." - Henri-Frederic Amiel

1) Opportunity is more important as an evaluator than a one-week fantasy total this early in a season.
Whether a player had success in the first weekend is based on many factors, among them, weather, opponent, defensive strategy and game situation. But if you keep getting plenty of opportunities, the rest should even out over the long haul.
Five running backs saw 20 or-more carries (James Conner, Adrian Peterson, Carlos Hyde, Todd Gurley and Lamar Miller). Hyde and Miller have my attention and I'll be watching them closely in Week 2.
2) Opportunity – Part II, the receivers
Eighteen receivers saw double-digit targets. I won't name them all, but two of them particularly intrigue me. Kenny Golladay of Detroit (54% owned) looked like the best Lions receiver and considering they have Golden Tate and Marvin Jones, that's saying a lot. Golladay posted seven catches for 114 yards. Matthew Stafford can't be any worse.
The second player was Jets wideout Quincy Enunwa (10 % owned). It was unknown before Week 1, but it's clear now that he was Sam Darnold's favorite target. Enunwa should be high or your waiver wire list.
3) Many casual players will see Seattle rookie tight end Will Dissly's numbers and jump to claim him, but that would be a mistake.
True. A fourth-round rookie, he's more a blocker than the next Rob Gronkowski. He ran just a 4.87 "40" at the combine. Here is what was said about him on the official NFL draft site – "Seattle adds the best blocking TE in the draft in Dissly, and boy could they use him. His inclusion in the formation will be like having an extra offensive linemen on the field with enough receiving ability to move the chains a couple times each game." - Mark Dulgerian.
If you need a tight end to replace injured Delanie Walker (as I do), try Jared Cook (54% owned) or Eric Ebron (34% owned).
4) Kansas City Chiefs second-year quarterback Patrick Mahomes is the "real deal."
Sitting a year and learning from Andy Reid and veteran Alex Smith has paid huge dividends. Mahomes looked completely under control against the Chargers. True, they had no pass rush without injured Joey Bosa, but Mahomes wasn't fooled by anything. He also has the benefit of Reid turning the "jet sweep" handoff into a passing stat by making it a tiny shovel pass and that will pad his totals all season.
5) I love the six hours of the NFL Network's "Red Zone."
True, true, true. When the countdown clock starts at just before 1 pm (ET), I actually get excited. It's more than just getting the results, it's seeing how it happened and that doesn't come from a box score.
Lies

"I do not mind lying, but I hate inaccuracy." – Samuel Butler

1) Ryan Fitzpatrick will throw for 6,672 yards and 64 touchdowns and rush for 576 yards and 16 more scores.
"Reductio ad absurdum". This is my annual Week 2 message. Don't go overboard based on one week's worth of observations. No, Fitzpatrick won't score 46.5 FPts/G and set a season record of 744 points. It's called a fluke. While some Week 1 data was real, most players, both good and bad, will regress back toward the mean. In other words, they will return to their normal production level. In the case of Fitzpatrick, he averaged 16.5 FPts/G in 14 starts over the past two seasons. Plus, he goes up against the defending champions in Week 2.
2) Russell Wilson can continue to produce even without Jimmy Graham and an injured Doug Baldwin.
False. It's not the loss of receivers that will stop Wilson from posting big numbers - Tyler Lockett, Brandon Marshall and Jaron Brown can get the job done until Baldwin returns (2-3 weeks?). It's the six sacks that concerns me. Wilson's not a big guy (5-11, 215) like Ben Roethlisberger or Cam Newton. Seattle plays the Bears next (Khalil Mack), the Rams twice, the Chargers and the Vikings this season. That's a lot of big, fast, mean guys trying to dismember him.
3) Don't worry about the Cowboys offense, "Zeke" is back for 16 games this season.
I'd worry if I had anyone on the Cowboys, which I don't. Dak Prescott can't pass and if not for a late touchdown, Ezekiel Elliott would have been ugly too. The vaunted Dallas OL is a mess. Prescott has no receivers that scares a defensive coordinator and his security blanket (Jason Witten) is gone.
4) Rookie Royce Freeman had a solid opening effort – 15 carries and 71 yards.
The numbers look OK, until you dive deeper. Freeman saw just 29-of-74 snaps. Worse news, Phillip Lindsay (it's OK to say who?) saw 26 snaps and produced 71 yards on the ground too and also caught two balls for 31 yards and a score. Devonte Booker got 19 snaps. What we thought was Freeman as the main guy, might actually be a RBBC. To be continued …
5) Tom Brady has made Phillip Dorsett (5% owned) a viable fantasy option worth of a waiver claim.
Not completely true, but I'll give you 20 percent. I did like his wide-receiver leading seven targets, but Gronkowski and James White still saw more targets. And Julian Edelman is back in three weeks. If you need a 2-3 week fill-in for the previously-mentioned Baldwin, Dorsett is viable, but not long-term as the Patriots' fourth option.

---
Steve Schwarz served as the fantasy sports editor of The Sports Network and is the 2014 FSWA Football Writer of the Year.