This is likely the toughest week for producing a complete lineup as six teams will watch the action from the sidelines, including two of the top-five scoring teams (New England and Houston). The waiver wire is your friend.

Byes – Denver, Houston, Jacksonville, New England, Philadelphia and Washington

Truths

"Facts do not cease to exist because they are ignored." - Aldous Huxley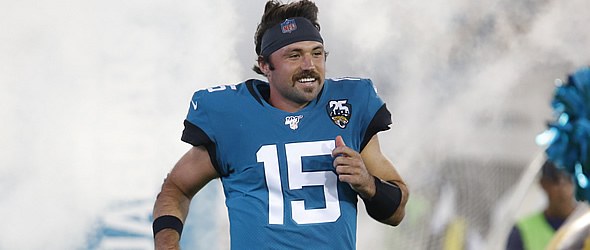 1) The "Moustache" deserved to be benched.
I'm not sure "deserved" is the right word, but heading to the bench for Nick Foles was the inevitable and correct move. Minshew couldn't deliver last Sunday in London against a J.J. Watt-less Texans defense, including two interceptions and a fumble in the fourth quarter, giving management an easy out. Over the last four games, however, he completed just 54.9-percent of his passes. Plus, after the owner and GM spent $88 million for a starting quarterback in the offseason, Foles was always going to play when healthy. Minshew will get another chance either in Jacksonville or elsewhere as he's better than half-a-dozen current starters.
2) Leonard Fournette and Chris Carson have underachieved in 2019.
True. Despite ranking third and fifth in rushing yards, respectively, Fournette (10th overall) and Carson (12th overall) lag in fantasy point production due to their low red-zone production. Fournette has just one touchdown in 35 red-zone attempts (2.9-percent) and Carson isn't much better at 3-of-29 (10.3-percent). The good news is they should both rebound. Fournette was 13-of 49 (26.5-percent) through 2018 and Carson was 9-of-44 (20.4-percent).


3) The best QBs to own with a second-half lead of seven-points or more are Tom Brady and Dak Prescott.
It's not always the quarterback behind on the scoreboard that racks up the big passing production. The two best "front runners" are Tom Brady 66-of-95 for 807 yards and five touchdowns and Prescott 35-of-40 for 533 yards and five scores. At the other end of the spectrum are; Mitchell Trubisky, Joe Flacco, Ryan Fitzpatrick and Daniel Jones who have yet to throw a second-half touchdown pass with a touchdown lead.
4) The Steelers used to be a haven for fantasy owners, but now it's a desert.
True. In 2017 Antonio Brown ranked second, Le'Veon Bell ranked second and Ben Roethlisberger ranked eighth in FPts/G. Even without Bell in 2018, James Conner finished seventh and JuJu Smith-Schuster ranked eighth and Ben third. Fast forward to 2019 and the top receiver is Smith-Schuster ranks 45rd, James Conner ranks 9th and backup quarterback Mason Rudolph ranks 33rd. Without Roethlisberger the offense struggles. Hopefully he'll return in 2020 and make the Steelers offense viable again.
5) Davante Adams has yet to score in 2019.
Fact. Even before the "turf toe" he went four games without reaching the end zone. That's alarming. Over the previous two seasons, Adams never went more than two games without scoring and totaled 23 touchdowns. He's ranked 22nd averaging 14.8 FPts/G, but that's a far cry from being one of the top-three fantasy receivers on Draft Day.
Lies
"The truth may be out there, but the lies are inside your head." - Terry Pratchett
1) If you are behind on the scoreboard in the second half of a game in 2019 the best pass-catcher to have is Julio Jones or Chris Godwin.
Close, but no. It's a trick question because the answer isn't a wide receiver, it's a tight end. The Falcon's Austin Hooper has been the most production pass-catcher in the entire NFL posting 34 receptions for 406 yards and five touchdowns. Godwin is second, Tyler Boyd third and Jones fourth.
2) Don't quit on the Chargers' Keenan Allen.
False. He's been horrible after his opening three-game salvo (29-404-3). He's still seeing the target volume needed to rebound (37 targets over the past five games which is 13th among all wide receivers), but Allen has done precious little with them producing just 205 yards and no touchdowns. The schedule won't be favorable until Week 15. He'll face the Chiefs (7th in WR fantasy points allowed), a bye, then Denver (2nd) and Jacksonville (15th) before better matchups against Minnesota and Oakland.
3) Over the past three weekends Russell Wilson is playing at a fantasy MVP level.
In real life yes, but Wilson is just the seventh-best fantasy quarterback over the three-week period averaging 25.8 FPts/G. Matthew Stafford leads all quarterbacks since Week 7 producing a 32.0 FPts/G stat, followed by Drew Brees, Aaron Rodgers, Lamar Jackson Jared Goff and Jameis Winston. For the season Wilson is second to Lamar Jackson.
4) The Jets' Sam Darnold can be a viable answer for dynasty leagues owners.
False. It's going to be tough to be an elite quarterback when two of the top fantasy defenses are in your division. Both New England (ranks 2nd) and Buffalo (ranks 4th) are elite in QB fantasy points allowed and make it difficult for either a Jets or Dolphins quarterback to succeed. And don't think Buffalo is a one-year wonder defensively. They ranked first in 2018 and eighth in 2017.
5) Christian McCaffrey can keep up this pace for an entire season.
Unlikely. Run CMC is averaging 30.6 FPts/G this season. That's more than four points per game better than any running back in the past 10 seasons and 6.1 fantasy points better than the average of the last 10 fantasy-leading running backs. In fact, it's the highest number since the Chiefs' Priest Holmes averaged 31.6 FPts/G 17 years ago (2002) when he posted 1,615 yards and 21 touchdowns on the ground and 70 receptions for 673 yards and three scores in just 14 games.