Championship Week! If you have made it this far, don't slow down now. Bad matchups must be avoided. Injuries have to be overcome. There are still pickups which could improve your lineup. The adage "dance with the one that brought you" isn't always true. Start the best lineup possible.

Truths

"If you would be a real seeker after truth, it is necessary that at least once in your life you doubt, as far as possible, all things." - Rene Descartes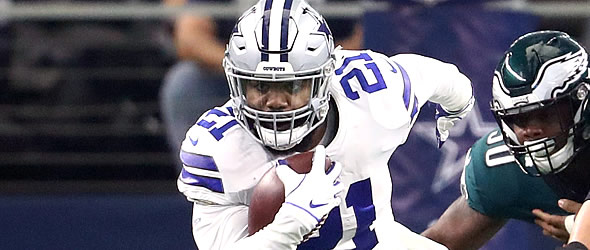 1) Tom Brady is throwing the ball as often as always.
True. He's going to end up throwing the ball more than 600 times for the sixth time in his career. He's just not producing as in the past. Blame the poor production on the anemic running game and the lack of a receiver other than Julian Edelman to emerge. Brady's current mark of 6.5 yards-per-attempt is the second worst of his career. Only 2002 (6.3), when the team went 9-7, was worse. That team didn't have the defensive success that the 2019 team has produced, thus the 11-3 record.
2) It would be best to avoid the Josh Allen vs. Patriots defense this week.
True. Although Allen has put together a solid season (22.6 FPts/G), he's averaged just 17.2 fantasy points in two career games against the Patriots. He's 33-of-69 (47.8%) for 370 yards, two touchdowns (one rushing) and five interceptions. If you have another viable option, you should go in that direction.
3) No receivers is no problem for Carson Wentz.
Fact. DeSean Jackson has been out since Week 9. Alshon Jeffery just had Lisfranc foot surgery. Nelson Agholor has been out since Week 13. That left the Eagles with practice squad guys, Greg Ward and Robert Davis and rookie JJ Arcega-Whiteside on the outside and Zach Ertz at tight end, but Wentz has still averaged 25.7 fantasy points the past two games. Meanwhile, the Dallas Cowboys have allowed 28.3 FPts/G since Thanksgiving, so you can continue to start Wentz in Week 16.
4) Ezekiel Elliott "owns" the Philadelphia Eagles.
Unfortunately for Eagles fans like me, this is a fact. In five starts against the Eagles, he's averaged 26.1 FPts/G. He averaging 162 yards from scrimmage per game, including four consecutive 100-yard rushing games. The Eagles may be No. 7 against opposing running backs, but Elliott is their "Kryptonite."
5) Perhaps interceptions aren't as damaging to fantasy value as we thought.
Jameis Winston ranks second this season with FPts/G (27.0) despite leading the league in interceptions (24). It doesn't hurt that he's also leading the league in passing yards (4,573), passing attempts (554) and is second in touchdown passes (30). His matchup with Houston in Week 16 is another juicy offering. The Texans are allowing 25.7 fantasy points to opposing quarterbacks this season and 27.5 points over the past five games. Even without Mike Evans, Scotty Miller and possibly Chris Godwin, Winston figures to be firing early and often in what should be a shootout with Deshaun Watson.

Lies

"Truth is beautiful, without doubt; but so are lies." - Ralph Waldo Emerson

1) As the first QB to ever throw for 450+ yards in back-to-back games, Winston must have the record for most yards in two consecutive games, right?
False, but that shouldn't take away from the fact that he's probably carried your team into the 2019 fantasy championship game after combining for 84.6 fantasy points the past two weekends. Phil Simms threw for 945 yards over two games in 1985 and the "immortal" Billy Volek passed for 918 yards and eight touchdowns in 2004 as an injury replacement for Steve McNair.
2) You can still trust Dalvin Cook this weekend.
Unfortunately false. While Cook ranks second among all running backs this season (21.2 FPts/G), behind only Christian McCaffrey, Cook's shoulder injury has cost him playing time in each of the last two games. It didn't hurt much in Week 14 as he scored once and managed 18 carries before getting knocked out of the game, but last Sunday he took a big hit on his ninth carry and was quickly ruled out for the remainder of the contest. With Alexander Mattison (ankle) also likely sidelined, the new handcuff option would be Mike Boone (13-56-2 in Week 14).
3) I could never use a rookie like Drew Lock, in his fourth start, with the championship on the line.
Fortune favors the bold. If you ignore the game last weekend against Kansas City in a blinding snow storm, Lock produced 45.2 fantasy points in his first two starts. That's a solid 22.6 fantasy points per game and has a very good matchup against the generous Detroit Lions' pass defense in Denver. The Lions are allowing 25.0 FPts/G this season and 28.2 fantasy points over the last three games.
4) The Bengals are a fantasy desert … except for Joe Mixon.
Except in Week 16, Cincinnati faces the Miami Dolphins. A defense that has yielded 33 touchdown passes (second to Arizona), a defense that has allowed 2,418 yards and an NFL high 25 touchdown passes to wide receivers. Tyler Boyd is a viable option and the best the Bengals have to offer. He's seen 35 targets over the past five games and caught 19 for 261 yards and two scores. He's the only Bengals wideout to catch a touchdown pass during that time.
5) Without Evans and Scotty Miller (just placed on IR Tuesday) and Chris Godwin (questionable) there are no receiving options left in Tampa Bay.
Actually, there are a number of possible options this week in Breshad Perriman and O.J. Howard. Perriman was the receiving star last week catching five-of-six targets for 113 yards and three touchdowns and should be a borderline WR1 this week if Godwin is inactive. Meanwhile, Howard saw a season-high eight targets last weekend and with a touchdown rate of 8.9-percent of his targets and 13.2 percent of his receptions, could also have a big fantasy game.