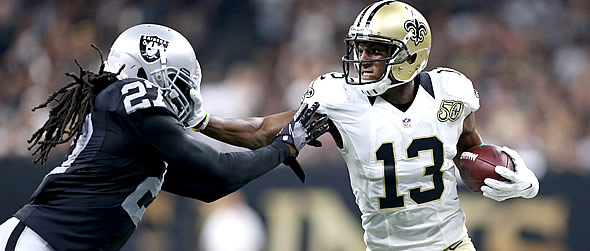 It's the middle of the first round in your PPR draft and four star running backs are already off the board (Christian McCaffrey, Saquon Barkley, Alvin Kamara and Ezekiel Elliott), but you say to yourself, I can still get last year's No.1 receiver, so life is pretty good, right?

Maybe not.

Although Michael Thomas' current ADP places him as the next guy to go, he may not perform up to your expectations. Coming off his 149-catch, 1,725 yards and nine touchdowns (23.4 FPts/G) in 2019 fantasy owners would obviously like/expect/demand a repeat performance, but based on recent history, that isn't likely. In fact, it's only about a 20-percent chance.

If you look at the chart below, I analyzed every receiver who saw at least 185 targets over the past 10 seasons.

There were 10 such wide receivers who saw the required number of targets and only two managed to duplicate, or better, their production. In 2013 Calvin Johnson matched his fantasy production from the previous season and in 2015 Antonio Brown actually increased his output. In the other eight instances, there were decreases of as much as 42% with the average drop being 17.72%.

So, would you still select Thomas at No.5 if you knew he would only score 19.25 FPts/G which the percentages say is 80-percent likely?
Factors that might be cause for this reduction in output …
The Saints signed a quality wide receiver in Emmanuel Sanders to play across from Thomas. Sanders has posted at least 850 yards on just under 100 targets in each of the past two seasons. By contrast, New Orleans hasn't had a No.2 wideout see more than 70 targets in the last three seasons (Ted Ginn Jr.), who was second on the team last season with just 56 targets. Sanders has produced as much as 1,404 yards and nine touchdowns in his best season (2014) and could steal a significant portion of Thomas' thunder.
Meanwhile, tight end Jared Cook had a career-best 8.9 FPts/G in his first season with Drew Brees. Saints tight ends have been getting more work the past three seasons, seeing 62 targets in 2017, 89 in 2018 and 100 last season.
Brees is 41-years-old. Old bones and muscles don't recover as quickly. He missed five games last season, the most since 2003. Brees hasn't thrown more than 32 touchdowns in three seasons.
In addition, Kamara was playing injured for much of last season. Despite catching more than 80 balls for the third consecutive season, his yards-per-reception dropped from 10.1 in his rookie season to 6.6 yards in 2019. His yards-after-contact dropped from 8.51 in 2017 to 7.0 in 2019. If healthy, he'll take up a larger percentage of the Saints offense.
Factors for Thomas reproducing his career-best 23.4 FPts/G …
If "old man" Brees goes down again, the Saints have a better passer off the bench in Jameis Winston. Although Teddy Bridgewater was 5-0 in five starts, Thomas was held below his season average in four of five games. Winston can throw the ball a lot better than Bridgewater as his 5,109 passing yards in 2019 will attest.
Other than Thomas and Sanders, New Orleans wide receiver corps has very few well-known options which include; Tre'Quan Smith (18 receptions last season), Deonte Harris (6), Austin Carr (1) and Lil'Jordan Humphrey (0).
If not Thomas, then who?
Davante Adams, Tyreek Hill, DeAndre Hopkins or Julio Jones? Or perhaps one of the up-and-coming running backs Dalvin Cook, Joe Mixon, Josh Jacobs or Aaron Jones? Maybe veteran Derrick Henry or Nick Chubb?
I think Hopkins is a slightly better option. The new Cardinals receiver has averaged 19.8 FPts/G over the past three seasons in Houston. After the trade, he'll be motivated to show Houston how wrong they were to get rid of him. Hopkins comes to an Arizona team that yielded 442 points last season (28th of 32) and was a net -81 points, so will likely be playing plenty of catch-up. He has a young star-in-the-making at quarterback (Kyler Murray) and he'll automatically become the No.1 receiver over aging Larry Fitzgerald and youngster Christian Kirk.
Adams didn't score a touchdown until Week 12. Despite that and missing four full games, he still averaged 17.7 FPts/G. Over the offseason, Packers management failed to help quarterback Aaron Rodgers' offense, drafting a backup quarterback and a backup running back, but no receivers. Which means we should be hearing a lot of Rodgers-to-Adams again next season.
Cook averaged 21.2 FPts/G last season despite missing time due to a shoulder injury. He recorded career highs in rushing attempts (250), rushing yards (1,135), TDs (13), targets (63), receptions (53) and receiving yards (519). The issue for not picking Cook is he's currently in the final season of his four-year rookie deal that vastly underpays him and he is holding out for a McCaffrey-type deal ($16 million yearly) while the team has apparently offered in the $10 million range. A late draft day will help in knowing Cook's fate, but if he's playing hard he could be a better value.
I'm quite sure picking Michael Thomas won't kill your fantasy lineup, but he might not give you as much production as you are hoping to get at the fifth pick.
Receivers with 185 or more targets since 2010
Year
WR
Games
Tgts
Rec
Yds
TDs
FPts/G
Variance
2019
Michael Thomas
16
185
149
1725
9
23.4
2020
?
?
?
?
?
?
?
 
 
 
 
 
 
 
 
 
2015
Julio Jones
16
203
136
1871
8
23.2
2016
14
129
83
1409
6
18.6
-19.83
 
 
 
 
 
 
 
 
 
2015
Antonio Brown
16
193
136
1834
10
23.9
2016
15
154
106
1284
12
20.5
-14.23
 
 
 
 
 
 
 
 
 
2015
DeAndre Hopkins
16
192
111
1521
11
20.6
2016
16
151
78
954
4
12.3
-40.30
 
 
 
 
 
 
 
 
 
2014
Antonio Brown
16
181
129
1698
13
23.6
2015
16
193
136
1834
10
23.9
1.30
 
 
 
 
 
 
 
 
 
2014
Demaryius Thomas
16
184
111
1619
11
21.2
2015
16
177
105
1304
6
17.0
-19.82
 
 
 
 
 
 
 
 
 
2013
Pierre Garcon
16
184
113
1346
5
17.5
2014
16
105
68
752
3
10.1
-42.29
 
 
 
 
 
 
 
 
 
2013
Andre Johnson
16
181
109
1407
5
17.5
2014
15
146
85
936
3
13.1
-25.15
 
 
 
 
 
 
 
 
 
2012
Calvin Johnson
16
204
122
1964
5
21.8
2013
14
156
84
1492
12
21.8
0.00
 
 
 
 
 
 
 
 
 
2012
Reggie Wayne
16
195
106
1355
5
16.9
2013
7
58
38
508
2
14.4
-14.80
 
 
 
 
 
 
 
 
 
2012
Brandon Marshall
16
192
118
1508
11
20.9
2013
16
163
100
1295
12
18.8
-2.10
 
Average
Variance
-17.72