Unlike what we saw at both the quarterback and running back positions over the past few analysis pieces, the tight end position is highly predictable.

Just look at the No.1 picks from the past 10 seasons. Four of them finished on top, seven finished top-three and the only times a tight end drafted first finished outside the top-five was when Rob Gronkowski played less than a full season (eight games in 2016 and 13 games in 2018). And "Gronk" still finished inside the top-10.
ADP of the No.1 Fantasy TE
Year
Player
ADP
Rank
2019
Travis Kelce
17.1
1
2018
Travis Kelce
28.5
2
2017
Rob Gronkowski
18.1
1
2016
Travis Kelce
64.3
5
2015
Jordan Reed
158.4
19
2014
Rob Gronkowski
29.7
3
2013
Jimmy Graham
14.3
1
2012
Rob Gronkowski
16.5
1
2011
Rob Gronkowski
119
11
2010
Antonio Gates
42.2
2
Fantasy Finish of the Top Drafted TE
Year
Player
ADP
Finish
2019
Travis Kelce
1
1
2018
Rob Gronkowski
1
9
2017
Rob Gronkowski
1
1
2016
Rob Gronkowski
1
8
2015
Rob Gronkowski
1
2
2014
Jimmy Graham
1
2
2013
Jimmy Graham
1
1
2012
Rob Gronkowski
1
1
2011
Antonio Gates
1
4
2010
Dallas Clark
1
3
In fact, a top-5 drafted tight end finished top-5, 50-percent of the time from 2010-2019 (25-of-50) and finished top-10, 80% of the time (40-of-50). So drafting a tight end early usually pays off or at least is rarely a "bust" which happens more frequently at running back and quarterback.
Only two times did the best tight end get drafted later than fifth at his position – Jordan Reed and Rob Gronkowski.
Unfortunately, this information also means finding a "sleeper" at the tight end position is like finding the proverbial needle in a haystack. Over the 10-year study, seven tight ends cracked the top-3 after being drafted outside the top-10 at the position.
Tight End Sleepers from 2010-2019
Year
Player
ADP
Rank
Finish
2018
George Kittle
133.0
13
3
2015
Jordan Reed
158.4
19
1
2014
A. Gates
154.1
17
3
2013
Julius Thomas
175+
21+
3
2012
J. Graham
175+
36+
2
2011
R Gronkowski
119
12
1
2011
A. Hernandez
125.1
13
3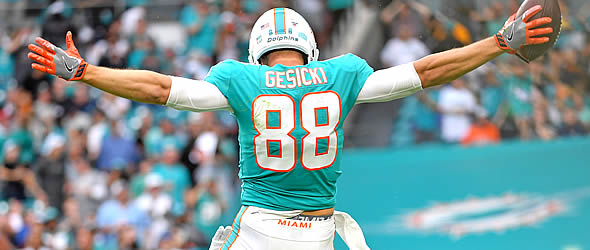 So what names drafted outside of the top-10 tight ends this season could produce an elite year as George Kittle did in 2018? Or is there a complete sleeper, who is not even being drafted, who could pull a Julius Thomas circa 2013 or Jimmy Graham in 2012?
Let's take a look.
Jared Cook, New Orleans (ADP 110.9) – Cook has always been a name who people expected to blow up in St. Louis and Green Bay. He disappointed fantasy owners at both stops. The last two seasons, however, Cook has become a force, particularly in finding the end zone and his value has jumped accordingly. Cook finished the 2019 regular season averaging 13.2 FPts/G over the final six games. We know Brees likes his tight end near the goal line (think Jimmy Graham's 51 TD catches included 29 times from inside the 10-yard line) and in their second season together the Brees-Cook connection could blossom even further. However, he'll need those scores because he's not your 1,000-yard receiver type and the team already has Michael Thomas soaking up targets and catches and added Emmanuel Sanders as the No.2 guy. Cook could certainly be a top-10, but elite … unlikely.
Mike Gesicki, Miami (152.1) – Gesicki saw almost triple the targets from his rookie season and produced a solid 51-570-5 line which saw him average 8.6 FPts/G for the season. Looking deeper, however, he averaged 9.3 targets and 13.4 FPts/G over the final six games of 2019. That six-game average, for an entire season, would have him in the running for a top-5 tight-end spot. Quarterback Ryan Fitzpatrick likely returns as the early season starter, given that the shortened offseason and no preseason games, probably precludes Alabama rookie Tua Tagovailoa from many starts in 2020. Gesicki was second on the team in targets and barring anything crazy he will finish no worse than third (a strong Preston Williams return from November ACL surgery could possibly drop him a spot). Still, a 16th-round draft day selection, who might have top-five upside, even if the chance is small, is a gamble worth taking.
Jack Doyle, Indianapolis (162.6) – The Colts' new starting quarterback, Philip Rivers, has shown a great affinity for his tight ends in the past and that's unlikely to change in 2020. Unfortunately, he doesn't have Antonio Gates or Hunter Henry or even Eric Ebron to throw to this season. It's "journeyman" Jack Doyle as the main tight end target who saw 72 targets in 2019 and turned that into a 43-448-4 line. Ebron's 52 targets are now available and 100 targets would make Doyle a fantasy factor despite his average receiving and running skills. Unless wide receiver Michael Pittman Jr. is a true star opposite T.Y. Hilton, Doyle should get close to that magic total and end up being a viable fantasy starter … though not top-5 elite.
Devin Asiasi, New England (undrafted) – For those who like a long shot, a very long shot, there is Devin Asiasi. As a rookie he has a lot working against him … namely no OTAs, or preseason games to show Bill Belichick he's the answer at tight end. Still, there are also a few things going for him too.
1) The Patriots tight end room consists of Asiasi, fellow rookie Dalton Keene, who is more of a blocker than receiver and Matt LaCosse, who in four years with three teams owns 40 total catches for 403 yards and two scores.
2) Playing for Chip Kelly at UCLA, Asiasi produced a 15.4 ypc average and 14 plays of 20-yards or more in two seasons, showing explosiveness.
3) New Patriots starter Cam Newton had a pretty good relationship with tight end Greg Olsen for many years. Hey, I said it was a very long shot, like a last-round selection, or a waiver pickup to keep your eye on early in the season.