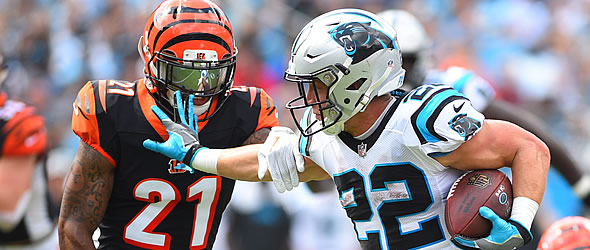 After looking at quarterback drafting last week, it's time to turn our attention to the running back.

Similar to what we saw when analyzing quarterbacks, in nine of the last 10 years, the first guy off the board did not end up being the best producing running back. In fact, he finished top-five just three times, including last season when Saquon Barkley saw a 22% drop in production to finished seventh-best in PPR leagues.

Unlike the quarterback position, however, the player who ended up winning the position, was usually drafted in the first three rounds. Only three times did a back "come from nowhere" to win it all and one of those came when Adrian Peterson came back from an ACL injury in less time than people thought physically possible (2012). In the other two cases, a seldom used rookie took over the primary running back role in his second season and thrived well beyond expectations (Arian Foster 2010, Devonta Freeman 2015).

In addition, drafters didn't just assume the previous season's best automatically should be drafted first. While the quarterback drafted No.1 was the top producer in eight of nine seasons, fantasy owners were less likely to assume this position would repeat as the best back. Two-thirds of the time (6-of-9) fantasy owners went elsewhere for their No.1 running back pick.
ADP of the No.1 Fantasy RB
Year
Player
ADP
Rank
2019
Christian McCaffrey
3.2
3
2018
Todd Gurley
1.5
1
2017
Todd Gurley
19.4
11
2016
Le'Veon Bell
12.3
6
2015
Devonta Freeman
96.2
40
2014
Le'Veon Bell
30.4
14
2013
Jamaal Charles
3.2
2
2012
Adrian Peterson
180
34
2011
Arian Foster
4.2
4
2010
Arian Foster
38.2
18
Fantasy Finish of the Top Drafted RB
Year
Player
ADP
Finish
2019
Saquon Barkley
1
7
2018
Todd Gurley
1
1
2017
David Johnson
1
12
2016
David Johnson
1
2
2015
Adrian Peterson
1
7
2014
LeSean McCoy
1
19
2013
Adrian Peterson
1
9
2012
Arian Foster
1
3
2011
Adrian Peterson
1
9
2010
Chris Johnson
1
8
So how do we turn this data into a strategy?
Since 2010, only Todd Gurley won the position and repeated the next season. So those who rush to draft Christian McCaffrey should know there might be only a 10-percent chance he repeats. He also has more unknown factors than normal. Receiving has been such a big part of McCaffrey's value and the Carolina Panthers have made a starting quarterback change in 2020 from Cam Newton/Kyle Allen to former Vikings and Saints quarterback Teddy Bridgewater.
As a starter for Minnesota in 2015, Bridgewater targeted running backs 96 times (of 443 passes for 21.7%), completing 76 to Peterson, Jerick McKinnon and Matt Asiata. None of the three had McCaffrey's receiving skills. However, starting four games for the Saints last season with a back who has similar receiving skills to McCaffrey in Alvin Kamara (Kamara missed one start due to injury), Bridgewater used Kamara on 22-percent of his passes (28-of-127). Overall, in Bridgewater's five starts in New Orleans last year he targeted backs 28.5-percent of the time (47-of-165). These numbers compare favorable to the Panthers last season which targeted McCaffrey 23.7-percent of the time (142-of-600) and all backs 25.5-percent of the time (153-of-600). That's the good news.
McCaffrey also benefitted from long touchdowns in 2019, something that was new to his pro game and not likely repeatable. Four times, McCaffrey scored on a run from 40 yards or more, something he hadn't done, not even once, in 2017 or 2018. As a comparison, when LaDainian Tomlinson scored a record 31 times in 2006, he also scored four times from 40 yards or more. LT scored from that distance just two more times in the final five seasons of his career which included 51 more touchdowns. That's not so good news.
But McCaffrey didn't just win the running back production race, he crushed the competition. He averaged 29.3 FPts/G and runner-up Dalvin Cook scored "just" 21.2 FPts/G. Even a significant drop in production from McCaffrey might not knock him out of the top spot, so I'm still in favor of drafting McCaffrey No.1 despite the bad history of repeaters.
Of course, if you aren't competing in an auction draft, it's likely that most fantasy owners won't get a shot at the Panthers' star running back.
So let's see if we can find a pick in the first three rounds that everyone will have a chance at, who could still wind up No.1 at the position. That means he will have an ADP between 10 (so everyone in your 10-team draft will likely have a chance to draft him or pass on him) and ADP 30 (the end of the third round).
Based on current ADPs, the following running backs are ineligible as they own an ADP below 10: McCaffrey (1.3), Barkley (2.5), Ezekiel Elliott (3.8), Kamara (5.7), Cook (5.8), Derrick Henry (7.7) and Kenyan Drake (8.8).
Here is a look at five backs with upside.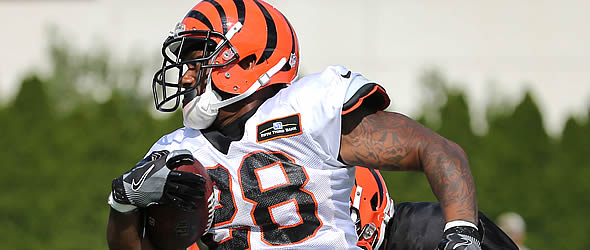 Joe Mixon, Cincinnati (ADP 10.3) - FFToday Projection 260-1146-7, 46-315-2, 243.1 FPts
Mixon actually saw a drop in his production from 2018 to last season. So why is there so much optimism? Two reasons come to mind. The Bengals has gone from a shared backfield with Giovani Bernard to primarily a one-back system in which Bernard might be a cap casualty. If that happens Mixon would be in "workhorse" territory with no clear quality backup. Second, new starting quarterback Joe Burrow loved throwing to his running backs at LSU … see Clyde Edwards-Helaire. A tough schedule facing six of the top-10 defenses in "RB fantasy points allowed" could offset some of these plus factors.
Miles Sanders, Philadelphia (ADP 12.7) - FFToday Projection 237-1067-5, 56-474-2, 252.1 FPts
The two long shots to win the position were both second-year backs, who didn't get the usage in their rookie season. That's not quite the situation here. Sanders is a second-year back out of Penn State, but by the end of the season he was the Eagles primary back with double-digit carries in seven of the final eight games and five or more targets in six of the last eight. The team has yet to add a veteran back and if that's the case his only competition is Boston Scott and Corey Clement. The team added speed to their receivers which could open up the short passing game at which Sanders excelled. Sanders won't see McCaffrey-type usage (403 touches in 2019), the Eagles haven't allowed such a thing since the LeSean McCoy days, but 20 touches a game is likely. At 5.8 yards-per-touch in 2019, that rate could equal 1,856 combined yards this season which would be top-five. He scored just twice in the first 11 games and four times in the final five. Additionally, the team just signed Jason Peters to replace injured All-Pro Brandon Brooks. Sanders could be a top-five fantasy running back in PPR leagues and maybe more if the team gives up its "shared backfield strategy" and allows Sanders workhorse status.
Josh Jacobs, Las Vegas (ADP 13.1) - FFToday Projection 266-1248-8, 27-201-1, 225.9 FPts
Like Sanders, Jacobs is a second-year back who saw a plenty of usage in his rookie season. In fact, his 242 rushing attempts (in just 13 games) almost equaled his entire three-year total at Alabama (251). The problem here is he isn't involved in the passing game (27 targets, 20 receptions for 166 yards) and likely still won't get a chance as long as Jalen Richard is on the roster (104 receptions last two season). Jacob's rushing attempts should rise in 2020 as long as he stays healthy as he gets most of DeAndre Washington's 108 rushes, and he could be very good in non-PPR leagues, but not enough to threaten the top-five fantasy backs.
Aaron Jones, Green Bay (ADP 17.8) - FFToday Projection 224-1055-9, 54-413-2, 266.8 FPts
It's tough to put Jones at the top of the running back position because so much of his fantasy scoring last season came from touchdowns (16 rushing, three receiving). In April the Packers drafted A.J. Dillon, a bruiser out of Boston College (6'0, 247 lbs.) who scored 40 times in three seasons for the Eagles. They still have Jamaal Williams under contract and he caught 39 balls for 253 yards and five scores. So fantasy owners must at least be concerned about his usage. Still, as long as Aaron Rodgers likes him both in the run game and the passing game, I might be able to ignore the other issues. Just not enough to threaten for the top spot.
James Conner, Pittsburgh (ADP 29.1) - FFToday Projection 182-781-5, 42-316-2, 193.7 FPts
Remember in 2018 when Steelers' fans were panicked by the loss of Le'Veon Bell and Conner ended their worries with nine touchdowns and 922 combined yards in the first six games? After a completely forgettable and injury-filled 2019, Conner is back along with quarterback Ben Roethlisberger. Neither Jaylen Samuels (2.9 ypc), Benny Snell or rookie Anthony McFarland should concern fantasy owners. Meanwhile, "Big Ben" is 38-years-old and without Antonio Brown so the offense should be based around a healthy Conner. Conner averaged 21.5 FPts/G in 2018 despite a weak finish because he posted 25.8 FPts/G over the first eight games proving he can produce at elite levels. As an end-of-the third-round option, his upside could make him the best option of all.