For many leagues, it's the final three-week stretch to the playoffs and hopefully beyond. Now is the time to ditch the depth I preached you needed in the middle of the bye portion of the schedule (and dealing with Covid-19 issues) to set up your best roster to make the playoffs, or if you are already locked into the playoffs, to set your best roster for the playoff run.

Byes: Buffalo, Chicago, New York Giants, San Francisco

Truths

"And maybe most importantly, and most disconcertingly, what we've seen is what some people call 'truth decay' … the sense that not only do we not have to tell the truth, but the truth doesn't even matter." – Former President Barack Obama (last Sunday on 60 Minutes).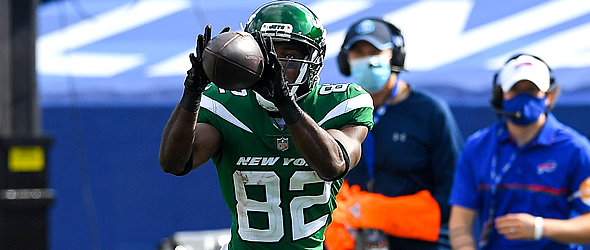 1) Jamison Crowder is a top-10 fantasy wideout.
Fact. It may not seem like it because the Jets are rarely seen live or in highlight shows (except watching their defense get beaten again), but Crowderís 18 FPts/G average is No.10 among wide receivers. Heís produced double-digits in all five games heís played despite bad quarterback play and injuries. Plus, he might not be expensive to obtain since heís playing in relative anonymity. I recently traded Nelson Agholor to get him.
2) From zero to hero Ė Marquez Valdes-Scantling.
Has anyone checked to see who has been wearing Valdes-Scantlingís uniform the past two games? I know it wasnít MVS. Perhaps Greg Jennings or Sterling Sharpe slipped on the green and gold No.83 uniform. After a solid Week 1 which enticed fantasy owners to dream big, MVS averaged 4.97 fantasy points from Weeks 2-8. Over the past two games, however, the guy in the No.83 Packersí jersey has caught 202 yards worth of passes and scored three times, averaging 22.1 fantasy points against the 49ers and Jaguars. If you are thinking about starting him, or trading for him, beware that Green Bayís next two opponents before the fantasy playoffs begin have elite defenses; Indianapolis and Chicago.
3) I have no problem with what Nick Chubb did in the final minute of the game against Houston.
For those living under a rock, Chubb broke free down the left sidelines and was 10 yards ahead of any defender when he stepped out at the one-yard line. It robbed fantasy owners of a touchdown and gamblers who wagered on the Browns of a win, but for the Browns it turned a 99% chance of winning into a 100% guarantee. In fact, the only thing you can fault him for was not falling down in bounds to keep the clock running. Football players are paid to win games, not help fantasy owners. It wasnít that long ago that Todd Gurley scored with 1:04 on the clock instead of falling down and his team ended up losing the game (Week 7 vs. Detroit).
4) The third-down back in Washington, J.D. McKissic, is a viable running back fantasy option.
True Ö as long as the Football Team is behind on the scoreboard. The veteran receiving back has averaged 4.0 FPts/G in Washingtonís two wins and 12.2 FPts/G in the teamís seven losses. Heís been particularly active since the Week 8 bye, seeing 29 targets in two games. His rise has also been accomplished without too much damage to starter Antonio Gibson, who has averaged 18.5 FPts/G the last two weekends. McKissic ranks 37th for the season and 20th for the last five weeks. They face Cincinnati and Dallas the next two weeks, so itís fair to ask whether they will be leading or trailing in these two games before starting McKissic.
5) Lamar Jackson is barely a top-10 QB fantasy option.
True. He ranks No.10 through the first 10 weeks of the season averaging 23.8 fantasy points per game. Thatís a far cry from last season when the 2019 NFL MVP produced a league-leading 30.9 FPts/G. His completion percentage is down from 66.1% to 64%, his rushing yards per game is down from 80.4 yards to 58.2. Heís thrown just 14 touchdown passes in nine games (1.55 TDs per game) against 36 last season in 15 games (2.4).

Lies

"The cruelest lies are often told in silence." – Robert Louis Stevenson
1) You cannot trade Travis Kelce.
False. Though his advantage over the next best option is so great that he is practically untradeable, if someone offers you Davante Adams in the deal donít be so quick to dismiss the offer. For the season Kelce is almost six points better than the next best active tight end Darren Waller (George Kittle was within three points, but wonít be back this fantasy season) and over the past three-week span, Kelceís 25.4 FPts/G average in 14.8 points better than Eric Ebron and T.J. Hockenson. But Adams has proven when he plays heís the best fantasy option at his position by a wide margin. Adamsí 27.0 FPts/G is the largest season-long difference between No.1 and No.2 wideout DeAndre Hopkins (19.7).
2) The return of Nick Chubb from injury hurts Kareem Hunt.
Incorrect. In the five games Chubb has played this season and averaged 16.2 FPts/G, Hunt averaged 17.2 fantasy points. In the four games Hunt played without Chubb, he produced only 13.6 fantasy points per game. The two-headed monster in Cleveland works best when both running backs are healthy. They are 5-1 with only an Opening Day loss to Baltimore to mar their record.
3) Taysom Hill would be a better option to replace Drew Brees than Jameis Winston.
Please Ö Hill has never run an NFL offense for 60 minutes. Even going back to his BYU days he was a career 58.2% passer who threw 43 touchdown passes and 31 interceptions. In his senior year when he should have been at his best, he tossed 12 touchdown passes and 11 interceptions. Winston is a career 61.4% passer with 121 touchdown passes and 88 interceptions. Perhaps if this injury had taken place in Week 1 when Winston was new to Sean Paytonís system, Hill might have been a choice, but after three months in the system Winston is the guy to start in Breesí absence. Winston will have three great matchups if Brees is out as long as predicted - facing Atlanta twice with a game at Denver in between. If you need a quarterback donít hesitate to pick up Winston (3% rostered).
4) The first-round drafted rookie Clyde Edwards-Helaire isnít the top rookie back, thatís James Robinson (18.1 FPts/G), but at least heís second right?
Sorry, no. Washington running back Antonio Gibson is averaging 14.6 FPts/G which is second-best among rookies ahead of CEHís 14.1. Since Week 8 the averages are; Gibson 18.5, DíAndre Swift 14.6, Robinson 14.6, DeeJay Dallas 13.3, Zack Moss 11.9, Salvon Ahmed 9.9 and then CEH at 9.3. Of course, LeíVeon Bell arrived in Week 7, but heís seen just 20 touches in three games, so canít be the sole reason for Edwards-Helaireís failure.
5) After an ugly four interception game fantasy owners should toss Drew Lock into the never-to-be-used-again toy closet.
It wasnít a pretty afternoon for Lock against Las Vegas, but heís still got a good matchup in Week 11 against Miami (ranked 25th in QB fantasy points allowed) if he is healthy (rib injury, but no fractures). After solid fantasy numbers in Weeks 8 and 9, heís a viable option for those needing quarterback assistance. Injuries to Brees (ribs and lung), Teddy Bridgewater (knee), Matthew Stafford (thumb) and the poorly performing Jake Luton might present an opportunity to use Lock. So too, those with bad matchups like Philip Rivers (vs. Green Bay), Ryan Tannehill (vs. Baltimore) and perhaps even Deshawn Watson (vs. New England).