It's a brand new season, but some of the same issues from last season remain.

Despite a vaccine, Covid-19 is still likely to play a factor in your fantasy league. Although the NFL says it has reached a vaccination rate of nearly 93% among its players, the virus continues to impact teams. A player does not have to test positive to be on the reserve COVlD-19 list, but can end up on the list by coming in contact with a person who has the virus. As an example, the Jaguars have had 10 players on the list this season, though none as of this moment.

The Texans just placed starting right offensive tackle Charlie Heck on the reserve COVID-19 list Monday. The Dolphins had two players go on the list Monday, including starting left tackle Austin Jackson and the Cowboys will be missing stud guard Zack Martin. Vaccinated players get tested weekly, unvaccinated players daily, so fantasy situations can change in a heartbeat.

Meanwhile, injuries always play a major factor in deciding the winner of each league as usually the healthiest team wins. So I hope you drafted healthy players and they stay that way throughout the 18-week, 17-game season.

Truths

"All truths are easy to understand once they are discovered; the point is to discover them." – Galileo
1) If you want a top-3 fantasy running back, he'll likely need to be top-3 in rushing touchdowns.
True. In fact, over the past five seasons 67% of the top-3 back were top-3 in rushing touchdowns. By comparison, only 46.7% of the top-3 in receptions finished top-3 overall in PPR leagues. Rushing touchdowns are a better indicator than receptions even in PPR leagues.
2) If you want a top-3 fantasy receiver, he'll likely need to be top-3 in receiving touchdowns.
Fact. Sixty-seven percent of the top-3 fantasy receivers in PPR leagues were top-3 in touchdowns compared to 53.3% of the top-3 yardage producers.
3) Not a single owner in my most recent "high-dollar" fantasy league selected Texan's QB Deshaun Watson.
True. I'm not sure we were making a political statement, just the belief that the Commissioner will never let him play this season. It will be interesting to see what happens if he's allowed to suit up on game day - I'm betting a rush to the waiver wire. For me, I will not put him on my roster in any league.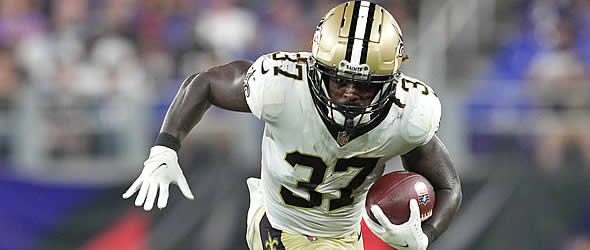 4) Tony Jones is worth rostering.
Fact. In case you haven't heard, the Saints' Latavius Murray refused to take a pay cut when asked on Monday and New Orleans released him. Jones was already threatening to take the backup job away from a seemingly slowed-down Murray. They had previously let Devonte Freeman go too. The moves leave the Saints with Jones, Ty Montgomery and Dwayne Washington on the roster. Montgomery has always been more pass receiver than runner and Washington has never proven to be anything more than a warm body. Jones averaged 5.5 ypc in his time at Notre Dame. Jones is still just a handcuff to Alvin Kamara who might see an even bigger workload.
5) Avoid the Jets apparent RBBC running back situation.
True. Rookie Michael Carter might be the long-term option, but right now it's a three-headed monster with veteran Tevin Coleman and Ty Johnson. Coleman is listed as the starter and knows the offense from his days in San Francisco, while it's hard to imagine the Jets want to have a backfield with a rookie quarterback and a rookie running back as the primary guy. Barring injuries, it's probably best to avoid the backfield entirely in 2021.

Lies

"There are three kinds of lies: lies, damned lies, and statistics." – Benjamin Disraeli
1) Touchdowns are a more important indicator of top-3 tight end status than yardage.
False. While 53.3 percent of the top-3 touchdowns producers at tight end were top-3 fantasy tight ends, a whopping 86.7% of top-3 in yardage were top-3 fantasy tight ends. In other words, unlike running backs and receivers, yardage was the most important factor.
2) The Le'Veon Bell signing by Baltimore should worry fantasy owners who rostered Gus Edwards.
False. Bell hasn't been a good workhorse back since his days in Pittsburgh. He hasn't averaged over 4.0 ypc since 2016. Meanwhile, Edwards hasn't averaged less than 5.0 ypc since coming to Baltimore in 2018. Bell, once he learns the Ravens offense, might wrestle away the backup job from BYU rookie Ty'Son Williams, but Edwards' projection should not be changed.
3) Randall Cobb's days as a solid fantasy option are over.
Not so fast. Yes, he's averaged just 10.2 FPts/G in the two seasons since leaving Green Bay, but if you think Aaron Rodgers isn't going to feed his "personal free agent signing" you don't know "A Rod." I know Cobb started losing his value the minute Davante Adams became a star, but those teams also had a very good No. 2 guy in first James Jones and then Jordy Nelson. When the second option is Marquez Valdes-Scantling (52.4% catch percentage) I'd bet that Cobb and his past Green Bay catch rate of 69.6% will make him a valuable target.
4) Given that Philadelphia has the NFL's "easiest" schedule, it should be a field day for the Eagles players.
False. Yes the Eagles have a league low .430 strength of schedule, but they could also be 0-6 or 1-5 and completely disillusioned. They start out @ Atlanta, San Francisco, @ Dallas, Kansas City, @ Carolina and Tampa Bay. If their record is that bad, it could end up being a complete overhaul (trading veterans at the Nov. 3rd deadline) and experimentation time, particularly with a new coach. If they somehow manage to stay in the division race then the schedule lightens up considerably after the sixth game.
5) Follow the many fantasy owners who have been jumping on rookie Trey Sermon and avoiding Raheem Mostert – they can't all be wrong.
Don't do it. Not only is rostering Mostert a good idea, but starting him in Week 1 is an even better one. Mostert is still the starter (likely until he gets injured) and the Detroit Lions yielded a second-worst 32.2 FPts/G last season. There's plenty of points for both of them. When Mostert has been healthy the past two seasons (which hasn't been a lot and likely the reason the 49ers drafted Sermon) he's been a good contributor. The 49ers are still a run-first team with a great blocking fullback (Kyle Juszczyk), great blocking tight end (George Kittle) and an inventive coaching staff.