Another week and more players find themselves on the Covid-19 list. It sure makes life a challenge for fantasy owners. We have to deal with not only injuries, byes and bad matchups, but also the more-than-occasional last-minute "Covid-19 bye." Currently, there are 23 players on the Covid-19 list.

Byes: Arizona, Kansas City

Truths

"I am a firm believer in the people. If given the truth, they can be depended upon to meet any national crises. The great point is to bring them the real facts." – Abraham Lincoln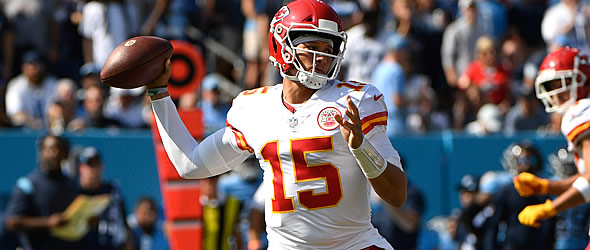 11) The Chiefs may be back on track, winning four in a row and ready to reach a third consecutive Super Bowl, but Patrick Mahomes isn't.
Unfortunately this is true. He's produced less than 19 fantasy points in four of the last five games and only the monster 400-yard, five-TD game against the Raiders (40.3 points) makes his numbers over the last five weeks look even fairly acceptable (19.8 FPts/G). Worse, it appears defenses might be slowing "solving" Mahomes, forcing him to throw shorter and shorter passes each season as indicated by the Yards-Per Attempt and Yards-Per-Completion numbers below (while his completion percentage remains fairly constant).
Mahomes: YPA / YPC
Year
Comp %
YPA
YPC
2021
65.5
7.1
10.9
2020
66.3
8.1
12.2
2019
65.9
8.3
12.6
2018
66.0
8.8
13.3
2) Kenny Golladay is my most disappointing fantasy wide receiver of those who have gotten on the field this season.
He only "wins" the award because Michael Thomas has yet to suit up, but he's a receiver who averaged 14.7 FPts/G from 2018-19 (his last full seasons) and even 13.2 FPts/G last year, however is producing about half that after signing a huge 4-year, $72 million contract in the off-season to play for the New York Giants. He looked completely lost, and disinterested, Monday night and simply can't be trusted in your lineup at this point. Sit him, trade him if you can or cut him – he ranks 84th among wideouts. Others who were in the running included; Allen Robinson, Robby Anderson and Odell Beckham Jr. What do they all have in common? Bad quarterback play.
3) With the re-emergence of Brandon Aiyuk (two of the last three weeks over 20 fantasy points versus zero in the first six games) he's beginning to affect Deebo Samuel's production.
Fact. Although Samuel is still fantasy-worthy every weekend, in the two weeks Aiyuk exploded for 20+ points, Samuel averaged just 13.9 fantasy points. Samuel averages 23.6 FPts/G when Aiyuk is not a factor. The 49ers' offense simply can't support two elite wide receivers because tight end George Kittle gets a big share of targets and they are still a run-first offense.
4) I have never been "sold" on Vikings quarterback Kirk Cousins, but he's playing excellent football right now.
It's true I've thought he was overrated since his days in Washington, but his 21 touchdown passes to just two interceptions is elite level and he hasn't thrown an interception since Week 5. He ranks No. 2 behind only Justin Herbert over the three-week span from Week 9-11 averaging 24.8 FPts/G.
5) WFT tight end Logan Thomas ranks seventh at the position averaging 11.9 FPts/G, yet he's rostered in barely over 50% of all Yahoo leagues.
This is true, he's rostered in just 52% of all leagues. Thomas' production isn't a fluke, he averaged 11 FPts/G last season. If you are still starting the likes of; Evan Engram, Jared Cook or even Dallas Goedert (all averaging under 10 FPts/G) what are you thinking? If Thomas plays this week, he is a better option.

Lies

"Facts are stubborn things; and whatever may be our wishes, our inclinations, or the dictates of our passion, they cannot alter the state of facts and evidence." – John Adams
1) Leonard Fournette gets lost among all the superstars in Tampa Bay.
False. On a team with Tom Brady, Mike Evans, Chris Godwin, Antonio Brown and Rob Gronkowski it would be easy to overlook the work being done by Fournette, but he's producing as a solid RB2 despite the team also bringing in an elite pass receiving back over the off-season (Giovani Bernard). Fournette leads the Bucs' backfield corps in rushing yards (521) rushing TDs (4), receptions (44) and receiving yards (323). His 15.2 FPts/G ranks 17th among backs with at least six-or-more games.
2) Christian McCaffrey is happy that Cam Newton is back as his quarterback.
CMC may be personally happy his backfield mate is back, but his fantasy owners and his production were much better without Newton under center.
McCaffrey Production
McCaffrey
FPts/G
2017 w/Cam
14.4
2018 w/Cam
23.8
2019 w/Cam
25.1
2019 w/o
29.9
2020
30.1
3) Remember how all the experts thought Javonte Williams would take over the backfield workload?
We're still waiting. Actually, Williams' production has been more cyclical. He's been "up" on odd-numbers weeks and "down" on even-numbered weekends. He's averaging 12.1 FPts/G on 14 touches in odd-numbered weeks and just 8.2 points on 12 touches in even-numbered weeks. It's an even-numbered week, but I'm not sure how the bye week will affect this pattern.
4) Elijah Moore, ranking second among wideouts since Week 9, can't possibly keep up this pace.
False. I think he's coming into his own and management has been more consistent with his opportunities since Week 5 when he saw just two targets. He's averaged 7.4 targets per game since then and he's averaging 18.7 FPts/G. Despite both Jamison Crowder and Corey Davis in the lineup the past two games, Moore is seeing the most targets.
5) Michael Gallup could "carry" the Cowboys' wide receiver corps on Thanksgiving Day if CeeDee Lamb can't return from his concussion protocol.
I doubt it. With Amari Cooper on the Covid-19 list and Lamb dealing with a concussion, Gallup could end up being the "big dog" on Thursday in Dallas. But Gallup doesn't consistently catch the ball. Over his career he catches barely over 55% of his targets. As a comparison, Cooper owns a 63.3% catch rate (68.7 with Dallas) and Lamb's catch percentage is 66%. And Gallup has always had a receiver like Cooper who gets the opposition's best defender. The Raiders corners, Nate Hobbs and Casey Hayward Jr. are ranked No. 6 and No.7, respectively by PFF. Also, the Raiders are more vulnerable to opposing tight ends, ranking 29th in fantasy points allowed. Dalton Schultz would be the best fantasy pass catcher on the Cowboys if Lamb is inactive.