If you are still playing into Week 18, my first question is, "Why?" Teams with byes and teams locked into position will greatly affect playing time for many of the players who got you into position to play for a title. We will try to help you this week with who has reason to play and who has more reasons to sit and prepare for the playoffs.



Truths

"If you think about it, I've never held a job in my life. I went from being an NFL player to a coach to a broadcaster. I haven't worked a day in my life." – John Madden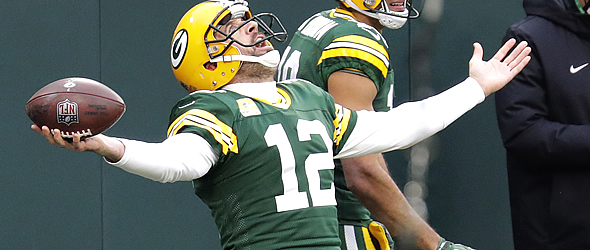 1) Your number one job assignment heading into Week 18 is to determine whether your guys will even be on the field this weekend. And for how long?
Certainly, none of the "big three" Green Bay Packers, who helped you get to where you are, should see the field (Aaron Rodgers, Davante Adams and Aaron Jones). And it's extremely unlikely that any Eagles, those who haven't already contracted Covid this week, will play either. Then, you have to determine by listening to coaches and translating "coach talk" as to whether slightly injured players on playoff-locked teams will play or sit in preparation for the postseason. Additionally, game situations may also change player availability. If, for instance, the Titans get a big early lead on Houston and appear to lock up the single AFC bye, it would take incentives away from the Bengals to play hard deep into the fourth quarter in their game at Cleveland. Similarly, if the Bills are crushing the Jets, how long will Bill Belichick play his starters? Yes, this can be a confusing time … which is why many leagues finish in Week 17.
2) The Titans' Derrick Henry (foot surgery) could return to the field for Week 18, but I wouldn't start him in fantasy.
True. Henry might be out there to shake off the rust from not playing since Week 8, but Tennessee, can and will, beat Houston without him playing a full workload. At most I think he could get 8-10 carries. That won't make him fantasy-worthy in Week 18.
3) It was nice to see Ben Roethlisberger get his props from the hometown fans in what was likely his last game at Heinz Field after 18 seasons, but his passing was truly ugly.
Fact. He threw 46 times, 34 in the first half, and managed just 123 passing yards on 24 completions. Remember when a "young" Ben would hang in the pocket forever, with defenders draped all over him, to set up long passes to the likes of; Antonio Brown, Hines Ward, Santonio Holmes, Mike Wallace and Heath Miller? Monday night his average time to release was about 2.0 seconds and his average yards per completion was 5.1 yards. For the 2021 season Roethlisberger averaged just 6.54 air yards per attempt. By comparison, everyone's "Capt. Checkdown," Tua Tagovailoa, averaged 6.75 air yards per attempt.
4) Baker Mayfield is not only not "fantasy-worthy," he's not an NFL starting quarterback.
Mayfield's yards per game have dropped in each of his last three seasons, from 266 as a rookie to 215 this year. He's not accurate with a career 61.6 completion percentage. His average yards per game was barely better than rookie Trevor Lawrence (213.6 ypg) on a Jaguars team which is devoid of talent. I would not be surprised it the Browns look elsewhere in the off-season, though it's a horrible year for NFL free agents quarterbacks and doesn't appear to be a great collegiate draft class.
Baker Mayfield: Career Stats
Year
Comp %
YPG
TDs
INTs
FPts/G
2018
63.8
266.1
27
14
22.0
2019
59.4
239.2
22
21
19.5
2020
62.8
222.7
26
8
19.0
2021
60.5
215.0
17
13
17.0
5) Off his performances the past four weeks, Rashaad Penny appears to have earned a shot at an RB1 role either in Seattle of somewhere else.
His 32.5 fantasy points during championship week may have been the difference between a ring and an also-ran for some fantasy owners. But is wasn't just one week. He's surpassed 130 yards in three of the last four games to produce 481 rushing yards, five touchdowns and 21.3 FPts/G. Chris Carson's frequent injury status probably means the Seahawks try to lock up Penny to be a starter next season, but he's a free agent and could also look elsewhere for a starting role given what may be uncertain times for this franchise.

Lies

"My mother always used to say, "The older you get, the better you get … unless you're a banana."- Betty White
1) It was a fluke season for Leonard Fournette and he's not a top-10 fantasy running back.
False. Fournette grabbed a workhorse role in Tampa Bay (180-812-8 rushing and 69-454-2 receiving) despite the presence of Ronald Jones and receiving specialist Giovani Bernard proving to be a great pairing with Tom Brady. His 4.5 ypc was the best of his career and his 18.3 FPts/G was also No. 1 of his five-year career. He's had to sit out the past two games and Week 18 as well, but he should be ready for the playoffs. As long as Brady and the passing threats return for 2022 (Brady, Chris Godwin and Rob Gronkowski are all free agents), Fournette should be a top-10 RB option.
2) Before the season, who had Nick Chubb outside the top-10 RBs?
Put your hand down … no one had Chubb rated 12th at just 16.2 FPts/G or 11th in total RB fantasy points (210.3). Until this season, Chubb had increased his production from 12.2 as an under-used rookie to 16.3 and 17.5 last season. Despite "1B" running back Kareem Hunt missing much of the season (eight games), Chubb's production dropped in 2021. I blame the lack of a passing threat (see Baker Mayfield) or elite weapons on the outside (no, Odell Beckham Jr. is not elite anymore and Jarvis Landry is just a possession receiver).
3) Christian McCaffrey is still an elite fantasy running back.
Sorry, no. I'll go to everyone's favorite cliché, "the No. 1 ability is availability." CMC has played in just 10 games over the past two seasons after making 48 straight starts to being his career. I can't throw my entire 2022 draft dependent on a first-round gamble on a back with multi-year major injuries. I also have concerns for Saquon Barkley and Dalvin Cook, but I'll still believe in Derrick Henry as it was his first major injury in six seasons. My early top-five for next year includes: Henry, Jonathan Taylor, Austin Ekeler, Joe Mixon and Najee Harris.
4) Aaron Jones is still an elite fantasy running back.
No, absolutely not. I have been very impressed with AJ Dillon and obviously so have the Green Bay management as he's taken a huge amount of the workload from Jones. I was particularly impressed with his pass-catching ability this season (33-309-2) considering he never did that at Boston College (845 rushing attempts, but just 21 receptions in three years). For 2022, Jones should be your second-best back, not a No. 1.
5) Covid-19 did not hurt the 2021 fantasy year.
I still always have fun playing, but this virus destroyed lineups on a weekly basis and forced many fantasy owners to choose depth over a best possible starting lineup. It brought way more luck into the game than in pre-virus days (Will your guy test positive on Saturday? Will he come back from a Monday positive test?). Lineup predictability has simply not been possible the past two seasons.