We're at the mid-point of the season, but like the groundhog who sees his shadow, there are still six more weeks of byes before we can begin the playoff run to the championship.

Byes: Detroit, Seattle, Tampa Bay, Washington

Truths

"The truth is more important than the facts." – Frank Lloyd Wright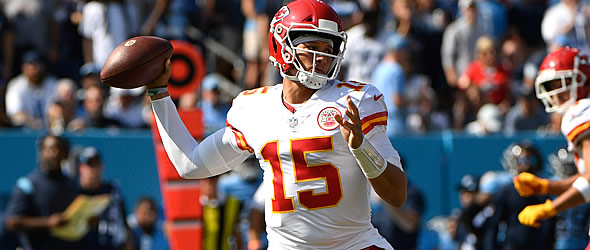 1) Over the past three games, Patrick Mahomes has not been a QB1.
Unfortunately true. Since Week 6 he's averaged 21.2 FPts/G, leaving him ranked 17th, behind the likes of Carson Wentz (22.6), Ryan Tannehill (23.0) and Mike White (23.1). Also, you can't blame it on a hard schedule – he faced Washington, Tennessee and the New York Giants during this span. He's struggling against the two-deep zone which hasn't allowed him to take advantage of the deep strike capability of Tyreek Hill and the other Chiefs' speedsters. Don't panic, Andy Reid will eventually figure it out, but it may take a few games of running the football to bring the safeties closer to the line of scrimmage. In the meantime, you may actually have to consider if your backup has a better matchup. Yes, I know, that's sacrilege.
2) The league's leading running back since Week 6 is the Jets' Michael Carter.
Fact. His 25.3 FPts/G over two games (Week 6 bye) has him just ahead of Alvin Kamara and two points-per-game ahead of Jonathon Taylor. Your job, as fantasy owner, is to determine if he can keep up this pace since he was only started in 42% of all leagues last weekend (rostered in 68%). His immediate future has him facing two of the top-3 RB defenses (Indy, Buffalo), so beware of overvaluing, but he'll have at least four favorable matchups later in the season.
3) The following fantasy quarterbacks are all living outside the top-12: Kirk Cousins, Aaron Rodgers, Ryan Tannehill, Carson Wentz, Matt Ryan and Baker Mayfield.
True. Almost all of them also have in common that they been without elite talent for at least part of their season. Davante Adams, Julio Jones, T.Y. Hilton, Calvin Ridley and Odell Beckham Jr. However, what is Kirk Cousins' excuse with three of his last four games under 19 fantasy points despite a healthy Justin Jefferson and Adam Thielen? He should be better. He's not the long-term answer.
4) With Henry Ruggs III unavailable, Bryan Edwards should be a primary beneficiary.
Probably true. If Darren Waller, Hunter Renfrow and Edwards all share in his approximately six targets per game, Edwards' production should rise from 8.4 FPts/G to 12.3 FPts/G. That would make Edwards a low-end WR3. But Ruggs was the Raiders' deep threat and Edwards' speed compared to Renfrow and Waller should mean he'll get even more than an even split of those six targets.
5) I only buy Halloween candy I like so that I can enjoy all the leftovers.
True. I'm "old school" so that means Three Musketeers, Milky Way and Reese's. What's your favorite?

Lies

"A liar begins with making falsehood appear like truth, and ends with making truth itself appear like falsehood." – William Shenstone
1) If you have four touchdown receptions or more, you're at least a WR3.
Almost true, but with one exception – the Packers' Randall Cobb. Cobb and his four touchdowns rank just 75th averaging 8.6 FPts/G. He's caught just 17 balls for 194 yards all season, but Aaron Rodgers' personal pick from the off-season acquisitions is made viable by his touchdowns. Cobb ranks 32nd since Week 4 averaging 12.7 FPts/G.
2) DeVonta Smith is the most disappointing receiver with 50 targets or more through Week 8.
Close, but wrong. No. 1 on the "I've had plenty of opportunity, but can't produce tour" is Robby Anderson, who on 50 targets has produced just 6.3 FPts/G. Darnell Mooney and Smith are tied for second at 10.1 FPts/G. By contrast, the 35 receivers with 50 or more targets average 15.9 FPts/G. Targets usually equal production so if you see a trend toward a different receiver, follow it.
3) Travis Kelce only ranks eighth among fantasy tight ends over the last three weeks so its panic time.
Oh my, the sky is falling. Patience people. Monday night was his first single-figure production since Week 4 and just his second all season. Kelce is a little nicked up with neck, wrist and arm injuries, but trying to play through them. Unfortunately, the Chiefs' bye isn't until Week 12, because Kelce really, really needs the week off. You have no options here, but to keep playing him in season-long until he's healthy again, which hopefully will be by the fantasy playoffs. DFS players can probably find better bargains.
4) Many "experts" continue to say that drafting Saquon Barkley was a mistake to draft at No. 2 in 2018 instead of a quarterback.
False. Let's look at the top-2 quarterbacks drafted that season – Baker Mayfield, Sam Darnold. Neither has yet to throw more than 27 touchdowns in a season and Darnold is already struggling on his second team. Yes, both Josh Allen and Lamar Jackson were selected later in the first round that year, but neither was being thought of as a top-3 pick because Allen was a "project" and Jackson was thought (incorrectly) to be more runner than quarterback. Of the top three picks Barkley is the only one to play in a Pro Bowl.
5) Keep the faith on Washington running back Antonio Gibson.
Sorry no, not this year. I'm afraid his leg issue may keep him from being the "star in the making" we saw in 2020. He's scored 20 points or more four times in 22 career games, but just once in the last 12. Is it possible the Thanksgiving game in Dallas when he scored three times and racked up 36.6 fantasy points will be the pinnacle of his career? Since that game, backup J.D. McKissic has more 20-point games (3).