We said goodbye to the GOAT, Tom Brady, for the year… or maybe forever (TBD), but the NFL must be dancing in their offices after seeing the four matchups for the Divisional round of this season's playoffs.
Here is what we will all be lucky enough to watch this weekend;
1) A mentor-student matchup of Super Bowl winners.
2) A classic clash between two long-time division rivals.
3) A resumption of what might have been the best game of the year had it not been interrupted by a "tragedy turned feel good story of the year."
4) A rematch from a year ago between two of the most successful all-time franchises who have both been struggling to find their "old magic" for a long time.
Jacksonville @ Kansas City

Saturday afternoon's kickoff to the weekend is Andy Reid's top-ranked Kansas City Chiefs facing off against his protégé Doug Pederson and the Jacksonville Jaguars. It's the best quarterback in the league (yes, that's Patrick Mahomes) vs. a No.1 overall draft pick (Trevor Lawrence a.k.a. Sunshine from Remember the Titans) just starting to blossom. It's a Chiefs team which is a league-best 14-3 and winners of the last five games versus a Jacksonville squad which is winners of six straight. It's a warm-weather team heading to Kansas City in mid-January where average high temperature for the day is 39 degrees. It's where a well-rested juggernaut offense faces a team off an emotionally-draining comeback from a 27-0 deficit.
They played in mid-November and Kansas City won handily 27-17, but it wasn't that close. The Chiefs led 20-0 late in the second quarter. Mahomes threw for 331 yards and four touchdowns to four different receivers (Travis Kelce, Kadarius Toney, Marquez Valdes-Scantling and Noah Gray).
Reid has faced former assistants 24 times in his career going 16-8 against them in the regular season and a perfect 3-0 in the playoffs. As a 7.5-point favorite (-450 ML), he's likely to stay perfect in the post-season.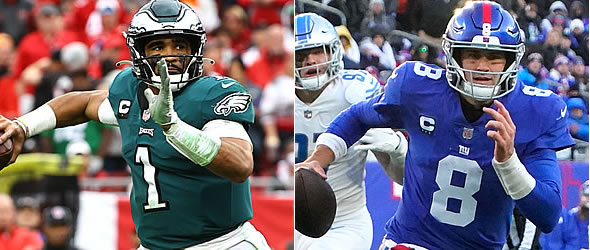 New York Giants @ Philadelphia
The Giants come off a mild upset of the overrated Minnesota Vikings behind the quarterbacking of Daniel Jones. It was likely the best game he's ever played – throwing for 301 yards and two scores and rushing for 78 yards. More importantly, he held on to the ball – no turnovers. He's much improved from the 2019 version of Jones, who turned the ball over far too many times (19 fumbles, 12 interceptions). In 2022 Jones has turned the ball over just eight times. Of course his Wildcard Weekend numbers were against a Vikings' pass defense which ranked 31st in the NFL allowing 4,515 passing yards in 2022. Only Tennessee allowed more. He'll be facing an Eagles' pass defense led by Darius Slay and former Giants CB James Bradberry, who allowed the fewest passing yards in the league (3,057) and sacked opposing quarterbacks a league-leading 70 times.
Meanwhile, the Eagles were 14-1 with Jalen Hurts under center and 0-2 without him. He looked unimpressive in his return from a shoulder injury in Week 18 against these same Giants. If that was because his shoulder is still a problem and he isn't going to use the run portion of an RPO then this game could be close. If he's ready to roll then a repeat of the 48-22 first game between these two teams is possible. The expected return of RT Lane Johnson (abdominal tear) is also significant. Over Johnson's 10 seasons in Philadelphia, the Eagles are 72-44-1 (.620) when he plays, and just 13-21 (.382) without him in the lineup. He hasn't given up a sack over the past two season.
Through the 2022 Wildcard Weekend the team that accomplished a sweep during the regular season has a record of 23-13 (63.9%) in a playoff game. When playing at home, the team that swept that opponent has a record of 20-8 (71.4%).
Cincinnati @ Buffalo
This is a resumption of a Week 17 matchup interrupted by the horrible injury to CB Damar Hamlin. What could have been tragic, turned into a great story, after the quick work from on the field trainers and medical staff and the doctors and nurses at the University Cincinnati Medical Center.
It features a team on the quietest nine-game win streak in the league (Cincinnati) versus a team on an eight-game win streak (Buffalo). The Bills own the No.2 offense in the league (28.4 ppg) and the No.2 defense allowing just 17.9 ppg. The Bengals are no slouches, being top-seven in offense (26.1) and sixth in defense (20.1). It will feature two of the best young quarterbacks in the league – Josh Allen and Joe Burrow. And two of the league's best receivers in Stefon Diggs and Ja'Marr Chase.
For me, what will decide this game is the health and ability of the Bengals' offensive line to hold up under the pressure from the Buffalo defense (40 sacks, 27 turnovers). Of importance is how the Bengals replace the latest blow to the OL - LT Jonah Williams (dislocated kneecap). He is the third starter missing from opening day (La'el Collins, Alex Cappa). Against Baltimore, Cincinnati was forced to throw shorter passes due to lack of time, taking away a big portion of the passing game – long passes to Chase and Tee Higgins.
For Buffalo, their best player is also their biggest question mark. Josh Allen (league-leading 29.5 FPts/G) can make the best of plays and the worst of plays. Allen threw for 4,283 yards and 35 touchdowns and rushed for 762 yards and seven scores. He's also thrown 14 interceptions and fumbled 13 times. He's thrown five picks and fumbled four times in the last three games. If Allen can just be Allen and not try to be Superman, the Bills should move on.
Dallas @ San Francisco
The final matchup of the weekend is a battle between two once-great franchises. Dallas has won a Super Bowl five times (as any crazed Cowboys' fan will be sure to tell you), but unless that fan is at least 30-years old they probably don't remember any of them. Their last Lombardi Trophy came in 1996 – Super Bowl 30… we are coming up on Super Bowl 57. San Francisco also owns five Super Bowl wins, but their last win was in January 1995. At least the 49ers have reached the Super Bowl game twice recently, losing to Baltimore and Kansas City.
Dallas has won just four playoff games since 2000, including Monday night's blowout of Tampa Bay. They have plenty of talent on both sides of the ball, but never seem to be able to put it together in big games. Since coming into the league, Dak Prescott is 42-12 against teams with losing records but just 19-24 against winning teams.
The Niners are certainly a winning team. They are No.1 in defensive points allowed (16.3) and No.6 on offense averaging 26.5 ppg. They have been even stronger since rookie Brock Purdy started a game. They are averaging 34.6 ppg since Week 13. Not all of that is the quarterback, but he's been solid in his role as "point guard" distributing the ball to talented Christian McCaffrey, George Kittle, Deebo Samuel and Brandon Aiyuk as needed. He's thrown multiple touchdowns in all seven starts against just three interceptions. If the Cowboys pass rush can't get in his face and disrupt his timing (54 sacks), the 49ers will be headed to the NFC championship round.
This should be a great round for fans and the few fantasy owners who are left still playing (yes, I have a league which goes all the way to the Super Bowl). Make sure you have all the food and beer close at hand, because you probably don't want to miss a single play of this Divisional Round.