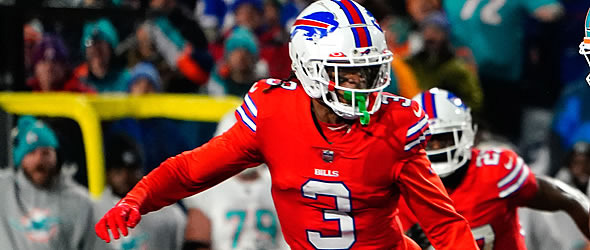 It's late Monday night, actually very early Tuesday morning as I write this and Bills' safety Damar Hamlin is the only thing on my mind. He's currently in the University Cincinnati Medical Center after apparently suffering cardiac arrest following a tackle in the first quarter of Monday night's game between Buffalo and Cincinnati. Our prayers are with the player and his family, his teammates and opposition players who witnessed the horrible event.
If your fantasy championship was interrupted by this dose of real life, I'm sorry, but some things are more important than fantasy football. Yes… really.

Truths
"A life spent making mistakes is not only more honorable, but more useful, than a life spent doing nothing." – George Bernard Shaw
1) Three of the top-four quarterbacks in Championship Week would never be considered fantasy-worthy.
Fact. Tom Brady led all QBs with 40 fantasy points, but Daniel Jones, Jarrett Stidham and Sam Darnold have never been considered QB1s. For the season Jones is averaging 20.8 FPts/G, Darnold 20.5 and Stidham was making the first start of his four-year NFL career.
2) When it counted the most, Gardner Minshew, let us down.
After 32.3 fantasy points against Dallas, Minshew looked like a high schooler against an improved New Orleans defense and produced just 17.7 points. His throw to Saints CB Marshon Lattimore wasn't worthy of an NFL starter. He didn't read the defense correctly and threw a weak pass into the defenders chest for a pick-six to effectively end the game. His OC didn't help him much by using the same game plan they would use for Jalen Hurts, who has a completely different skill set.
3) Other quarterbacks who didn't help us in our most important week were: Aaron Rodgers, Kirk Cousins, Carson Wentz, Mike White and Trevor Lawrence.
None cracked the 19-point mark and Lawrence's ugly eight fantasy points, after averaging 31.2 FPts/G over the previous three games, was particularly egregious.
4) With the title on the line, Austin Ekeler and Christian McCaffrey proved their mettle once again.
True. The pair led all scorers in Week 17 with 32.1 and 31.3 fantasy points, respectively, after finishing first and second for the season in fantasy points. Ekeler produced 367.7 fantasy points (23.0 FPts/G) and CMC posted 334.1 and 20.9 this season. Fantasy studs who must go 1-2 next season.
5) If you somehow made it to the finals without much assistance from wideouts Mike Evans and Davante Adams, they rewarded your loyalty in keeping them in the starting lineup.
Neither Evans (19.2 fantasy points over the previous two games), or Adams (10.3 points) got you to the big game, but if you were there because of the remainder of your roster, they probably won the crown for you. Adams' 34.3 fantasy points was his second-best total of the season, while Evans' 48.7 points (10-207-3) was the best game of his career. His previous best was an 8-190-3 against the Giants in 2019. Evans will likely end up with his lowest production since 2017, but he still produced a record ninth consecutive 1,000-yard season.

Lies

"Life can only be understood backwards; but it must be lived forwards." – Soren Kieregaard
1) Dalvin Cook, Saquon Barkley and Alvin Kamara were integral in your Championship Week win.
Hardly. None of the three elite backs could produce even 10 fantasy points or get a sniff of the end zone. Cook was particularly bad with just 6.4 fantasy points and failing to score on two consecutive rushing attempts from inside the 3-yard line. At least Barkley was good for most of the season, finishing fifth overall at 17.6 FPts/G, while Cook (15.1) and Kamara (14.8) weren't in the top-12.
2) Justin Jefferson's "monster" 2.5 fantasy points led you to a title.
Unlikely, obviously. "JJ" had produced 39.4 fantasy points in the first meeting against the Packers in Week 1, but CB Jaire Alexander took up the challenge in the rematch of following him all over the field. Fantasy owners may have thought Alexander could keep him under control, but not to this extent. Jefferson saw just five targets, tied for his lowest total of the season and caught one ball for 15 yards. On the other hand, it was likely "JJ" got you to Championship Week with three consecutive 30+ point games.
3) Cooper Kupp should still be the No.1 wideout off the board next season.
I would have to say no. Not because of any lingering ankle issues, but because of the way his quarterback Matthew Stafford's play fell off last season. As good as Stafford was in 2021 (24.3 FPts/G), he was lost in the woods in 2022 averaging 16.8 FPts/g - the worst average of his career. Meanwhile, Jefferson's quarterback, Kirk Cousins, was consistent with his third consecutive 4,000-yard season and averaging about 22 points. It's interesting to note that of the top-five fantasy receivers in 2022, only Ja'Marr Chase and Jefferson have sure things under center. Tyreek Hill plays with concussion-prone Tua Tagovailoa and we have no idea who will be throwing to Adams in 2023.
4) If you don't draft Travis Kelce why bother to draft a tight end at all?
Yes, Kelce has every fantasy tight end beaten by an average of six points, but there are a number of improving tight ends which could be had for much cheaper. Since the trade from Detroit to Minnesota, T.J. Hockenson's usage has been right up there with Kelce's. Kelce is averaging 9.1 targets per game this season and Hockenson has averaged 9.4 targets per game with the Vikings. Hockenson's 14.1 FPts/G as a Viking is second to Kelce's 19.2 PTs/G. And don't sleep on Evan Engram next season, who averaged 17.9 FPts/G over the last five games with the improving young Trevor Lawrence under center. We know Head Coach Doug Pederson is a fan of throwing to his tight ends (see Zach Ertz with Pederson in Philadelphia).
5) Brock Purdy should be the 49ers' starting quarterback on Opening Day next season.
Purdy is 4-0 as a starter, but Jimmy Garoppolo was 7-3 this season and is 38-17 for his career with San Francisco. Like Purdy, Jimmy G was also undefeated with Christian McCaffrey as his starting running back. Meanwhile, San Francisco paid a ridiculous amount of draft capital for Trey Lance (three first round picks [one of which became Micah Parsons] and a third rounder) are they just giving up on him already? This statement will be correct if the 49ers win the Lombardi Trophy in February.