Another week and more big-time fantasy players were bit by the injury bug. Bye weeks begin in Week 6 and continue through Week 14. Depth matters. Don't abandon your depth until after you have clinched a spot in the playoffs.



Truths

"Most of the basic truths of life sound absurd at first hearing." – Elizabeth Goudge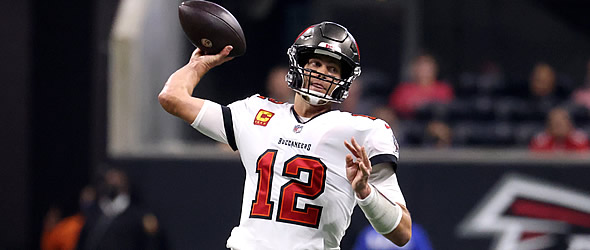 1) Tom Brady and Aaron Rodgers are still the guys you want under center to win you a big game, but they aren't the fantasy guys you want this year.
True. In Tampa, injuries to his receiving corps and coaching strategy are stifling Brady's fantasy value. The second part, coaching decisions, is key where it appears they want to protect their aging QB. In 2021 he led all quarterbacks in passing attempts (719), but in 2022, he's on pace for 658 attempts despite playing from behind for a lot of the time. His 155 attempts are tied for seventh-most. In Green Bay, the team is featuring their two talented running backs (Aaron Jones and AJ Dillon) while trying to figure out how to "replace" Davante Adams. Rodgers uses Allen Lazard and Randall Cobb in "must catch" situations, but his most explosive receivers are rookies Romeo Doubs and Christian Watson. Currently, Brady ranks 18th in fantasy points-per-game (19.1) and Rodgers is 25th at 17.9 FPts/G. Still, both are "buy low" candidates if their owners are frustrated - just "don't pay a lot for this muffler."
2) Conversely, the elite fantasy quarterbacks in 2022 are all running quarterbacks.
Also true. The top-three fantasy quarterbacks are; Lamar Jackson (33.1 FPts/G), Josh Allen (32.9) and Jalen Hurts (29.1). Each has rushed for at least 46 ypg and two touchdowns. Their rushing is worth an average of 9.9 points-per-game. The best non-rushing quarterback, Patrick Mahomes, has added only 1.6 fantasy points-per-game with his legs. For the "runners," it's like throwing another touchdown per game.
3) The "Zero RB" strategy might actually work out this season because of all the early-season injuries.
If you ignored the running back position early in your draft and instead loaded up with mid-to-lower-level and handcuff backs, you may be in good position because injuries have already elevated the values of Jamaal Williams, Khalil Herbert and Jeff Wilson and new injuries to Cordarrelle Patterson and Javonte Williams should raise values for Tyler Allgeier or Caleb Huntley and Melvin Gordon (and maybe Latavius Murray).
4) The porous OL in Cincinnati isn't just hurting Joe Burrow (16 sacks, 19 knockdowns), it's also dragging down Joe Mixon's production.
Management went the veteran replacement route in adding Ted Karras, Alex Cappa and La'el Collins instead of through the draft and so far it hasn't worked out for Mixon and the 2-2 Bengals. Mixon ranks second in rushing attempts (82), but he's averaging just 2.7 ypc, down from 4.1 last season. Mixon has scored just once and he's down 3.8 fantasy points-per-game from a year ago (18.1-to-14.3). Love the volume, but if he's not doing anything with it, it's of little value to fantasy owners.
5) Jonathan Taylor … ugh.
Fact. You likely selected him No.1 and he's currently the No.23 running back averaging just 13.1 FPts/G. He's getting the workload (81 rushing attempts), but he's not producing (4.0 ypc vs. 5.5 last season). Worse, he's not getting into the end zone. He scored 20 times last season, but just once this season. It's not just Taylor, it's the entire Colts' offense which ranks dead last with just 57 points scored. Turnovers are the culprit. They have thrown five interceptions and fumbled a league-leading 12 times (nine times by Matt Ryan). Taylor scored 11 times from inside the 5-yard line last season, but just once in three tries in 2022. This is a team failure (more accurately a QB failure), not Taylor's. We likely can't get "fair-market value" while "selling low," so we will have to hope the team (read; Ryan) turns it around.

Lies

"I do not mind lying, but I hate inaccuracy." – Samuel Butler
1) Those who had Jared Goff and Geno Smith in their fantasy top-10 before the season began - raise your hand.
Liar, put your hands down. No one saw this. Smith is just 16th in pass attempts (132), but 10th in yardage (1,037). Goff is 11th in passing attempts (151) and third in yards (1,126). I've become a Goff believer, particularly since he'll soon add No.1 draft pick Jameson Williams to his receiving roster which includes; Amon-Ra St. Brown, D.J. Chark, Josh Reynolds and tight end T.J. Hockenson. I'm still on the fence for Smith, who made his "money" the past two weeks against two inferior defenses (Atlanta and Detroit), but couldn't crack 20 fantasy points against the Broncos or 49ers.
2) Clyde Edwards-Helaire, who is currently the No.4 fantasy running back, can continue as a top-five back.
Sorry, no. CEH's start is due primarily to five touchdowns in four games and I have doubts he can continue at this 21-touchdown rate. His 19 carries against the Bucs Sunday night was an aberration, and not his normal usage. In 2021, he never saw 19 carries and it's been 26 games since he saw 20-or-more carries. In the first three games he saw a total of 22 rushing attempts. Beware of the growth in rookie Isiah Pacheco's workload.
3) Playing with your old college quarterback isn't that important.
It's certainly been a big boost for Marquise Brown. Brown and Kyler Murray played together at Oklahoma (132-2,413-17 over two seasons) and it's working in the Arizona desert. Brown has seen the third-most targets and his production is dramatically up – from 14.3 FPts/G to 19.0 in 2022. The long-term question for those with Brown on their roster is "Will this volume continue when DeAndre Hopkins returns in Week 7?" I believe the answer is - yes. Hopkins' target share will come from Greg Dortch and A.J. Green's totals. A.J. Brown and Davante Adams are also playing with their college QB's for the first time and their targets are top-10. I hear Ja'Marr Chase likes this situation too.
4) Dak Prescott "can't grip the ball well enough to play" according to Cowboys owner/GM/medical expert Jerry Jones on Tuesday.
I'll bet his grip would be just fine if Prescott's backup, Cooper Rush, weren't 3-0 as his replacement. However, fantasy owners can't wait for Prescott's return. Rush hasn't cracked the 20-point mark in any of his three wins. Since 2020, Dak has produced two 40-point games, five 30-point games and nine 20-point games in 22 starts.
5) Gabriel Davis was the second No.2 receiver off the board in preseason drafts (behind Tee Higgins) and isn't going to produce as fantasy owners had hoped he would.
False. Davis appears to still be a little bit slower due to the lingering ankle issue, but he's going to have to step up because the Bill's receiver room has been decimated by injuries. Davis missed one game this season and has just 14 targets in the other three games. However, Isaiah McKenzie left Sunday's game with a concussion (the team is calling it a head injury not a concussion) and Jamison Crowder suffered a broken ankle Sunday and is out indefinitely so Davis and tight end Dawson Knox will have to step it up to help out Stefon Diggs and Allen. The Bills may also reach deep down the depth chart and give Khalil Shakir some run, but that wouldn't change the situation for Davis.