As we enter Week 6, bye weeks enter the room, making teams with depth even stronger. And injuries continue to harass fantasy owners. But the biggest news story from last week was the new "Brady Rule." Interpreting what we saw from the NFL legalese … if you touch Tom Brady, it's a penalty. Not even Patrick Mahomes is eligible for this penalty (which requires the QB to be 45-years of age or older) as I saw the Chiefs' QB get thrown to the ground just like TB12 on Monday night and nothing was called.
Byes: Detroit, Houston, Las Vegas, Tennessee

Truths
"The truth is, everyone is going to hurt you. You just got to find the ones worth suffering for." – Bob Marley
1) The NFC East has three of the league's best records won/loss records, but for fantasy purposes it's still a very mediocre division.
True. Between 5-0 Philadelphia Eagles, 4-1 Dallas Cowboys and 4-1 New York Giants (combined 13-2) and adding Washington, there are just three top-10 fantasy players (Jalen Hurts, Carson Wentz and Saquon Barkley) and just six top-15 players (based on FPts/G). By comparison, the 1-4 Lions have three top-10 players by themselves.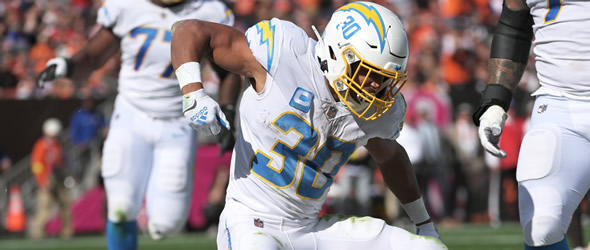 2) Austin Ekeler owners can breathe a sigh of relief.
All it took was a date in Houston to get him going and now he's produced two of the three best games in the last two plus seasons. His 34.9 and 35.9 games have pushed the Chargers' star back to the top of the RB chart. It seems longer than two weeks ago when we were worried about his start (14.3 FPts/G for Week 1-3).
3) Taysom Hill is the No.2 ranked tight end.
It's a fact. He's not really a tight end. He's not a QB. He's not a RB or WR. What he is, is a valuable weapon. But leagues had to assign him a position somewhere and they chose TE. His 13.5 FPts/G is better than everyone except Travis Kelce. Hill is rostered in just 30% of all Yahoo leagues. Just sayin'.
4) Tyreek Hill and Jaylen Waddle are both ranked among the top-seven in WR fantasy, but without Tua Tagovailoa at least one of them isn't elite.
In the first three games with a "60-minute Tua", Tyreek Hill averaged 21.8 and Waddle 24.3, but with Teddy Bridgewater and now third-string Skylar Thompson they are averaging 19.5 and 5.8, respectively. Hill is still a must start, no matter what, but Waddle appears to be "Tua-dependent" and no one is sure when he will return.
5) Geno Smith. That's the tweet.
Over the last three games, the QB top-five, in order, is; Josh Allen, Geno Smith, Jalen Hurts, Lamar Jackson and Joe Burrow. One name doesn't seem like the others, yet there it is. Smith is averaging 28.6 FPts/G against Atlanta, Detroit and New Orleans. Or maybe he does belong? A prime-time game on Monday night might give us more of a sense of whether he is for real or not. For now, he's 11th in yards, tied for seventh in TD passes, throwing just two INTs and owns a league-leading 113.2 QB rating.

Lies

"Better to get hurt by the truth than comforted with a lie." - Khaled Hosseini
1) Ja'Marr Chase has become a bottom-of-the-top 10 fantasy wide receiver.
While Chase hasn't cracked 15 fantasy points since opening day, he's still seeing a top-5 target workload and that's the most important factor in saying "no, he should still be valued as an elite wideout off to a slow start." Here are the names of the only players with more targets; Cooper Kupp, Marquise Brown, Justin Jefferson and Davante Adams. Do not trade Chase at below market value, wait, and you will be rewarded.
2) Baker Mayfield can start for some team in the NFL in 2023.
I've seen nothing over the past four years and five games to back this claim. In his best fantasy season, his rookie year, he ranked 15th (2018) and it's been more commercials and less production since then. His mediocrity was covered up by a strong Cleveland roster and now on a less-talented Carolina team he's proving to be incapable of winning.
3) Cooper Rush should keep his starting job in Dallas until he starts losing games.
Haha! The Cowboys aren't winning because of Rush, he's just not losing games like his predecessors; Ben DiNucci, Garrett Gilbert and Andy Dalton. Dak Prescott can win games. Dak can win for fantasy owners, too. His 24.4 FPts/G last season ranked sixth last season and Rush doesn't have that ability in his right arm. When Prescott is healthy, he must play.
4) Antonio Gibson and Damien Harris can still be No.1 backs for their NFL team.
I'm going to have to say no. Management in Washington, such that it is, seems intent on running Gibson out of town. They paid extra dollars to keep J.D. McKissic (matching another offer) despite Gibson being a wide receiver in college and catching 78 balls over his first two seasons even with a third-down back on the roster. Then drafted Brian Robinson Jr., out of Alabama. Meanwhile, Harris (4.5 ypc) simply seems to be much less explosive than backup Rhamondre Stevenson (5.5 ypc) and appears headed for being tabbed as the red zone and goal-line back in his near future. Stevenson has seen at least 55-percent of the snaps in four consecutive games. Sell now before the changes are made and their value plummets.
5) Believe any fantasy "expert" who tells you to double-down on either James Robinson or Travis Etienne as "the only Jaguars back to have."
The Jaguars will continue to use both backs at an almost even clip. Etienne has seen over 50-percent of the snaps in three-of-five games. Robinson has seen over 50-percent snaps in the other two games, but is getting more touches (77-55). If you remember Head Coach Doug Pederson's running back usage in Philadelphia, he never allowed anyone to be a workhorse back. In the early years it was Ryan Mathews, Darren Sproles and Wendel Smallwood. Next came LeGarrette Blount, Corey Clement and Jay Ajayi. Finally, it was Miles Sanders, Jordan Howard and Boston Scott. Neither back in Jacksonville will "win" the workhorse moniker… barring an injury.