This should be the toughest week of the year to put together a top-quality lineup. Injuries and a whopping six teams on bye will make this week a huge challenge for many owners. (The other week with six bye [14], will likely be much easier because most of those teams have struggling offenses.)
Byes: Cleveland, Dallas, Denver, New York Giants, Pittsburgh and San Francisco

Truths
"Be true to your work, your word and your friend." – Henry David Thoreau
1) Over the past five weeks, Lamar Jackson has NOT been a fantasy-worthy starter.
In fact, this is a true statement. Jackson ranks 19th since Week 4 averaging just 19.1 FPts/G. That's fewer than Tom Brady, Andy Dalton and Daniel Jones. It's also true that No.1 receiver, Rashod Bateman, has been in and out of the lineup with injuries as has elite tight end Mark Andrews. Jackson is still running the ball (49-310-0), but he's not getting into the end zone. He hasn't posted a 25-point week over that span after consecutive 40+ point games in Week 2 and 3. Don't panic. His pass-catchers will get healthy and he owns a favorable schedule from Week 15-17, the fantasy playoffs.
2) The Dolphins' trade for Bradley Chubb is a nod to the Bills' adding Von Miller.
These two teams are competing for the AFC East title and Miami has seen how Miller has helped the Bills' defense - he owns more than half the Bills' sack total (6-of-11). The Bills are No.1 in points allowed (98), No.6 in yards-per-pass attempt and No. 6 in yards-per-rushing attempt. Chubb has 5.5 sacks this season for Denver and will be a huge addition as the Dolphins battle Josh Allen, who has only been sacked 11 times in seven games.
3) The genius of Kyle Shanahan along with the abilities of Christian McCaffrey and Deebo Samuel along with Brandon Aiyuk and George Kittle, should scare the heck out of the rest of the NFC.
As a fan of the undefeated Eagles, I know this scares me. Defensive coordinators are going to have to develop a defense just for the 49ers which first has to find where Deebo and CMC are in the formation and then figure out how to stop them. And that was before I knew that McCaffrey could pass the ball better than Amari Cooper or Garo Yepremian. For those too young to recognize the name Garo Yepremian, check out his "pass" in the 1972 season Super Bowl against Washington.
4) The trade of Chase Claypool was good for his dynasty fantasy value while likely not helping redraft fantasy owners.
The writing was on the wall for Claypool in Pittsburgh, he was going to be the "third wheel" behind target-hog Diontae Johnson and talented rookie George Pickens. This should help both of those receivers as they should get a majority of Claypool's 6.25 targets per game. In Chicago, Claypool has a chance to be the No.1 guy for Justin Fields as they grow up together. Fields definitely needed another target opposition Darnell Mooney and neither Equanimeous St. Brown nor N'Keal Harry is the long-term answer. Fields is only throwing the ball about 23 times a game after an even slower start, so Claypool's 2022 fantasy value is still limited.
5) The long-term value of Trevor Lawrence looks even better after the Jaguars traded for the rights to Calvin Ridley.
True. While Ridley is currently suspended, an offense comprised of Lawrence, Travis Etienne, Christian Kirk and Ridley is young and talented (all under 28-years old). Ridley averaged 72 receptions for 1,020 yards and 9.3 touchdowns over the past three seasons before being suspended for gambling on football.

Lies

"There are a terrible lot of lies going around the world, and the worst of it is half of them are true." – Sir Winston Churchill
1) The Jeff Wilson trade will help his fantasy value.
Sorry, no. He goes from a backup to injury-prone superstar Christian McCaffrey on a run-heavy offense, to a backup to Raheem Mostert on a pass-heavy Miami Dolphins team (62-percent pass vs. 38-percent run). They also have Myles Gaskin and Salvon Ahmed. Since the 49ers acquired McCaffrey, Wilson saw a total of 13 touches in two games. In the last three Miami games, backup Chase Edmonds (just traded to Denver in the Bradley Chubb deal), saw 13 rushing attempts and two receptions or five touches-per-game.
2) T.J. Hockenson should be better going from the losing Lions to the playoff-bound Vikings.
False. The problem here is he'll be lower on the target totem pole with wideouts Justin Jefferson, Adam Thielen and K.J. Osborn demanding more targets than the tight end. Additionally, the 6-1 Vikings have been playing with the lead more than the 1-6 Lions, meaning fewer late-game, "prevent defenses" to "stat build" against. Hockenson saw 43 targets in seven games with Detroit, while starter Irv Smith (likely out 8-10 weeks with a high-ankle sprain), has been targeted 33 times over the same span.
3) Mike Gesicki, the No.3 tight end over the past three weeks should be considered a top tight end from here on out.
I'm going to have to say no, particularly over the next two games. He's completely touchdown-dependent. Gesicki has only one game with more than 42 receiving yards all season. His good fortune of late is due to three touchdown receptions over the last three games, but he's still totaled just 134 yards in those games (44.7 ypg). Tyreek Hill and Jaylen Waddle command the vast majority of Miami targets which means Gesicki has to score to be fantasy-worthy. His next two opponents, Chicago and Cleveland, rank eighth and fifth against opposing TEs, respectively. They have allowed a combined three tight end touchdown catches in 16 games. If your tight end is on bye this week (David Njoku, Dalton Schultz, Pat Freiermuth, Greg Dulcich or George Kittle), Gesicki likely isn't the answer.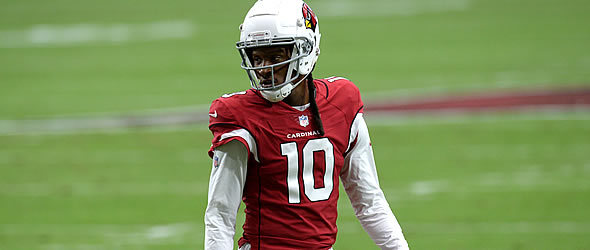 4) DeAndre Hopkins can't keep up the pace he's set in his first two weeks back from suspension.
Yes he can. "Nuk" is averaging 27.1 FPts/G in his two games this season. That's with only scoring one time. He's averaging 13.5 targets, 11 receptions and 131 yards per game. With Marquise Brown sideline for about six weeks from his foot injury, there isn't a reason to doubt Hopkins. In the battle for targets, it's Hopkins (27), Zach Ertz (9) and Rondale Moore (10) in 73 Kyler Murray passing attempts. That's a 37-percent target share. Murray is second in the league in passing attempts (325) this season, so there is no reason to think the Cardinals will suddenly become a run-first offense.
5) Curtis Samuel is still a valuable fantasy option.
Not so much. Remember after two weeks and he was averaging 22 FPts/G? Since Game 3 he's averaged just 9.9 FPts/G. His 10 targets per game over the first two contests are now seven per game. He hasn't scored since Week 2. The entire Commanders offense has fallen on hard times. They averaged 27.5 points the first two games and 14.5 over the last six games. Samuel now ranks 30th at his position after being in the top-10 for two weeks and his latest quarterback, Taylor Heinicke, has limited upside. But he still might be valuable on the trade market, particularly this week, with so many byes.