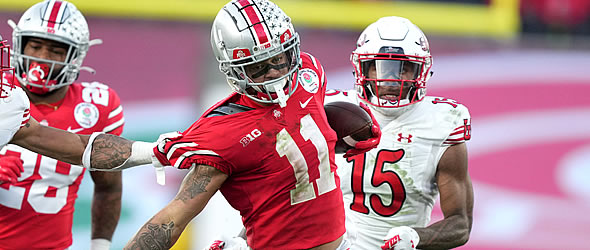 This is a story of one rookie No.3 receiver and my questioning why he is typically being over-drafted this summer. His name is Jaxon Smith-Njigba.

JSN (as I will call him from now on to save my fingers from carpal tunnel syndrome) was drafted by Seattle out of that well-known "wide-receiver factory" Ohio State and certain has a bright future ahead of him… just not in 2023.

Since there are 32 NFL teams and theoretically 32 No.1 and No.2 receivers, in theory, no No.3 should be drafted much before WR50, yet JSN is going off the board at No.33.

Here is my problem with drafting him this high.

The Seahawks already have two great receivers on their roster (DK Metcalf and Tyler Lockett). Both saw 100+ targets. Both produced more than 80 receptions and both cracked 1,000 yards.

Last year's no.3 receiver, Marquise Goodwin, saw just 42 targets and caught 27 of them for 387 yards and four scores. He averaged 7.5 fantasy points in the 12 games he played. His 7.5 FPts/G ranked tied for 77th. While there is no question in my mind that JSN is a much better receiver than sometimes wideout and sometimes Olympic long jumper Goodwin, he's not likely to get enough opportunities to produce like a No.33-selected wideout.

To be the 33rd-best fantasy wideout in 2022, one would have to produce 11.8 FPts/G (JuJu Smith-Schuster). In fact, not a single No.3 receiver in 2022 reached that number (see chart below). Mecole Hardman was close in the eight games he played, but then again he was catching passes from Patrick Mahomes. Even everyone's favorite No.3 receiver, Tyler Boyd, averaged just 10.3 FPts/G.

Which brings me to my second point. I'm not sold on Geno Smith's "magical" 2022 being repeatable.

Smith's 2022 ranked seventh at the position (among quarterbacks with more than one start), averaging 22.2 FPts/G. He set personal marks for games played (17), passing attempts (572), completions (399), completion percentage (69.8), passing yards (4,282) and touchdown passes (30). His 22.2 FPts/G was significantly better than the two full seasons he started with the New York Jets (2013 and 2014) when he averaged 17.1 and 14.9, respectively. He was almost 30% better than his previous best work. However, after some mid-season fireworks, his play dropped significantly down the stretch. He averaged 212.3 passing yards and 18.2 fantasy points from Week 15 to the end of the regular season.

His production was better than Dak Prescott's 21.6 FPts/G. It was better than Kirk Cousins and better than Trevor Lawrence or Justin Herbert. But Russell Wilson never threw for more than 4,219 yards in 10 years under head coach Pete Carroll and only cracked 35 touchdown passes one time. Because, in fact, Carroll has always had a run-first mentality.

On Draft Day, Carroll "declared" his future plans if you were paying attention. Despite already having Kenneth Walker in the backfield (228-1050-9), the Seahawks spent a second-round pick on talented running back Zach Charbonnet (195-1,359-14 at UCLA). He's planning on running the ball in 2023. And when he throws, it will be to his two star receivers.

Finally, even the best of the "third-receivers" don't produce big games very often. And they are unpredictable. You would have to endure as many really bad games as good games. Of the five guys who averaged at least 10 FPts/G in 2022, they produced a combined 16 games above 15 fantasy points out of 74, but also 15 games below five points.

JSN will get his chances. Lockett is 30-years old and has already played eight hard seasons. But barring injury, Smith-Njigba's third-receiver role won't be fantasy-worthy… except as a handcuff.