Week 3 was quite a display from the 70-point performance of the Miami Dolphins to the dismantling of the previously undefeated; Cowboys, Falcons, Commanders and Buccaneers. It's also time to prepare for next week when the 2023 "bye season" begins.



Truths

"Knowing you have a good backup long snapper allows you to sleep good at night." – Bill Belichick
1) If you are panic trading Jalen Hurts you, you don't deserve him.
True. Although he is 20th in passing yards (just 640 passing yards) and it hasn't looked pretty over the first three games, he's still ranked sixth in fantasy points-per-game for quarterbacks with more than one start. He's rushed for three touchdowns in three games this season and 26 touchdowns in his last 33 games. That ground game consistency makes his "floor" elite.
2) The change in offensive philosophy in Minnesota has created an "elite" QB in Kirk Cousins.
Correct. Cousins ranked 12th the past two seasons, but new head coach Kevin O'Connell, has the Vikings throwing more and running less. The result of this change is Cousins leads all quarterbacks in passing attempts (138), passing yards (1,075), passing touchdowns (9) and fantasy points-per-game (30.5). It doesn't hurt to have Justin Jefferson, spend a 2023 first-round draft choice on Jordan Addison and having brought in talented tight end T.J. Hockenson last season.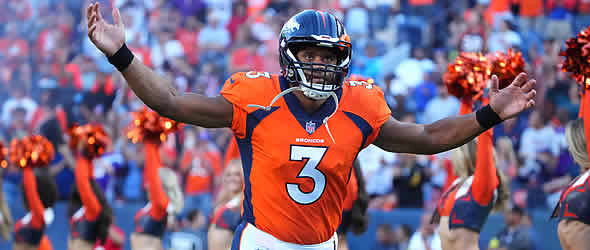 3) The Broncos may be an ugly 0-3, but Russell Wilson is much improved from 2022.
Facts. Wilson currently ranks ninth among starters with at least two starts, which is well ahead of last season when he ranked 20th among those with more than one start. His production is up four points, from 19.1 FPts/G to 23.1 points, and he's thrown for 300 yards or more in two of the three games.
4) Justin Fields… ugh!
He has not taken the "Jalen Hurts" step forward as was the expectation heading into his third year. Fields has completed just 58% of his passes, thrown just 88 times which ranks 24th, and his eight rushing attempts per game isn't producing enough to overcome his passing deficiency. The result is that Fields, along with D.J. Moore (11.3 FPts/G) and Darnell Mooney (7.7) are nearly unplayable.
5) Welcome back to reality, Puka Nacua.
His target volume (17.5 targets-per-game) and target share (38%) from the first two weekends was unsustainable. The Bengals put the clamps on Nacua who was stuck on 4-35-0, until a 37-yard catch at the two-minute warning made his numbers look respectable. The return of Cooper Kupp will further erode Nacua's fantasy value. Last week was the best time to "sell high," but you might still get decent value if you "sell" before Kupp's expected Week 5 return.

Lies

"Don't out-dumb yourself now." – Bill Belichick
1) Carolina quarterback Andy Dalton (27.2 fantasy points) is better than rookie Bryce Young.
Dalton actually had a similar completion percentage to Young's over the first two games (58.6% to 59.2%), he just had better totals in Week 3 because he threw the ball a stunning 58 times against Seattle. Beware of overvaluing both Dalton, who won't be the long-term starter, or wideouts Adam Thielen (11-145-1) and D.J. Chark (4-86-1). The 0-3 Panthers WILL go back to Young when healthy (likely Week 5) and the two wide receivers' fantasy value WILL return to mediocrity.
2) DeAndre Hopkins is worth trading for - based on the "buy" low theory.
False. In his 11th season he still has the hands, but he's playing in a situation where his volume is already decent (8.3 targets per game), his ankle is sore and his quarterback is mediocre-at-best. It's led to his lowest catch percentage since 2017 (56%) and the lowest "yards-per-target" of his career (6.1).
3) Joe Burrow is having a "throwaway" season.
False. Buying "low" on those fantasy owners who might be ready to give up on Burrow could be a season-winning move. His value will never be lower and there is only one way he can go… up. Just think of the first three games as his preseason, which he missed due to the calf injury. I was encouraged by the Burrow-to-Ja'Marr Chase connection Monday night and whatever is happening with Tee Higgins will work itself out.
4) Keep Mostert, he's on his way to being the best fantasy running back in the league.
False. Selling high on Mostert might be the better move after his monster 45.2 fantasy points in Week 3 has him leading the league at 28.0 FPts/G. Seven touchdowns in three games is unsustainable and the talent we saw from backup running back Devon Achane was undeniable (242 combined yards and four touchdowns in two games). Throw in any kind of workload for Salvon Ahmed and the return from the IR of Jeff Wilson in Week 5 and Mostert's value can only go in one direction… down.
5) The Miami Dolphins are not the fastest team ever.
They would get beat by the record-setting 2012 Jamaican Olympic 4x100 relay team led by Usain Bolt. The Dolphins own the six fastest "ball carrier" speeds in the league this season and it's not just Tyreek Hill, although Hill does own three of the top speeds. Achane and Mostert also made the list. The highest non-Dolphin on the list was Aaron Jones in Week 1 and he pulled a hamstring on that 35-yard touchdown catch and run.