We get a one-week respite from the bye schedule, but the injury bug continues to make lineup construction a struggle. Deshaun Watson, Jerome Ford, Christian Watson, Dawson Knox and Luke Musgrave are big question marks. Meanwhile, a number of stars were nicked up and must be watched to make sure nothing larger comes from it; Jalen Hurts (knee), Jaylen Waddle (back), Austin Ekeler (ankle) and Saquon Barkley (elbow).
Byes: N/A

Truths
"I'm a football coach. I'm not a doctor." – Bill Belichick (Which he stole from the Star Trek episode where Dr. 'Bones' McCoy says "Damn it Jim, I'm a doctor, not a bricklayer.") – Bill Belichick
1) Atlanta Falcons head coach Arthur Smith is nuts.
How else do you explain the ďmost complete running back to come out of college since Saquon BarkleyĒ Bijan Robinson, sitting for 59 minutes and 27 seconds before getting one carry for three yards? Or possibly he is an evil genius who was playing against Robinson in his local fantasy league. Tyler Allgeier ran 21 times for 59 yards and Cordarrelle Patterson rushed 10 times for 56 yards, so they didnít abandon the running game. Keith Smith, fourth on the depth chart from San Jose State, had the same number of touches as Robinson. The eighth overall pick in 2023 had seen double-digit rushing attempts in every game this season until Sunday.
Headache? Then he should have been inactive if the illness was bad enough to not play him. Why did he get into the game in the final minute, then? Smith gave all of fantasy a headache! Hopefully, it was a one-time thing and you can start him as always next weekendÖ unless Bijan gets traded in Smithís fantasy league to his next opponent.
2) Donít be confused into thinking Tyrod Taylor is better than Daniel Jones.
Sure, Taylor put up solid numbers in his second start (18-of-29 for 279 yards and two touchdowns), but everyone beats up on the Washington pass defense. They rank 31st in fantasy points allowed to opposing quarterbacks (only the Chargers are worse) allowing 25.3 fantasy points per game. They allow an average 263 yards and two touchdown passes.
If the Jets get cornerbacks Sauce Gardner and D.J. Reed back from concussion protocol (to be determined), neither Giants quarterback should be started.
3) Tyson Bagent and his arm-wrestling father is a fun story, but do I want my fantasy week dependent on starting him another game?
Yes. But not because he produced a huge fantasy total Ė he did not. Bagentís 14.5 fantasy points ranked 21st-best in Week 7. However, the Bears are scheduled to play the Los Angeles Chargers in Week 8 and they are allowing a league-worst 29.4 fantasy points per game. If you have injury issues at the position, or facing a strong defense like the Ravens, Bills or Chiefs, Bagent could be a one-week answer.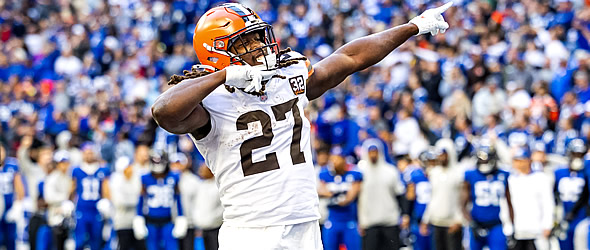 4) This is the week Kareem Hunt blows up.
Fact. Jerome Ford is injured. Hunt has seen double-digit work the past two games and the Browns, who have quarterback issues, will have to rely on the ground game and their defense. In the two games P.J. Walker has started at quarterback, the Browns have used a balanced attack with running backs rushing 29 times in each game. Backup Pierre Strong Jr., who in two seasons has never touched the ball more than eight times in a game, is the only other option and has not caught a pass all season. Hunt will see 20 rushing attempts and all the receiving work. This is Huntís big game!
5) Iím not spending all my FAAB or trade capital on DíOnta Foreman.
True. Heís 65% rostered, so in most highly competitive leagues he wonít be available for pickup, but Iím also not making a huge effort to get him on my roster. Roschon Johnson is almost through his concussion protocol and should end up sharing a portion of the workload with Foreman in Week 8, though most of that work should come from Darrynton Evansí 15 touches last weekend. Khalil Herbert should be back around Week 10, so, at best, Foreman is a three-week replacement. Also, they arenít playing Las Vegas again this season.

Lies

"That which has always been accepted by everyone, everywhere, is almost certain to be false." – Paul Valery
1) The upward progression of Jonathon Taylor's workload is horrible news for those who have relied on Zack Moss.
Bad news yes, but not the complete end to Mossí fantasy value. While Taylorís rushing attempts have progressed from 6-8-18, Moss has still seen 13 and 19 touches the past two games and averaging double-digit fantasy points. The reason; the Colts donít want to put too much pressure on backup quarterback Gardner Minshew. On the other hand, if I could get something in trade for Moss, I would do it. Heís too good to not get any work, but a healthy and motivated Jonathan Taylor is a significantly better running back.
2) AJ Dillon is a better running back than Aaron Jones.
False. Jones is the better runner and receiver, but for some reason, Green Bay management isnít using them that way. In Week 7, Dillon out-rushed Jones 15 times to eight. Even in Week 1, the last time both backs were healthy, Dillon saw 13 rushing attempts to Jonesí nine. Jonesí rushing average has been better than Dillonís the past two seasons, yet Dillon received 49% of the volume. The only thing I can think of is Jonesí big cap hit next season ($17.7 million) and maybe the Packers plan on moving on from Jones.
3) Trade Jahmyr Gibbs after he put up a big fantasy total (27.6 points).
The logic is that he had a great week, but that whenever David Montgomery returns from his rib injury, Gibbs will return to his sporadic backup role. But donít do itÖ yet. Monty is likely to sit out one more week with the Lions having a bye in Week 9 and Detroit faces Las Vegas, the team which just allowed DíOnta Foreman 33 fantasy points. The Raiders rank 27th in fantasy points allowed to opposing RBs. Trade Gibbs next Tuesday (they play Monday night).
4) Calvin Ridley will round back into the form which he started the season.
False. Ridley, who started the season with a 24-point game and produced three double-digit games in the first five, appears to be in a bad slump. Heís produced just 35 yards on five catches (12 targets) the past two games and has been surpassed by Christian Kirk. Kirk has double digit totals in five consecutive games after one catch for nine yards in the season opener. Also, Kirk has caught 71% of his targets while the inconsistent Ridley is hovering around a 56% rate. When you donít catch the ball, your quarterback looks for someone who does. Thatís Kirk.
5) Kenny Pickett will never be fantasy-worthy.
Iím going to have to disagree. The Steelers have not had their entire receiving group together for a full game. Diontae Johnson was hurt in Week 1, and returned this Sunday, but starting tight end Pat Freiermuth was placed on the IR. The return of Johnson, however, allowed an efficient Pickett to complete a season-high 68% of his passes. The threat of both Johnson and the dangerous George Pickens on the other side seemed to help open up the run game for Najee Harris (season-high 15.8 fantasy points) and Jaylen Warren as the Steelers beat the Los Angeles Rams in California. In fact, I like Pickett to be a low-end QB1 this weekend against a bottom-10 Jacksonville pass defense.