After Week 1 is one of the best times to buy and sell players if trading is open in your leagues. Fantasy owners overreact after week 1 more than any other time, so it's a perfect opportunity to buy low and sell high.
Buy Low
All players with a disappointing Week 1 are certainly not good buy-low options. But here are some players I expect to bounce back in a big way over the course of the year:

He played on third downs, which was a good sign, and it looks like he will get around 60% of the work. That should be enough for a very good season in what should be an above-average offense. Better days are ahead, when he is not facing the vaunted Bears defense. The Browns bought their own hype and were not ready to play. However, Chubb still averaged over 4 yards per carry and touched the ball 20 times with Dontrell Hillard and D'Ernest Johnson getting 5 touches total. When they figure things out and get back on track, Chubb should benefit (and will not face nearly as many stacked boxes this season). He looked great against the Chiefs – quick and agile, and got virtually every snap. The loss of Foles is a concern, but Gardner Minshew (22-25, 275-2-1) didn't wilt under the pressure of his first NFL game action and seemed capable of sustaining this offense. If you can play the long game and wait for him to pop in the second half of the year, I believe Fournette will still put up huge numbers.
4. All Steelers (except Moncrief)
If you can get JuJu Smith-Schuster, James Conner, or Vance McDonald at a discount, now is a good time to buy after a predictable loss to the Super Bowl champions in Foxborough. They will improve on offense, and will face lesser defensive opponents (MIA in Week 8!). Just steer clear of Donte Moncrief because his spot in the starting lineup may be in jeopardy after his poor performance (10 targets, 3 rec, 7 yards) in Week 1. The Chiefs targeted him often (8 targets, 3 rec, 88 yds) but he just missed on a few plays including a wide-open touchdown where Patrick Mahomes tried to get cute with a no-look pass and airmailed it 10 feet over Kelce's head. He is going to pile up some crazy numbers for as long as Tyreek Hill is out of the lineup. He likely won't come cheap given his name but should be well worth the price.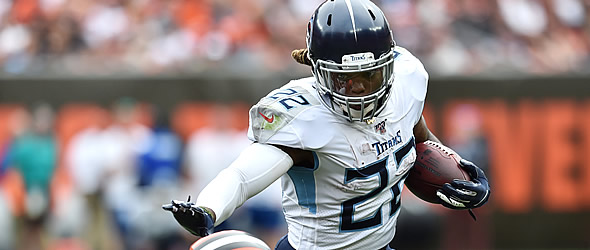 Sell High
These players with great Week 1 performances are worth being shopped in case someone is willing to overpay:

It's never a bad idea to shop a player after a blowup week and Brown certainly fits the script. The rookie posted a 4-147-2 line after connecting on a couple deep balls from Lamar Jackson. He will have his big weeks when he hits on a big play, but you'll never know when to start him and he won't be facing the horrendous Dolphins organization each week. If you can package him with a mid-range running back for one of the runners on the above list, do it. Ross will likely be a hot waiver wire pickup after his 7 receptions, 158 yards and 2 TDs against the Seahawks. However, he has not proven he can stay healthy, including battling a hamstring injury for much of the pre-season. He is also dependent on the big play and this was easily Ross' best game since entering the league in 2017. If you are able to sell him for a decent price, that is a smart move. In a couple weeks he may be on the waiver wire. Jackson will be a useful receiver this season, but he is not a threat to score multiple times each game. We know Jackson's game and these blowup weeks against former employers are mixed with lines like 4-38-0 and 3-19-0. He will have his games where he doesn't make the box score and the Eagles have plenty of weapons to feed on offense. If you can package him for a starter, it's a great move. There's some optimism here that the Cowboys have changed their offensive scheme enough under new OC Kellen Moore that Prescott won't be simply turning around and handing off to the running back for most of the game. That being said, I'd still sell Dak if you are able to get great value. Quarterback is replaceable, and he is unlikely to throw for 400 yards again this season (unless it's against the Giants the next time they play). If you had him in your lineup you're obviously happy after a two-TD performance. But a huge chunk of Henry's RB3 finish this week was the result of a 75-yard screen play that went for a TD. While he might be slightly undervalued as a receiver, he's not known for his receiving ability and won't be a weekly factor in the passing game. I mention him here because someone in your league will likely look at his Week 1 output and may now value him as a mid-range RB1. If you can get a player like Conner or Chubb for him, that is a beautiful trade.