Buy Low
As fantasy owners overreact to the weekly ups and downs, I would target these players in trades before their value increases with better performances.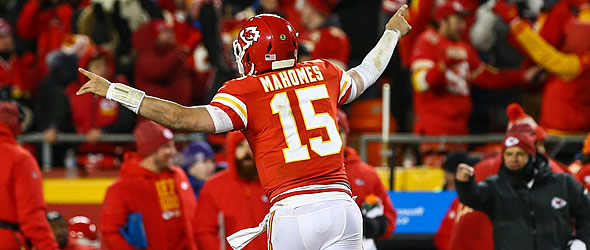 This week may present a very rare opportunity for you to buy low on the best statistical QB in the league. Many are convinced he will be out for over a month, but I donít buy it. According to the Chiefsí head trainer Rick Burkholder, Mahomes spent the entire weekend at the Chiefs facility getting treatment and doing rehab. He is as passionate to play as he is talented and Iím not ruling out a Week 10 return.

The Cardinals could do nothing through the air in rainy NYC, but Murray has gotten better and better this season. He is a threat to throw and run in the vein of Lamar Jackson, and if you could secure him for cheap after this poor week (14-21 for 104 yards), he could help you make a playoff run.

While Jacobs continued his torrid play in Sundayís game against the Packers, running for 124 yards at 5.9 yards per carry, some might have missed his nice game since he did not score. If you can buy Jacobs before he truly explodes, do it Ė it might be your last chance. He looks extremely comfortable in this offense and is getting more snaps in the passing game (had 3 receptions on Sunday).

If you can find an owner selling Kamara due to the injury, or due to the concern that Latavius Murray is now going to take half the carries, you have an excellent buying opportunity. When healthy, Kamara will remain a central part of the offense, and he is significantly more dynamic than Murray.

The Falcons downward spiral continues, losing in Week 7 to the Rams, 37-10. Julio hasnít scored since Week 3 and Matt Ryan (ankle) may miss some time which should scare Julio owners. The Falcons porous defense will continue to force the offense to play catchup keeping Julio in the WR1 discussion the remainder of the season.

The Eagles were thoroughly stomped by the Cowboys on Sunday night, and could get nothing going offensively. Although their next few games are against top defenses (Buffalo, Chicago, and New England), they also play the Dolphins, Giants, and Redskins. Ertz will have a chance to get rolling, and even against tough defenses Wentz may be forced to take the quick throw to Ertz rather than looking deep. Itís a great opportunity to buy low on a top tight end.

Kelce has only scored in only one game this season, and has not produced the kind of numbers his owners expected coming into the season. However, he has remained central to the Chiefsí passing attack, and his time in the end zone will come. Also, many may be selling Chiefs players with the Mahomes news, but as I said above, I do not anticipate Mahomes will be out for long. Buying low on Kelce has the potential for the highest return of all these opportunities.
Sell High
These players had a great Week 7, raising their perceived value in the eyes of fantasy owners. If you have an owner in your league willing to overpay, Iíd recommend taking the value.

All of these QBs went off in Week 7, scoring 29 or more fantasy points. All of those performances will prove to be outliers. If anyone wants to pay up for one of these QBs, it is likely a worthwhile trade if you can get a potential starter at another skill position.

Edmonds has looked great, so donít sell him unless the offer blows you away, but he is also unlikely to have another performance like he did in Week 7 (27-126-3). With David Johnson likely back in action next week, at the most Edmonds will be a flex play going forward, and that assumes that the Cardinals split the work from here on out.

Ekeler has presented yet another wonderful selling opportunity. After his 5.8 fantasy points in Week 6, he caught 7 passes in Week 7 and put up 25.5 PPR points. He did out-snap Gordon 59% to 53% but only received 3 carries. He is being used as a slot receiver, with occasional backfield work on passing downs. If you can and convince another owner he will continue to put up 20 points per game, itís a wonderful sell high opportunity.

Jonesí best game before Week 7 was a 22-point performance in Week 3 against the Eagles. Otherwise he had not been above 10 fantasy points in any week. His 10 receptions for 93 yards and 4 touchdowns in Week 7 is a classic outlier, which happened because the defense was doubling Kenny Golladay and the Lions preferred the matchups with their secondary receivers.

Hooper is a tough sell, but I see this as an excellent opportunity if you own him and have reaped the benefits of his hot start. The Falcons are a mess, and if they are going to dig out of their hole they are going to have to find a way to get the ball to their wideouts more consistently. On top of that, QB Matt Ryan may be out a few weeks with an ankle injury. If someone wants to pay a huge premium for Hooper, I would advise you to cash in.