As I do a few times early each offseason, I recently took part in a startup dynasty draft. This one took place over at FFPC, and I have nothing but good things to say about the dynasty leagues there. The format is interesting, the roster and lineup requirements seem to be just right, and the competition is excellent. So if you're looking for a place to play, you should join a dynasty league there (and they didn't give me anything to say that).

One added bonus of playing in dynasty leagues at FFPC is that you can trade before and during the drafts. Within minutes of the draft positions being drawn, trades typically start to happen. This can be overwhelming at first, but once you understand how to value picks, it becomes a lot of fun.

My aim here is simply to tell you what happened during the draft. I will detail each pick I made and explain why I made it, and I will also recount the biggest trades I made.

Round 1
I drew the second overall pick, and I spent a couple hours fielding offers, as there was a lot of interest. Once I decided the offers were not good enough, I began agonizing about who to choose. Christian McCaffrey was gone, and I felt strongly that I needed to get a running back. Even though wide receivers can remain elite contributors for longer, the running back position has been devalued with so many teams using committees. That makes the high-end, workhorse options incredibly valuable.

The next four backs on most dynasty rankings would be Saquon Barkley, Dalvin Cook, Alvin Kamara, and Jonathan Taylor. My choice came down to Barkley and Taylor, because while I love Cook and Kamara, I feel like they have less tread on their tires. With Barkley coming off a tough injury and with the Giants' line being weaker than the Colts, I ultimately decided to go with the young, high-upside option in Taylor.

I felt encouraged when the owners who had been trying to trade up said he was their guy. However, some may push Taylor down their boards because of the way Frank Reich prefers using multiple backs, or due to Marlon Mack recently re-signing. In my view, these issues are minor and should not greatly affect Taylor's upside, either in the short or long term. He showed as a rookie he is an efficient fantasy scorer, is great around the goal line, and has the speed to break off long gains. If he can improve as a receiver, the sky is the limit for his fantasy value.

Round 2
I was due to pick next at 2.11, but when I saw that Tyreek Hill was still on the board at 2.3, I decided to trade up to get him. I gave up picks 2.11 and 3.2 for picks 2.3 and 4.7. Despite a good-sized group of exciting young receivers like A.J. Brown, Justin Jefferson, and DK Metcalf, I still have Hill as my top dynasty receiver. When I saw that all three of those other receivers, along with Davante Adams, had been picked, I knew I wanted to try to make a move to get Hill because he was the end of my top tier (and top-ranked player).

Hill recently turned 27, so I believe he has 3-4 years left at or near his peak. He is playing with the best young quarterback in the league, on an explosive and creative offense designed to get the most out of his talents. He can score from anywhere on the field, and has a special knack for the long touchdown (the best play you can have in fantasy). In five years in the league, he has averaged 73 receptions for just shy of 1100 yards and over 9 touchdowns per year. He has only missed four games in his career due to injury.

Needless to say, I was pumped to add him to my team.

Round 2, Part 2
I made another trade to jump back up into the 2nd round. This time I traded picks 4.7 and 5.2 and received picks 2.9 and 8.9. Even though the picks in the 4th and 5th round are extremely valuable, particularly this season, I made the move because of tiers once again. At the time of the draft I only had one RB left in the tier, as 16 of the first 24 picks were running backs. So I made the move and chose Miles Sanders.

While I do not believe he is anywhere near as talented as the top backs, he has the tools to be a very productive back for the next 3-4 years. He has the speed to hit home runs, he can catch passes, and he has good vision and balance. If the Eagles' offensive line can improve a bit from last season, I see no reason Sanders will not rush for over 1,000 yards.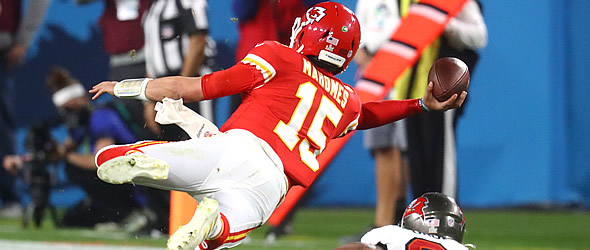 Blockbuster trade alert
I forgot to tell you at the beginning of this article that I love to trade. So perhaps I will live to regret the blockbuster trade I made in the third round of the draft. I made the trade because I saw how the draft was shaking out, and that many great options were left for the third, fourth, and fifth rounds. So many teams had chosen rookies and other young options that it had left a load of great options who could help me win now. So I decided to push all the chips in for a chance to win this season.
I traded away Jonathan Taylor and picks 8.9 and 8.11 for Patrick Mahomes (he had been chosen at pick 3.4), pick 4.9, and a 2022 first-round rookie pick.
In the end, I traded Taylor (the 1.2) and two 8th-round picks for Mahomes (the 3.4), the 4.9, and the 2022 pick (which equates to about a 6th-round pick in startup drafts). I felt like giving up the 1/8/8 for a 3/4/6 made sense for me. You can be the judge of how it worked out.
Round 3
If you're paying close attention, you may remember that I should no longer have a third-round pick, as I traded it away earlier. But I traded back into the third round, giving up pick 6.11 and one of my two 2022 first-round picks to get the 3.9. With that choice I picked Aaron Jones.
That should sound surprising that he was still on the board, particularly since I chose Miles Sanders all the way back at 2.9. When this draft was occurring, Jones was due to be a free agent and his destination was unknown. When there is total uncertainty with a player's situation, it makes sense to be cautious with him. However, even with this uncertainty I had Jones as my 11th-ranked running back. Since zero backs had been chosen in picks 3.1 through 3.8, I jumped in there to grab Jones.
I was rewarded shortly after when Jones re-signed with the Packers on a four-year deal. This news, along with the news that Jamaal Williams was leaving Green Bay, meant I had gotten a steal. After this, Jones catapulted up to RB6 in my rankings, behind only those top five backs discussed above.
I made a couple other trades that affect the next few rounds, so if you're keeping track and want to know all the trade details, hit me up on Twitter. But I won't go into any more trade details here.
Round 4
I chose Terry McLaurin at pick 4.11. This was before Ryan Fitzpatrick signed with Washington, and this wouldn't have affected my dynasty ranking anyway. I love McLaurin's speed, route-running, and hands, and think he is a great option as my WR2. He may get fewer targets with Curtis Samuel in town, but in the short term Fitzpatrick does pepper his top receiver with targets.
Round 5
Seeing another big drop off at running back coming, I chose Kareem Hunt with pick 5.2. While fantasy owners would always prefer to roster a starter, Hunt is as good as it gets for a backup running back, and has a large role in the Browns offense. He often takes over for an entire series, is used around the goal line, and gets lots of targets. Hunt finished last season as the 10th-highest scoring running back in PPR leagues. Granted, he did get to start four games when Chubb was injured, but he did not score significantly more in those games than. On the season, he averaged 14.2 PPR points per game.
I was excited to add him as my third running back. Many would think of him as an older player, but he is still only 25 years old. Playing in the Browns run-heavy scheme is a great fit for him, and he should continue to produce.
Round 6
With pick 6.9 I chose Hunter Henry. This was before he signed, and I thought it was likely he would re-sign with the Chargers. Shortly I would be proven wrong, when he signed with the Patriots, joining Jonnu Smith. Certainly I lucked out with the Aaron Jones pick, and this is the flip side. Things can go wrong when you do drafts this early but hopefully Henry will be able to be moderately productive in the Patriots offense.
Also, you should know this is way too early for Henry in a regular draft, but FFPC has tight-end-premium scoring, where tight ends get 1.5 points per reception. This raises their value and causes them to go earlier than normal. Henry was the final tight end in a tier for me.
Round 7
With the 7.2 pick I chose Courtland Sutton. I was very pleased he made it to me, as there had already been a run on rookie receivers and on young, high-upside players like Jerry Jeudy and Chase Claypool. I think Sutton has a chance to be a dominant WR1 for the next few years, particularly if the Broncos can secure a franchise quarterback. In his rookie season he produced 42-704-4, and in his second season he produced 72 receptions for 1,112 yards and 6 touchdowns – with sub-par quarterback play.
Round 8
In the 8th round I ended up with two picks due to trades. I took Odell Beckham Jr. at 8.4 and Jonnu Smith at 8.12. I am not high on Beckham, but I believe he is still an extremely talented receiver with elite separation and route-running skills. He will never be elite in fantasy while with the Browns, since they prefer to run the ball so much, but he can be a solid bench player capable of providing some boom weeks.
I chose Smith after he had signed with the Patriots but before Hunter Henry had signed. So I thought I was getting a lot of value with the pick, but it turned out to be not as great. Alas, it happens!
Below are the rest of my picks. All of these players will be on my bench in a perfect world, but I will need contributions from many of them when injuries strike, or during bye weeks. I tried to choose players who will help round out the roster and provide solid depth, while also focusing on players with upside.
2.03 – WR Tyreek Hill, KC
2.09 – RB Miles Sanders, PHI
3.04 – QB Patrick Mahomes, KC
3.09 – RB Aaron Jones, GB
4.11 – WR Terry McLaurin, WAS
5.02 – RB Kareem Hunt, CLE
6.09 – TE Hunter Henry, NE
7.02 – WR Courtland Sutton, DEN
8.04 – WR Odell Beckham Jr., CLE
8.12 – TE Jonnu Smith, NE
--
11.12 – TE Adam Trautman, NO
12.09 – RB Raheem Mostert, SF
14.03 – RB Gus Edwards, BAL
14.05 – WR Marvin Jones, JAC
15.02 – RB Khalil Herbert
16.11 – WR T.Y. Hilton, IND
17.02 – QB Ryan Tannehill, TEN
18.11 – K Rodrigo Blankenship, IND
19.02 – WR Allen Lazard, GB
20.11 – SF Defense
Thanks for taking the time to read through this recap. If you'd like more information, have questions, or want to chat, feel free to contact me on Twitter @kevinscottff.

---
Kevin Scott is a fantasy pro who has been playing in high-stakes leagues for 15 years. He started with $100 in one league and now has over $100,000 in winnings.