Note: Salary amounts are DraftKings pricing
Quarterbacks
H2H/Cash - Matthew Stafford @ Oakland - $6,800
Stafford has quietly been excellent for fantasy owners this season and has averaged the fourth-most points per game over the past five weeks. With seven passing touchdowns and 706 passing yards in his last two games against weak pass defenses, Stafford has been a stud worthy of a much higher salary than his current one on DraftKings. The Lions get a third-consecutive cupcake pass defense this week in the Raiders, making Stafford an excellent cash game play. Pair him with either Kenny Golladay or Marvin Jones for a nice cash-stack.
Other options to consider - Russell Wilson vs. Tampa Bay & Kirk Cousins @ KC
GPP - Derek Carr vs. Detroit- $5,500
Like his opponent this week, I am buying Derek Carr and Matthew Stafford in what could be one of the higher scoring games of the week. The Lions give up the seventh-most points to opposing quarterbacks, and even Daniel Jones of the Giants managed to post 300 yards and four scores against Matt Patriciaís defense last week. Cornerback Darius Slay may be out or limited, making an already bad defense even worse.
Other options to consider - Josh Allen vs. Washington & Sam Darnold @ Miami
Fade - Jacoby Brissett & Pittsburgh- $5,600
With the news that T.Y. Hilton will miss this game and up to a month with a calf injury, along with Eric Ebron missing Thursday with an ankle issue, I have decided to fade Brissett despite his attractive $5,600 salary. I'd rather pay up for Stafford or Wilson than risk a dud performance on the road against the Steelers.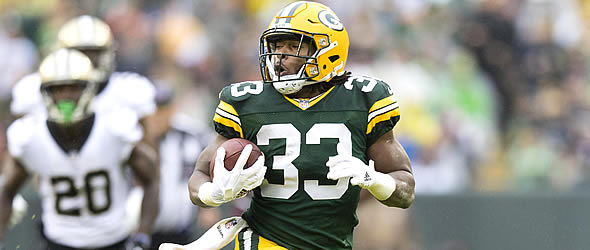 Running Backs
H2H/Cash - Aaron Jones @ Los Angeles Chargers - $7,000
Jones is not a cheap play at 7k, and his questionable tag is a bit of a concern, but the matchup against a Chargers defense that cannot stop the run is too hard to pass up. If David Montgomery can post 130 yards and a score against this defense, imagine what Jones and Jamaal Williams are going to do on Sunday. Jonesí work in the passing game continues to expand, with Rodgers building more trust to target Jones on deep passes and red zone targets.
Other options to consider - LeíVeon Bell @ Miami & Josh Jacobs vs. Detroit
GPP - Jaylen Samuels vs. Indianapolis - $4,000
With James Conner likely out with a shoulder injury and Benny Snell on the shelf with a knee issue, it appears as though Samuels will get the majority of the touches for the Steelers this week against the Colts. The Colts run defense has improved with the return of Darius Leonard, but they still can be scored on, and the volume Samuels will get based on his price is too hard to pass up.
Fade - Chris Carson vs. Tampa Bay - $7,200
Carson is the one 7k running back that I will avoid this week with the Seahawks taking on a Tampa Bay team that is one of the hardest to run on this year. Sure, Carson may get a rushing touchdown, but I anticipate that Russell Wilson and the passing game will follow the blueprint created by the other teams in the NFL by passing early and often against a poor Bucs secondary. Carson is a cash game plays for me most weeks when he plays at home, just not this week against Tampa Bay.
Wide Receivers
H2H/Cash - Tyler Lockett vs. Tampa Bay - $7,500
Some may argue that Lockettís low volume is too much to risk in cash games based on his salary. While I do agree that Lockett does not get the 10-target floor that most No.1 receivers enjoy in their respective offenses, he is quite efficient with the volume he does receive and has provided fantasy owners with double digits in all but one game this year. I like Lockett this week to put up 100 yards and a score, making him a nice cash game pair with Russell Wilson.
Other options to consider - Allen Robinson vs. Philadelphia & Tyrell Williams vs. Detroit
GPP - Marvin Jones @ Oakland - $6,000
Jones followed up his four-touchdown performance two weeks ago with four catches for 22 yards. He is the definition of a boom or bust play, with monster games sandwiched between soul-crushing duds like last week. I love Kenny Golladay this week as well against Oakland, but donít be surprised if Jones has another multi-touchdown game in what could be a shootout.
Other options to consider - Preston Williams vs. N.Y. Jets & Robby Anderson @ Miami
Fade - Odell Beckham Jr. @ Denver- $6,600
It has made sense up to this point to fade wide receivers going against Denver's Chris Harris. It also has made sense up to this point to avoid Beckham Jr. and most of the Browns passing offense. When the two combine, it makes even more sense to look elsewhere.
Tight End
H2H/Cash - Darren Waller vs. Detroit - $6,300
Waller posted his worst game as a Raider with two catches for 11 yards on eight targets last week against Houston. Although he did manage to score a touchdown, the Texans made a point to limit Waller and pick their poison with other weapons in the Oakland passing game. I anticipate the Lions will look to do the same, but they do not have someone to match up in the secondary with Waller, and the big man will have a big game against the Lions.
Other options to consider - Hunter Henry vs. Green Bay
GPP - Eric Ebron @ Pittsburgh - $3,600
This one may be risky based on his questionable status, so be sure to make sure Ebron is active before putting him in your lineup. The Colts will be without T.Y. Hilton for a while, leaving a big hole for targets in the Indy passing game. Ebron is well off his touchdown scoring pace from last season, but he continues to be a red zone threat and has reached pay dirt in every other game this year. He did not score last week, so the law of averages states he might score this week at Heinz Field.
Other options to consider - Zach Ertz vs. Chicago
Fade - Vance McDonald vs. Indy - $4,100
McDonald has been a resounding bust this season, yet he continues to be viewed as a viable fantasy tight end. Outside of one 20-point performance week two, Vance has yet to post more than 50 yards in a game.
Defense & Special Teams
High Priced Option Worthy of the Cost: Bills ($3,800) vs. Washington
Well Priced with Upside: Browns ($3,100) @ Broncos