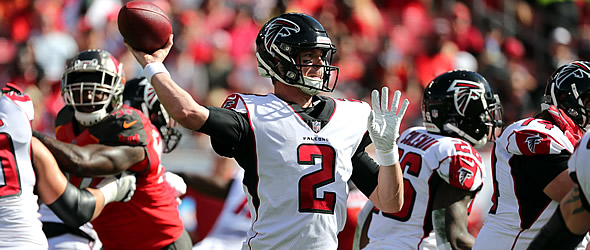 A dreadful Falcons defense allowed Matt Ryan to post gaudy numbers on his way to a QB3 finish.
QB Matt Ryan
(2018 QB Rank - No.4, 26.0 FPts/G)
Like other top-ranked QBs in 2018, Matt Ryanís impressive season last year was overshadowed by the breakout year by Patrick Mahomes. Ryanís 26 fantasy points per game were .3 points per game higher than his MVP season in 2016, and his three rushing touchdowns were the most in his career.
A dreadful defense caused by significant injuries to multiple stars on the defensive side of the ball created a situation in which Ryan and the offense were required to score a ton to stay in games. While that same scenario does not appear to be in play this year with those defensive players returning from injury, the Falcons do play in a tough division against with the Saints and Bucs, to teams who boast high powered offenses.
Like his fellow NFC South counterpart, Drew Brees, Matt Ryan boasts significant splits in games played inside in the dome. The good news for Ryan owners is the fact that the Falcons play all but three of their games indoors this year, including shootout-worthy matchups against the Colts, Eagles, and Cardinals.
Another positive for Ryan and the entire Falcons offense is the draft capital that the team used this offseason to bolster their offensive line. If given time to survey the field, Ryan can put up numbers on par with just about any other quarterback not named Patrick Mahomes.
RB Devonta Freeman
(2018 RB Rank - No.80, 4.6 FPts/G)
Numerous leg and groin injuries forced Devonta Freeman to miss all but two games of the 2018 NFL season. It was the second consecutive season in which the former Florida State Star failed to play a full season due to injuries.With his knee and groin ailments apparently behind him, Freeman enters 2019 as the lead ball carrier for a team that ranked 6th in yards per game and 10th in total points last year.
Injuries will always be a concern for Freeman, a player who runs with reckless abandon and no fear. He has a history of concussions, and he has suffered multiple knee injuries dating back to college. But that risk is built into his draft price as a third-round pick in most formats. Freeman may lack the floor of other third-round picks, like Marlon Mack and Leonard Fournette, but he also has proven in the past to have top 5 upside.
RB Ito Smith
(2018 RB Rank - No.65, 5.4 FPts/G)
An injury to Devonta Freeman opened the door for rookie Ito Smith to share carries with Tevin Coleman last season. Smith, a fourth-round pick from Southern Mississippi, flashed some TD upside, but otherwise disappointed with his opportunities. Smithís 3.5 yard per carry average ranked 45th in the league.
With Coleman now a member of the 49ers, Smith will likely earn the first chance to share carries with Freeman. But he will need to make the most of his opportunities to fend off rookie Qadree Ollison and second-year back Brian Hill.
WR Julio Jones
(2018 WR Rank - No.5, 13.6 FPts/G)
Jones continues to be the model of consistency with regards to volume, catches, and receiving yards. The talented wide receiver has no fewer than 1409 receiving yards in each of his previous five seasons and continues to be one of the most heavily targeted players in the league.
His immense size and skill, rapport with Matt Ryan, and ability to dominate in PPR formats makes Jones a player worthy of a first-round pick year in and year out.
A lack of touchdowns, with just one double-digit touchdown season on his resume, has always been a knock on Jones and something that will keep some owners away on draft day. Foot injuries in the past have also been a knock against Jones, but the reality is the former Alabama star has missed just three games dating back to 2015.
Despite his lack of touchdown production, Jones should be considered an elite option in the first or early second rounds. He has the ability to lead the league in both receptions and yards, and any touchdown production on top of that will be gravy.
WR Calvin Ridley
(2018 WR Rank - No.28, 9.1 FPts/G)
Ridley is one of seven wide receivers who posted at least ten receiving touchdowns in 2018. With defenses focusing on Julio Jones, Ridley flourished as the secondary receiving option for Matt Ryan in the Falcons passing game.
Despite this success, negative touchdown regression is likely for Ridley. Only Tyler Lockett and Mike Williams posted a higher TD rate that Ridley, with both of those players positing outlier touchdown rates of their own.
While the touchdown rate for Ridley is not sustainable, an improvement on his catch rate and an increase in volume could improve his overall production. In addition, an injury to Jones could move Ridley from high-end WR3 status to low-end WR1 range.
WR Mohamed Sanu
(2018 WR Rank - No.30, 7.0 FPts/G)
Sanu quietly posted the best fantasy season of his seven-year NFL career in 2018 as the No.3 wide receiver for Matt Ryan and the Falcons. Like all of the Falcon skill position players, a poor defense forced the team to play from behind and score at a high rate to stay in games. With the defense back to full health entering 2019, donít be surprised to see Ryan and the Falcons lean more on the run in positive game scripts.
The fact that Sanu is the fourth or fifth option for Ryan makes him a low-end WR3 at best at the start of the season. Should Julio Jones or Calvin Ridley sustain an injury, Sanu would see a massive jump in value as a low-end WR2 in most formats.
TE Austin Hooper
(2018 TE Rank - No.15, 9. FPts/G)
Hooper increased his fantasy point per game average for the third consecutive season with the Falcons. His 71 catches for 660 yards and four touchdowns on 88 targets were all career highs, and he managed to post three games with double-digit targets in Weeks 5, 6, and 10.
As an afterthought for most owners, Hooper is one of the better values for owners who miss out on the top three tight ends early in drafts. Although his low touchdown rate is a concern, he has a solid rapport with Matt Ryan and plays on what projects to be a top-10 NFL offense. Considering how barren the tight end landscape is this season, drafting Hooper in the later rounds is not a bad option.