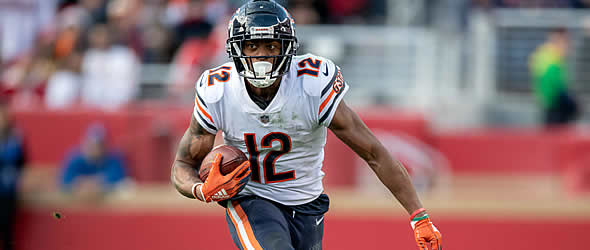 If you were to poll 100 fantasy football writers who Allen Robinson would end up choosing to sign with this free agent period, chances are less than 10 of those writers would have picked the Rams.

Sure, the Rams just won the Super Bowl and look primed to make another run this season, and the offense run by Matthew Stafford and Sean McVay is a wide receiver-friendly system.

But in terms of need, with a wide receiver room filled with stars like Cooper Kupp and Robert Woods, the Rams did not have an immediate need at the position. And with McVay already on record saying they would like to resign Odell Beckham Jr., Los Angeles seemed like the least-likely landing spot for a WR1 like Robinson.

From Robinsonís perspective, he does join a team primed to make the playoffs and gives him a shot to get a ring. However, from a target standpoint, he will most certainly be second-fiddle to Kupp and battle Woods for the remaining WR targets.

It certainly was not a money grab for Robinson, as his annual average salary puts him 20th at the position, just ahead of Tyler Boyd and Sterling Shepard.

The only thing that make sense is if the Rams are planning on trading Woods, which would open up targets for Robinson. Woods has a $15.7 cap hit this season with a dead cap hit of $12.1 should he be released.

Regardless of the reasons, the fantasy impact on the move has rippling effects for the Rams. It should not change your valuation of Kupp, as he was clearly the favorite target of Stafford even when Beckham was on the field. That connection should continue, and Kupp will likely finish as a top-5 WR again in 2022.

For Woods fantasy managers, the addition of Robinson does take away likely targets and production. However, McVay loves the veteranís versatility in the run game and as a blocker, so he should still see a large snap percentage.

For Robinson, a player with four seasons of at least 150 targets and just one season of more than seven touchdowns, it is difficult to see him making a run as a WR1 as the second or third option for Stafford. Unless Kupp gets injured, 150 targets are likely out of the question. And Robinson has never been a high touchdown scorer, so making up on the lack of volume with scores may also be challenging.

If you have Robinson on your dynasty roster, you are happy he landed in a sound system, but unless they move on from Woods or Kupp gets injured, his ceiling is limited with the Rams compared to other possible landing spots.