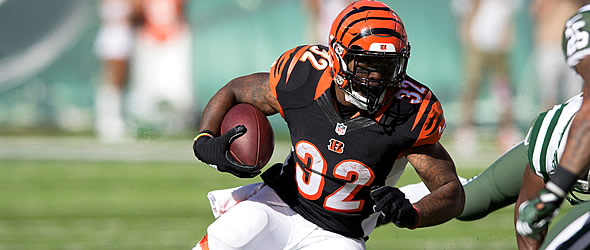 Jeremy Hill should see a usage increase with Gio out and gets the Browns during fantasy playoff time.




Week 11 Review



Let's start out by taking a look at last week…



Hits:



(Sell) C.J. Prosise: Yes Prosise did have a 72-yard TD. He was 100% untouched and like the track star he is, he took it yard. Soon after someone did touch him and he suffered a fracture scapula (or shoulder blade) which should sideline him the rest of the year. If you sold on him as a workhorse back, than you are feeling like a million bucks.

(Sell) Jordy Nelson: 3-for-28 on 5 targets would account for Nelsonís second worst stat total of the year. He salvaged this stat line by catching a TD in a game the Packers nearly got doubled up on. I fielded a lot of questions on him this week, and all the trades were heavily slanted in the team giving him up. You can bet this week will be much different considering the state of the Packers and their upcoming schedule. Good job if you sold high.

(Buy) Thomas Rawls: Rawls has workhorse back written all over him from here on out. The schedule isnít great, but the Seahawks offense is playing like a newly tuned guitar. If you got him off the wire or through a deal than you are pumped this week against Tampa Bay as it is their easiest game left on the fantasy schedule (thru Week 16). If youíre lucky enough to be in a league that plays through Week 17, he gets the 49ers who have been roasted on the ground.

(Sell) Eli Rogers: After turning in another ďmehĒ performance, Iím taking the win here. Rogers is as up and down as any WR4 so feel free to trade, hold, or drop him for other high upside talent.

(Buy) Allen Robinson: Three straight weeks of touchdowns. I feel comfortable taking the win here.



Undecided:



(Buy) DeAndre Hopkins: I refuse to take a loss when the referees in last weekís game called Hopkins out of bounds when he clearly took the ball up the sidelines for long score. Tack that on to his 5-for-58, and you have WR1 status. Late in the game the Texans converted a 3rd and 4th down as well that was called incorrectly, and it could have easily led to another Hopkins score. Iím not giving up that easily.

(Buy) Brandon Marshall: Marshall was on bye so we get to see what he does this week against the leaky Patriots defense who is giving up massive yards to far worse talent.



Misses:



(Sell) LeGarrette Blount: Iím going to eat crow for the time being with Blount. He defies past performance with Lewis, White, and Brady all together again. Normally he gets around 10-12 touches in those scenarios and bounces up and down between RB3 and RB2 weeks. Heís been a RB1 nearly every week against all front-sevens.

(Buy) Cam Newton: Cam continues to struggle. He got a dream matchup with New Orleans last week and couldnít get out of his own way. His 11:7 passing touchdown to INT ratio is his worst since entering the league.

(Buy) Kelvin Benjamin: The Panthers fantasy ship is sinking, and I blame Cam Newton 100%. He looks indecisive and doesn't seem to be able to get clicking. Targeting a surefire stud like Benjamin four times is criminal against the Saints.


Trade Recommendations After Eleven Weeks:




Week 12





The Bait:



Rob Kelley: This guy looks like the new, young feature back of a thriving offense. Looks can be deceiving. Yes he scored 3 touchdowns and averaged a robust 5.7 yards per carry, but outside of that he has never been a workhorse back including in college where he totaled just under 2,000 yards from scrimmage in his four-year career.

Pierre Garcon: Since Week 8 Garcon has caught 6 passes a game, and his yardage total has gone up along with him scoring a touchdown. This is a trend that will be bucked over the next five weeks as the defenses only get better. Sell him now if you can.



Buy-Low Candidates:



Jordan Reed: A bye week and two weeks of down production could be getting owners nervous. That along with his injury history could have them on edge as well. Do you have Travis Kelce or another middle of the road guy you can package up? Fire a trade offer away ASAP before your deadline (if it hasnít passed already) to land a guy who won fantasy championships for owners last year. There is risk, but there is also high reward and upside that only few tight ends in the league offer.

Jeremy Hill: Buy Hill for the simple fact he gets Cleveland during Week 1 of the fantasy playoffs. He is now a true workhorse back with Giovani Bernard on IR, and the first week of the playoffs is the most important. I traded Crabtree for Hill straight up in one league, and he will be a solid play starting Week 13.


I'm constantly wheeling and dealing so hit me up on twitter, the comments section, and/or email for advice. At the end of the season I will do a review again of all my recommendations and bring in real life examples of all trades that I've either helped broker or completed myself.

As always keep those conversations active and hopefully you can land some premier talent!

---
Follow me on twitter @ZeroRBJoe for any questions about trades, lineups, or anything fantasy football related.