8/24/11



This is the fourth iteration of my annual auction strategy piece (the three previous editions, The Best Auction Draft Advice Ever, Son of the Best Auction Draft Advice Ever, and The Best Fantasy Football Auction Strategy). In this, I've taken the advice from those pieces and updated it for 2011.

Prepping for Your Auction Draft
The first thing you have to do is develop a list of player projections, much like you would do for a conventional (snake) draft. You can either use FFToday's (excellent resource) or make your own. Next, you'll make tiers, grouping players with similar projections. (The FFToday Cheatsheet Compiler and Draft Buddy simplify the following process.)

You're going to have to come up with expected auction prices for each player. That is, how much you think each player will go for. If your auction league has been around for awhile, you can look at your league history. Take the actual prices from last year's draft and figure out what percentage of the entire available money went to each position. If your league devoted 27% of the pot to wide receivers last year, take 27% of this year's pot and allocate all that money to the drafting of wide receivers. If the total pot is $1000 auction dollars (10 teams x $100 per), and there will be 50 wide receivers drafted, take a popular consensus ranking of the top 50 wide receivers and allocate the $270 amongst them appropriately. Take into account the idiosyncrasies of your leagues, especially homerism or college affiliations. Let the calculator keys cool for a sec. Now add 10-15% to the CJs, Andre Johnsons, Rodgerses, and Gateses, the top-tier guys, and take that money from your third-tier players to balance the numbers. This is the over-hyped studs tax. In another column, pencil in a dollar amount for each player that represents the max price you would be willing to pay for that player. That is his value to you (arrived at whichever method you use, dead reckoning, VBD, whatever).

There's a caveat here: When assigning these percentages, keep an eye on keepers, and change the numbers accordingly. If your league mates are keeping an atypically high number of RBs at good keeper prices, bump up the dollar amounts for other positions (where it goes depends on your league's scoring system).

Now all you need is a strategy.

Recruit a Lineup of Stars and Scrubs
These are two schools of drafting philosophy: Studs and Scrubs and Value/Depth. Stars and Scrubs holds that it's best to devote the majority of your salary cap (75-85%) to a few superstars at the money positions. This might find you with Aaron Rodgers, Chris Johnson, and Calvin Johnson and the rest of your roster filled out with $1-$2 players. The V/D approach, as you might guess, drafts the roster with lesser players but with more even talent to the margins. These players would include a number of low-flyers with high upside. The benefits and downside to both approaches are obvious. In my leagues, the Stars and Scrubs strategy makes the playoffs more often than not.

Draft Mid-Tier
In your rankings, tier your players according to similar expected production. This helps prevent you from getting too attached to, and over-spending on, any one player.

The last player bid upon in the second tier of the glamour positions (QB and RB) typically goes for far more than fellow second-tier players as owners panic and realize they need a bell-cow at the position—and those are running out. If possible, try to get the second or third guy in the tier, just not the last player.

Back It Up
If you're targeting a valuable backup, get him before the stud he handcuffs comes up for bidding. Ben Tate's price goes up if you're bidding against Foster's owner.

Patience, Grasshopper
Every fantasy football auction draft has its own pace, but all are a grind compared to the snake draft. You have to be sharp the entire time because there will be junctures in the draft where, due to fatigue, inebriation, or boredom, your opponents will falter. This is where you can pick up deals.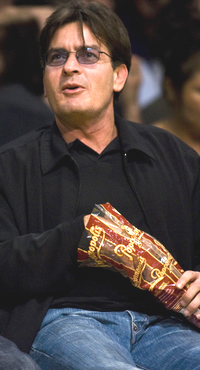 Incorporate a little Sheen into your auction strategy.
Be Unpredictable (Be the Honey Badger)
Throw out players you don't want. Drop in and out of bidding on a single player. If bidders are throwing out numbers at one dollar increments, up the bid by five. Be unpredictable, be aggressive, be passive, don't establish a pattern. Be Chuck Sheen.
The Early Rounds
Most auction strategy articles have you nominating big name players on your turn in hopes of reducing your opponents' budgets early so you can pick up bargains in the mid-rounds and later. There's a better strategy. Throw out a name that you want in one of the "lesser" positions—a top TE is a good call—while everyone is saving their cash to bid on a RB#1. More often than not, Antonio Gates will go for less money in the first round of nomination than Dallas Clark will in the fourth. Overall, the early rounds are where boldness pays the most. If you're taking shots at studs, do so here.
The Middle Rounds
Though an entirely different beast than a conventional draft, the auction works much the same way in that most owners will seek to fill out the upper end of their rosters first. This is especially important to remember for those of you transitioning from a snake draft to an auction draft for the very first time. Drafting from the top down means you'll miss value opportunities in the late middle rounds, that's why it is so important to peg the values on your players and believe in 'em. If someone throws out Jermichael Finley early and he can be had at a value $5, then by all means take him, though you don't have a QB#1 yet.
The End Game
Patience in auction drafts pays off in the end. Unlike snake drafts where everyone participates in the last round, auction drafts find a few patient owners bidding for deep sleepers and flyers while everyone else has packed up. You want Bilal Powell? This is where you get him. Make sure you're one of the last owners bidding.
A Strategy for 2011
In most leagues, 2010 showed an uncharacteristic shift of auction dollars from the RB position to the WR position, no doubt a reaction to the NFL's movement to more RBBCs. I expect a "market correction" this season, with the money flowing back to RBs again. I advocate going contrarian here: allocate more of your budget toward WRs, otherwise you'll overpay for RBs while missing value at WR.
Get a Stud QB
Gamble on other positions, but not quarterback. The quarterback spot has seen the least amount of turnover in the top ten over the past few years, so if you're going to overpay, do it for an Aaron Rodgers or Tom Brady. I'm not a fan of the emerging QBBC strategy proposed by some—do you really want to have to pick between Eli Manning and Jay Cutler every week? Me either. Plug in a consistent stud and never look back.
Draft a Quality Workhorse RB#1
Following this strategy, you'll need your RB#1 to be consistent. You'll overpay for Arian Foster or Adrian Peterson, so aim for a second-tier performer like Steven Jackson or a Michael Turner. The money saved here will go taking chances on two RBs with upside for your RB#2 slot.
Aim for Upside at RB#2
Here's the point: You're drafting two RB#2s, hoping that one breaks out. Instead of busting big bucks for your RB#2 and considerably less for RB#3, add the money together and split it between two players. You'll be spending maybe 20 percent of your salary cap here. This might net you a Mark Ingram and a Tim Hightower. If one breaks out, you'll win more weeks than if you lose, and if both break out, you have trade bait. Take a high-quality backup for your last spot.
Snag a Proven WR#1
You'll need a rock-solid WR#1. WR is one of the most volatile positions, so consider stability in offensive scheme and quality QB play here when evaluating players—the WR's talent can only take him so far. Hakeem Nicks might be a good choice—he's got the talent and cast to put up top-five numbers but won't cost as much as an Andre Johnson or a Roddy White, both of whom will command a premium on name alone.
Go for Emerging Stars at WR#2
Allot a fair amount of your budget for another quality WR, aiming for upside at WR#2. Tampa Bay Mike Williams or Jeremy Maclin (injury concerns can make for a bargain) might be a good call here. Both offer value as either could put up top-12 numbers, but will come at a WR#15-20 price.
Emphasize Consistency for Your WR#3
You don't need big numbers from a WR#3, just regular points at a discount price. Think high-floor, low ceiling. This translates into a NFL WR#1 from an offense with question marks. In 2010, Santana Moss fit this description, and churned out enough points on a regular basis to support a championship team while coming at a low price. Moss is once again a candidate for this spot, while other candidates would be Mike Thomas and Steve Johnson. For your fourth and fifth slots, don't spend much money and aim for deep, deep sleepers. Jerome Simpson and Denarius Moore might fill the bill here.
Grab a Second-Tier TE with Upside
Get Greg Olsen or a similar second-tier TE with upside and backstop him with $1 sleeper like Ben Watson. You will overspend on an Antonio Gates or a Witten robbing you of the ability to spend on a sleeper RB. The position is deeper than it has ever been—save the money for another position.
Because You Have To: DST and Kickers
Place a minimum bid on a kicker; throw a few bucks at a top-five defense if possible, otherwise, take a flyer on the 49ers (playing in the NFC Weak) or the Lions.
To recap: Using this strategy, your starting lineup might look like Tom Brady, Steven Jackson, Tim Hightower, Hakeem Nicks, Jeremy Maclin, Santana Moss, Greg Olsen, a damned kicker, and the Niners. Not bad.
Good luck, and let me know how your draft turns out.