Finding "ten things" won't be any problem as Week 3 produced heartache, surprises, affirmation and much, much more. It was the weekend when teams most resembled who they will be in Week 1 of the regular season. So, let's dig in…



1. There was Heartache



The lack of injuries this pre-season to players expected to contribute significantly during the NFL's regular season had been encouraging. Two days later, the reality has sunk in. Julian Edelman. Spencer Ware. Cameron Meredith. All three done for the year after being drafted by many fantasy owners in past weeks.

Edelman and Ware's arrows were starting to point down prior to the injuries, but they still figured to be viable RB/WR 2/3. Meredith was unquestionably the best option in the Chicago passing game. So, who will be forced to step up? Edelman will no doubt be replaced by a committee of able bodies, while rookie Kareem Hunt and Kevin White will be given opportunities to lead.

Taking off the fantasy goggles for a moment, your heart goes out to all of these guys. Putting the goggles back in, we learned a little more about the roles Chris Hogan, Hunt, and White may now take on from action this weekend. Look for Hunt to benefit the most as he's in the best situation to excel given offensive scheme and lack of competition.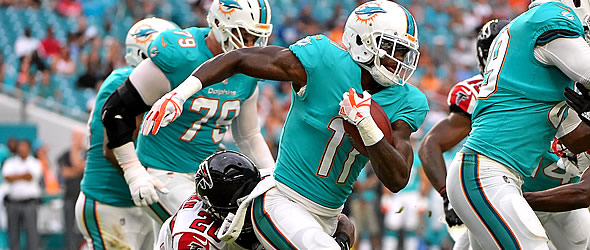 DeVante Parker's ADP continues to rise as many believe Cutler's downfield ability will spike his stats.





2. Time to get Bullish on Miami's Offense



Year 1 of the Adam Gase era brought some respectability to Dolphins offense. After watching Miami in Week 3 of the pre-season, I think another jump forward may be forthcoming. Jay Cutler can make the throws that Ryan Tannehill either cannot, or isn't comfortable making. That makes DeVante Parker a legit breakout candidate. Parker hauled in two catches this past weekend, one of them being a 72-yard bomb that was perfectly executed. Meanwhile, Jay Ajayi ran for two scores, looked to be in mid-season form, and averaged just under six yards a carry. If you haven't drafted yet, don't let Ajayi go past the first 15 overall picks and grab Parker much earlier than most of the experts are telling you. Upside and intuition demand it.



3. But the Dolphins Didn't Win. How Come?



It feels odd to talk up a team that didn't win their pre-season game, but fantasy football isnít about team wins and losses. In this case, Miami got one-upped on the scoreboard by another offense that looked pretty salty. We mentioned last week that the QB talent takes a drop after Eli Manning and Andy Dalton. Let me add into the mix a guy that I think could surpass them both and is looking like potentially a borderline starter. Carson Wentz. Sure, Wentz started fast last season and fell back to earth when defensive coordinators got enough film to better study his tendencies. But, Wentz looks like the game has slowed down for him and his 2 TD passes on Thursday to Alshon Jeffery and Torrey Smith suggest he is quickly learning how to utilize his new weapons. I'm not predicting Wentz will be a top ten QB just yet, but I've got him in the 11-13 range now. Throw in the emergence of Zach Ertz (led all tight ends in fantasy points in Weeks 8-16 last year) and Fly Eagles Fly is shaping up to be one of the fall's more surprising themes.



4. Running Back Battles are Hard to Judge from Week to Week



I have been watching with interest the ADP of DeAngelo Henderson of Denver these past few weeks. Henderson's draft status seemed to improve with each passing day while reports that Jamaal Charles was going to likely be cut before the season started began to surface. How quickly things can change. Charles was solid in his preseason debut for Denver (6 touches, 42 yards) and apparently was even more solid in pass protection. Meanwhile, Henderson fumbled not once, but twice against the Packers. Ouch. Suddenly, Charles is being drafted again and Henderson's name is fading to the background. So it is in fantasy football. It's why you have to pay attention to everything that happens right up until draft day...and beyond.



5. More Battle Chatter: Kelley vs. Perine (Part Three); Powell vs. Forte



The fantasy football degenerate doesn't watch the preseason to see if Tom Brady is looking good or not. We watch to see how rookies do, how quickly players return from injury, and to see position battles unfold.

This makes three weeks now we've reported on Kelley vs. Perine, and the pendulum swung back the other way this time around. Kelley was an effective runner vs. Cincinnati's first string defense (10-57-1) while Perine picked up a mere 5 yards on 5 carries. Both are likely to see action early in the year, but Kelley remains the safer pick for this season.

In New York, the running game is going to have to be good because there's little else to fall back on. Much like Jamaal Charles, Matt Forte showed he still has some gas in the tank vs. the Giants (10-43) while Powell exploded for 142 yards and a TD. Powell is clearly the guy to own in PPR leagues as he'll be catching checkdown passes right and left, but Forte isn't buried just yet. Powell is looking like a legit RB2 at this point while Forte is a borderline RB3 or RB4.



6. Do Not Draft Lists Shouldn't be Put in Concrete



Now, we come to the curious case of John Brown of the Arizona Cardinals. No one knew for sure if he'd even play in the preseason based on his chronic health issues. So, what does Brown do? He catches two touchdowns vs. the Falcons and looks great doing so. Anyone who's ever watched Brown play knows what kind of potential he has. Larry Fitzgerald is going to still be a factor this season due to the sheer number of receptions he will garner, but getting down field and making big plays is Brown's job. This weekend's performance doesn't change the fact that Brown comes with plenty of risk. Just take him off whatever no-no list you've made. At some point after the midway point of your draft, the risk is worth the potential reward.



7. No Time to Panic, but Concern in Atlanta is Warranted



We told you two weeks ago not to be concerned with one lackluster performance in the pre-season, but to watch for multiple bad outings as a potential warning sign. Enter Matt Ryan and the Atlanta Falcons. Sure, Devonta Freeman and Julio Jones have been missing from the offense, but Ryan's performance (4-11, under 40 yards, 1 INT) was dismal. Losing Kyle Shanahan is going to hurt this offense a lot more than some people realize. Everybody is likely to take a step backwards with Ryan being the most obvious. We're starting to learn the post-Shanahan era is going to have its growing pains. At worst, we could be talking multiple fantasy busts from the same team. You've been warned.



8. On the Flip Side...



The Seattle Seahawks look ready to soar. They (their defense) were way too much for a previously hot Kansas City offense to handle this week. On offense, Russell Wilson lit Kansas City up for 200 yards a touchdown in one half. While teams like the Jets and Bills seem to turn over their wide receivers every year, Seattle has allowed their unit to grow together. Now, they resemble a team fully on the same page in the passing game and need only for the offensive line to remain stable this year to truly wreak havoc on opposing defenses. If you haven't drafted yet, consider Wilson as your starting QB if he's available in the late fourth/early fifth. In QB-friendly leagues, he's worth picking up much sooner than that.



9. The A Factor



Two veteran players coming off injuries that impressed over the weekend were Ameer Abdullah and Keenan Allen. Abdullah should have little competition for carries in Detroit and he looked strong and decisive over the weekend, gobbling up 60 yards on 13 carries. At this point, he should be drafted well ahead of his current ADP (5.07, RB26). Sure, he hasn't proven durable yet, but he's clearly poised to be a top-15 running back if he stays healthy. Likewise, Allen's history of heath failures is well documented. But, his 5 first quarter catches vs. the Rams remind us of what a PPR giant he can be when on the field. Health is never a guarantee, but the talent is most definitely there.



10. The Falcons' Loss is The 49ers' Gain



Finally, during the last game of Week 3, the 49ers unveiled a little bit of what a Shanahan-led offense is going to look like. It will be the best system Brian Hoyer has played in during his career and his two first half touchdowns showed that he's ready to assume a role as a solid fantasy backup quarterback. Also poised to gain are Pierre Garcon (6-64) and Carlos Hyde (rec. TD). We have all become accustomed to viewing the 49ers as a place not to target for fantasy relevancy. Time to re-think that. It's a new era by the bay.

Hope you have enjoyed the past three weeks as we examined the pre-season. Next time you hear from me, I'll recap the key fantasy highlights of Week 1.