Good afternoon from the Buzz. That's right…the final Buzz article of the season is coming to you a little late due to holiday. But, there's a lot to talk about, both in terms of the weekend that was and the season as a whole…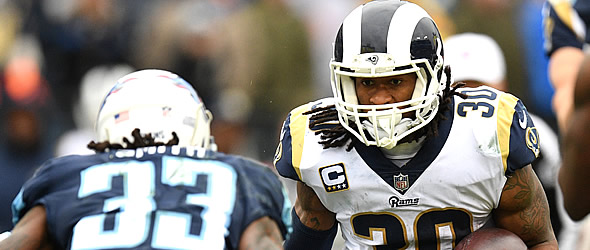 Todd Gurley led all players in fantasy points scored in Week 15. He did it again in Week 16.




Sorting Through Week 16



So, which stars came to play this weekend? Obviously, it all starts and ends with Todd Gurley's monster game (for the second week in a row). On a week where the majority of offenses struggled to move the ball, Gurley was simply on another planet as he netted a ridiculous 276 yards from scrimmage while scoring two TDs. In doing so, Gurley raced past the 2,000 yard mark in total yards and if the Rams play him in Week 17, look for him to get his 20th touchdown on the season. We'll have more to say about Gurley in a few moments…but his Sunday performance ranks amongst the greatest in Week 16/fantasy championship weekend history. And, compared to what others were doing (or not doing) around him, it's the most prominent performance in my memory in the 30 years I've been playing fantasy football.

The second tier of "heroes" from this weekend include Dion Lewis, Larry Fitzgerald, and Jared Goff. And, if your league doesn't penalize for interceptions, throw Blake Bortles into that list as well. Rex Burkhead's injury impacted Lewis's numbers the most, although Mike Gillislee did vulture one touchdown. The Patriots have figured out what the Houston Texans could not on Christmas Day. Run the ball inside the 5-yard line. With the Pats nursing a lead, Lewis was sensational in the fourth quarter and ended the game with 153 yards and a pair of TDs. Who knows what the Patriots backfield will look like in 2018, but for those trusting in Lewis yesterday, you were richly rewarded.

Fitzgerald's big day was not a huge surprise given the Giants' ineptness on defense, but 9-119-1 always looks great in Week 16, especially in PPR formats.

If you are a frequent reader, we've been telling you to keep starting Bortles each week, but Jared Goff's huge day (300+ yards, 4 TDs) caught us a bit off guard. Considering more than half those yards and exactly half the touchdowns went to Gurley, the running back's impact extended to those beyond himself - namely Goff.

Finally, if you needed a solid day from perennial fantasy stand-outs like Melvin Gordon, LeSean McCoy, Le'Veon Bell, Kareem Hunt, and Jordan Howard, you got your wish and nothing more. If you plugged in Bilal Powell or Giovani Bernard, however, you got your wish and then some.

The other huge story (aside from Gurley) on Sunday and Monday night (thinking of you Alshon Jeffery and Michael Crabtree) was the complete lack of production on championship weekend from the WR position. Jeffery and Crabtree were obvious choices after neither even caught a pass on Christmas Day, but there were others that nearly disappeared as well. Brandin Cooks, Adam Thielen, Josh Gordon, Golden Tate, and Devin Funchess top that list, but they were joined by plenty others who scored in single digits, even in PPR leagues. Consider this: Not a single WR in Week 16 scored multiple touchdowns. In what was a down year for the position, Week 16, as it turns out, was the most damaging piece of evidence that fantasy football is once again changing right before our eyes. Speaking of broad-based thinking…now let's take a more cumulative look at the season that was.

Biggest Surprises of 2017

1. Todd Gurley - He topped the Disappointments list last season; this year, his performance represented one of the all-time great rebounds in recent memory.

2. Kansas City's Version of the Tremendous Trio - They're not Ben, Bell, and Brown, but Alex Smith, Kareem Hunt, and Tyreek Hill were the next best thing.

3. Alvin!!!! - Kamara is a rising superstar in the world of fantasy football. His running mate, Mark Ingram, surpassed expectations, too.

4. Sophomore Signal Callers - In the real world, Carson Wentz and Jared Goff took giant leaps forward...their fantasy prospects did as well.

5. Sleeper Picks From The NFC North - Receivers Adam Thielen and Marvin Jones were late August draft picks who played like second rounders for much of the year.

6. A...Squared - Additional surprise wideouts came in the form of Robby Anderson and Nelson Agholor. Both have bright futures based on what we saw.

7. Case and Collins - The emergence of QB Case Keenum and RB Alex Collins as a viable fantasy options were scarcely foreseen.

8. Evan Engram - In a year the Giants would love to forget, Engram represented the only bright light and exceeded all expectations.

Biggest Disappointments of 2017

1. Cooper's Collapse - Aside from one big game, Amari was a complete flop in 2017. Now, his fantasy future looks murky at best.

2. Failure To Launch - Superstars David Johnson, Odell Beckham Jr. and Aaron Rodgers got taken from us by injury early on. Only Rodgers returned (for one game).

3. Invisible Jordy - Speaking of Rodgers, there's no denying the impact his absence had on Jordy Nelson. Non-factor without Rodgers is putting it kindly.

4. Tampa Troubles - In another flip-flop from last year's list, Jameis Winston, Doug Martin and Mike Evans all regressed in 2017 with Evans's fall the most costly.

5. Matty Iced - Continuing with a theme, last year's dynamic fantasy force and NFL MVP wasn't the same player this time around and brought Julio down with him as far as TD passes/receptions are concerned.

6. Terrelle Pryor - Sometimes, when a WR changes teams, it works out (Alshon Jeffery). In Pryor's case, not so much.

7. Seattle Surrender - Take your pick of the possible Seattle starters at RB when the year began. Russell Wilson was the team's best runner; all others flopped.

8. Swiss Army Knife Snafu - Ty Montgomery got stuck in the same vortex as Jordy Nelson and failed to be much of a factor in Green Bay.

Fantasy MVP

Coming into Week 15, I would have likely given this award to Antonio Brown, but Brown's injury combined with the best two-week stretch possibly in fantasy football history tipped the scales to Todd Gurley. There was little doubt who the two best players were. It's just too bad they couldn't have duked it out down the stretch for the award.

Fantasy Playoff MVP

Ummm….I guess I should just stick to naming a runner-up since Gurley was other-worldly as has been noted repeatedly. How about Kareem Hunt with honorable mentions to Blake Bortles and the surging Jimmy Garoppolo? I refuse to even consider a WR given the collapse of that position.

Comeback Player of the Year

Clean sweep for Gurley here, but you have to add DeAndre Hopkins as a co-winner. Both were fantastic in 2015. Both disappointed mightily in 2016 due to issues beyond their control. Hopkins was tremendous, but how good might he have been with a healthy DeShaun Watson all year? Big kudos to Nuk for making the best out of a tough situation.

Rookie(s) of the Year

Early on, it appeared Kareem Hunt would win this award by a country mile. Then, when he couldn't find the end zone for two months, I penciled in Alvin Kamara. In the end, the two deserve to share the award. Both should be first-round picks next year in redrafts, which brings us to…

The "Dirty Dozen" Heading Into 2018

So, who are the top 12 players in a redraft next August? Even in PPR leagues, the first round should be RB-heavy. We'll go non-PPR and roll with…

1. Todd Gurley
2. Le'Veon Bell
3. Ezekiel Elliott
4. Antonio Brown
5. Kareem Hunt
6. David Johnson
7. DeAndre Hopkins
8. Alvin Kamara
9. Leonard Fournette
10. Melvin Gordon
11. Jordan Howard
12. Julio Jones

Just missing out: Mark Ingram, LeSean McCoy

A lot can and will change between now and August, but there's a jumping-off point. I welcome any and all feedback on your "dozen" in the comments section, so fire away!

Finally, you read articles like this one to gain that broader perspective and often, we succeed in granting you that. But, sometimes we miss the boat by a mile. With that in mind, here are the Five Dumbest Things we've uttered at the Buzz this season. Counting down from earliest to most recent…

5. "Look for the Broncos to continue to have lots of red-zone opportunities with Demaryius Thomas and Emmanuel Sanders netting big first-half totals in games" - (Week 3)

4. "Expect 20+ touches a game and top-ten numbers from Doug Martin moving forward. He has a chance to be a throwback to a time when RBs reigned supreme" - (Week 5)

3. "Austin Seferian-Jenkins will be top-ten in points from a TE by season's end. Take that to the bank." - (Week 6)

2. "DeMarco (Murray) is a strong candidate to finish as a top-10 RB by year's end as colder, more blustery conditions emerge." - (Week 10)

1. "Samaje Perine is turning into a must-start down the stretch" - (Week 12)

There's nothing wrong with chuckling at yourself from time to time and taking note of predictions gone wrong.

And so we come to a close here at the Buzz. It's been a fun and wild ride this season! Sometimes, we steered you in the right direction. And a few times, we fell short of that goal. All in all, I hope you found the weekly offering enjoyable and that you'll make the Buzz a part of your weekly fantasy football intake in 2018.

Happy New Year!