Six weeks down and we're growing confident in some areas. Yet, question marks remain. Understanding the game of fantasy football can be a difficult task, but here at the Buzz, we give it our best shot…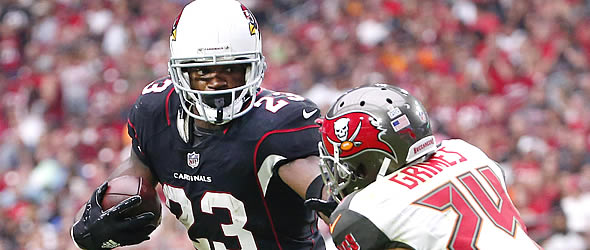 Adrian Peterson is washed? Perhaps not. The 32 year-old RB rushed for 134 yards and 2 TDs in Week 6.




Once a Saint, Still a Saint



Two stories dominated the landscape in fantasy football on Sunday. The first came out of Arizona where a mid-week trade granted new life to future Hall of Fame RB, Adrian Peterson. I think most expected Peterson would fare slightly better as a Cardinal than Chris Johnson or Kerwynn Williams, but few (outside of maybe Peterson himself) expected a multi-TD game that also included 134 rushing yards on 26 touches. The departure from Bourbon Street to the Valley of the Sun was apparently just what the doctor ordered for the longtime fantasy football stud. Tampa Bay came into the game as a top ten run defense, so it wasn't just a case of ideal matchup. Peterson's departure from New Orleans also apparently opened up doors for former running mate, Mark Ingram. Ingram garnered 150 yards on 30 touches and like Peterson, scored two touchdowns. Like people, sometimes players perform better apart than together. Consider both players on the rise after big Week 6 games that re-defined their status in fantasy football.



Down Goes Rodgers (And Winston Too)

On Sunday, you likely fought an uphill battle if your starting QB was either Aaron Rodgers or Jameis Winston. Both went down in the first half and neither returned to their respective games. But, while Winston should be back in a week or two (shoulder sprain), Rodgers' injury has more lasting consequences. Not only did you miss out on what would have likely been a productive day on Sunday, you'll now be missing one of most explosive players in all of football for at least the remainder of the fantasy regular season, if not longer. When a QB is lost for an extended period of time, the ripple effect is much bigger than just one man. Teams will defend the run more vigorously without having to respect the passing game nearly as much. The value of the Green Bay wide receivers also take a hit, including Jordy Nelson whose high standing has always been directly tied to Rodgers. If Martellus Bennett can avoid drops, he may actually see an increase in targets with the Brett Hundley checking down much more frequently. Whatever the case, this is no longer a top ten offense…or even a top fifteen one. Rodgers was that good. Bummer.



Good News From the Big Apple



Turning to brighter headlines, I think we have found the diamonds in the rough in New York. With the wide receiver position reduced to guys that wouldn't start on any other team, both Big Apple franchises are targeting their respective tight ends with regularity. Austin Seferian-Jenkins was the apple of Josh McCown's eye 11 times on Sunday while Evan Engram was singled out 7 times. Both scored TDs and Seferian-Jenkins was robbed of a second TD by one of the worst calls I've seen in the TV replay era. This is not necessarily a case of two tight ends being top ten based on talent alone. This is all about supply and demand and their teams will be demanding a lot from both of them moving forward. Expect both to be top ten at their positions by season's end barring injury. Take that to the bank and if you've got one of them and you're not starting him, time to trade your starter (unless it's Gronk).



High Volume Heroes



Fantasy football is often about quantity more than quality. Some running backs average far more per carry than their contemporaries, but because they carry the ball far less, they're simply not as valuable. On Sunday, the best running backs were all guys whose touches numbered at least 25 and in some cases, well over 30. So, who were these heavy lifters? Jordan Howard (37 touches), Le'Veon Bell (35 touches), and Melvin Gordon (34 touches) top the list while the previously noted Adrian Peterson and Mark Ingram also fit the bill. Typically, teams manage the pitch count in games after such a high number of carries has taken place unless there's a bye week upcoming. Le'Veon Bell, for example, has carried the ball just 15 times a game this season after getting 25+ carries the week before. As for who next week's high volume "heroes" will be, look no further than Jacksonville's Leonard Fournette. With a Week 8 bye looming, they'll let Fournette tote the ball a lot with a week off to follow.

It's All About the Gronk

As was mentioned earlier, there are some tight ends emerging that make others at the position expendable. And, then there's Rob Gronkowski. Gronk reminded us all this past weekend why he's a dynamic difference-maker, scoring two TDs and nearly gaining 100 yards in the process. When Gronk is 100%, there are fewer balls to go around and targets for James White and Chris Hogan in particular decrease dramatically. If you sold high on Hogan last week, you made a great call. He'll still be a solid contributor moving forward, but not at the pace he was on with Gronk and Danny Amendola less than 100%. Right now, it's Gronk, Zach Ertz, and then everyone else at this position. Travis Kelce lacks the consistency to join that tier.



Ends of the Spectrum: Larry Legend vs. Quiet Michael



It truly amazes me year after year how great players sometimes get discounted because they are in the "twilight" of their careers while others become first-round picks based solely on a promising rookie season. That backdrop sets up what happened on Sunday with respect to Arizona and New Orleans. Both teams won their games with the Saints netting a whopping 52 points and Arizona scoring 38. If you had known beforehand that the Saints would top 50, wouldn't you have started Michael Thomas in every league possible? Of course you would have. And yet, Thomas only caught 3 balls for 11 yards on 6 targets. Say what? Thomas remains a viable borderline WR1/2, but he hasn't topped 100 yards yet this season and his numbers could stagnate further if/when the Saints assimilate Willie Snead back into the offense. In stark contrast, Larry Fitzgerald was a huge part of what Arizona did on Sunday. It was the second time this season that Larry caught 10 or more passes in a game for 135+ yards. Only Antonio Brown can make that same claim in 2017. Fitzgerald is on pace for 112 catches and 1,240 yards. Legends never die.



Weird Times in Washington



In the nation's capital, the formula for success this year was supposed to be a lot of Kirk Cousins to Terrelle Pryor and/or Jordan Reed. Both Pryor and Reed have been huge disappointments through six weeks, but Cousins has lived up to his end of the bargain, especially in Week 6. Only five other QBs have a higher points-per-game average than Cousins, but he's getting it done largely with both of his projected top targets missing in action. His secret? I guess in part it would be Chris Thompson as Thompson's receiving yards are almost exactly double what he's done as a runner. Throw in some good games from Vernon Davis (averaging 71 yards receiving in last three games) and the picture becomes even clearer. It's unorthodox, but Cousins seems to be on his way to another fine fantasy season even if his supporting cast is in a state of flux.



No Steps Forward, Two Steps Back



At what point is it okay to say that we're a little worried about the Falcons offense? Conventional wisdom suggests that Atlanta will get back on track sooner than later, especially with the Patriots next on the schedule, but Matt Ryan and Julio Jones clearly aren't the same players they were at this stage last season. Jones not having a single touchdown to his name after five games is simply hard to grasp. So, is it time to cut bait? Hardly. The Falcons still have perhaps the greatest fantasy playoff schedule in history with the Buccaneers and Saints each up twice over that period of time. If you can get to the playoffs with key contributors from the Falcons on your roster, they'll pay dividends at that point. In reality, the running backs are doing just fine. It's more Ryan to Jones that can't seem to get off the ground. I smell a flight coming soon, however. Like... Week 7 soon.



This is Why Fantasy Football is So Beloved, Yet So Frustrating…



The following wide receivers scored 10 points or more this weekend (standard performance league scoring, non-PPR): Ted Ginn Jr., Jeremy Kerley, Aldrick Robinson, De'Anthony Thomas, Cordarrelle Patterson, and Kenny Stills. The following did not achieve double digit scoring: Julio Jones, DeAndre Hopkins, Keenan Allen, Jordy Nelson, T.Y. Hilton, and Brandin Cooks. Each week seems to bring about outcomes that no one could possibly predict. It's also why you don't want to stockpile wide receivers in non-PPR leagues. They're just too unpredictable.



A Final Nod…



Before we close up shop for the week, just wanted to give a kudos to anyone who started the D/ST's this weekend from New Orleans or Detroit. All in all, the game featured no less than 5 touchdowns with defenses or special teams as the source. Only two other games featured more OFFENSIVE touchdowns than that. It seems that every week, something turns on a dime. Cam Newton goes from awful to great. Adrian Peterson rises from the ashes. And, the New Orleans Saints defense is now the second best unit in fantasy football in weekly scoring average. Sometimes, what's down is up and what's up is down.

The wild ride that is 2017 in fantasy football continues next week. Until then...