This is my third year reviewing the July Mock. With every year of experience playing this game that we love, I learn more. I learn new things; new concepts; new ideas. I learn some things I didnít even know were there to learn. But one thing thatís remained constant over the years is the value and purpose of mock drafts. I wrote the following two paragraphs back in 2015 as an intro - here they are again to get your mind focused on the information to come.

Editor's Note: You can view the full FFToday July PPR Mock resuts here.

I once had a friend ask me what the point of a mock draft is. Much of the excitement and enjoyment of a draft is eyeing that player you want and actually being able to draft and root for him all season. A mock is not real. You donít actually own any of those players. And itís not like your actual drafts will mimic your mock drafts. This attitude made me realize that many people do not understand the underlying purpose of mocks Ė to educate you.

This article is going to discuss one mock conducted in July, roughly six weeks before the heart of draft season. A lot is going to change between now and then. Player perception will change. Player value will change. ADPs will rise and fall. Players will get injured. Your actual draft will look much different than this mock that I am about to discuss. So whatís the point of discussing it at all? This may be repetitive to some, if not most of you, but itís important to be reminded why we conduct mock drafts. When reviewing this particular mock and reading this article, remember to focus on the concepts; focus on the why, not the what, or the who. Letís get to it.
1. The return of running backs to prominence.

In last yearís mock and in most actual drafts, the first three picks were wide receivers. This year, the consensus is David Johnson and LeíVeon Bell, in some order as the top two, with Ezekiel Elliott third. Similar to last year, I still think there is a decided advantage in acquiring an elite RB early and the fact that there were more RBs (13) than WRs (11) taken in the first two rounds demonstrates that fantasy owners understand this. We are now two years removed from the great WR boom of 2015 and heading towards what I believe will be the new trend for the foreseeable future Ė the equalizing of value between RBs and WRs as a whole.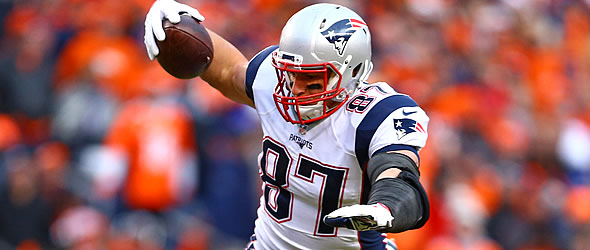 The ugliness we saw last year from the tight end position is pushing the entire group closer together.




2. The gap between Gronk and everyone else at the TE position has shrunk.



I donít think anyone would refute the notion that Rob Gronkowski is still the cream of the crop when it comes to TEs, but at 3.07, itís clear that the injuries have finally started to take a toll on his value. Travis Kelce was taken just two picks after Gronk. While I understand the concern, nothing has really changed about Gronkowski. He is still the best TE in football; probably the best TE of all time. Heís the same guy heís always been - an elite WR1 playing the TE position with a hefty injury risk. Iíd consider Gronk as early as the middle of the 2nd round. It comes down to how willing you are to gamble. If Gronk plays 12 games, then Iceman got an absolute steal in the middle of the 3rd round.



3. This group of mockers was quite disciplined in their treatment of rookies.



Leonard Fournette was the first rookie taken, as he should be, in the middle of the 2nd round. The next rookie was Christian McCaffrey and he wasnít taken until the middle of the 4th round, which is later than his late-3rd/early-4th round ADP. Joe Mixon typically goes right next to McCaffrey, but he didnít go until round 5. While there are certainly more rookies going in higher rounds than last year (after Zeke, the next rookie taken was Corey Coleman all the way in the 7th round), they mostly went in reasonable spots. I still think the 6th round is aggressive for Dalvin Cook, but itís not like heís going in a spot where you canít recover when he inevitably fails in his three-way timeshare behind the Vikingsí weak offensive line. In total, there were six rookies taken in the single-digit rounds and they were all running backs.

4. Iceman really likes to gamble.

He led off his draft with an aggressive seventh overall selection of Devonta Freeman. I say aggressive because I just canít get behind spending a mid-first round pick on a player in a split backfield. I want my first round picks to have secure workloads with no real risk of being usurped by an incredibly talented backup. He supported his Freeman pick with two rookies in Fournette and McCaffrey. In between those two, he took Gronk, which I think was a great pick in a vacuum, but not when combined with the uncertainty of the other players on his roster. Then he went with Edelman, who I also like, but not as a teamís WR1 (although technically thatís Gronk) and Martavis Bryant, which is always a gamble given his affinity forÖĒsubstances.Ē If he hits on everyone, this team could run away with the league. But with two rookies and an oft-injured TE as three of his first five picks, I think Iceman targeted too much ceiling and not enough floor.



5. Matt Mueller went Zero-RB.



I am not a Zero-RB guy, but part of the reason it doesnít work is because too many people do it. If youíre the only one employing the strategy, then it worksÖunless you completely botch itÖlike Matt did (Sorry Matt). You absolutely nailed the early portion. A.J. Green and T.Y. Hilton is an ideal start and Travis Kelce is fine (I wouldíve taken Jordan Reed). Davante Adams next. Youíve done it. You have two WR1s, a high-end WR2, and a top three TE. Then, it all falls apart. I like Jamison Crowder, but a fourth WR is not the move there. You shouldíve pulled the trigger on an RB, specifically Tevin Coleman or Bilal Powell. Instead, you drafted a player who is never starting for you outside of bye weeks and without a Flex, thereís no RB he could replace in a bind.

Your RB1 ended up being Mark Ingram suggesting you think Adrian Peterson is done and youíre willing to wager a 6th round pick on that. You did take Alvin Kamara later on to cover your bases, but anchoring your RB corps, even in a Zero-RB strategy, with a guy in a three-headed backfield is questionable. Then you followed that up with a player (Mike Gillislee) in a four-headed backfield. Iíll get to that group in a bit.

Your strategy was clear Ė control the Patriots and Saints backfields. The problem with that plan is you could get it completely wrong or you could get it too right and have all of your backs be serviceable, but none truly reliable. I actually like the idea of drafting an entire teamís backfield in a Zero-RB approach, but itís probably better to go after backfields with two guys as opposed to three. I just donít think your WRs are going to be able to carry your RBs unless things go very right.

6. An unfathomable 10 Patriots were drafted, including the entire backfield.

Iíll admit that I have no intention of looking through the history of all drafts and figuring out if this really is a record, but I think itís the most of all time from a single team. It goes without saying that the odds all ten of them being fantasy relevant is a solid 0%, but Iím pretty confident that at least seven of them will be. Brady, Cooks, and Gronk are the three big ones. Edelman strikes me as undervalued in the 5th round.

But letís talk about the running backs. Credit to the participants in this mock for drafting them in the correct order despite their ADPs being out of whack. Gillislee (ADP 6.01) is rightfully the first one taken as heís expected to be the LeGarrette Blount replacement. For some reason, James White (ADP 9.12) is typically next according to ADP followed by Dion Lewis (ADP 13.10). Thatís just not correct. Rex Burkhead (ADP 14.02) is an elite pass catcher with an 85% catch rate and excellent route running skills. Heís great in pass protection, can play the slot and can run between the tackles. I expect Burkhead to form somewhat of a committee with Gillislee as well as be the primary passing down back.

This James White overreaction has to stop. He had one monster game in the Super Bowl that was a result of a completely anomalous position the Patriots found themselves in. Heís not going to see anywhere near that type of volume in a single game this season. White will also play on passing downs and I expect to see him out there with Burkhead at times, but his fantasy value is going to be incredibly volatile on a week-to-week basis. I still like him more than Dion Lewis, who rightfully went last of the bunch in this mock. Ultimately, Lewis will probably make the team, but the fact that itís even a question tells you all you need to know about how the Patriots view him. I am a big Burkhead supporter and think fantasy owners should target him as one of the last position players drafted.

7. My dislike for the 3rd round RBs was supported by this mock.

In my mocking experiences thus far, I have never taken an RB in the 3rd round. In this mock, Marshawn Lynch was the only RB selected and it wonít surprise me to see his ADP tumble if his preseason action exposes him for being out of shape. The lack of 3rd round RBs signals a priority should be placed on taking a RB in the first two rounds or accepting the fact that youíre probably riding the Zero-RB train, whether you want to or not.

8. The Late-Round-QB approach has really taken hold.

We are many years away from the infamous quarterback boom of 2011. Usually thereís at least one person who grabs a QB in the 2nd round. Not here. Aaron Rodgers didnít go until round 3 and by the end of round 5, only three QBs had been drafted. By the end of the 9th round, just about every team had taken a QB. Normally, youíll find a couple of holdouts that really wait until the double-digit rounds but most teams had full starting lineups at the skill positions as well as a couple bench players before taking a QB. I endorse the Rodgers/Brady round 3 selection this year, but that has more to do with my aversion to the players typically going in round 3 than anything else. If I donít take the plunge in round 3, however, I will wait until at least round 8, if not later, as was generally the case in this mock.

9. For the second year in a row, the 49ers saw the fewest players drafted with three...

...which is actually a step forward after only two were drafted last year. Theyíre tied with the Rams for most the anemic offense. Both the Rams and 49ers have an incredibly talented RB trapped in an awful situation. Todd Gurley typically goes at the 2/3 turn while Carlos Hyde fell all the way to the middle of the 5th round, which is pretty ridiculous after he finished as the PPR RB12 last season. Hyde is the most talented player on the 49ers and itís not even close. I am not buying any of this Joe Williams nonsense. Hyde should be going late round 3. After the RBs, the 49ers have an underrated WR in Pierre Garcon, who is poised to see as many targets as he can handle as the teamís only competent receiver. Garcon is good value in the 7th round. On the Ramsí side, neither Robert Woods nor Tavon Austin interest me that much, but they both carry double-digit round price tags, which minimizes the risk.

10. The draft position of four particular players...

RB Isaiah Crowell: I really have nothing against Crowell. Donít hate him. Donít love him. Would take him in the correct spot. Iím quite confident that the correct spot is not the middle of the 2nd round as the RB11. For Crowell to justify this draft position, he has to be an RB1. How much higher than RB11 can he plausibly get? Are you really that confident Crowell is going to be better than say Danny Woodhead or Theo Riddick? Just think about this for a second. Itís Week 1 and I come at you with this trade offer: Iíll give you Aaron Rodgers or Rob Gronkowski for Isaiah Crowell. Youíre really turning that down? In the middle of the 2nd round, you have to take someone with both a higher floor and higher ceiling than the Cleveland Browns starting running back.

WR Doug Baldwin: Last year I had Tyler Lockett on this list because I wasnít a full believer in Baldwin. Oh how things change. Baldwin is here because he went in the middle of the 3rd round as the WR14. What does this guy have to do to get the WR1 respect he deserves? Clearly the answer isnít finish as a WR1 for two-straight seasons because heís done that. Clearly the answer isnít to be tied to an elite young QB on an offense that struggles to run the ball. Clearly the answer isnít to be an elite pass catcher with one of the highest catch percentages and lowest drop rates in the league. Baldwin averaged 2.03 fantasy points per target last year, which was 10th in the league. How in the world can anyone justify DeAndre Hopkins, Demaryius Thomas, and Amari Cooper ahead of Baldwin?

RB Lamar Miller: I featured him in my overvalued/undervalued series last year. He finished as the RB17 by average points per game. He was taken as the RB12 in this mock. I just donít get the love. Everything I said about him last year applies this year. Miller saw increased volume and decreased efficiency. Granted he was playing with the worst QB in the league, but we knew the situation going in. The Texansí QB situation is improved, but by how much remains to be seen. Tom Savage canít possibly be worse than Brock Osweiler, but if heís only marginally better, thatís not going to make things any easier for Miller. Without the threat to stretch the field, which should be there since they have DeAndre Hopkins, teams can focus on Miller and stopping the very predictable and simplistic offensive play calls. I see a similar finish for Miller this year, which makes him overvalued in the 2nd round.

RB Danny Woodhead: Round 7 is not high enough for the guy I think will soak up a lot of Dennis Pittaís vacated targets. Woodhead is an elite pass catcher and Joe Flacco loves to throw to his running backs. Heís been waiting for his Ray Rice replacement and here he is. Woodhead may be 32, but his injuries have limited the wear and tear on his body. Heís certainly a risk to get hurt again, but when he was last seen healthy, all he was doing was finishing as a top three PPR running back in 2015. Woodhead is actually quite productive in the red zone as well, making him a legitimate threat for not only red zone opportunities, but specifically goal line carries. Woodhead could return 4th round value or better. The only problem is his ADP is rapidly rising. I expect it to settle in around late-four/early-five.

On a final note, remember that every mock is different. Take a look at the June mock compared to this one and you'll see how very different they are. You can and should try different strategies and approaches. See what works and what does not. See what you like and what you do not like. Even if you disagree with everything I've written, you can still learn from it. I hope reading this article helps you as much as writing it helped me.