Mid-Season Concern




10/22/09



Aggressiveness is a characteristic that tends to reward fantasy owners more times than not. In the NFL, an offensive line will sometimes hold up long enough to give the quarterback enough time to beat man coverage down the field and make the defense look foolish against a fierce pass rush. More often than not, though, when a defense brings the heat and forces the action, crisis management becomes the name of the game for the opposing team.

In that same vein, I hope to apply that same kind of pressure to the owners in all of my leagues by beating my opponents to the punch in regards to personnel moves. Sometimes, reaching a conclusion about a player too quickly is much like trying to blitz Peyton Manning – dangerous and painful. However, coming to a correct conclusion two weeks or two minutes quicker than your opponents is considered foresight. Fantasy owners can be a uneasy lot, knowing that one two-or-three-game losing streak can wreak irreparable damage to his/her team's chances to make a visit to the fantasy postseason. But just as it is in the NFL and in life, it's hard to land the big prize by playing scared. Thus, I will strive each week to help each of you become a smart blitzer, so to speak.
---
One thing I have learned in all my years of managing in the "real world" is that in addition to being detailed and organized, a person had better be prepared each day to plug a hole. Sometimes, that "hole" is an employee calling out, other times it is an oversight of your boss. Still other times, the "hole" can be something that your company needs, but because of limited funds, you have to get a bit creative to get the job done. Just like any parent, one emotion can reign supreme as a manager - worry.

It's about the mid-point of the fantasy season each year that I get a bit concerned as a fantasy manager if/when at least one of my teams isn't doing as well I think it should be doing. Quite often, I realize there is at least one spot on my team that is coming up short - a hole, if you will. And in the competitive leagues, it's only natural to have at least one shortcoming on your team. If you focus your draft around building the best starting lineup possible, your team often lacks quality depth from which to trade from. If you subscribe to selecting the best player available in just about every instance, your team may be strong at a certain position but is almost entirely reliant on your ability to swing a deal or hit on a waiver wire bargain, which can be difficult in many leagues due to inactive owners or deep benches. The question is: what can you do about it? (I'll get back to that in a second.)

More often than that feeling of fantasy "inadequacy" is the annoying habit I have of being my opponents' Super Bowl. You know what I'm talking about - being on the unfortunate end of Roddy White's 2009 breakout game one week only to have it happen again the next week when you meet the owner of Tom Brady and/or Randy Moss. And, of course, that unfortunate team is also the same team is always either dodging bye weeks or can't seem to get healthy all at the same time.

Case in point: my big money league team encompasses each of the points I've covered so far - a team I was thrilled to put together during the draft and one I believe can win it all if only I can catch a break or two. My regular lineup in this PPR league usually consists of Philip Rivers or Joe Flacco, Maurice Jones-Drew, Ronnie Brown, Tim Hightower, Anquan Boldin, Bernard Berrian, John Carlson, Lawrence Tynes and the Saints or Steelers defense. After six weeks on a per-game basis, I own two of the top eight QBs, three of the top eight RBs, a top-12 TE, the highest-scoring kicker and the highest-scoring defense. My reward: 3-3 and two games out of first place behind a team that has scored 111 fewer points on the season than my team has.

(As luck would have it, I face the highest-scoring team in the league this coming week - who just happens to have Peyton Manning and Reggie Wayne vs. the Rams and Randy Moss vs. the Bucs - while Flacco and MJD rest comfortably on my bench on their byes and Boldin nurses an ankle injury, so needless to say, I face the very real possibility of going 3-4 in this very meaningful league.)

As you may have guessed from the lineup above, my holes are at WR and TE. These holes certainly aren't glaring, but they are big enough so far against a schedule that hasn't given me much of a break, especially lately. In the past two weeks, I have fallen victim to a pair of low-scoring teams who decided my team was the Tennessee Titans' pass defense that week. Let's take a look at the weekly scoring of my last two opponents (in case it isnít obvious, the bolded totals came in the week I played those teams):
Week 5 Opponent: 110, 119, 77, 60,

151

, 107

Week 6 Opponent: 114, 95, 101, 107, 87,

152
In a league where the highest-scoring team is averaging about 130 points/week, it seems a bit odd that two middling teams would go so insane the week they faced my team after straddling the century mark for most of the season. Now if this was just a one- or two-week phenomenon, of course, I would chalk it up to bad luck. But since this kind of thing happens regularly every year, I tend to believe it is just something I have to get used to, so I had better line up a team that is capable of posting those kinds of totals just about every week.

At this point, I'm sure the question has crossed your mind - why should I care? In fantasy football, bye weeks test the depth of your team as much as they test the resolve of the manager. I've never been one to concede defeat and neither should you, but in times like this, fantasy owners such as myself have to ask if one week is worth sacrificing the whole season for. The simple answer is: not in my opinion and certainly not at this point of the season. Many times, a fantasy team's record can be very deceiving in regards to how good the team actually is. It is my belief that points for - assuming the owners are halfway decent at getting the right players in the lineup each week - is a telling stat just as points against lays out just how difficult your opponents have been up to this point. In this case, although I trail the leader by two games in the standings, it's hard to believe the leader can continue winning games with the second-lowest scoring team in the league, just as it is equally hard for me to believe that his opponents will continue scoring at a 83 point-per-game clip in a league where over half the teams score well over 100 points per week.

To improve my situation in this league, I firmly believe that Flacco plus the Steelers defense should attract a much-needed upgrade at TE while also securing a more dependable WR2 which I hope will be Steve Breaston, which would actually be killing two birds with one stone - acquiring Boldin's handcuff while also getting a WR with pretty good stand-alone value. (In just about every league, there is at least one owner who carries five WRs or two TEs who he can start but is severely lacking at one or two positions - this league is no different.) The more I consider my situation, the more it seems more and more foolish to part with any of my RBs when I can play all three of my top eight backs - each of which will be done with their bye weeks after this week. Of course - and this is where the managing experience comes in - I need to maintain the resolve of believing that I'm right about a couple things: 1) the long-term value of my RBs and 2) the likelihood that the law of averages will catch up to the current division leader and start working in my favor.

Update: I ended up dealing Berrian and Carlson for Breaston and Jermichael Finley. On the surface, it looks like a marginal deal at best, except that Breaston has outproduced Boldin since missing Week 1 and it's pretty clear he's a top option for Kurt Warner.(Moreover, I am a big fan of the Cardinalsí fantasy playoff schedule.) After a slow start, Finley has established himself as a top option for Aaron Rodgers. While I'm not thrilled about dealing Berrian, it seems Sidney Rice is quickly becoming Brett Favre's favorite option. I've quickly soured on Carlson, mostly because his talent seems to be getting lost in the shuffle with Seattle's offensive line woes. I'm also thrilled about picking up two post-bye players in highly productive pass offenses for two pre-bye players who may be on their way down.

What's the lesson to be learned here? Keep things in perspective. In my case, it just so happens that 33% of the teams that have faced my team so far decided to have their best day against my team. Only one team each week could have beaten my last two opponents, so is that an indictment of my team or my run of bad fortune? I think it's pretty clear by now which one I believe it is. Build the best team possible - and just like a good manager at work Ė believe in the team youíve assembled.

Letís take a look at the latest update in RB workloads and WR/TE targetsÖ



Steven Jackson may be the most attractive fantasy commodity that has yet to score. With 23 touches per game, the odds that he will break one in the next couple weeks are pretty high, even considering how bad his supporting cast is. This week vs. Indy doesn't look promising, but a Week 8 game at Detroit has his name written all over it. Jackson only has a few matchups that I would consider favorable the rest of the way, but I'm pretty sure I would take him over Matt Forte right now, which speaks more to the mind-boggling season Forte is having more than anything.

In fantasy, more touches typically equal more opportunity and more opportunity tends to lead to more production. This fantasy logic does not apply to Larry Johnson or Brandon Jacobs right now. The pair is 39th and 36th in typical PPR scoring at the RB position, respectively. To put that into some perspective, Darren Sproles (who has contributed next to nothing over the last three weeks), Frank Gore (who has essentially played only two games), Reggie Bush and Donald Brown have scored nearly the same or considerably outscored the Johnson-Jacobs tandem despite seeing less than half the touches Johnson and Jacobs have.

Jacobs ran better early on in Week 6 than he has at any point this season, so his breakout game may be coming soon, although 2008ís five yards/carry and 15 TDs are a pipe dream. However, his 4.7 YPC vs. a solid run defense in New Orleans was a season high (albeit on seven carries) and it marked the second time in three games where he averaged over 4.4 YPC (league average is typically 4.0 or 4.1). Much like Forte, Jacobs is probably one of those RBs who you will have to wait out. Neither player will generate near the return they would have in September, but both players could make you regret dealing them away in short order and easily put up 800-1,000 total yards and eight TDs the rest of the way - totals that are good seasons for most RBs, much less 10-or-11 game runs.

The same cannot be said for LJ - deal him for whatever you can after this week after the Chiefs host the Chargers. Itís the worst run defense he has faced yet, so the chances he reaches a season high in yards is pretty decent considering San Diego is 27th in the league vs. the run. Some people will tell you with that with the number of opportunities (red zone and otherwise) he is receiving, he is bound to have some value sooner or later. While that may be somewhat true, he has yet to break a run longer than 17 yards and has averaged less than three yards/carry in four of his six games thus far. He may give you 4-5 TDs before the season is over and the schedule does get a bit easier, but KC's offensive line is still well below NFL standard.

I am stunned that a RB with the explosiveness of Steve Slaton has only one game this season in which he has averaged more than 3.1 YPC. That is a ridiculous number even for a plodder like the 2009 version of Larry Johnson, but it is outrageous that a back that averaged 4.8 YPC during his rookie season has regressed so quickly. What's worse is that he continues to fumble the ball, making Chris Brown a more inviting option to HC Gary Kubiak. Slaton will continue to produce through the air in Houston's aerial circus, but his owners want a bit more consistent ground production from their first- or second-round RB, not a glorified version of Kevin Faulk.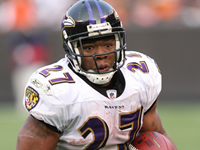 The latest RB fantasy machine created by OC Cam Cameron.
Ray Rice looks to be the latest RB fantasy machine created by OC Cam Cameron, who famously oversaw the offense that propelled Tomlinson to his record-breaking year in 2006 and got Ronnie Brown off to a Rice-like start in 2007 while he was the head coach in Miami. I think at this point it is pretty clear that Rice will continue posting double-digit fantasy totals just about every week, which is a big plus for anyone who drafted him as a RB2 and can use him in that role. However, his latest game may present an excellent time to move him along for another top back. Right now, in PPR leagues, Rice is neck-and-neck with Jones-Drew and ahead of Peterson. In the off chance someone is willing to part with one of those two studs, make the deal. Here's why: like it or not, touchdowns are the lifeblood of fantasy football, especially in non-PPR leagues but even in PPR. Rice is explosive enough to continue scoring from outside the red zone - much like Chris Johnson last season - but history tells us that 20-yard-plus TDs are hard to come by on a regular basis.
By all accounts, Willis McGahee is still the goal-line RB - even though he hasn't had much of a chance to prove it lately - and sooner or later, the Ravens offense will be forced into scoring from inside the five-yard line. Plus, there are enough top defenses on the schedule after this week's bye to give us pause (Denver - Week 8, Cincinnati - Week 9, Indianapolis - Week 11, Pittsburgh - Weeks 12 and 16). Don't read this assertion as Rice is going to fade because he is probably a top-five to top-eight RB when all is said and done - read it as more of a chance to get incredible value in return for your fourth-round pick in August. I believe his final fantasy numbers will be in the neighborhood of Ronnie Brown's and he will probably lead the league in total yards, but I don't think he will eclipse 10 TDs. By contrast, Jones-Drew and Peterson are both on pace for 24 TDs and, I believe, have easier schedules the rest of the way.
Does anyone else cringe at the very sound of Patriots' RBs? We know the drill by now - week by week, injury-prone starter after injury-prone starter goes down until at last we are left with a fifth-stringer putting up 100 yards and a score. Of course, Maroney is worth an add in all leagues, but Kevin Faulk is still the pass-catching back and BenJarvus Green-Ellis will steal more carries than you think he should, at which point Maroney goes down and the "Law Firm" ascends to the feature-back role until Fred Taylor or Sammy Morris return. Yikes! Don't hesitate to play Maroney when the matchup is right (this week would be one of those on Londonís notoriously sloppy field vs. the Bucs), but he's definitely a player that will burn you as many times as he will help you.

Hopefully, many of you took advantage of the sell-high opportunity that Steve Smith (NYG) presented you after Week 4. There is no doubt he is still the Giants' lead WR and he will probably still put together another 14-16 target game or two, but it appears he is quickly falling back into WR2 territory in 12-team leagues. Nate Burleson could very well be in the same boat. After three consecutive double-digit target games, Burleson has seen his looks fall off a bit. However, just like Smith, both should still bring back a nice return via trade given the fact they are still in the top 10 in most PPR leagues.
DeSean Jackson owners likely felt a bit betrayed after their WR turned in a three-target performance in a Week 5 blowout win. After Donovan McNabb said he felt bad for Jackson when he realized his lack of involvement, it didn't seem like that big of a stretch to expect a big Week 6...and he delivered. But I have to admit, for a team that throws the ball as often as the Eagles do, it's hard for me to believe a WR1 in that offense can have a bad PPR game. Partly due to his skills and partly due to the offense, continue to consider Jackson as a top-level WR2 with the potential to deliver WR1 numbers about 5-6 times per season.
Derrick Mason just keeps putting up numbers and is a highly underrated fantasy commodity. He has posted 20-point games in PPR leagues in three of his last four games and if you throw out the Week 5 game vs. Cincinnati (which had been doing an amazing job against WR1s until last week), I think many owners would be surprised to learn Mason would be averaging 16.4 fantasy points/game in PPR, his highest average since he was a Tennessee Titan in 2003.
I'm sure many owners were hoping that Week 5 was a sign of things to come for Eddie Royal. Unless you were in a league that gives individual players credit for kick and punt returns, you were saddled with a bagel in the scoring column on a measly four targets, one week after getting 10 receptions on 15 targets. After being a near model of consistency as a rookie, Royal is the one player in Denver whose fantasy stock hasn't stayed about the same or actually improved over last season. Much like Laveranues Coles, Royal's selflessness and willingness to buy into the team is costing his owners. As both players' target patterns indicate, there will be weeks where they put together a worthy fantasy performance. However, I have seen Coles on a number of waiver wires and it would not surprise me to see Royal join him soon.
It took a bit longer than most of us had hoped, but the respect that Chicago's WRs are drawing on the outside is giving Greg Olsen a chance to thrive. To his credit, Jay Cutler hasn't really forced the issue since Week 1, so Olsen wasn't getting a bunch of "empty" targets. But the explosive speed of Johnny Knox and Devin Hester is forcing opposing safeties to cheat towards the sidelines and give Olsen a lot of one-on-one opportunities against a linebacker. Even though the emergence of Knox probably destroys any chance of Olsen emerging as a top-five finisher at his position this season, I can't think of more than 6-7 other TEs I'd rather have in fantasy the rest of the way. He has scored in three straight weeks and it wouldn't surprise me to see him finish with a 55-650-8 line when all is said and done.
There are likely a few readers out there who wonder why I would deal Berrian roughly two weeks after praising him in this space. My opinion of him hasn't really changed all that much - although Sidney Rice will eat into his final numbers more than I think anyone could have expected - but after four weeks of increasing targets, the Brett Favre-Berrian relationship has regressed just a bit as Favre has found Visanthe Shiancoe and Rice (and even Adrian Peterson) a bit more lately. My main reason for moving him in the trade I detailed above was to provide myself "Boldin insurance"; nothing more, nothing less. Heís still the big-play specialist in the Vikingsí passing game.
Speaking of the Cardinals' WRs, Jerheme Urban becomes a legit option in deeper leagues anytime one of the three WRs ahead of him is limited in any way. It's important to note that while it seems natural that a fantasy receiver's stock soars when he moves one step up on the food chain, it doesn't always work out that way. Arizona is one of the few teams that has legitimate WR depth all the way down its depth chart. Thus, if the Cards' front-line WRs are ever ravaged by injury, Early Doucet or Sean Morey could easily step up and be relatively decent options in just about any fantasy league.

College Spotlight
Jake Locker, QB Washington (6-3, 226)
It is often said that quarterback is the most difficult position to evaluate for anyone projecting a college player to the NFL. It's little wonder, as I recall Hall of Famer Steve Young stating how QBs complete roughly 40 different tasks prior to each snap. To that end, the position is much more mental than physical. Each year, talent evaluators make the mistake of putting an inordinate amount of emphasis on arm strength and size, which is a dicey proposition for any other position on the field, but especially quarterback. For several years, I've subscribed to my own methods of evaluating QB talent - even before ESPN presented Bill Parcells' list of demands for drafting a QB during a MNF broadcast a couple of weeks ago. However, since Parcells has considerably more experience in building a team, I will use his list:
He must be a senior;

He must be a graduate;

He must be a three-year starter;

He must have at least 23 wins.
Just as with anything, there are plenty of notable exceptions, but I tend to believe that the "bust" rate at QB wouldn't be so high if teams didn't fall all over themselves chasing talent ahead of accuracy, proven leadership and commitment.
With his career record as a starter sitting at 7-17, Locker is highly unlikely to reach 23 wins even if were to stay through his senior season, which at this point is looking more and more unlikely given all the hype the Huskies' 16-13 upset win over USC in mid-September generated. If he declares for the draft after this season, he may fulfill only one of Parcells' requirements because he is a redshirt junior. However, it should be noted that very few pro-prospect QBs ever come from schools that hit rock bottom like Washington has simply because blue-chip players at his position are in such demand from the more elite programs that can pretty much guarantee a handful of national TV games each year as well as a bowl game. The Huskies did not win a single game in 2008, but it should be noted that Locker was lost for the season due to a thumb injury in the fourth game. Prior to his departure, Washington played two of its opponents to within seven points. Once Locker was no longer under center, the Huskies were abysmal, finishing within 20 points of their remaining eight opponents only once the rest of the season.
I detail all of this because Locker is an extremely unusual case. He is two-sport standout (the Angels used a 10th round pick on him in June's MLB draft) who is thriving in his first season playing in more of a pro-style offense - former coach Ty Willingham used Locker more as a runner - under new HC (and former USC OC) Steve Sarkisian. It becomes quite obvious after reading about his off-field exploits that he is a well-grounded individual who has the respect of his teammates in the locker room. While I could go on, there is already enough to suggest that Locker will succeed at the next level despite his lack of an ideal college resume. Few question his talent, but the thing that appeals to me the most is the speed by which he is picking up Sarkisian's offense, which indicates he is a fast learner and/or puts the time in during film study.
The first important distinction to make about Locker is he is a quarterback that can run very well, but he is not a running quarterback. On several occasions in Washington's home victory over USC last month, the junior signal-caller kept his eyes focused downfield and continued going through his progressions - just as a QB should - as opposed to taking off when his first or second option did not break free. Washington routinely moves him out of the pocket on designed rollouts and he throws an accurate ball when he does this. On a WR screen play at the beginning of the third quarter of the USC game, Locker also showed poise well beyond his years when he appeared ready to throw the ball out in the flat, only to pull the back in at the last second when he saw a Trojan defender out of the corner of his eye leaping in an effort to knock the ball down. Locker calmly reloaded and fired a perfect strike as if it was designed that way.
In my video analysis of Locker, it appears he throws off his back foot quite often, which is something he can get away with more than most because of his arm strength. Presumably, he doesn't step into his throws all that often given the lack of talent he has dealt with in his time in Seattle. However, one of the first things a pro QB coach or OC will attempt to do with him is to get him to step into his throws more often, which will result in a better completion percentage than the one he has right now (57.2%). Much like other strong-armed QBs (Jay Cutler and Brett Favre come to mind), Locker will believe in his arm too much at times, but he is by no means a "riverboat gambler". Once again, I'll attribute that flaw to a lack of previous pro-style coaching. His other knock will be his lack of durability; he dealt with serious hamstring and thumb injuries already in his college career.
Locker certainly doesn't fit the typical "profile" of a future star NFL QB in terms of what a NFL general manager wants in the results department. So while I hope he decides to finish out his college career at UW for a number of reasons - including the QB expertise and tutelage that Sarkisian can provide him - the reality is that he probably will not. But, if that happens, Locker will be one of the few cases that I'll go against my own requirements of a college QB and say that he is worth the risk of a high first-round draft choice. Sure, it would be nice to see him complete his college experience and meet Parcells' criteria, not all players get that opportunity – for any number of reasons. I went into this believing Locker was just another product of the ESPN hype machine, but I am convinced with the proper pro coaching, he is an undeniable talent.
Let me close my assessment of Locker with a couple of comments from two of the Huskies' opponents this season, which should give you an idea of just how high his ceiling is.
"That's the best quarterback we've played in nine years here," said USC coach Pete Carroll of Locker, mindful of players such as Aaron Rodgers, Dennis Dixon and Vince Young who the Trojans have faced since his arrival. "Jake Locker has ridiculous talent, and had he remained healthy last year, Tyrone [Willingham] would still be coaching there." - ESPN.com
"I don't want to get crazy, but the guy has got an Always-type of release and arm strength that not many people have," Arizona coach Mike Stoops said. "His mobility...John was a lot like that when he was younger." - Tucson Citizen

e-mail me with any questions/comments.